WebDiscover is an extension that aims to bring the potential of the internet to your computer. It is intended for browsers that are based on Chrome. Users who install it may find that their searches are rerouted, that their surfing speed is slowed down, and that invasive pop-up adverts appear.
Хотите, чтобы remove WebDiscover but don't know how to do it? Here the PowerMyMac Tool comes to help! PowerMyMac is one of the best tools that help удалить ненужные приложения с вашего компьютера.
Содержание: Part 1. Is WebDiscover Safe?Part 2. How Do I Manually Remove WebDiscover from My Mac?Part 3. Safely & Automatically Remove WebDiscover from MacЧасть 4. Вывод
Part 1. Is WebDiscover Safe?
WebDiscover is considered a potentially unwanted program (PUP) because of the covert ways it uses to spread itself and the harmful activities it engages in when installed on your system. Is WebDiscover a harmful computer virus?
WebDiscover does not self-replicate further into program code or documents, technically speaking, it is not a virus. Despite this, as a potentially unwanted program (PUP), WebDiscover presents several risks that you must be aware of.
WebDiscover is a Браузер на основе хрома that has been labeled as PUP and adware. It is marketed as a helpful Chrome alternative with a variety of useful features, including a weather forecast, an integrated search bar, a VPN connection, and music streaming that is saved towards the desktop for easy access.
In actuality, this software tampers with users' installed browsers, spews out bothersome adverts, and might send visitors inadvertently to sites that are paying for their traffic. Most people wish to remove WebDiscover and search for how to get rid of WebDiscover because of how bothersome they find this virus to be.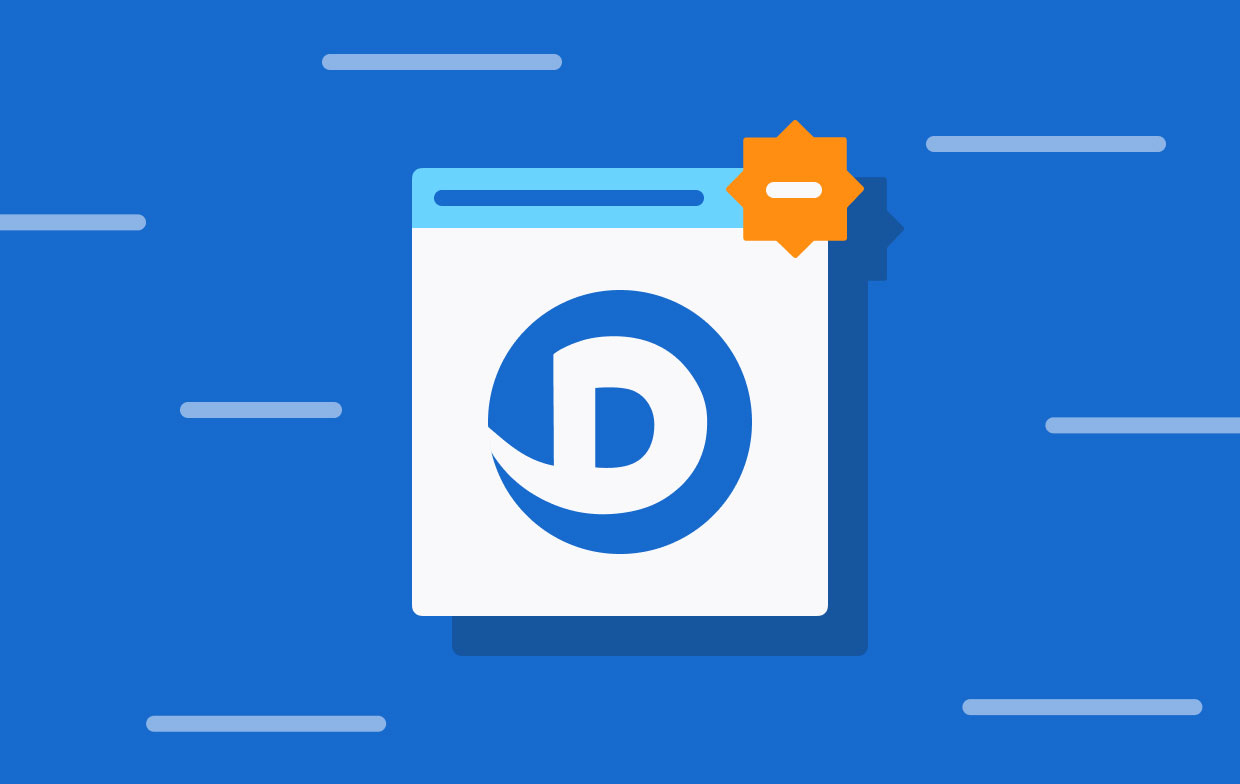 Part 2. How Do I Manually Remove WebDiscover from My Mac?
Step 1. Manually Uninstall WebDiscover on Mac & Delete Related Files
If you have the energy and time to manually fiddle with the system settings, you also have the option of removing the file manually. If you still intent on manually remove WebDiscover from the computer, you should begin with the steps that are outlined below:
Navigate to the folder labeled "заявление."
Find any item whose installation you don't recall being responsible for.
Move them towards the Корзину, затем пустой the trash bin.
Выберите Go> Перейти в папку from the menu bar in the Finder.
In the search box, enter the following names of folders, and then click Идти. Remove from your hard drive any files that are associated with the WebDiscover browser.
/Library/LaunchAgents
/Library/Application Support
/Library/LaunchDaemons
/Users/Shared
Step 2. Manually Remove WebDiscover Extensions or Plugins from Browsers
#1. For Safari
Navigate to the Safari menu, then the General tab.
Введите URL of the website you want to use as your homepage into the corresponding field, then click the option labeled Установить на текущую страницу.
Select the desired search engine from the drop-down menu found in the Search tab.
#2. For Google Chrome

Скопировать и вставить "chrome:/settings" into the address bar of your browser.
To set the page, you want to load when the browser is first opened, select "При запуске" from the sidebar.
Select a default search engine by going to the Search engine section and making your selection there.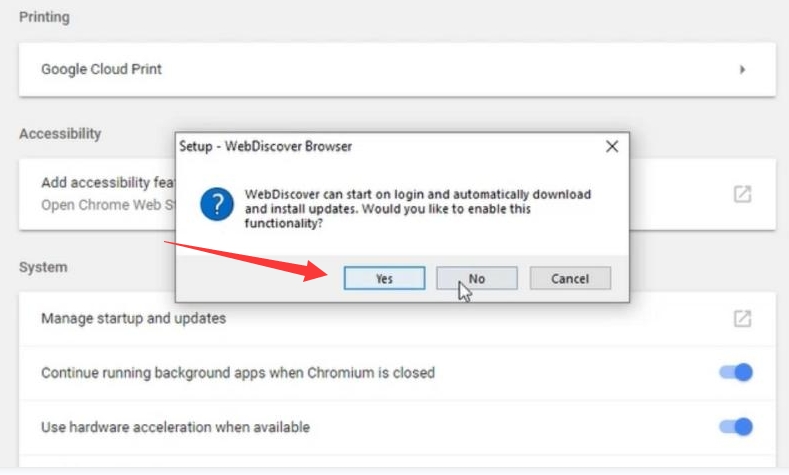 #3. For Mozilla Firefox

To the right of the URL bar, there are three horizontal lines that you should select (the menu button).
Перейдите в Опции menu, and then change the main page and search engine that you want to use.
Manage the Hidden Launch Agents of the WebDiscover.
WebDiscover can function on various levels because it is an adware-type of program. It first tries to enter the Launch Agents covertly. On the Mac, there are a few minor programs here that typically operate in the background. They occasionally take on the roles of Support Agents or Updaters.
Regardless of whether the core app was removed, malware disguising itself as a launch agent could continue to display advertisements. To manage these hidden files, you can refer to the manual removal of related files above, or you can use the PowerMyMac Tool's "Оптимизация" feature to delete those.
Part 3. Safely & Automatically Remove WebDiscover from Mac
It is possible for the manual removal of WebDiscover to become a process that is both time-consuming and challenging. Even while it is feasible to remove WebDiscover manually as well, there is still a chance that some of its components will be overlooked.
Mac users who are knowledgeable about security issues choose to utilize a tool that is less complicated, such as iMyMac PowerMyMac, in order to locate and remove the threat. We strongly suggest making use of PowerMyMac in order to do an automatic uninstallation of WebDiscover.
Получите бесплатную пробную версию прямо сейчас!
It is possible to quickly restore your security by deleting the application from the browsers and uninstalling it from the operating system. You can delete the app WebDiscover by utilizing the "App Uninstaller" function that is available within this app.
Using its assistance, you can remove WebDiscover in the following manner:
Open PowerMyMac, navigate to the app's home page, and select Деинсталлятор приложений from the menu that appears to initiate the removal process.
A thorough scan of all the software that is currently installed on your computer can be performed by clicking the SCAN
You have the option of selecting which programs to uninstall from a list of all currently installed programs. By typing its name into the search field, you can find the app.
To remove any files associated with WebDiscover from your PC, choose "ЧИСТЫЙ"
An alert stating "Убрано Завершено" will show up on the screen once it is finished.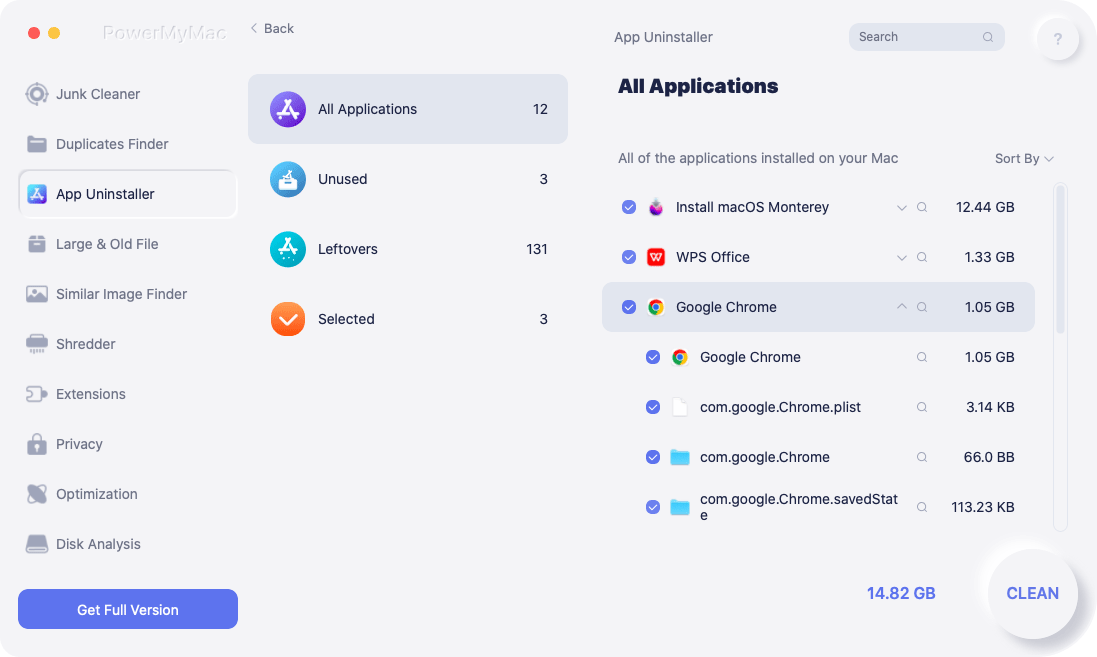 If you want to remove WebDiscover from the browsers on your device, then you may use the PowerMyMac's "Extension" function to disable extensions that you do not want to keep. This will allow you to easily remove WebDiscover extensions from the browsers on Mac.
This tool also features an "Optimization" option, which ensures that you will be able to enhance the efficiency of your device, which is useful if you want to manage all of the WebDiscover associated login stuff.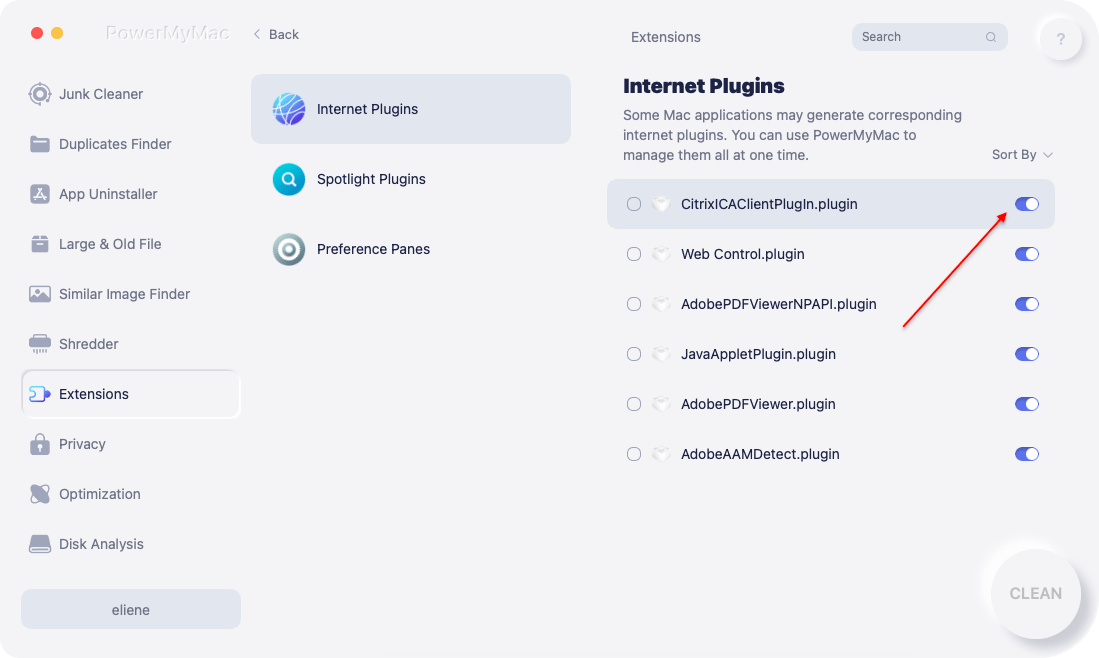 Часть 4. Вывод
Using this step-by-step instruction, you can learn how to remove WebDiscover and protect the device from potential dangers in a proactive manner regardless of whether you are using Mac or Windows. And you can remove steam games, blizzard games, and other software programs or apps you don't want anymore with PowerMyMac.