The best external hard drive for video editing on Mac will help editors through their intense workloads. In addition, it will give them another device for storing their projects easily and quickly. As such, you will need a great amount of storage space because people are getting used to 4K and even 8K resolutions at this point in time.
If you're looking for the best external hard drive for editing video on Mac, then you're in the right place. We've selected the top picks for you and we will give a mini-review of each product and recommend the best video converter at the end.
Contents: Part 1. Your Best External Hard Drive for Video Editing on MacPart 2. Is 1TB Hard Drive Enough for Video Editing on Mac?
Part 1. Your Best External Hard Drive for Video Editing on Mac
#1. Toshiba Canvio Flex
Pros:
Affordable option
Offers a three-year warranty
Cons:
HDD thus is slower compared to SSD
Great for short video clips only
There is a multitude of external drives you can get, but not every product is affordable. Toshiba Canvio Flex is one of the least expensive options you can get for your needs. It offers different capacities from 1TB up to a whopping 4TB of storage space.
Transfer speed is at 150MB/s, which is quite amazing given that it's a hard disk drive (and not a solid-state drive). However, you must remember that transfer speed will actually slow down when the cache piles up. As such, it's a great option if you go for the larger storage space device so that it won't slow down that much.
The Canvio Flex transportable drives are high-quality goods at a very competitive price since the Toshiba brand is well-known for producing hard disk drives.
Even while HDDs are now viewed as "old tech" by many, they are still the most affordable option to purchase large amounts of storage capacity, which these drives provide with respectable transfer speeds—not quite as quick as SSDs, but certainly quick enough for the majority of photography demands.
If you're juggling picture files across a variety of devices, cross-platform flexibility is also quite useful. These drives fit easily into a spare pocket in your camera bag or pack because of their small size, and we appreciate the extended guarantee as well.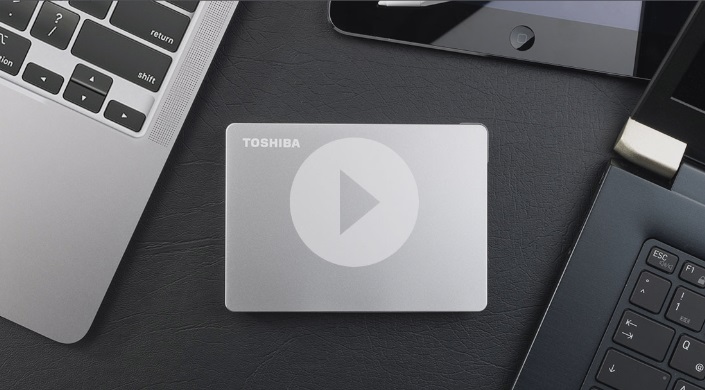 #2. SanDisk Extreme PRO Portable SSD V2
Pros
The small pocket-sized device, so it's easy to use on-the-go
Shock resistance feature
Waterproof feature
Cons:
The device isn't fast compared to other SSDs
It isn't as fast for very intense workloads
If you want an external SSD that's very portable, then you should go for this best external hard drive for video editing on Mac. Transfer speeds are about 2000MB/s and offer a USB-C connection. It's portable enough that you can put it inside the pocket of your jeans.
The great thing about this best external hard drive for video editing on Mac is that it's not only portable enough, but it also has a water resistance rating of IP55. Thus, it's resistant to both water and dust too. The shock resistance capability means you can drop it for another two meters. Not that we recommend dropping it.
But it means, it can withstand a certain amount of shock. These are offered in different storage space options such as 2TB and 4TB. It's affordable for its features as well.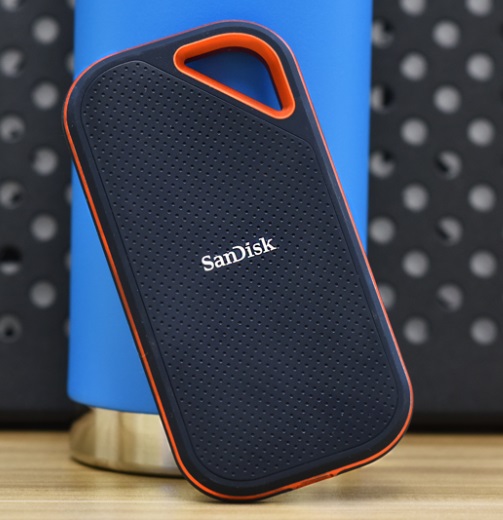 SanDisk's Extreme Pro Portable SSD V2, aimed at multimedia producers, has some of the best read and write rates we've ever experienced from an external solid-state drive. But to get them, you'll probably need to acquire and set up an expansion card within a Mac computer or desktop PC.
A portable SSD that is best in class in terms of speed, security, and toughness is this product. The device offers up to 2 GBps of sequential speed with an amazing interface. This SSD can be just what you're searching for if you need the additional speed while also ensuring compatibility with as numerous devices as possible.
But the price of that speed is high. The Extreme Pro v2 is only cost-effective for individuals who can fully utilize its capabilities, costing approximately twice as much as a portable SSD.
#3. WD Elements Desktop
Pros
Large storage capacity
Affordable and offers value
Cons
Doesn't have weatherproofing features
Not fast compared to other drives
If you're looking for a disk drive that has the largest capacity available, then you should go for the WD Elements Desktop, which is one of the best external hard drive for video editing on Mac. The options are a whopping 8TB up to 18TB of storage space. That's really huge compared to others on this list. You can use it on both Windows and macOS computers that you like to use.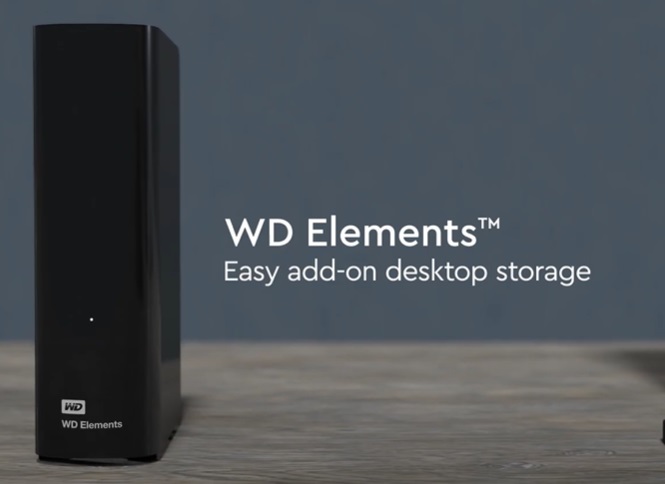 The downside of this hard drive is it isn't as fast as the other ones on this list. It's purely made for storage capacity. In addition, it doesn't have weatherproofing features, so you must always be cautious about using it and storing it in a safe place.
For those wishing to expand their desktop or MacBook or regularly back up their sizable media file library, the WD Elements Desktop offers an appealing amount of storage capacity. It's huge, not particularly beautiful or reliable, but it serves its job well, is cheaply priced, and takes little to no preparation to use.
#4. LaCie Rugged USB-C Drive
Pros
Rugged, protective design and style
Drop, rain, and crush resistant
Cons:
The warranty is limited to two years
Transfer speeds are actually restricted
The film sets, picture shoots, and music studios of the most important creative professionals in the world are places where only the hardest survive, and here is where LaCie Rugged portable hard drives have flourished.
Why? It's because LaCie Rugged devices are the most dependable means to collect and carry data in the field of business so it is regarded as one of the best external hard drive for video editing on Mac. If you actually require a durable drive. Lacie's robust series of disk drives remain to set the bar high for the quality of design and performance.
It's the drive's key selling point and a perfect match for photographers on the go, engineers, and designers working in challenging environments, or anybody who lugs about tools or bulky goods with their computer equipment.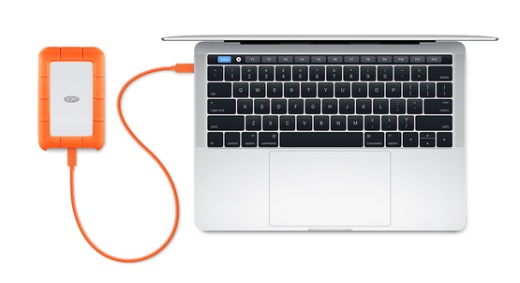 #5. LaCie 2big Dock Thunderbolt 3
Pros
Offers multiple connections for the I/O.
Great maximum transfer speeds
Cons:
While filming, fans might make it noisy.
Expensive alternative for small or light users
The LaCie 2big RAID fulfills all of its commitments. The performance gain that you would expect from enterprise-class drives is amplified by the default RAID 0 set, while other settings are available if you desire data redundancy. Both reliability and performance benefits are promised.
As one of the best external hard drive for video editing on Mac, LaCie has created an almost faultless local storage and ingest solution for professionals working in the content creation business. It has a huge amount of storage and is quite speedy.
Innovative technology is never cheap, therefore it won't be inexpensive in any case. To other content creation pros out there, I can't currently think of a better user-friendly and functionality-rich local storage solution than this, if you can afford it.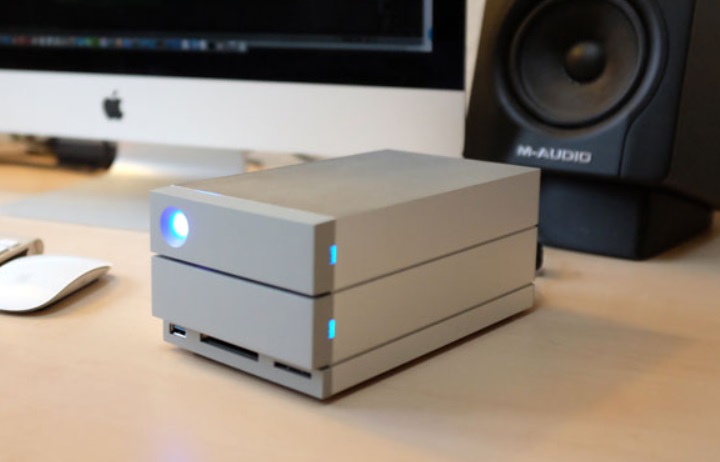 Part 2. Is 1TB Hard Drive Enough for Video Editing on Mac?
After introducing the best external hard drive for video editing on Mac, you may be wondering how much storage need for video editing? Well, it depends on your need.
If you're a content creator, then 1TB won't be enough for your video editing needs. However, if you prefer to create short video clips, then 1TB should be enough. If you're a professional though, it is recommended that you have at least 4TB or 8TB worth of storage space.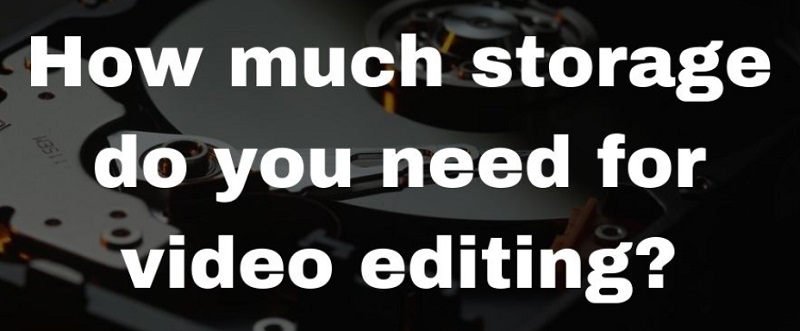 The reason is that the viewers are now used to higher-resolution videos. You will be creating 4K or 8K videos to please your audience. However, if you're doing it for casual video editing only (and not professionally), then 1TB may be enough.
An All-In-One Video Converter for Mac/ Windows
Video and audio can be converted quickly and easily to your desired format. iMyMac Video Converter is an amazing software with numerous capabilities, including the ability to play and edit video. To convert video and audio files to the required playing format, use iMyMac Video Converter.
Get A Free Trial Now!Get A Free Trial Now!
This video converter is also known as one of the best free video editing programs on computers. Users may modify, update, and edit their music and video files. Put a text or graphic watermark on any videos you create to protect your own work.
To attract more viewers, add an external audio track and tracks with multiple audios to your video. Multiple videos can be found in one video file.
Conclusion
This guide has given you the best external hard drive for video editing on Mac. As such, you select the best drives depending on your needs. For conversion projects, you may also use iMyMac Video Converter, which is a great tool for converting video and audio formats. It's a great tool for multimedia professionals and content creators. Try this tool now!