Option #2. OmniDiskSweeper
This is a pretty simple Mac storage cleaner than can do the job in seconds.
Search for it online.
Download and open it.
Click on your hard drive on the pop-up window.
Click on Sweep "Mcintosh HD" Drive. You will see on the bottom part of the pop-up window.
Take a look at the next pop-up window that appears on your screen. You will see every single bin in your computer and how much space the folders are taking up.
Click on a folder to see what's inside. You might be able to find old files that you haven't seen and used in a long time.
Go through the list and delete any unnecessary files. Just keep in mind that this tool will delete the files forever. So, once you click on the blue Destroy button, make sure you won't be looking for those files anymore. Those files won't be moving to the Trash bin. They will be deleted forever.
Make sure you know what you're deleting before clicking on the blue Destroy button.
Option #3. Daisy Disk
While the name may not sound like your typical storage cleaner for your Mac, it does the job as well.
Download and install the app.
Click on the Scan button to check the hard drive of your Mac.
Wait for the scan to finish. It will soon display the files that are taking up a lot of space on your Mac. You will get a cool colorful looking graph that shows the breakdown of space on your Mac. You will see all the folders that are taking up space on your Mac on the right panel of your screen.
Hover through the cool colorful looking graph to see where your files are.
Drag the folder you want to delete to the blue button on the left bottom part of the screen.
Click on the Delete button on the bottom part of the screen.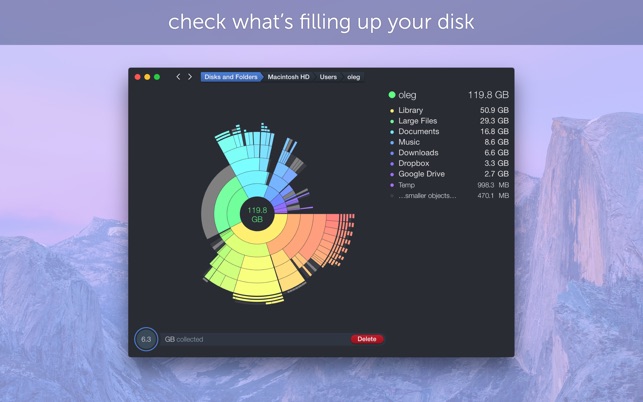 Part 3. In Conclusion
Cleaning up your Mac could be a menial task. Nonetheless, it's something you should do regularly. It will keep your Mac running in good condition for a very long time. To save some time, you could use any of the three awesome apps mentioned above.
Have you cleaned your Mac lately? Share with our readers some of your tips and tricks.
Excellent Thanks for your rating.
Rating: 4.7 / 5 (based on 99 ratings)
PowerMyMac
A powerful all-in-one App for Mac
Free Download
Clean up and speed up your Mac with ease
Free Download