Those who are running out of space on their devices do need a permanent eraser for Mac even if most of them believe that it is being used up by applications, music, and other saved files. Because this might pose as a real issue. Therefore, it is best to check on the storage of your Mac and if you notice that there is an unknown file that is eating up your storage space, it is without a doubt the reason why your Mac is starting to slow down. In such cases, you need a useful tool such as iMyMac Mac Cleaner's Eraser which functions as a permanent eraser for Mac.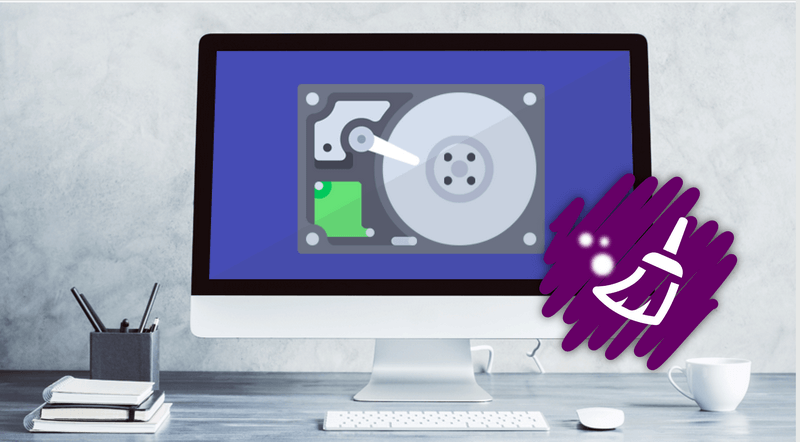 Part 1: Why Do You Need The Permanent Eraser For Mac
When your Mac is starting to slow down, you can deal with this issue by taking a closer look and you will discover that the file is labeled as "Other". You might be wondering what is this "Other" file that is consuming the storage space of your Mac. It is important to note that the category "Other" that you just saw on your screen are essentially files that were not recognized or identified by your Mac. In most cases, it might be videos, pictures or movies and many more. Some examples of these "other" files include the App plugins or extensions, common documents such as "doc", "PFD" and "PSD" as well as library elements such as screensavers and iCloud files.
It might also be your personal and user details such as contacts, documents or even calendar data. So you should need a permanent eraser for your Mac.
Although the files might seem abundant, it is not an issue to worry about since there is a useful tool that you can utilize to clean up your Mac efficiently.
Part 2: Have An Overview on iMyMac Mac Cleaner
If you want an effective method to clean up unwanted files on your Mac, a recommended solution is no other than the iMyMac Mac Cleaner along with its variety of tools, specifically the "Eraser" which works as a permanent eraser for Mac. The best part about this tool is that you can clean your device without any charge.
The software has also other features such as checking the overall status of your Mac which includes the CPU status, disc usage, memory usage and many more. It can also look for similar or identical files that were saved on your Mac.
If you decide to try out Mac Cleaner by iMyMac, simply download it and you can also enjoy the 30-day free trial. This free trial will allow you to try out the software so that you will be certain that it will effectively clean up your device.
You can effectively remove unwanted files on your device with the "Eraser" tool which works as a permanent eraser for Mac.
When using the Mac Cleaner's Eraser, simply select the files on your device that you want to be removed permanently. It is relatively easy to use this tool.
Part 3: How Does Mac Cleaner's Eraser Work?
If you are going to use iMyMac Mac Cleaner Eraser to remove unwanted files on your device, let us now take a close look at the following steps.
Step 1. Download and Install Mac Cleaner on Your Device.
Proceed to the official iMyMac website and download Mac Cleaner to your Mac. Once you have installed this permanent eraser for Mac software, you are ready to clean your device from all unwanted files.
Simply wait for the installation process to finish. The next task is to run iMyMac on your device once it has been successfully installed. At this point, you must check the "System Status" of your device. Choose the "Eraser" category of the left side of the interface.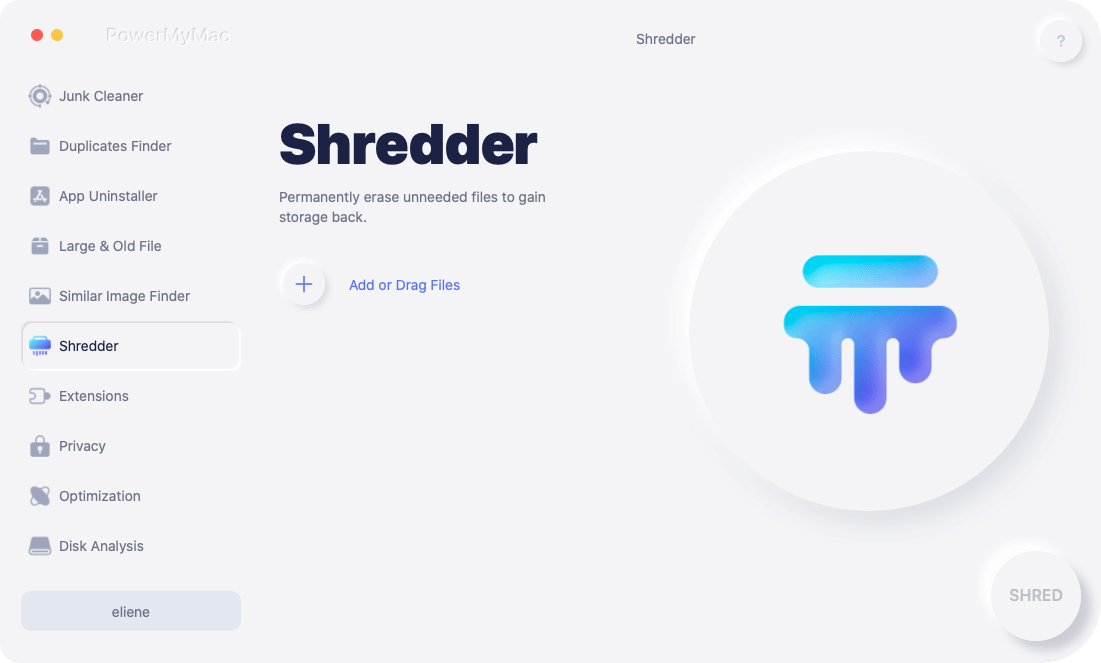 Step 2: Select The Files to Remove
After tapping on the "Eraser", you will be presented with the interface of the tool. At this point, you must select the files that you want to remove from your device.
Step 3: Reviewing and Selecting The Files to Remove
Once you have selected the files to remove, they are presented on the main interface which you can review. There is also an option "Add Files" that allows you to add more files in case you forget something.
Simply check the files that you want to remove and tap on the "Erase" button. A confirmation with pop-up and simply a tap on "Confirm".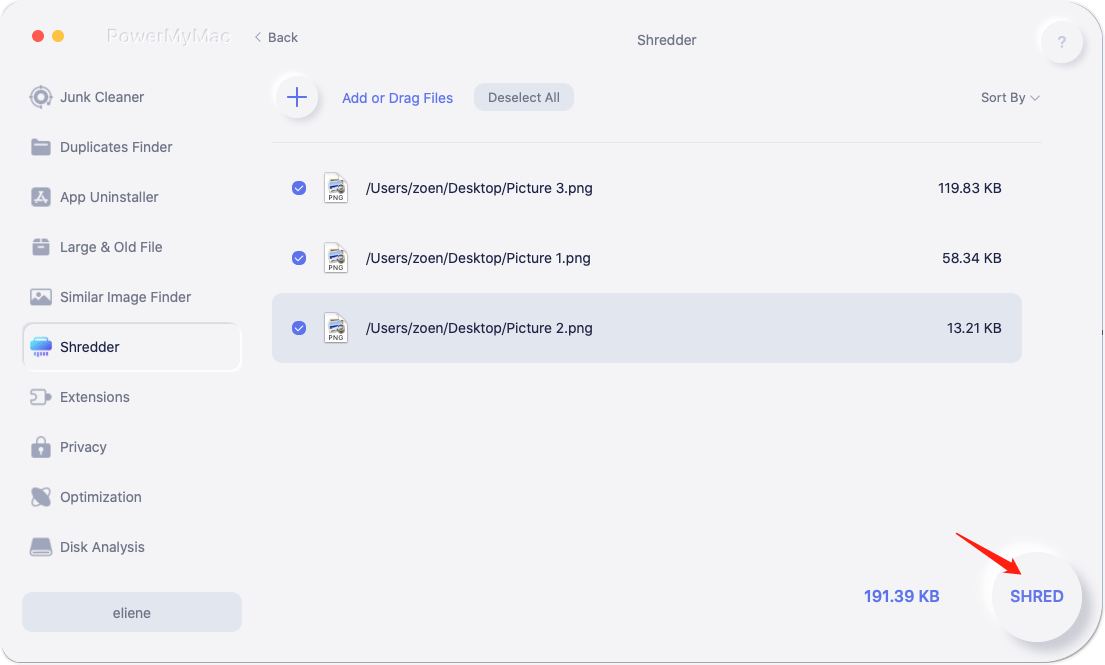 Step 4: Successful Removal
All the files that you have selected will be removed by this permanent eraser for Mac software from your device. On the main interface, you will see "Cleanup Completed" along with the space cleaned and the available on your disk drive.
You can also check out remaining items by tapping on the "Review" button if you want to fee up more space.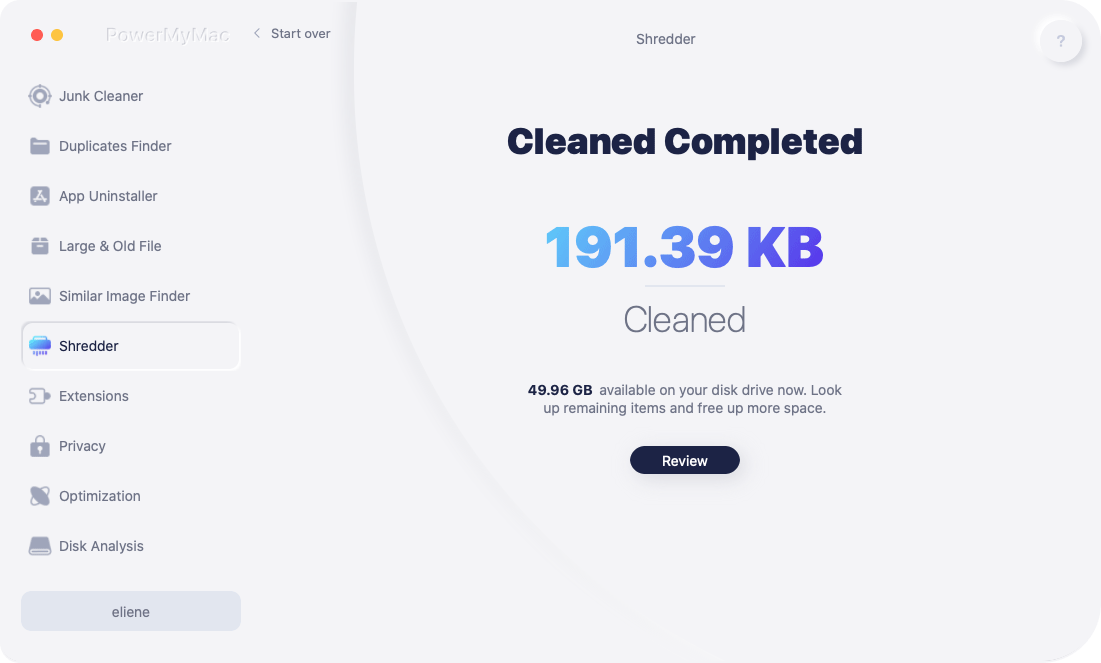 Other tools that you can use to get rid of unnecessary files include Photo Cache, Mail Trash, Trash Bin, iTunes Junk, Duplicate Finder, Similar Image Finder and Uninstaller. All these tools can be utilized to remove specific files on your Mac. Generally, the software by iMyMac is a must-have tool on your device to keep it free from clutter as well as improve its overall performance.
Part 4: Let's Wrap It up
By installing the Mac Cleaner by iMyMac on your device, it will surely come in handy in eliminating any unwanted files on your device that takes up precious disc space. Remember that your Mac will start to slow down again if it requires cleaning. By simply following the simple steps in using Mac Cleaner, the software specifically the permanent eraser for Mac tool, it will effectively perform its job in keeping your device free from clutter.
It is important to note that iMyMac is also guaranteed to be 100% safe to use because only you have access to it. Additionally, no data is lost during the cleaning process.
With the 30-day free trial for those who download the software for the first time, it is guaranteed free. You are ensured that the Mac Cleaner by iMyMac will boost the speed of your Mac since it cleans all the junk files and other unwanted data stored on your device that is no longer needed without affecting your essential files.