The finest 3D video converter program enables you to organize and enhance your collection of video clips, movies, TV series, and other media recordings so that you may view them on almost any device at any time. People may now view recordings quickly on a variety of 2D to 3D programs without any limitations.
The comparability of distinct video designs across numerous devices is, in any event, the crucial test. The terms 2D and 3D are interchangeable. However, a lot of people fail to recognize their differences. We have seen changes in our contemporary period of events. Here is a complete list you would need to complete the conversion.
Contents: Part 1. The Best 3D Video Converter Software for PCsPart 2. Other Popular 2D to 3D Converters to ChoosePart 3. The Differences between 2D and 3D VideosPart 4. Conclusion
Part 1. The Best 3D Video Converter Software for PCs
Many people prefer iMyMac Video Converter as the 3D video files converter because it is the most professional and quickest converting software available on the market. It can convert 2D videos to 3D movies at a pace that is six times quicker than other popular applications.
Get A Free Trial Now!Get A Free Trial Now!
Users like using this tool because of the customizing options it offers, as well as the other characteristics it has, which make it possible to get superior results. In addition to converting 3D videos, it is also a great audio converter.
Because the interface design of this video converter is straightforward and intuitive, you will have no trouble getting started with the application as soon as you have successfully installed it on your personal computer. It is a downloadable application for both Windows and Mac computers.
Check out the procedures that must be followed in order to successfully complete the 3D conversion with this 3D video converter.
Start iMyMac Video Converter on a Mac or Windows computer. Sign in next to access your account.
Any file may be dropped or dragged onto the system's display.
You may pick the kind of file you want the source file to be converted into by choosing it from the drop-down box when you click the "Convert Format" option. The available resolution options are also shown. In order to meet your unique needs, you may choose the resolution in which to convert the videos below.
Identification of file modifications has been considerably easier thanks to the user interface.
When you choose Save, all configuration changes you make are preserved.
Click Export to start the conversion process.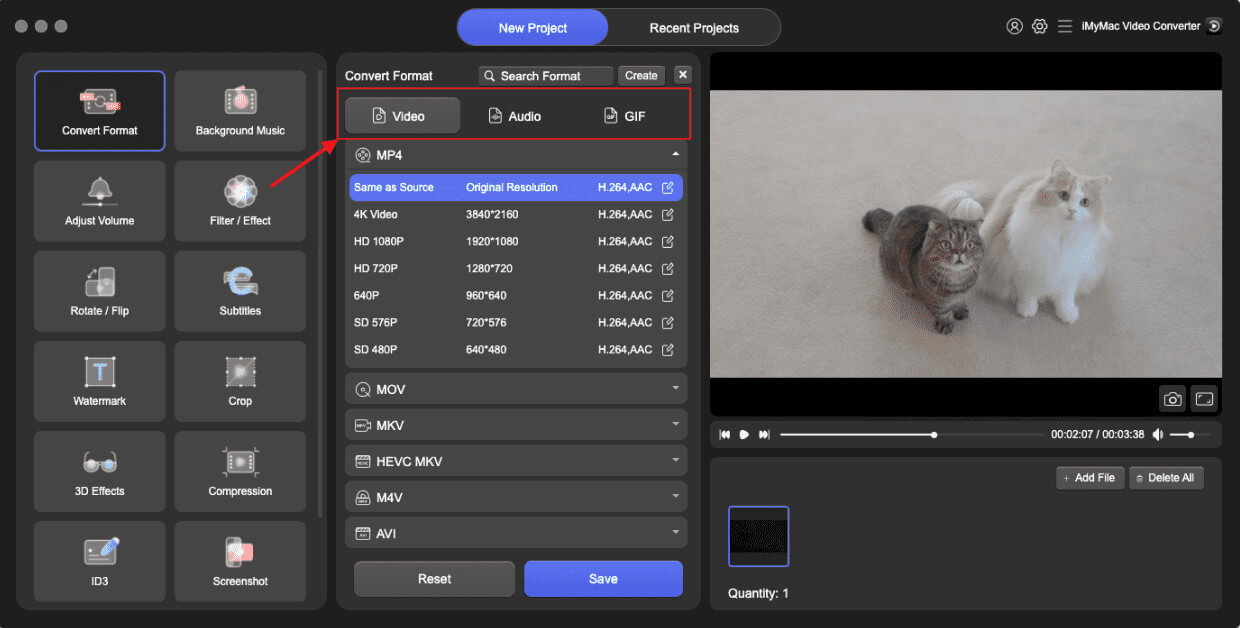 Part 2. Other Popular 2D to 3D Converters to Choose
Tool 01. Xilisoft 3D Video Converter
You may convert music and video files between more than 160 different formats with Xilisoft Video Converter. It provides optimum profiles that are arranged according to the sorts of devices, allowing you to easily choose the conversion technology that is most suited for your device.
The user interface is tailored to the needs of inexperienced users. The interface now has symbols that are both larger and more visually appealing, making it possible for anybody to quickly convert and edit films.
To provide just one example, it is possible to specify the start and finish point, as well as alter the output's size and quality, with no more than five mouse clicks.
You may also split and combine files using this 3D video converter, as well as add captions, audio, and watermarks to movies and add special effects to those videos. In addition, since it makes use of technologies developed by AMD APP and NVIDIA CUDA, it is able to convert your HD films five times more quickly than conventional converters.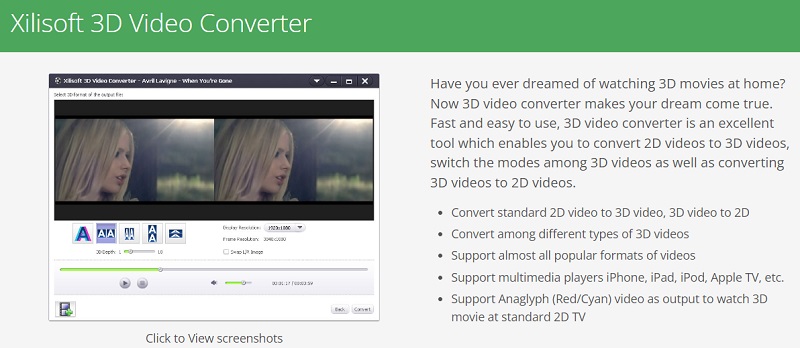 Tool 02. IQmango 3D Video Converter
The output of the transformation may be without glasses 3D, anaglyph, one next to another 3D, and so on. IQmango Video Converter supports a wide variety of configurations, such as AVI, MKV, MP4, FLV, and TS, amongst others.
To further tailor your amazing 2D to 3D conversions, you may either construct the 3D format from scratch or toggle its presence on and off continually. In addition to that, it enables you to switch between 2D and 3D at any time.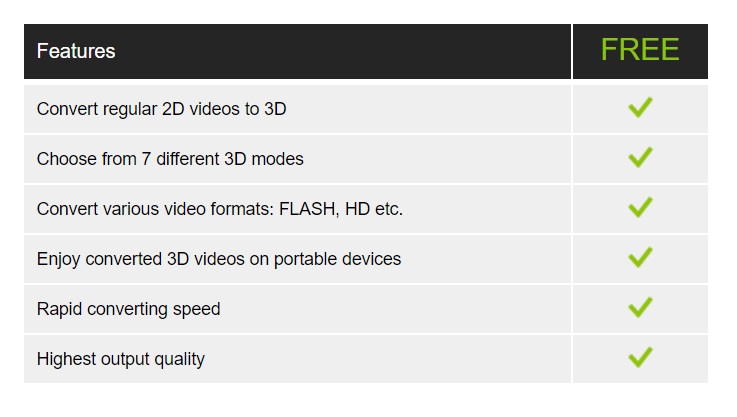 Tool 03. 3DCombine
You are able to make edits to 3D photos and movies as well as convert them using this 3D video converter too. It enables batch conversion between several viewing techniques and file formats and supports a large number of file formats and viewing ways.
Everything is organized to be within easy reach of the user at all times. By way of illustration, the depth map feature located in the toolbar enables you to automatically add to and improve the quality of your 3D material. It is possible to carry out more involved tasks using the filter editor.
You have the ability to resize photographs, add color filters, crop images to remove unwanted parts of them, modify their brightness and alignment, and more. Additionally, it is possible to create 3D panoramas using a variety of different 3D VR cameras using this program.
In general, 3DCombine is much more than simply a standard converter. You are able to construct anything from, import already completed projects, and alter 3D material before exporting it in the file format of your choice.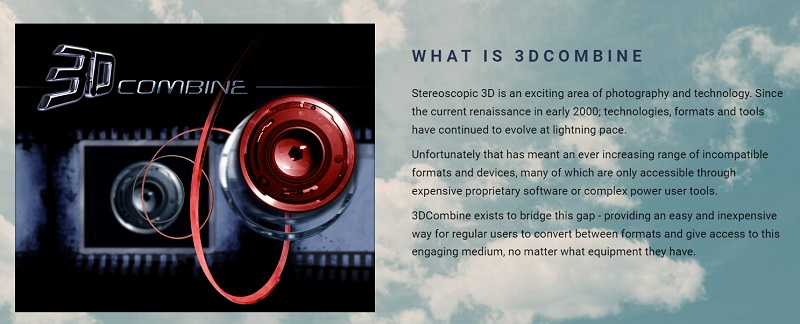 Part 3. The Differences between 2D and 3D Videos
A list of the top 3D video converter is given before and we are going to talk about the differences between 2D and 3D videos. As a way to describe a series in 2D, frames are made, but 3D has greater depth and seems more lifelike.
In 2D, one angle of an image is visible at a time. On the other hand, the digital world is more evolved in 3D. 2D animation is often utilized in television commercials, motion pictures, video games, and other media.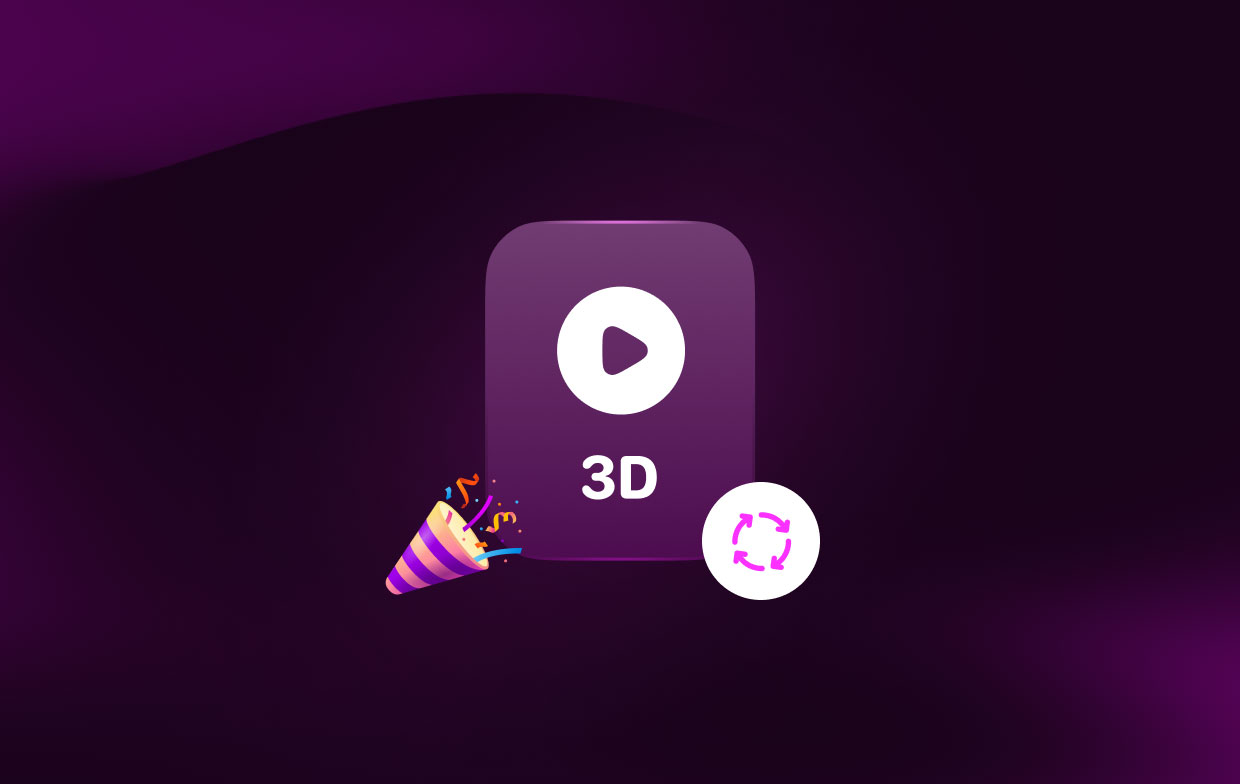 Part 4. Conclusion
In 3D mode, each eye receives the full display for the best image quality possible for text and object 3D to 2D activities. This post showed you how to convert 2D videos and movies to 3D videos and movies using the top 3D video converter and some alternatives.
iMyMac Video Converter is the best 3D video files converter we recommend you use. With this powerful video converter, turning 2D video into 3D is as easy as a breeze. Grab this tool for a new experience.