You can run into some difficulties while playing WMV files. WMV is difficult for iOS users to play on Apple software and hardware, including iTunes, iPhone QuickTime, and the iMovie. The WMV format may provide some technical challenges for Windows users as well. You may convert WMV to MOV on Windows to end all of these hassles.

Are you trying to find a quick and simple solution to change WMV to MOV on Windows and Mac so the movie can be played? You may use your smartphone to play MOV videos without a plugin. The top 5 video converters for converting WMV files to MOV are listed below. Choose one to convert your video from WMV to MOV without compromising quality.
Contents: Part 1. Best Desktop Tools to Convert WMV to MOV on WindowsPart 2. Convert WMV to MOV on Windows with Free Online ProgramsPart 3. WMV vs MOV: What Are the Differences?Part 4. Conclusion
Part 1. Best Desktop Tools to Convert WMV to MOV on Windows
iMyMac Video Converter
The best WMV to MOV converter is iMyMac Video Converter, which supports hundreds of video formats for a simple conversion, like AVI, MP4, FLV, and more. Before converting, you may also modify WMV films by cropping, adding watermarks, cutting, rotating, changing the subtitles, etc. Additionally, it's possible to reduce the size of movies, download them off the internet, and transfer them to devices. It runs without issues on both Mac and Windows systems, including Windows 10 and Mojave. So here are the procedures to convert WMV to MOV on Windows:
Get A Free Trial Now!Get A Free Trial Now!
Start the Mac or Windows version of the iMyMac Video Converter program on your computer. Log into your account once you're done.
The WMV file is successfully dropped or dragged into the system's display every time.
After selecting "Convert Format", a drop-down menu allowing you to specify the kind of file the original should be converted into, such as MOV, appears.
With the user interface, locating file alterations has never been simpler. You are free to change the files in whatever you like.
By choosing Save, all of your changes will be saved.
Select a conversion option from the toolbar to begin the conversion process.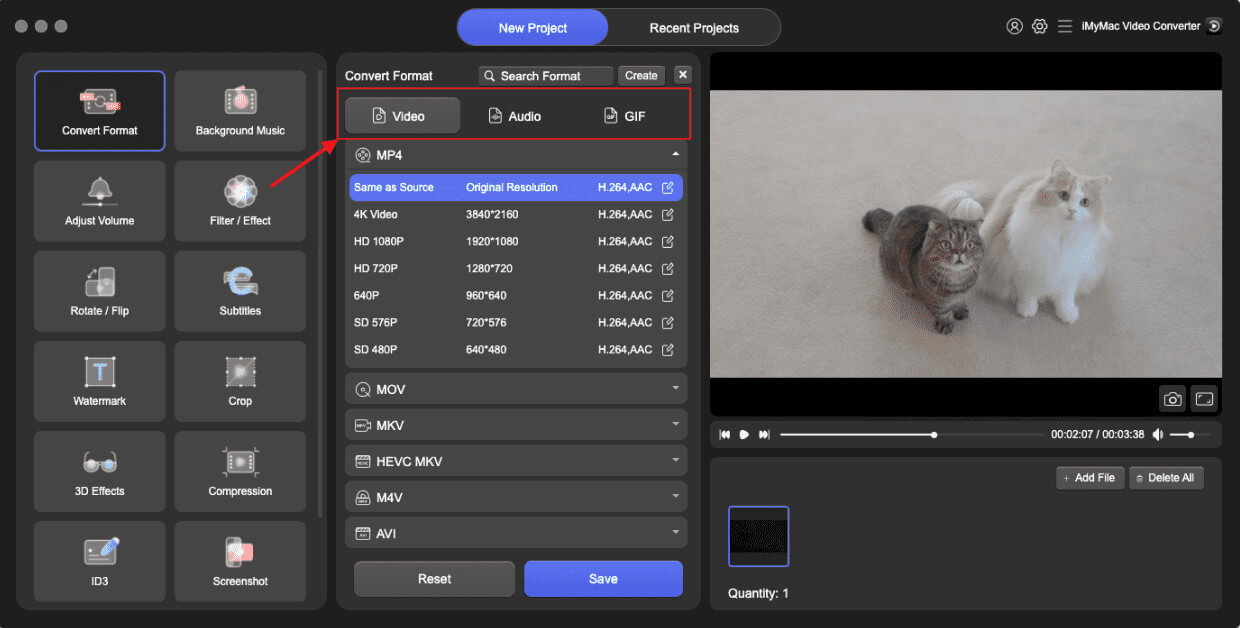 VLC Media Player
Everyone knows that anything can be played on a PC, Mac, and various other platforms using VLC. Without DRM, VLC Player can read and watch WMV and MOV video files. The player's surprise video conversion function lets you convert WMV to MOV on Windows and Mac, iPad, QuickTime, iPhone, and other hardware and software. Even options exist that allow you to change the fundamental video settings. Here's how to convert WMV movies to MOV on Windows (10/11) and Mac using VLC Media Player.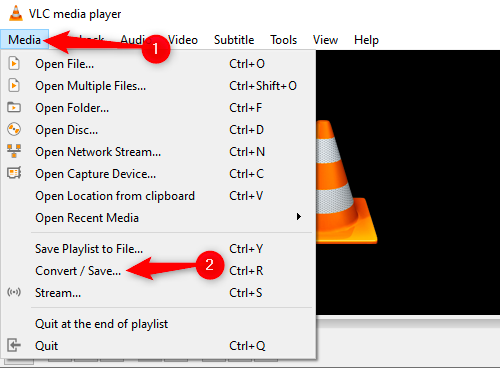 Navigate to the Media menu in VLC Media Player and choose to Convert/Save.
Select the WMV file you want to convert by clicking Add, then click Convert/Save.
To access the Profile edition window, click the Settings button. Rename the video in the new window and choose MP4/MOV as the export format. Press Create.
To complete the conversion of WMV to QuickTime (MOV), click Start after selecting a location using the Browse option.
HandBrake
Using HandBrake is one of the finest free options for converting WMV files. There are versions of Handbrake on Mac, Windows, and Linux. Although HandBrake is most recognized because of its DVD-ripping capabilities, it can also convert between several media formats. First-time users may find its interface a bit scary, but with the help of the tutorial below, you can convert WMV to MOV on Windows for free in no time. Install HandBrake on your computer by downloading it from the official site or upgrading your current version before continuing.

Run Handbrake on your PC, then choose Open Source to add your WMV file.
Set the file destination.
Choose MP4 in the Output Settings menu that appears. If you'd like to tailor your settings further, many choices are available here. Use the provided settings unless you are confident in your abilities.
To begin the process, click the Start Encode icon at the window's top.
Part 2. Convert WMV to MOV on Windows with Free Online Programs
Tool 01. Zamzar.com
You can convert WMV files to any common audio and video format with Zamzar. Additionally, it offers conversions for music, images, and documents. Note that if the video file exceeds 50MB, you must sign up for its subscription plan. Use Zamzar to convert WMV to MOV on Windows and Mac by following these easy instructions.
Select the WMV files on your device and select "Add Files" to import them into Zamzar.
Click the Convert To button to choose "MOV" as the desired video format.
Select "Convert Now" to instantly convert the WMV video into MOV format.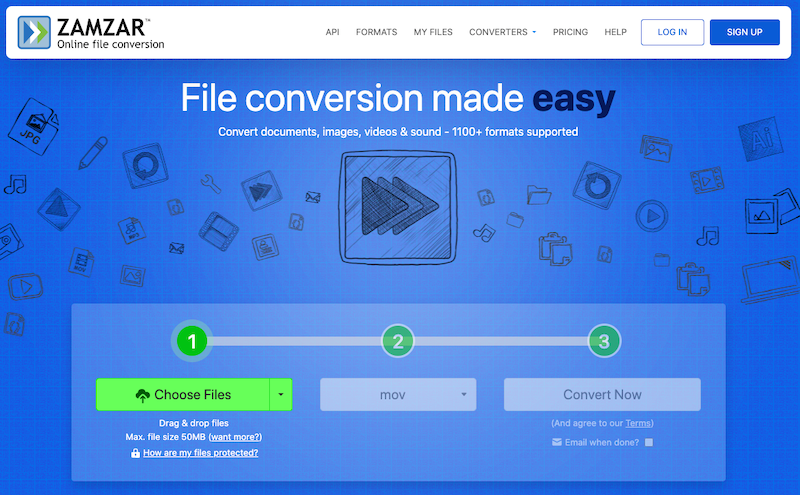 Tool 02. CloudConvert.com
A helpful free video converter is CloudConvert. Almost all ebook, spreadsheet, document, picture, and presentation formats, as well as audio and video, are supported. Try it if you'd like to convert WMV to MOV on Windows without downloading additional software. It is one of the online free WMV to MOV converters that allows you to adjust the conversion settings. To be more precise, you may cut the video, add subtitles, and change the video and audio settings. However, online tools have certain restrictions, such as reduced speed, file size caps, batch conversion limitations, etc.
Launch CloudConvert, choose a WVM file using the Select File button, and upload it to the internet.
Choose "MOV" as the desired file type, then click "Convert" to convert the WMV video to MOV.
Save and watch the MOV video after the converting procedure is finished.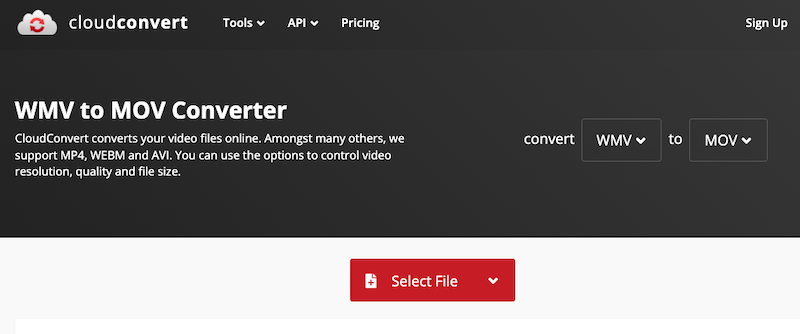 Part 3. WMV vs MOV: What Are the Differences?
Most Windows video players can open and play WMV files. These include Movies & TV, KMPlayer, Windows Media Player, VLC, MPlayer, etc. Mac computers with VLC for macOS are able to view and play WMV files. Flip4Mac can be used as a plugin to help Mac users play WMV files. Another good way to play and edit WMV files on a Mac is to convert them to MOV format. So you need to use a converter to convert WMV to MOV on Windows and Mac.
Apple's QuickTime was the first program to use the MOV file. Apple's gadgets and software can all play MOV video files. But Windows and other apps like Windows Movie Maker and Adobe Premiere Pro have trouble opening MOV files. You need to convert WMV videos to other versions that can be used easily. MOV movies can be of excellent quality, so the file size of a MOV file may be big.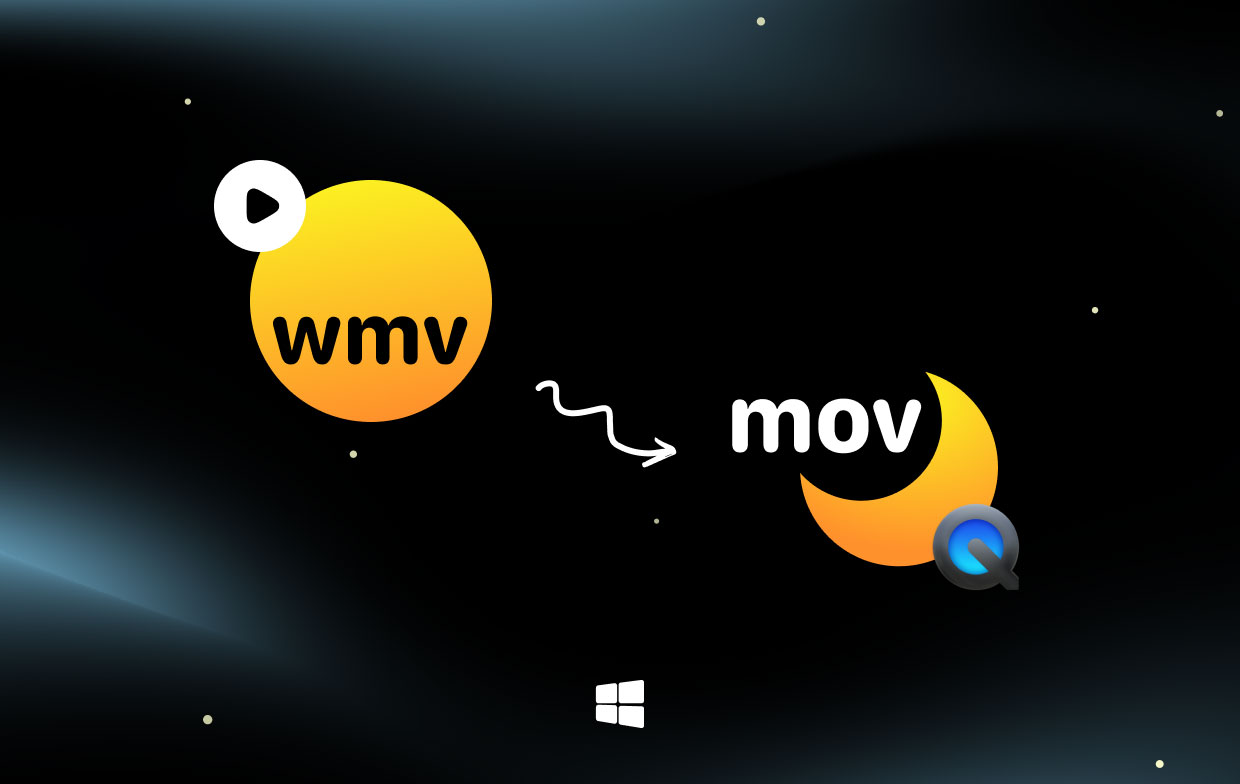 Part 4. Conclusion
In the guide above, we covered how to convert WMV to MOV on Windows and Mac. The result's quality is often the main consideration while transcoding videos. From this point on, iMyMac Video Converter, a reputable video converter, is what we advise using to acquire the best MOV videos. On the contrary, we also provide other accessible and online WMV to MOV converting tools. Now, choose your preferred tool based on the circumstances.