Are you fond of movies and TV series? Well, the wait is over. The best free video converter list is here! We'll help you go through the cream of the crop when it comes to video conversion tools available today.
Video converters are great for media enthusiasts who want to convert video formats from one type to another. It can be an excellent tool for those who want their video files to be played on different kinds of gadgets.
Plus, there are video converters that give you enhanced features such as editing tools. This makes your movies, TV series, home videos, and documentaries more captivating. Thus, you are given a great watching experience.
We'll start with the advantages and disadvantages of the average video converter. Then, we'll move on to our list of the best free video converters out there. You can start learning by reading our guide below.
Article GuidePart 1: Pros and Cons of The Best Free Video Converter ListPart 2: The Best Free Video Converter List: Our Runner-UpsPart 3: What Is the Best Video Converter?Part 4: Conclusion
Part 1: Pros and Cons of The Best Free Video Converter List
Of course, we will start our rundown by going through the pros and cons of free video converters available at the moment. We will begin by going through the advantages first.
Advantages
Of course, if you're onto the best free video converter, the first advantage would be being totally free to use. You don't have to pay for a dime just to use the tool. Most of the best free video converter list would include software that can convert the most popular video formats. That gives you a huge list of file types to choose from.
The best thing about video converters is the ability to create video files for any device you own. If you have old Android devices, for instance, and you switched to an iPhone, you can easily create videos that are supported by the new iOS device.
Disadvantages
The disadvantage of the best free video converter is limited functionality. Since it's free, it limits your conversion capabilities to the most popular formats only. There are free converters that cannot convert copyright-protected videos.
In addition, some of the free converters do not have the editing capabilities of full-fledged video editing tools. However, there are some that provide editing features if you know how to look.
Part 2: The Best Free Video Converter List: Our Runner-Ups
1. HandBrake
Is HandBrake really free? Yes, it is a powerful video converter that can be used on macOS, Linux, and Windows operating systems. Features include cutting-edge options for control, a quick list of presets, support for a lot of formats, and functional design.
Pros:
One of the tools in our best free video converter list is HandBrake. It's a popular software among Mac consumers. It has multiple versions for different operating systems and is an excellent option for people who use multiple types of platforms.
HandBrake provides you with huge options for features allowing you to precisely control the conversion process. These include advanced filtering, cropping, and modification of frame rates. Plus, if you want everything to be done quickly, you can simply choose ready-made presets. The use of HandBrake involves a learning curve, but the results are worth the effort.
Cons:
Though it can be used on Windows, it's not the most commonly-used option for such users. When it comes to its Windows version, it's still an experimental program. But still, it shouldn't be overlooked because of its power.
Other programs within this list have actual, easy-to-understand interfaces. However, this cannot be said of this program. HandBrake is a very capable, utilitarian tool. But the interface is not for beginners out there.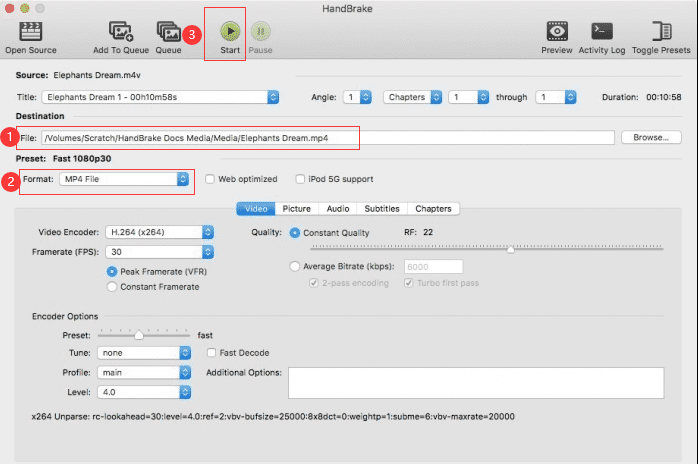 2. Any Video Converter Free
The free version of Any Video Converter is a great tool that works on macOS and Windows. Features include the ability to convert videos that are located online, additional effects, and free filters. Similar to HandBrake, this tool supports a lot of input and output formats when it comes to converting videos for free. This is one popular tool in our best free video converter list.
Pros:
This software is great for people who have both Windows and Mac computers. Plus, you won't get upset by the list of file formats supported by it. The great thing about it? It supports both files hosted online and offline.
So, if you have a Vimeo video you want to convert, you can simply do it through the interface. These online videos can be converted to formats that are possible for offline viewing purposes. Thus, you don't have to think about wasting your mobile data allowance on watching videos online.
Other supported online platforms include Metacafe, Facebook, and a whole lot more. Aside from these, you can use the tool to rip your audio from DVDs and even CDs. Most popular video formats are supported and include options for ready-made presets of various devices.
Editing features include rotating, cropping, trimming, and standard clean-up actions. If you want your video to be more entertaining, you can use and try out various effects provided by the tool. It gives your home video a unique, catchy feel to it.
Cons:
Additional features can only be availed of if you purchase the premium version – Any Free Video Converter Ultimate. Features of the paid version include burning to writeable discs, converting sets of videos, and removing copyright or DRM protection.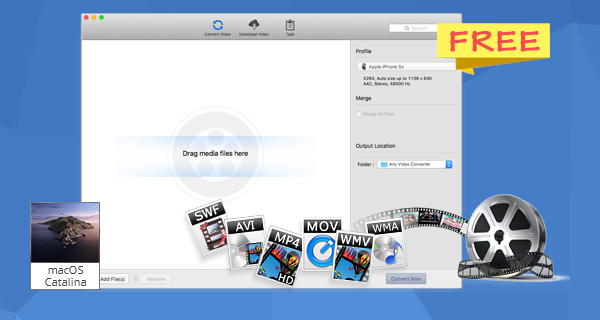 3. Free HD Video Converter Factory
Another one on our best free video converter list! A package that works only in Windows operating systems, it provides you with not only conversion but editing capabilities as well. Features include an easy-to-understand interface, in-built editing tools, and off-the-rack preset (or profiles).
Pros:
This tool boasts of its easy-to-understand interface and straightforward processes. The official website even provides a guide to help you begin using the tool. This guide takes about 10 seconds only. Seems too good to be true? Well, we're actually stating a fact.
Dragging and dropping files from your hard drive to the software's interface is possible. Another option would be to use the menu for selection. You simply choose output formats and destination folders (or devices) and press the "Run" button. That's just it! Very easy to process in your mind, isn't it?
This excellent tool does not limit you when it comes to features. You can easily convert from one format to another. But, you can also put more effort into customizing the actual video output. Cropping, cutting, and adding special effects are all possible with the tool.
Thus, you can find the best look you may need for an output video. Plus, it showcases a highly intuitive method of presenting destination formats. Novice users can choose ready-made profiles of various media playback devices. Advanced users can also make the desired customizations and manual selections.
Cons:
Although this tool has impressive features, it lacks support for 1080p resolutions. That can be a bummer for users who use the Full High Definition (or FHD) mode. Although, it is still one powerful tool to take note of if you want amazing capabilities.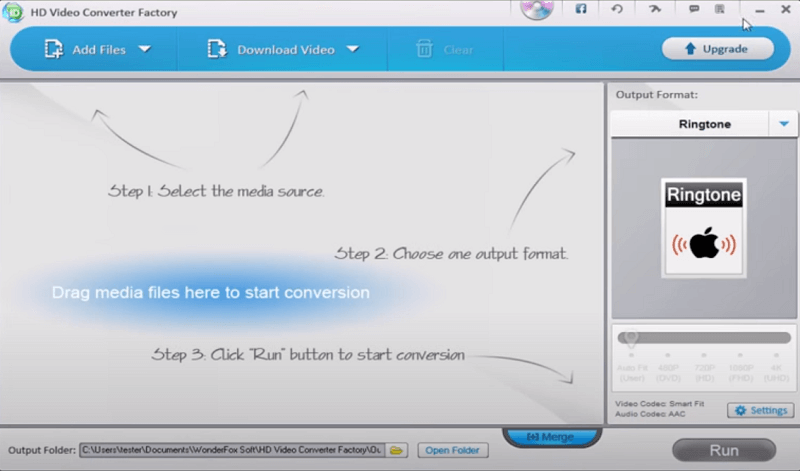 4. Freemake
One of the best free video converters out there is Freemake. It is very easy to understand and use. Plus, it's a versatile tool that's a quick solution for impatient users. Features include support for a lot of formats, provision of in-built editing tools, and the ability to convert videos found online.
Pros:
This tool has built a popular brand when it comes to converting videos. The company that created the video converter tool has created a lot of powerful, straightforward software that is provided to the masses for free.
Their video conversion software has continued the track record of the company for creating useful tools. Similar to Any Video Converter, this popular brand of one of the best conversion tools out there can convert videos that are located on the Internet. Thus, you can get video from Vimeo, and other platforms easily.
Freemake provides you with basic editing features such as trimming, placing subtitles and converting to and from your DVD discs. It covers a lot of your video conversion necessities and includes more options for you to choose from.
Cons:
The first installation of Freemake within your computer has disadvantages to it. For instance, some of its features may still be locked. This includes the ability to convert videos from some video platforms. However, after 3 days, you will be sent a gift from the company. This gift is a free, easy-to-use web package that removes the said restriction. You should check out the System Tray till it notifies you of the availability of the web package.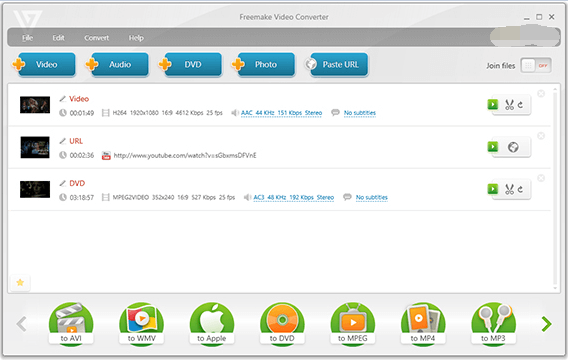 5. Free Video Converter
Again, one of our best free video converters comes with the same name – Free Video Converter. It is from DVDVideoSoft and easily used by novice users and can convert videos in batches. Features include an understandable interface, quick processing times, and conversion in sets of videos.
Pros:
This video conversion tool is totally free. And, it executes features exactly the same as it was advertised. The interface of the tool is very clean – not cluttered compared to other available software. Plus, it lets you convert batches of files easily.
The good thing about this best free video converter is its look. It doesn't seem exaggerated or complex to users.
Cons:
It only has a few output options available. Popular formats such as AVI, MP4, MP3, and MPEG are not supported. Options for optimal use and viewing in iOS gadgets are not available as well. Videos converted with the tool are also watermarked. This looks really intrusive. That's why it's the last in our list.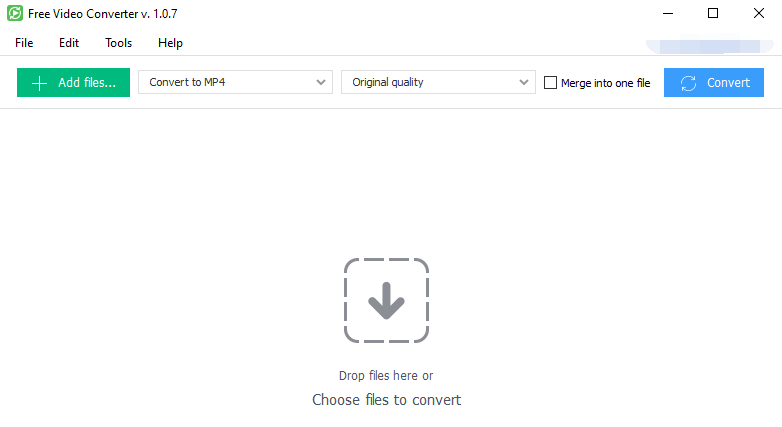 Part 3: What Is the Best Video Converter?
When it comes to video conversion, the cherry at the top of the cake will definitely be iMyMac Video Converter. It's a downloadable software that can convert from multiple input formats to that of a huge list of output formats.
Conversion is done with resulting in data loss or re-compression. Plus, the process is completed at blazing, fast speeds. Hardware acceleration technology is supported by the software including that of GPUs such as NVIDIA CUDA, AMD, Intel HD Graphics, and NVENC.
It comes with video editing and enhancement capabilities as well. For instance, you can repair shaky, overexposed, or dark videos. Do this by simply upscaling from standard definition (SD) to high definition (HD). You can even modify contrast and brightness for a more comfortable entertainment experience.
Here are the steps you should follow in order to use the top Video Converter of iMyMac:
Step 1. Free Download, Install and Launch iMyMac Video Converter
First, download iMyMac from its website on the Internet. Then, simply install it and follow the instructions onscreen. Finally, launch the software to begin using it.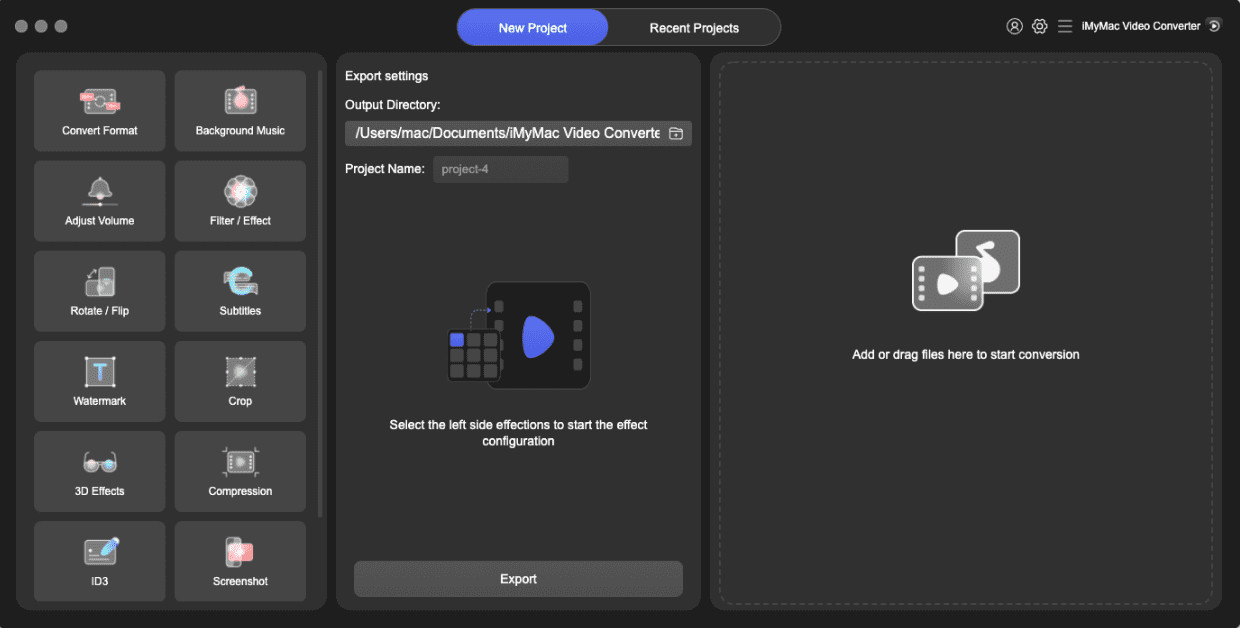 Step 2. Add Files
You can place your video data into the interface by clicking "Add Files" at the top. Then, locate your files and start adding them to the list. Or, you can drag from one folder and drop it to the center of the interface to get started.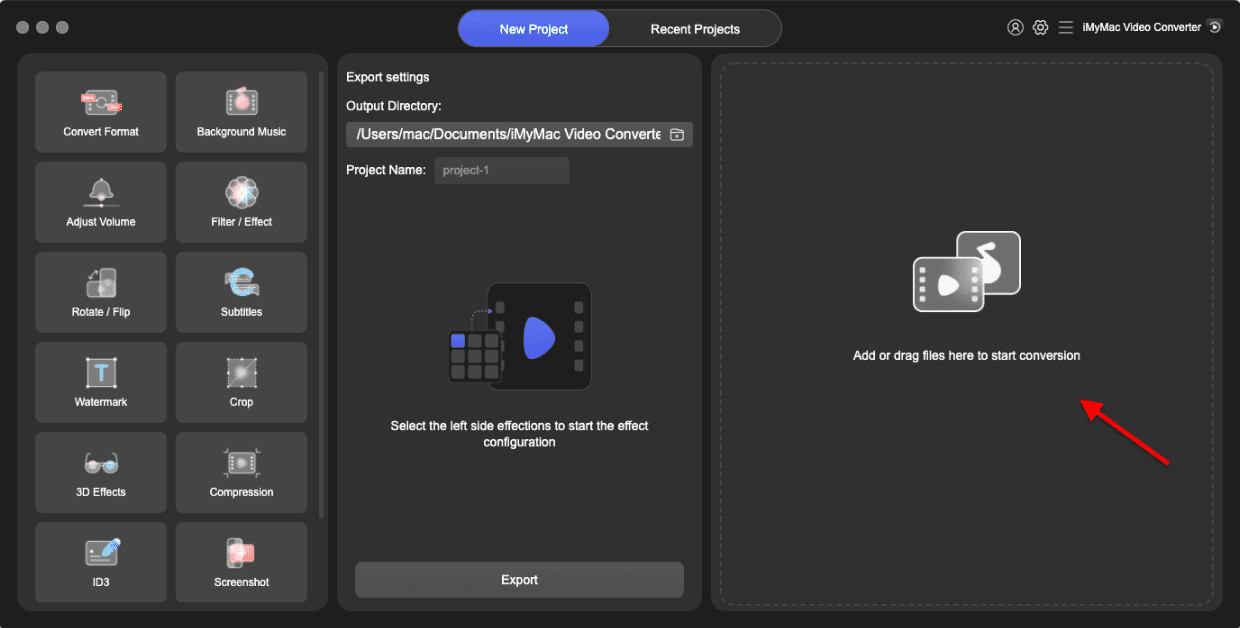 Step 3. Modify Settings
Select the output format you wish your input file to be converted to. Modify settings that you wish to achieve after the conversion process. Then, choose a destination folder where you will save the new, converted file.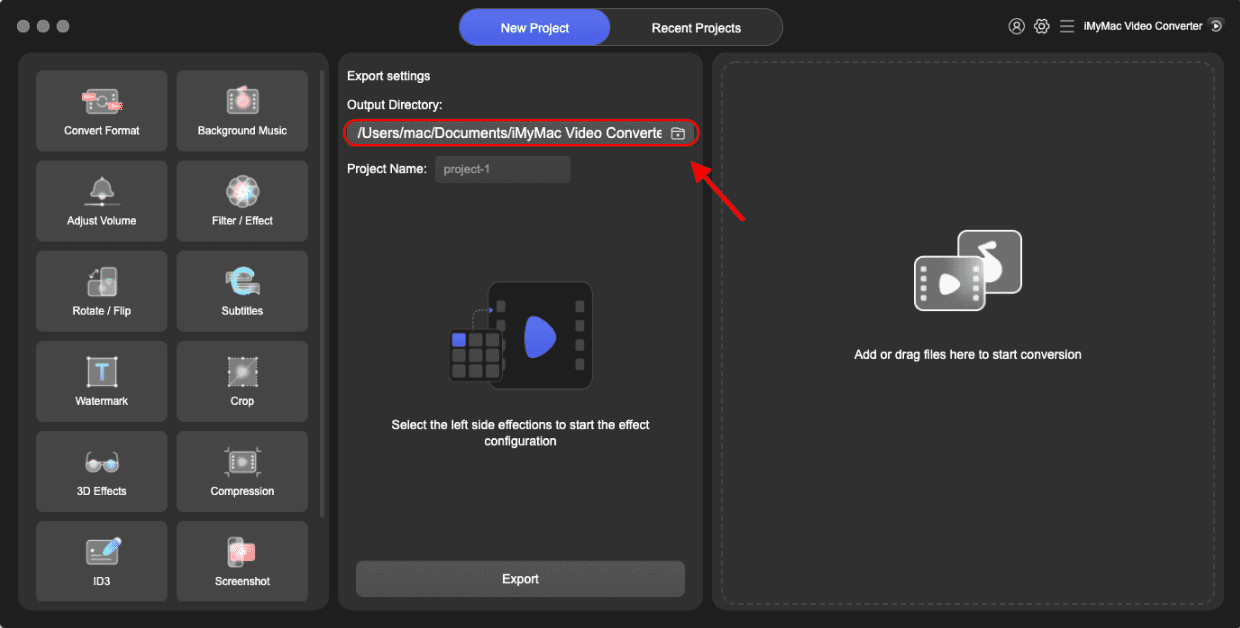 Step 4. Start Converting
Finally, start the conversion process by clicking "Convert" or "Convert All." Wait until the conversion is complete. Then, visit the destination folder to easily find the newly-converted video files.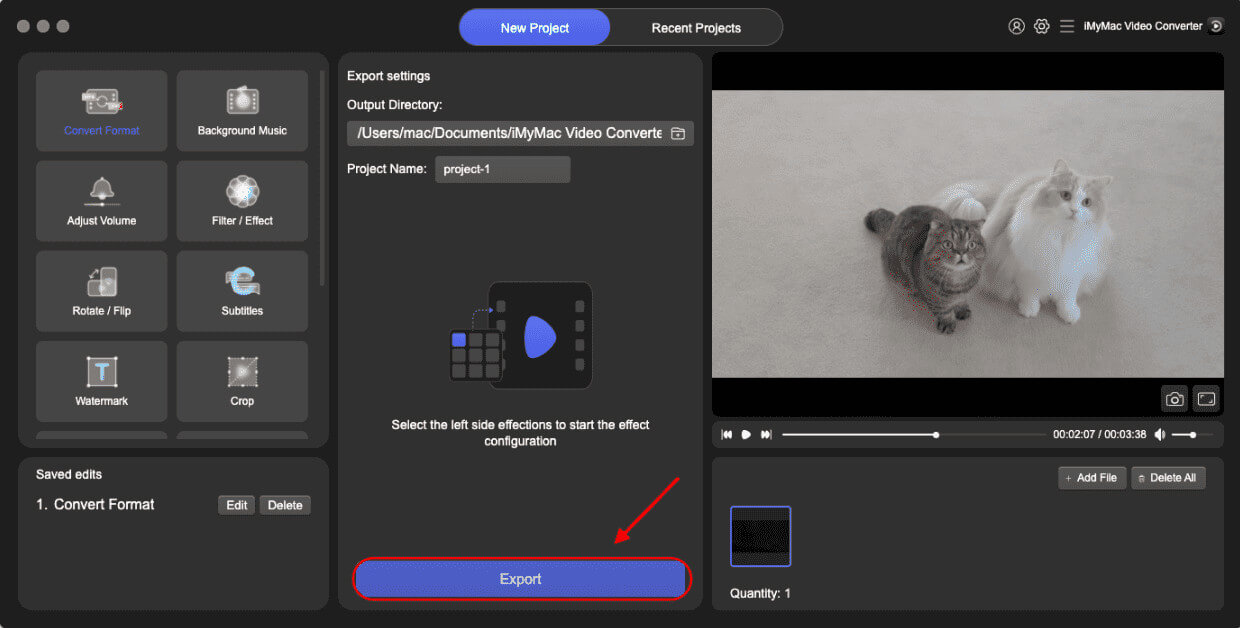 Part 4: Conclusion
We have given you the best free video converter list of about 5 different software. This list includes HandBrake, Any Video Converter Free, Freemake, Free HD Video Converter Factory, and Free Video Converter.
But our most recommended is iMyMac Video Converter. This is because it has fast conversion speeds and it supports one of the most comprehensive inputs and output formats available.
Plus, it can convert audio files as well. Editing capabilities make the tool very attractive to media enthusiasts – a clear reason why iMyMac's creation is the icing on the cake.
Thus, if you want to free try iMyMac Video Converter, you can do so by visiting the site here. You can try out the tool for yourself. In this way, you'll get to experience its interface and features. Grab this iMyMac video conversion tool now!