You could have a lot of videos that are in the MOV format, and at times it's required to convert the files from MOV to H.264 video format so that you can simply optimize them in certain systems or platforms like Mac or Windows computers. In light of the aforementioned information, you will need a video converter application that is capable of converting MOV files to H.264 format while maintaining the original level of video quality.
As a result, the following article offers a review of the four video conversion tools that are considered to be the best. As a result, among the four possibilities, you have the choice of selecting the tool that best suits your needs.
Contents: Part 1. Recommended MOV to H.264 Converter on Mac/Win Part 2. 3 Online MOV to H.264 Converters for FreePart 3. Is MOV the Same as H.264?Part 4. Conclusion
Part 1. Recommended MOV to H.264 Converter on Mac/Win
A reliable and professional-grade conversion tool is an absolute need in situations when it is necessary to convert several files rapidly and without sacrificing quality. iMyMac Video Converter is a strongly recommended tool that offers a one-stop solution to convert MOV files to H.264 format. This is because the majority of video transcoders are unable to handle difficult video codecs that are encased inside a MOV container.
Get A Free Trial Now!Get A Free Trial Now!
Since it comes equipped with a large selection of video codecs, adding and converting a wide variety of MOV file types to H.264 or turning MOV into other formats like MP4 is a breeze and doesn't cause any problems at all. Because of the user-friendly design and straightforward operation, it is particularly well-suited to persons who are not very knowledgeable about technology.
Hence, make sure you have this helpful toolbox downloaded, and then we can get started converting MOV to H.264.
Start the Mac or Windows version of the iMyMac Video Converter Log into your account after you're finished.
Placing the MOV file on the system's display by dropping or dragging it there always works without a hitch.
A drop-down menu allowing you to choose the kind of file into which the original should be converted, such as H.264, appears when you click "Convert Format".
The user interface makes it much simpler to find file alterations. Any modification to the files is allowed.
All of your changes are saved if you choose Save.
Choose a conversion option from the toolbar to begin the converting process.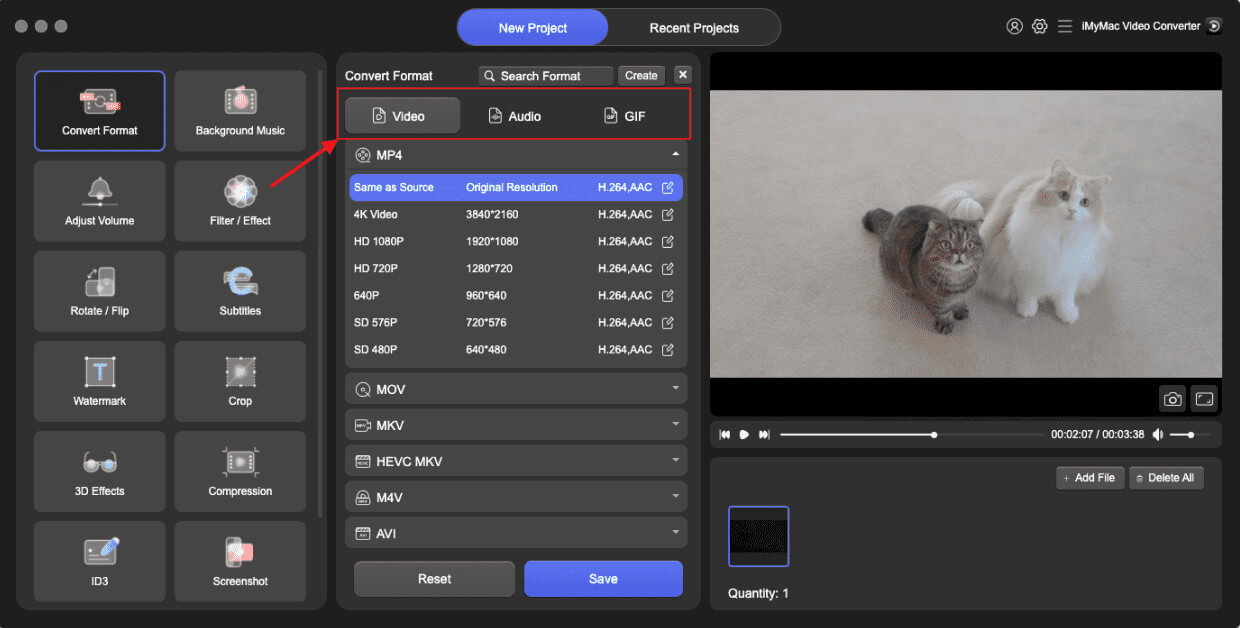 Part 2. 3 Online MOV to H.264 Converters for Free
Tool 01. MiConv.com
The product MiConv is not common in the field of video converters. It is a free H264 converter with straightforward use instructions. Just submit your video to the system and choose from the several supported formats.
MiConv is an open-source tool that instantly converts any video into the H264 format using a variety of video codecs. Also, it includes a more secure mechanism that prevents sharing of the uploader's video input with other users and only allows them to see it.
Choose the MOV videos you want to change to H264 by clicking the "Choose files" button.
Choose "H264" as the desired format. To convert MOV to H.264, click "Convert".It simply takes a little while.
Done! The MOV file you provided has been changed to H264. It's available for download to your gadget.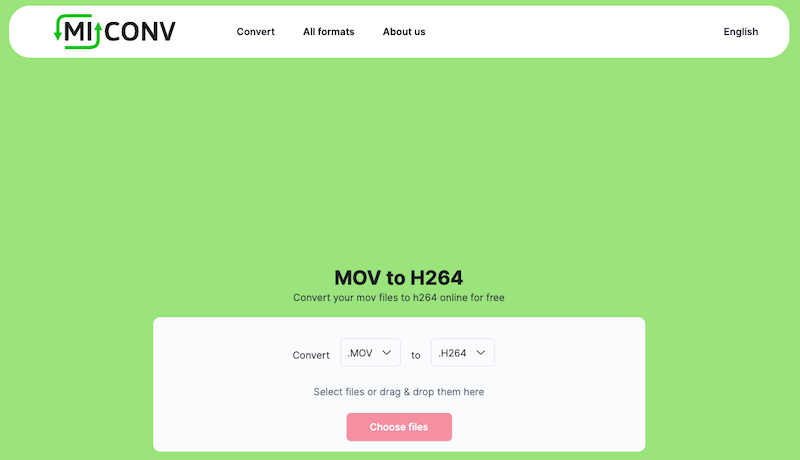 Tool 02. ConvertFiles.com
This user-friendly online application supports all major output formats in addition to H264 conversion and enables one file-at-a-time conversion. The converted files may be downloaded and stored locally. The choice to get the converted file's URL through email is also available.
To add the MOV file, open ConvertFiles and choose Browse.
Under the Export Format section, choose H264.
If you would like the converted file to be sent to you through email as well, enable the option. To begin the process of MOV to H.264, click the Convert button at the end.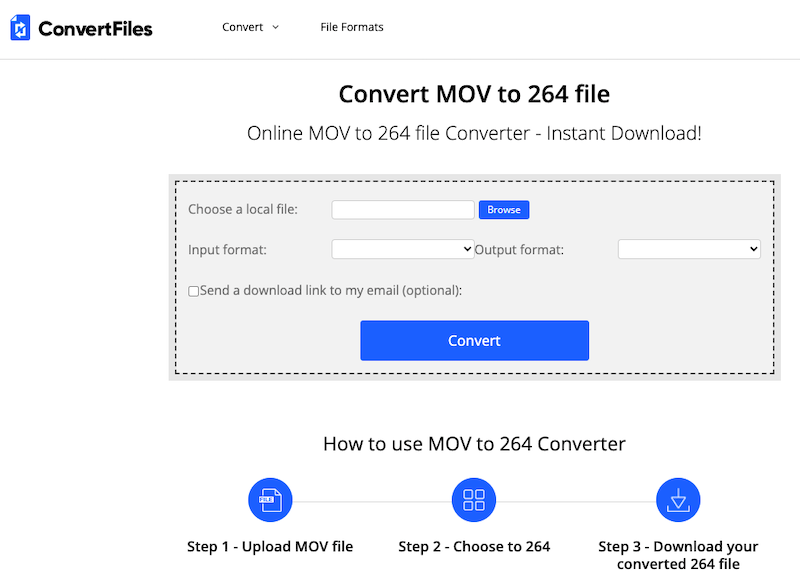 Tool 03. AnyConv.com
Your videos may be converted using this browser-based converter to all popular formats. You may explore and add system files or just drag and drop them. The converted files may be stored on your computer and utilized as needed for viewing and other functions.
Open AnyConv and choose the MOV file by clicking the SELECT FILE button.
Select H264 as the preferred output type.
Choose the

CONVERT

button to convert MOV to H.264.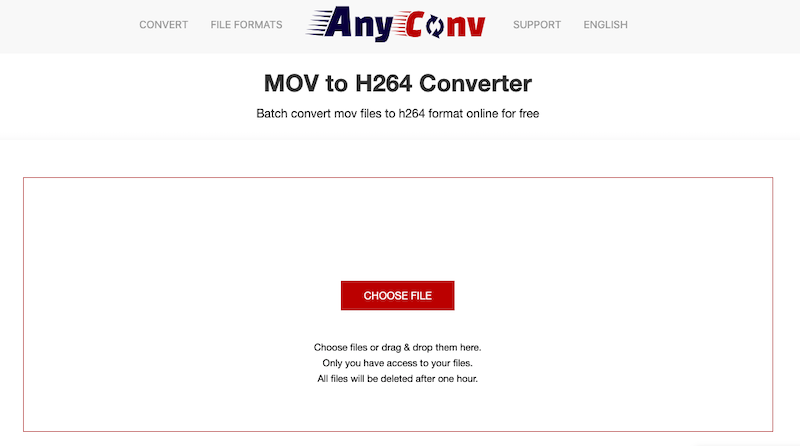 Part 3. Is MOV the Same as H.264?
Apple created the MOV container format, which is primarily utilized by Apple's QuickTime framework. The format, which can store several songs, is also recognized by the Windows operating system. MOV is a format that is often used for saving movies and other films. It uses the exclusive compression technique of Apple.
Block-oriented motion-compensated integer-DCT encoding is a technique used in the H264 video compression technology. The format is often used to store, distribute, and compress data. H264 may be embedded in a variety of container formats. However, it is often encrypted using the AAC codec.
There are various circumstances when MOV to H.264 conversion may be necessary. While MOV is a common format, it may be encoded using several codecs that are incompatible with several players and devices, necessitating conversion to a more frequently used format like H264.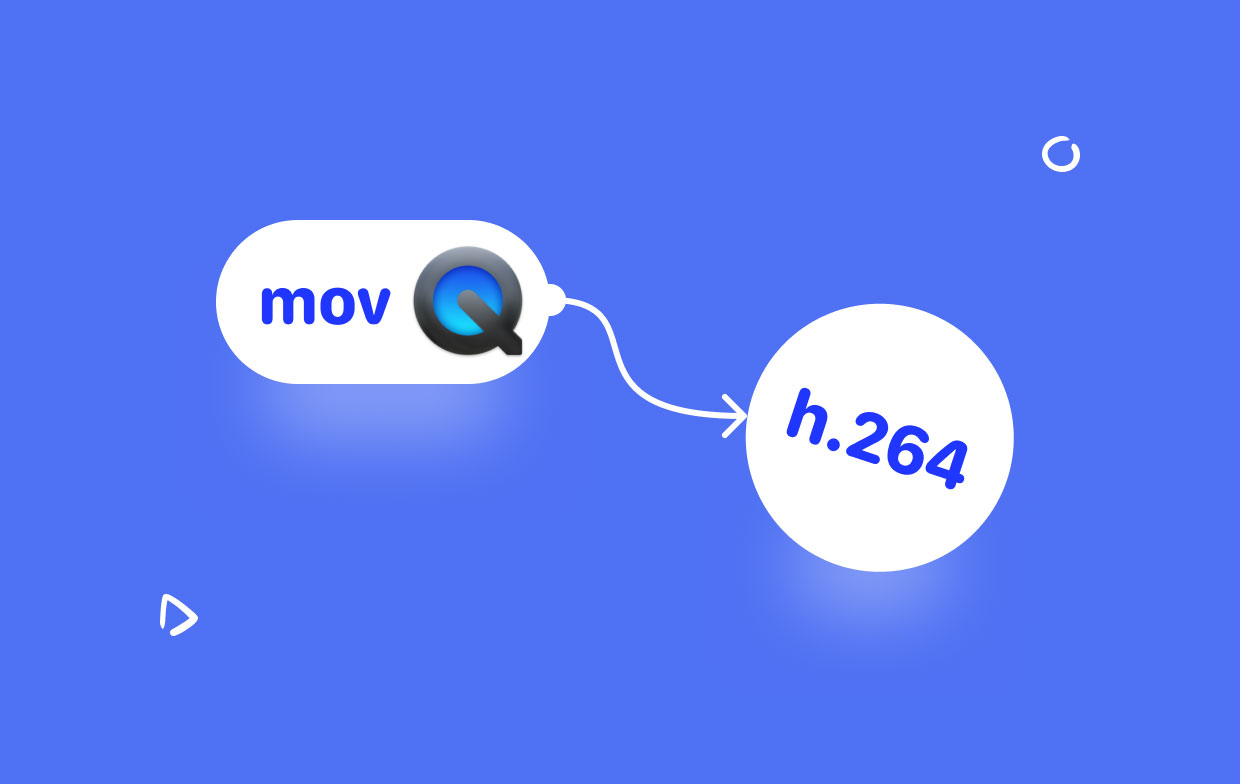 Moreover, MOV files are enormous and may cause problems with storage and sharing. These problems may be avoided by converting MOV files to H264, where data are compressed to reduce them in size for simple storage and for sharing across different platforms.
Part 4. Conclusion
We hope that by providing you with a list of the four ideal video converters for turning MOV to H.264 movies, we have made it easier for you to choose the right converter for the media files. When just a single or a small number of files need to be converted, online programs perform well. The finest program for batch converting in lossless quality with extra features is iMyMac Video Converter.