Have you heard of Kodi? If not, then that's just too bad. Kodi is free. It's compatible with almost all systems and it's open source. Thanks to Kodi, you can watch movies on your computer for free. Having said that, you might wonder. Is Kodi safe? This article will help you get some answers to the question, is Kodi safe?
The question is Kodi safe, is a pretty valid one. Since you can watch movies on it for free, you might wonder about the legality of using it. Since it comes with some add-ons, you might wonder about the impact it will have on your Mac. Is Kodi safe to use on your Mac? Let's get right into it now.
Article GuidePart 1. Kodi Up ClosePart 2. Three Critical Questions to Ask About Kodi?Part 3. Bonus: Protect Your Mac from Harmful AppsPart 4. Conclusion
Part 1. Kodi Up Close
Cody is essentially a media center. This particular software runs on your chosen device. You would usually find some Android TV boxes being advertised with Kodi installed. What that pretty much means is that they're installed Kodi on the Android system.
You can also enjoy Kodi by installing it on Raspberry Pi 3. The real power of Kodi really is that it lets you consume media in many different forms. You're able to use apps like Netflix and YouTube. There's no doubt that these are the typical means of media consumption these days.
You could also go ahead and install some add-ons. These add-ons give you a lot more flexibility on the content offered. you can also use Kodi to stream content from your local network onto your TV.
For example, if you have a bunch of video files, you can stream content over your LAN onto your TV. That way, you can enjoy that content on your big screen. So, Kodi, at its core, is a media player. It allows you to watch live TV, sports, movies, and TV shows, music, pay-per-view events. and much more.
How to Use Kodi?
If you're wondering how to use Kodi, the simple steps below will show you how to set it up.
Step 1. Download Kodi
Open up a web browser and type in Kodi. Click on the first link that shows up. That will take you to the Kodi website. From there, you can click on the download button. Then scroll down and look for Mac OS. Then choose which installer to use. Wait for it to download.
Step 2. Install Application
Click and open Downloads. Click on Kodi. When you see the installer file, click and hold Kodi so that you could drag it to your Applications folder. When you're done, you can eject the installer.
Step 3. Open Kodi
Go to your Applications folder and look for Kodi. Once you see it, click on it.
Step 4. Unblock Kodi
At this point, you might not be able to open Kodi. A pop-up window might appear saying that Kodi can't be opened because it is from an unidentified developer. If this error appears, just go to System Preferences and look for Security & Privacy. Go ahead and click on it. Then click to unlock on the tab that says Open Anyway.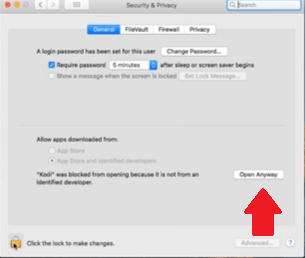 Step 5. Install Add-ons
At this point, you would have to install some add-ons to be able to watch TV shows or whatever it is you want to watch. Go to Settings on Kodi. Click on File Manager. Then tap on Add Source on the next page. Click on the field that says <None>. Enter a link then click OK. Then click OK again on the Add file source.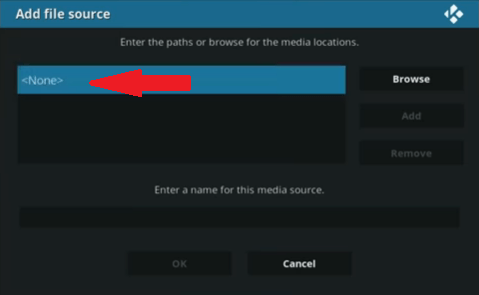 Part 2. Three Critical Questions to Ask About Kodi?
Now comes the critical questions to ask about Kodi. Since it's free you wonder about it. Below are the three critical questions that you should get answers to before proceeding to use Kodi.
Question #1: Is it Legal to Use Kodi?
For starters, Kodi is also available on Google Play Store. You can download it from there as well. That, itself, says a lot about its legality because Google is not going to allow you to download and use something that they think is illegal to use.
It's legal to use the Kodi software. The legalities come in when the add-ons are installed. While there are some legal add-ons, coming from the official Kodi Foundation, there are some that are not. Due to its open-source nature, anyone can create an add-on for it. Some of these add-ons are perfectly legal like the ones made from TV channels and streaming services.
On the other hand, there are also some add-ons that allow you to stream from pages that have stolen content. That's where the legalities come in. These add-ons could be breaking copyright laws. You could be in danger of receiving copyright notices or even jail time depending on where you're located. You might want to consider using a VPN to conceal your digital tracks or simply just stay away from the dubious add-ons.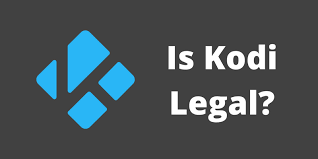 Question #2: Is it Safe to Use Kodi?
Since there's a huge number of pirated movies and TV shows that you can access on Kodi, it's easy to surmise if there's any malware embedded in any of the dubious add-ons. You would probably even worry more considering that there are copyright holders who are continuously claiming that people using Kodi to access pirated content have a higher risk of being exposed to malware. While that is a valid thought, not to mention, a cautious one as well; you could also look at it this way.
As previously mentioned, Kodi is an open-source project. They have volunteers who are on their toes 24/7 to watch out for threats and vulnerabilities. When you download Kodi, you download it from a secure website.
Team Kodi is also on a secure website. Of course, nothing is perfect. You should always be on the safe side. To be on the safe side, the best thing to do is to stick to the official add-ons of Kodi.
Question #3: Is it Safe to Use It on Your Mac?
The answer to this question is a big yes. As you have seen above, there's a big chance that you will be faced with an error when you install Kodi on your Mac. Chances are, there might be a need for you to unblock Kodi before you install it on your Mac.
The reason for that is because it's coming from an unidentified developer. While there are ways for you to unblock it on your Mac, it's pretty obvious that Apple has taken crucial steps to ensure Mac users, such as yourself, don't end up downloading harmful applications.
Apple its own Gatekeeper that only allows you to download from its App Store. Anything you download outside the App Store would require you to take some extra steps to unblock the unidentified app.
In spite of the fact that Kodi is downloaded outside the App store, knowing that it's pretty much safe to use it can give some kind of peace of mind.
Part 3. Bonus: Protect Your Mac from Harmful Apps
If you want total peace of mind for your Mac, you can use the iMyMac Mac Cleaner. With this program, you will be able to clean your Mac by uninstalling dubious apps.
There is a huge possibility that some unofficial add-ons from Kodi could contain some harmful programs. If you end up installing these add-ons, you're most likely to end up downloading some harmful programs on your Mac.
Now, how would you know about these harmful programs that were accidentally installed on your Mac?
That's why you need the Mac Cleaner. Using it gives you an easier way to find those dubious apps that had been installed. You won't have to into the various locations on your Mac to look for these dubious apps.
With the Mac Cleaner, you can just scan your Mac and all the apps installed will come out. Once they all appear on the screen, you can just select the ones that aren't even familiar to you. From there, you can just clean them out with just one click.
Part 4. Conclusion
Kodi is a pretty great solution for all your streaming needs. You can install it on your Mac. It will let you watch all kinds of content from sports to TV shows to movies and even live streams. It's just that some content on Kodi is not legal, let alone safe.
To keep your Mac safe from dubious add-ons from Kodi, make sure to use the iMyMac Mac Cleaner. You can't get wrong with it.
Have you tried installing Kodi? If yes, what add-ons do you use? How do you keep your Mac safe? Feel free to share some of your tips and tricks on how to keep your Mac safe.