It's not easy to nail down an ultraportable with all the hallmarks of a supercomputer. But Apple gives you a sporting chance with their iconic, trimmer versions that keep coming down the pikes. Apple's 2015 MacBook is thinner than the preceding MacBook Air.
Patterned on the concept of the iPad and iPhone, the latest laptop imparts the MacBook lineup DNA with rich aesthetics defining its design. It's packed down, super-sleek, and refined to something wispier and lighter than the 11" MacBook Air.
MacBook vs. MacBook Air: Which one is a must-have Apple laptop? Read this concise comparison to make a well-informed decision.
Article GuidePart 1: MacBook vs. MacBook Air: Exterior Specs ComparedPart 2: MacBook vs. MacBook Air: Interior Specs Compared Part 3: Other Options to Replace MacBook and MacBook Air
People Also Read:How to Right Click on Macbook?Chrome Running Slow on Mac? Here is How to Fix!
Part 1: MacBook vs. MacBook Air: Exterior Specs Compared
Here's how these two ultra-slender laptops stack up.
Design
The Apple MacBook 12" utilizes the same unibody aluminum profile as the MacBook Air 11", but it's trimmer and lighter. The entire anatomy clocks in at 0.51" at the densest point, slightly skinnier than the 0.68" thick MacBook Air. It tilts the scales at 2 pounds, tailing off roughly 5 ounces from its counterpart's 2.31 pounds.
Colors
The MacBook sports ethereal aesthetics with its aluminum chassis branching off into three colors, viz. gold, silver, and space gray. The looks mimic the predecessor iPhone, breaking away with the MacBook Air tradition.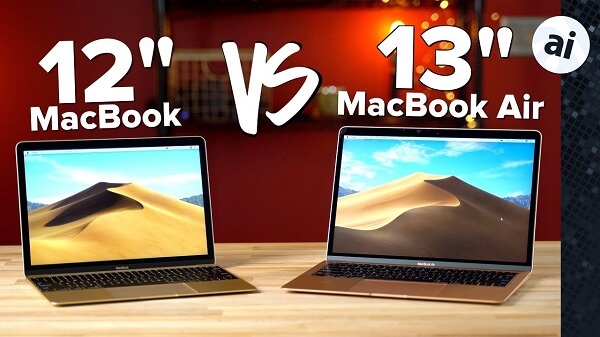 Display
Onto display, their screens manifest sharper contrasts than the chassis. The MacBook's glossy panel looks more vivid and vibrant than the MacBook Air with a 12" Retina display. It enfolds in 2,304-x-1,440-pixel resolution, which is 0.04" less thick.
It boasts superior and larger resolution dwarfing the 1,366-x-768 resolution of the MacBook Air. You'll feast your eyes on full HD (1080p) media. However, the two hit the stores back in 2015 before Apple's space-age touch on the screen tech.
Keyboard
The MacBook's console measures exactly 12", a stark contrast against the MacBook Air's less than a full-size keyboard. Redesigned keys have a novel butterfly mechanism for more stability and even dispersion of the thrust of a keystroke. Stainless steel in new dome switches offers a more tactile feel as you type and hold up over the long haul.
Although the MacBook Air has the staple scissor-switch mechanisms and silicone, Mac users have not raised concerns over the keyboards.
Trackpad
The trackpad provides another clear dissimilarity. Whereas the MacBook Air's touch trackpad exploited the entire touch lining as a levered key, the MacBook boasts a proprietary Touch trackpad. It utilizes four, edge-mounted and pressure-sensitive force detectors for a more even click along the entire touch surface.
The pressure hypersensitivity kicks in with unique functions such as Force Click for a deeper click than its predecessors. Force Click supports a clever mix of clickable features to a variety of apps, akin to a right-click list of options. The MacBook Air lacks the new trackpad and the capabilities of Force Click but retains the tactile experience of Apple's pioneer consoles.
Part 2: MacBook vs. MacBook Air: Interior Specs Compared
Processor's Horsepower
Under the hood, the MacBook packs an ultra-low-voltage Intel's Core M microprocessor that facilitates an ultra-light, wispier footprint. It guzzles less energy, dissipates heat to inhibit overheating, and supports the skinner fan-less concept of the chassis.
On the other hand, the MacBook Air's Core i5 comes with more processing oomph that makes the Intel processor all show and no go regarding performance. It breezes through memory-intensive tasks at a fast clip outpacing the Core-M-equipped MacBook. The MacBook Air serves up the horsepower of a high-performance machine to crank through video editing or photo retouching in the shortest space of time.
Connectivity
The MacBook offers dual-band 802.11ac Wi-Fi connectivity just like the 11" Air but boasts Wi-Fi antennas ensconced into the chassis. The MacBook has superior reception and throughput.
Port Variety
The 11" Air offers dual USB 3.0 ports, a headset jack, and a Thunderbolt port compared to the MacBook's single USB-C port for charging, syncing data and plugging in video output. However, you'll need an adapter to support USB and Thunderbolt. The new connector has new touches like a reversible plug socket to prevent unsuccessful plug-in attempts.
Battery Design
Apple engineers sculpted a new battery design that allows cells to penetrate further into the tapering interior of the 12" MacBook. It comes with a 39.7 watt-hour (Wh) lithium-polymer battery, a slight leap from the 11" Air's 38Wh. The bottom line is both systems have impressive battery life.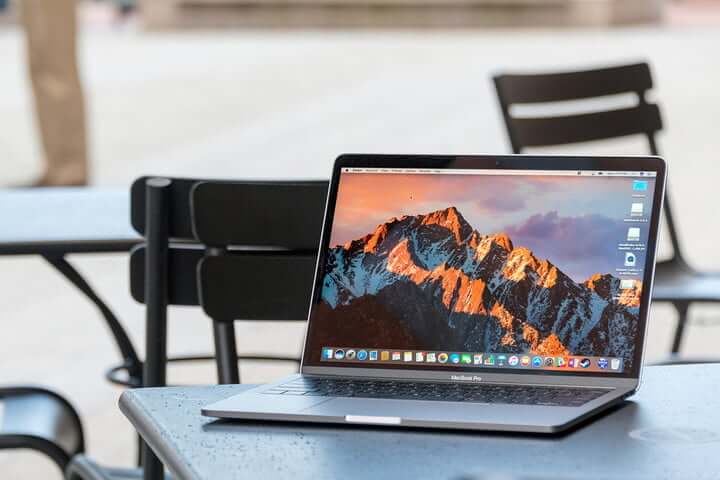 Tip: PowerMyMac Grind Junk Buildup on MacBook to a Halt
Apart from our informative content for Mac users, iMyMac is in the frontline of software development. Buoyed by the spirit of innovation, iMyMac pushes out no-frills and effective tools to optimize or tidy up your devices. PowerMyMac embodies a pinnacle of this innovative drive engineered to keep your Mac all-spruced-up and at peak performance.
It quarantines junk across repositories such as email, iTunes, trash bins, duplicates, and system clutter. It makes serviceability a breeze with a performance monitor, smart algorithms to zero in on junk and a memory retriever. In addition to the powerful cleaner, it boasts a rich toolkit with versatile instruments such as an app installer, system maintenance and unarchiver to ensure your MacBook is as sound as a barrel in the long haul.
Part 3: Other Options to Replace MacBook and MacBook Air
MacBook Pro
The MacBook Pro has portable benefits packed in a 13" chassis equipped with a 1.4-GHz 8th Gen Core i5 processor, 8GB RAM, and 128GB SSD. It has a striking high-resolution display, robust battery and stellar performance.
Lenovo ThinkPad X1
Like the MacBook Pro, the ThinkPad X1 Carbon packs an 8th Generation Intel i5 U-series processor along with 8GB of RAM. However, the ThinkPad X1 is more configurable in terms of price. It's more ultraportable than the MacBook Pro while it outperforms it in design, keyboard, ports and the broad array of configurations.
Final Thoughts:
Flowing from the comparison, you can never get the wrong end of the stick. For the best bang for your hard-earned buck, the Apple MacBook Air 11" is worth a second look. You reap more horsepower, versatile port selection, and equivalent all-day battery life without breaking the bank. If you thirst for more portability or contemplate a wireless lifestyle, then the MacBook fills the bill.
In all, the 11" Air is the better of the two with more perks and real estate.