Video file types vary in formats where one format has advantages over the other. These file formats have differing disadvantages as well. That's why you must choose the right video type for your needs. Two popular video formats include 3GP and MP4. Others include MKV, MOV, WMV, and more. Here's another article about the conversion between MOV and MP4.
The two formats can be converted from 3GP to MP4, and vice-versa. If you own 3GP files, you may want to convert them to the more popular MP4 format, especially if you're going to distribute them online. Old homemade videos made in 3GP can be converted to MP4.
The good news is, we're here to help you convert from 3GP to the MP4 easily. We'll first talk about what 3Gp files are and how to open them on different devices. Then, we'll move onto how to convert 3GP to MP4 on your Mac computer. Windows 10 methods will be discussed too. Finally, we'll talk about the online tools to convert 3GP files to that of the MP4 format.
Article GuidePart 1. What Is A 3GP File?Part 2. How Do I Convert 3GP To MP4 On Mac?Part 3. How To Convert 3GP To MP4 On Windows 10?Part 4. Best 3GP to MP4 Converter Apps Online
Part 1. What Is A 3GP File?
A 3GP file format is known as such because it's called after its maker, The Third Generation Partnership Project (3GPP). This file format, the 3GP type, is actually supported in various devices that has the 3G network-enabled in it.
The 3GP file format is composed of video streams of the codecs named H.264 or H.263. Audio streams, on the other hand, are based on AAC or AMR. Thus, 3GP is a perfect type for lost compression of your video data files.
This video format is an ISO standard. It is very popular and is used because it has a reduced file size. Thus, it can be shared easily over devices that have 2G and 3G networks. Even if this file is designed for 3G devices and though we are currently rolling in 5G, 3GP files are still widely used.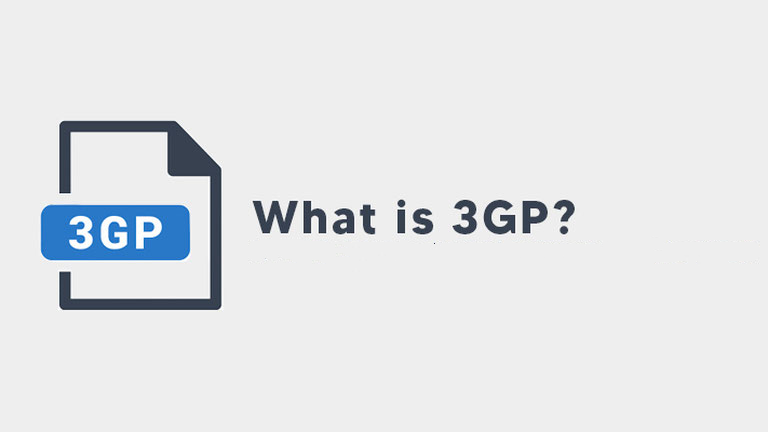 How Do I Open A 3GP File?
There are various ways and media players you can use in order to open 3GP files. One of the things you can use to open your 3GP file is the Roxio Creator NXT. Here are the steps you should follow in order to launch 3GP files on your computer:
Locate The 3GP File. The first thing you have to do is to know the folder where the 3GP file is located.
Open Roxio Creator NXT. After that, you have to open Roxio Creator NXT on your computer. Click the option for File and then click the Open-label.
Choose Files. In the window that appears, find the 3GP files and then choose to open them.
(Optional) Edit Files. An optional step would be to edit using video and audio editing tools. You can use Roxio Creator NXT for this.
(Optional) Save File. After that, you can save files by clicking the File menu and then choosing Save As. Put the name that you want and save it afterward.
Before we convert 3GP to MP4, let's talk about how to open it apart from using Roxio Creator NXT. Another thing you can use is different 3G mobile phones. These smartphones can allow you to open this type of file.
Apart from that, 3GP files can be launched on computers including Mac and Windows operating systems. The QuickTime Media Player can open this file including MPlayer and VLC Media Player. Windows Media Player has the ability to open these file types too. However, a codec must be installed to open this file on WMP.
For Android, you can use MX Player or you can also download the app known as Simple MP4 Video Player. Both apps can play 3GP files. In addition, iOS allows you to run the said video file format using the app called OPlayer.
Part 2. How Do I Convert 3GP To MP4 On Mac?
In this section, we will answer the question on how to convert 3GP to the MP4 on Mac computers. The next section will focus on Windows. However, for Mac, we will be using iMyMac Video Converter and the popular VLC Media Player.
Let's get started with iMyMac Video Converter. We will do so because it's the best tool to convert 3GP to MP4 in a breeze.
1. iMyMac Video Converter
iMyMac Video Converter is one of the best conversion tools you can get nowadays. Apart from being able to convert hundreds of media file formats, it can be used to edit and enhance your videos(Enhance video quality software recommendation). And this tool is not limited to videos alone. It can be used to convert audio files too. Plus, converting from audio to video (and vice-versa) can be done with iMyMac Video Converter.
The great thing about this tool is it allows you to take advantage of hardware acceleration technology. In this way, you utilize the full power of your NVIDIA CUDA, AMD, NVEC, and Intel HD graphics cards. This makes editing and conversion way faster than the standard conversion tool.
Here are the steps to use iMyMac Video Converter in order to convert 3GP to MP4;
Step 01. Download, Install And Launch The Tool
The first step you should do is to go to the website iMyMac.com and visit the menu for the iMyMac Video Converter. Then, you should download the installer either by going for the free trial or purchasing the tool outright.
Get A Free Trial Now!
Once the installer is downloaded, you can open the installer and then follow the prompts on the screen to make sure you place it on your Mac. Once it is properly installed, you can easily open it by double-clicking the icon for the app.
Step 02. Add 3GP File To Convert
The second step involves adding the files that you like on the interface. Of course, for this article, you have to add the 3GP files. You can do this by clicking the +ADD FILES button. This is found at the top left part of the interface. You can add as many files as you like.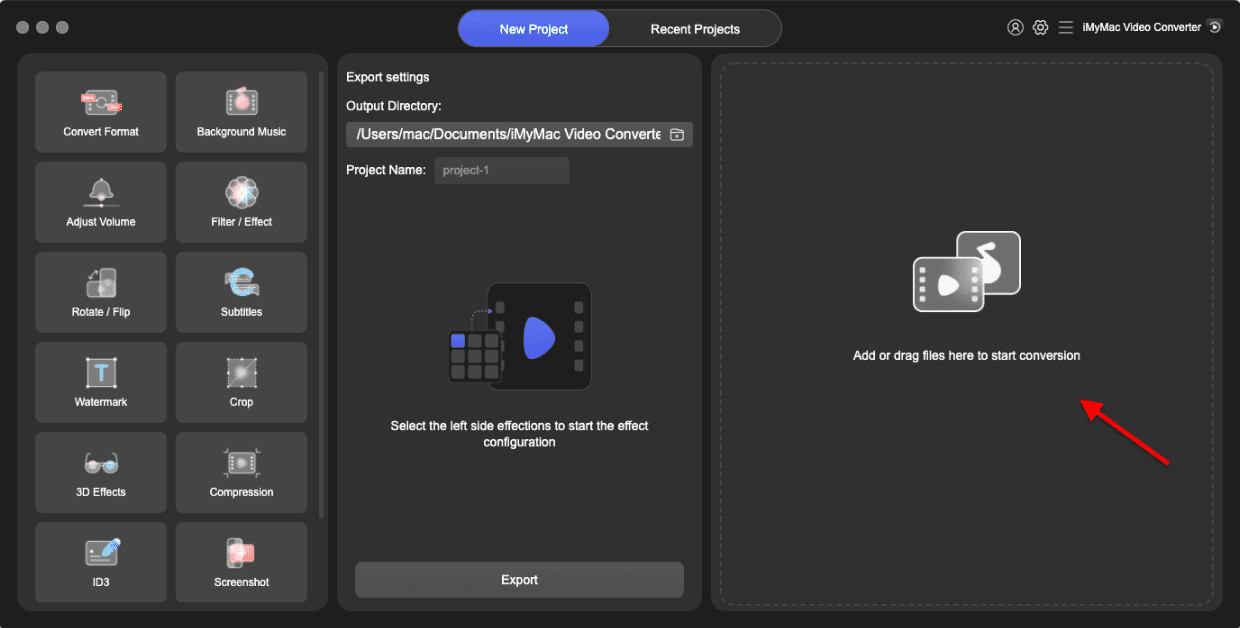 Step 03. Modify Settings to Convert Files to MP4
The third step is to modify your video as you wish. You can crop, trim, rotate, and cut. You can also add watermarks and other video effects. Other things you can do involve adding subtitles. Now, choose the output format to convert 3GP to MP4. In this case, you need the output format MP4 as the chosen setting. Then, you'd have to select a folder where the files will be saved.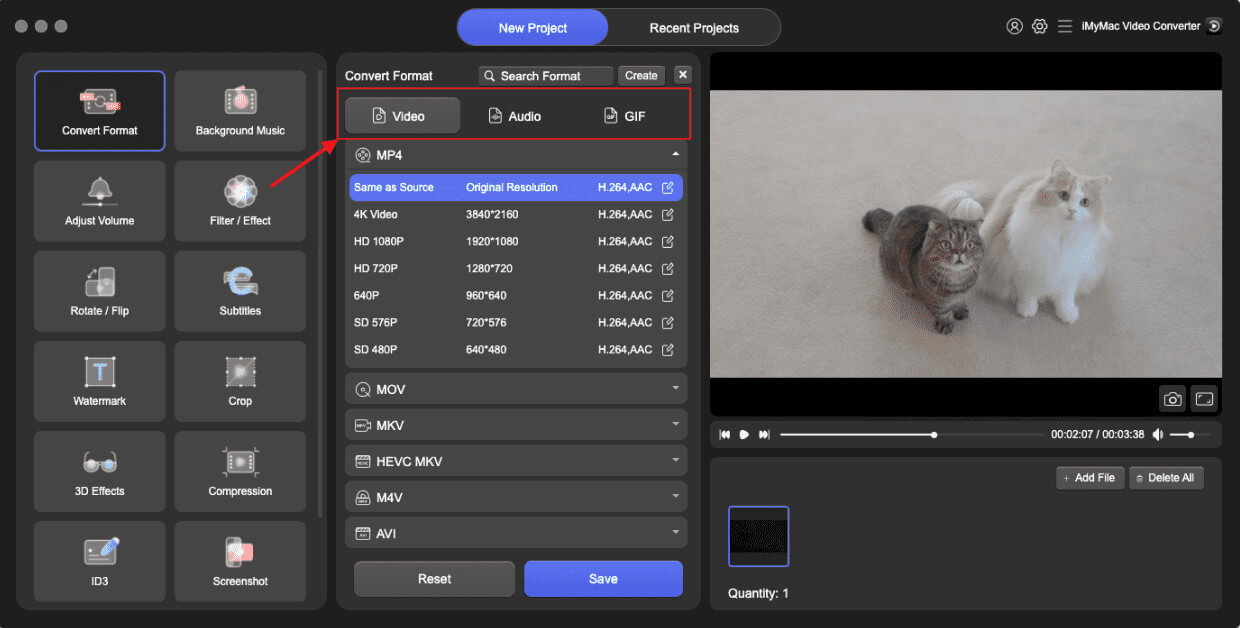 Step 04. Convert Or Convert All
The last step you have to take is to click Convert. This can be found on the right side of the entire rectangular thumbnail dedicated to the video. Or, if you want to convert multiple files, you can go for the Convert All button which can be found at the bottom of the interface. Wait until all files are converted from 3GP to the MP4. Then, locate the converted files in the destination folder you have chosen in Step 03.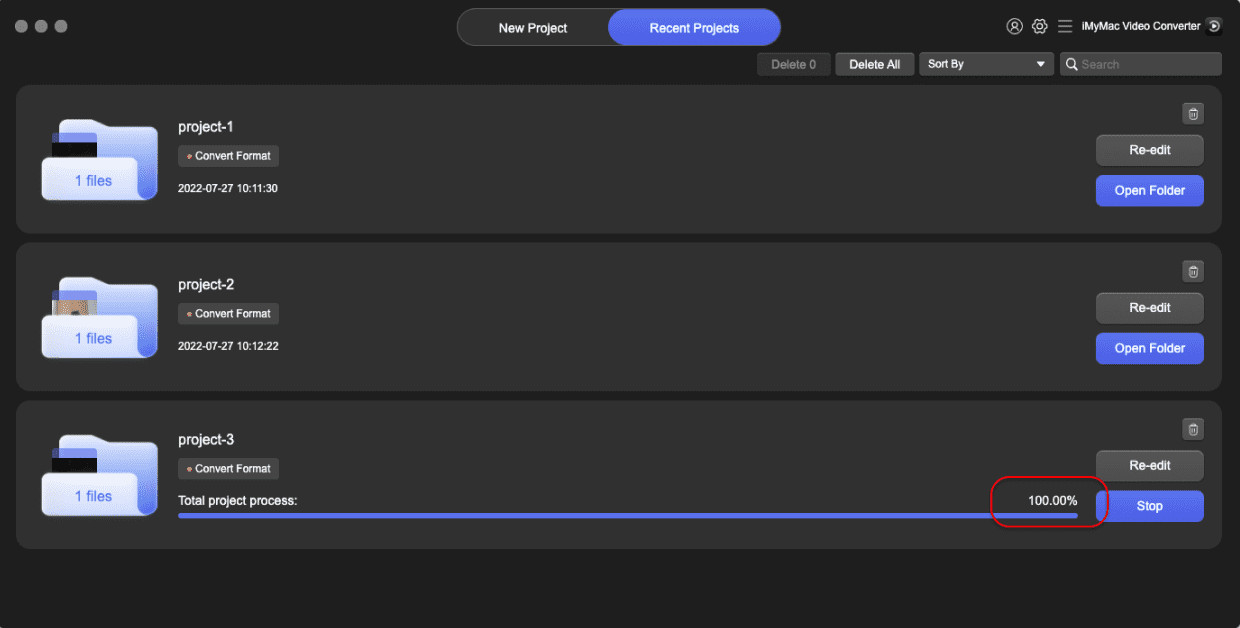 2. VLC Media Player
Another tool to convert 3GP to the MP4 is through VLC Media Player. It's a popular tool to play media files including audio and video. It can be used to convert 3GP to the MP4. But, the output is not of high quality because it was purposely made to play videos (and not to convert files).
Here are the steps to convert 3GP to MP4 using VLC on Mac:
Launch VLC. Open VLC Media Player on your computer.
Visit The Menu. Visit the menu and choose the option for Media. After that, click Convert/ Save.
Add Input Files. Add the 3GP files you wish to convert. Then, press Convert/ Save again.
Specify File Name. Now, in the window labeled Convert, specify the file name that you want.
Choose Profile. Then the Profile List should help you choose MP4 as the output profile. To check its settings you can click the option for the Edit Selected Profile.
Now, you can choose the option to Start in order to begin the conversion process.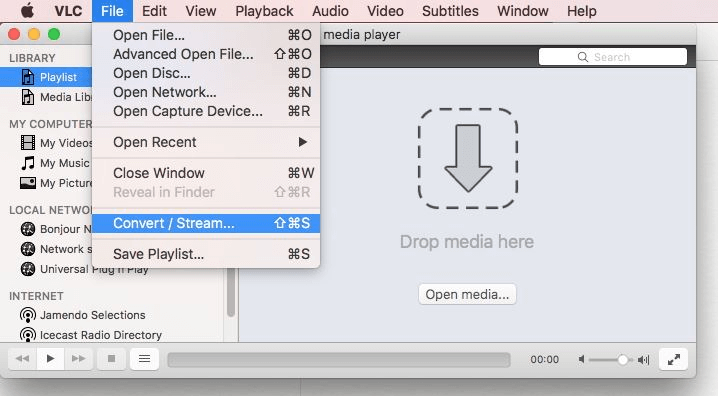 That's how to convert 3GP to the MP4 using VLC Media Player on Mac!
Part 3. How To Convert 3GP To MP4 On Windows 10?
So now, we have to convert 3GP to the MP4 on Windows 10. The steps will be quite similar, yet some steps will be different. We can use three tools to convert these file types. These include VLC Media Player again, Handbrake, and Adobe Media Encoder.
1. VLC Media Player
Here are the steps to convert 3GP to MP4 using VLC Media Player on Windows 10:
Open VLC. Launch VLC on your Windows computer.
Click Media. Open the Media menu and click Convert/ Save.
Click Add. Click Add and then place the file you want to convert.
Click Convert/ Save. Then, click the option to Convert/Save again.
Choose Profile And Destination Folder. Choose a profile that you want and a destination folder.
Click Start. After that, click the Start button and wait for 3GP to the MP4 conversion.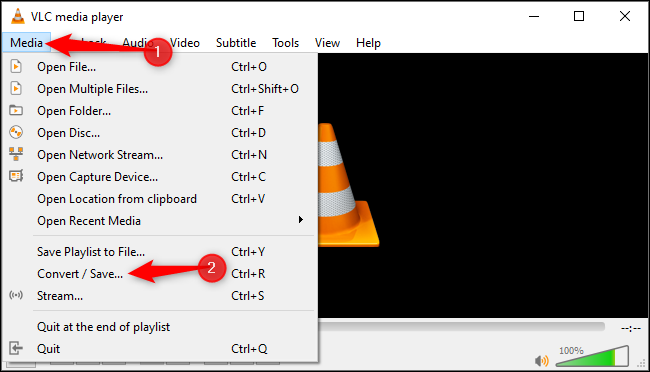 2. HandBrake
HandBrake is another way to convert 3GP to MP4. Here are the steps to do it:
Download And Install. The first thing is to download and install HandBrake.
Open HandBrake. Then, launch HandBrake and click the Source button. Choose File and then locate the files on your computer.
Choose Destination Folder. The next thing you have to do is to choose the destination folder on your computer. Do this by clicking the Browse button.
Select Preset. Then, you'd have to choose a Preset from the list of presets located towards the right of the interface. MP4 should be a preset you must choose.
Click Start Encode to convert 3GP to the MP4.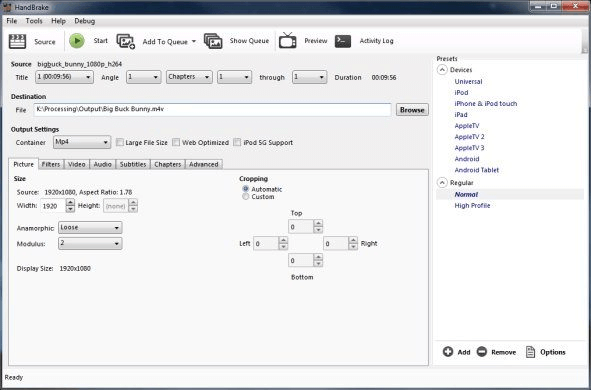 3. Adobe Media Encoder
This is another tool to use if you want to convert 3GP to MP4. The steps to use it are as follows:
Launch Adobe Media Encoder. Open the tool on your computer.
Visit Queue. Visit the panel labeled Queue. Click the + button or icon. Then, add the files you wish to convert. Another thing you can do is simply drag and drop the 3GP files.
Right-Click File. Now, right-click the file. Click the Options menu and then choose Export Settings.
Choose Format. The Export Settings window will show up. You have to choose the Format button, then click MP4 as the output preset.
Visit Multiplexer. Visit the tab labeled Multiplexer and then choose MP4 from the menu that's a drop-down structure.
Press OK. Now, click OK. And then, choose the Output Folder. Save the file within your local hard drive.
Click Start. Visit the right pane. Click the start button that looks like a green triangle pointing to the right.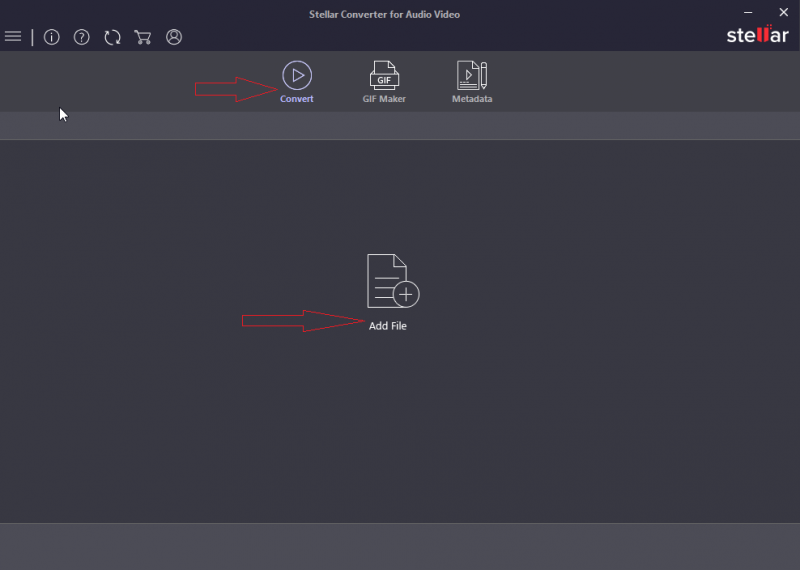 Part 4. Best 3GP to MP4 Converter Apps Online
Some of the best online converters to transform 3GP to the MP4 include CloudConvert, Zamzar, and Convertio. All of these tools look professional. In addition, they can convert not only 3GP and MP4 files but other file formats as well.
These tools can be used to convert 3GP to the MP4 online without the need to install the software. In addition, they can help you convert documents, audio files, video files, and PPT presentations. They all delete your uploaded and converted files after some period of time to protect your privacy too! So, they are good choices if you have a file that is small in size.
Although we have given you multiple choices to convert 3GP to MP4, the best tool you can get is still iMyMac Video Converter. VLC doesn't have a great output because it is mainly made for playing media files. In addition, online converters have size limitations. For instance, you can only convert up to 100MB or 50MB.
Thus, you should grab iMyMac Video Converter now! It has no size limitations and the output file is smooth and lag-free. Plus, you can edit your videos and audio files with this software. Visit iMyMac.com and choose the Video Converter today!