Ask anyone if they know the AVCHD format and most of the answers you'll receive is no. Unfortunately, because of the unfamiliarity with this format, gathering information about it proves to be more difficult than with other formats.
The good news is you don't have to force yourself to learn about AVCHD. You can simply convert them into a different format like MP4 or FLAC. Doing so will save you from the trouble of learning about this unfamiliar format and since you're most likely well-versed in MP4, the perfect option is to convert AVCHD to MP4.
Before anything else, what is AVCHD and how can you open files with such a format?
Article GuidePart 1. How Do I Open an AVCHD File?Part 2. Convert AVCHD to MP4 without Losing Quality on MacPart 3. How to Convert AVCHD to MP4 with VLC?Part 4. Convert AVCHD to MP4 Online for Free
Part 1. How Do I Open an AVCHD File?
AVCHD is a file specifically meant for studio recordings. This format is usually utilized by people using camcorders. Its codec is the same as MP4 although it uses Dolby AC-3 for its audio. The main selling point of AVCHD is that its compression is top-notch, resulting in a very small file size while still maintaining good quality. Hence, it's the perfect format for Blu-ray.
AVCHD playback is easy if you have the correct media player. Of course, you can use AVCHD discs or Blu-ray if you only plan on watching the video. However, if you want to deal with edits afterward, you can use the following media players:
Windows Media Player. Playing AVCHD files on WMP is the perfect option for Windows users since this media player is installed by default. Moreover, such a media player supports numerous formats and if there is an error, you can easily solve it by updating the program.
As usual, VLC supports this format, especially since you can also add unfamiliar video and audio codecs to the platform. Since it's free, you can enjoy this media player without restraints.
Media Player Classic. If you're more into lightweight media players, I suggest looking into Media Player Classic. This software supports hundreds of formats. On that of that, this player is open-source, so you can install useful plugins to extend its functions.
Regardless of which media player you use, you'll eventually end up seeing that other formats are much better than AVCHD in several aspects. For that reason, we'll proceed to how you can convert AVCHD to MP4.
Part 2. Convert AVCHD to MP4 without Losing Quality on Mac
It goes without saying that conversion is a common function. Many tools on the internet have such a feature, but only a few are capable of retaining the quality of the original file.
iMyMac Video Converter is a tool that specializes in video conversion, capable of keeping the original quality of the files. If you want to learn more, here are some of its features:
Format Conversion. As a video converter, iMyMac supports numerous formats such as MP4, WAV, AIFF, and most importantly, AVCHD. It also supports audio formats such as MP3, M4V, and the likes. Regardless of the audio codec, it should support the format.
Acceleration Technology. iMyMac Video Converter utilizes hardware acceleration technology which allows for a quick conversion six times faster than normal converters. The best part is that it doesn't compromise the quality despite its speed.
Supported Resolutions/Quality. Video enthusiasts will love this software as it also supports various resolutions from 480P to 4K videos. The audio quality and bitrate can also be set so you can have sharper audio.
Supported Devices. Converted files can also be accessed by different devices, from the old models to the latest models. This includes devices like Google Nexus, Samsung Galaxy, iOS devices, and more.
Video Enhancement. In case you want to make some edits, you can use iMyMac to enhance the video. Examples of the edits include rotating, cropping, trimming, adding effects, and more, all can be done by iMyMac.
Get A Free Trial Now!
Here are the steps you need to do to convert AVCHD to MP4:
Step 1. Select AVCHD Files
Open the iMyMac Video Converter on your macOS computer. Upon doing so, you will see a blank page wherein you can place all kinds of files. Drag and drop the AVCHD files into the main page. You can also click the Add Files button at the top-left corner of the page which will allow you to browse your computer for the AVCHD videos.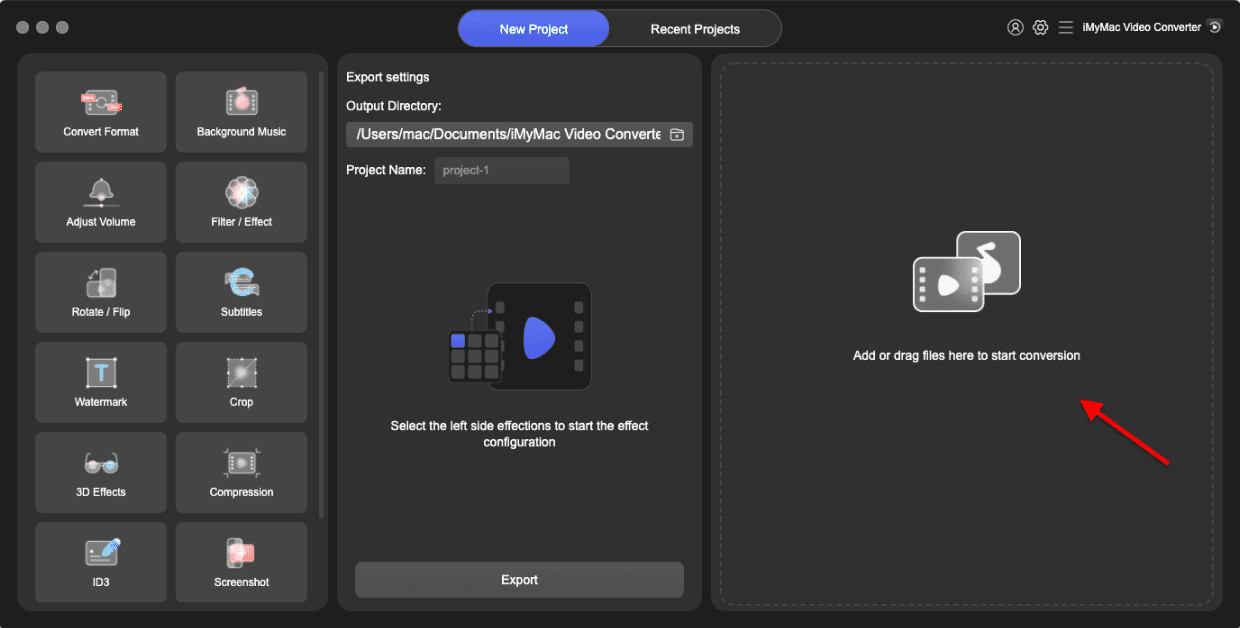 Step 2. Select MP4 Format
After adding all the necessary files, click on the menu found on the top-right corner of the window. By clicking the menu, you will see numerous options in a dropdown list. Simply select MP4 from this list.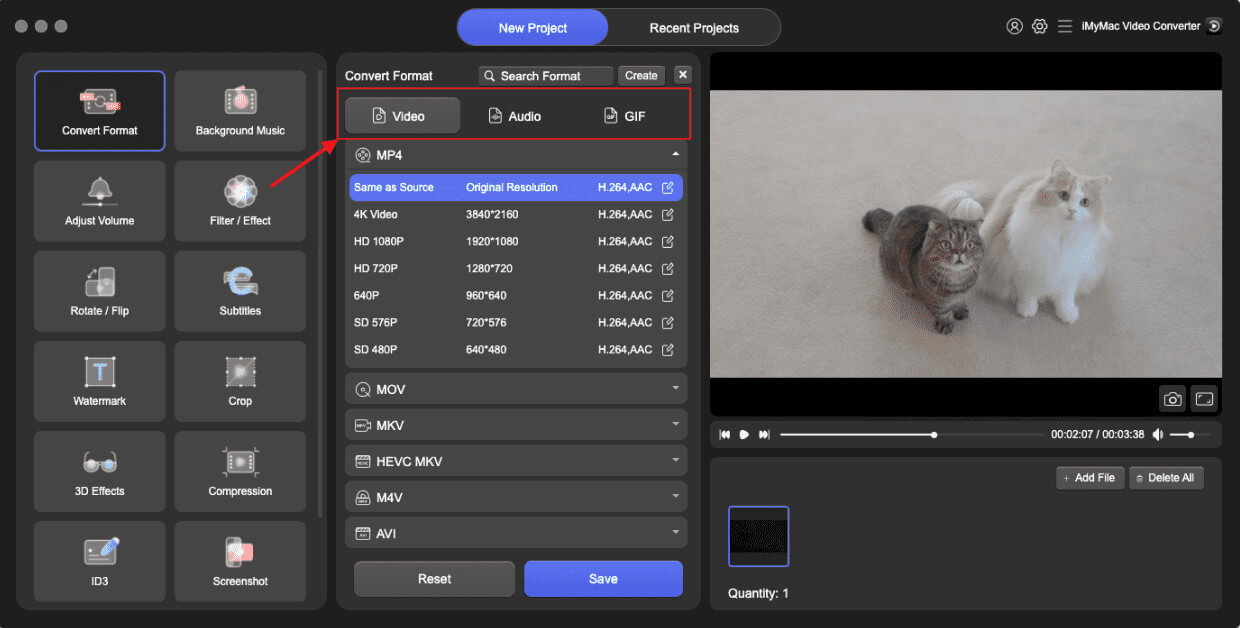 Step 3. Convert AVCHD to MP4
Finally, click on the Convert button next to the video on the main page. You can also choose to click Convert All button at the bottom-right corner of the window to convert all of the files at once.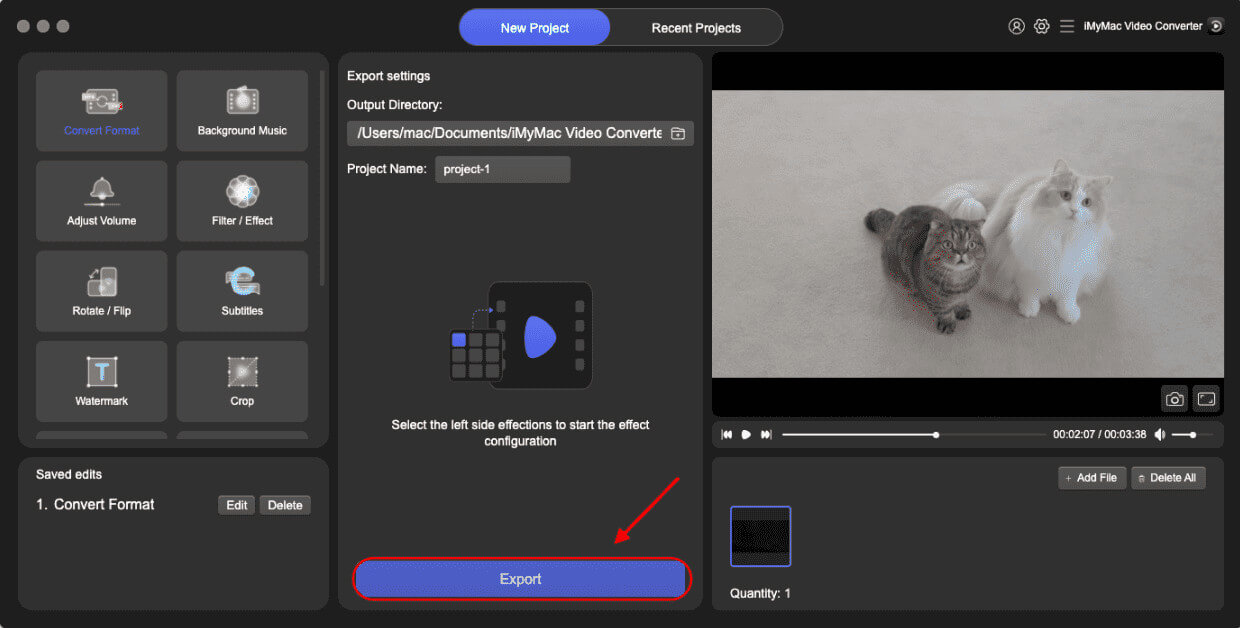 If you want to convert AVCHD to MP4, iMyMac will be the perfect option. Not only is it accurate, but it's also quick with the conversions. However, you still have other options if you're not fond of third-party software.
Part 3. How to Convert AVCHD to MP4 with VLC?
As previously said, you can use VLC to open AVCHD files, and while you're at it, you might as well convert AVCHD to MP4.
VLC is a free media player and is one of the most popular ones out there. Although its main function is to play videos, users can also use VLC's other functions for video edits, and one of those functions is conversion. Let's start with the steps for Mac users.
On Mac:
Open VLC media player on your macOS computer.
Drag the file from your computer and drop it into the VLC window.
Click File from the top menu bar and select Convert/Stream.
You will see a window pop up. On this window, proceed to the Convert tab and specify the folder where you want to save the converted file.
On the Profile tab, select the codec for the output, which should be MP4.
Click Go.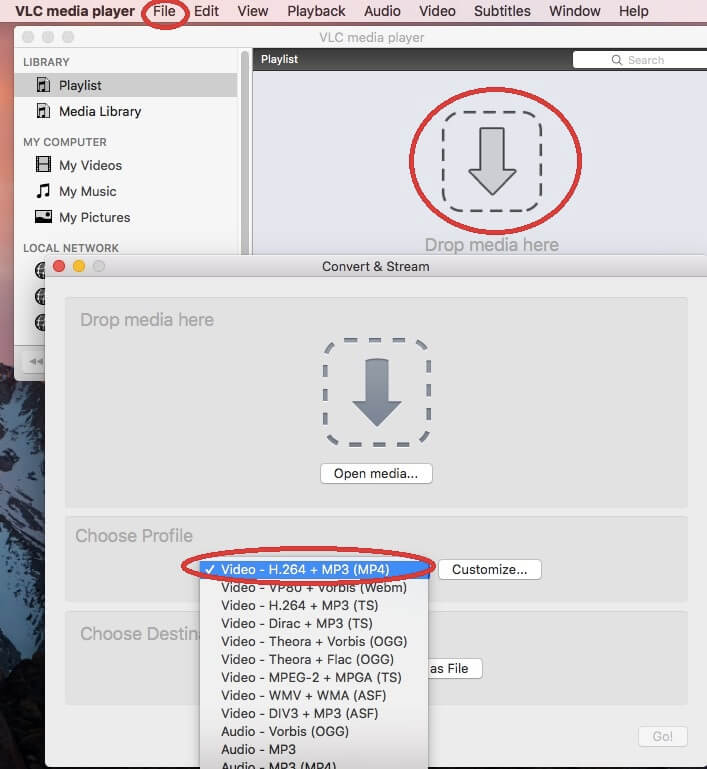 These are the steps to convert AVCHD to MP4. As long as you have VLC, you should be able to convert most formats, but remember that protected formats are not supported by VLC. Now let's head to the steps on how to convert AVCHD to MP4 for Windows users.
On Windows 10:
Open VLC media player on your Windows computer.
Again, drag and drop the AVCHD file into the window.
From the menu bar, instead of File, click on Media and select Convert/Save.
Under the Destination section, click Browse and specify the folder where you want the output file to be saved.
Under Profile, select MP4.
Click Start.
Despite being in different operating systems, VLC still functions similarly on both Mac and Windows. However, remember that if you make a mistake during the process, the files may get corrupted, so be careful.
Part 4. Convert AVCHD to MP4 Online for Free
Aside from software on desktop computers, you can also use websites on the internet to convert AVCHD to MP4. We have five suggestions for free online converters.
ClipConverter
ClipConverter is famous due to its simple conversion. Users only have to copy the URL of the videos that they want to the bar on the main page. Of course, you can also drag and drop the AVCHD files into the website. Since it has the option to change the resolution of the videos, it's great if you want to enhance the quality of AVCHD videos on top of converting them.
Convert Files
Convert Files is known for having a simple interface that's very easy to use. It supports both AVCHD and MP4, as well as other formats. Moreover, you can convert different file types such as images, audio, and even documents.
ZAMZAR
ZAMZAR is among the most popular free online converters on the internet. This is mainly because you can create an account on the platform, which will then save your past activities. That way, you can keep tabs on which files you've converted and when you converted them. You can also convert multiple files at once using ZAMZAR.
Convert Video Online
If your AVCHD files are located not on your computer but on other platforms, I suggest using Convert Video Online. This website allows users to get the files from a URL, Dropbox, or even Google Drive. Naturally, they also have the option of drag-and-drop. Either way, you don't have to worry about not being able to upload the files if you have this tool.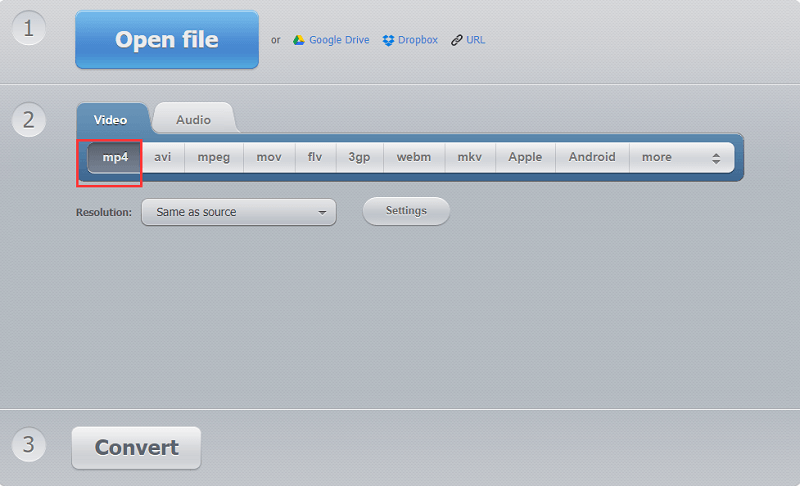 Video Online Converter
Lastly, we have Video Online Converter which is famous for its extensive customization. You'll find numerous settings on this website such as frame rate, orientation, bitrate, resolution, and many more. Hence, it's the perfect tool if you want to edit your files while converting them.