F4V files are similar to FLV files which are flash video files. As you may have guessed it, the F4V container format was developed by Adobe for use within its company and products. It's not a universal format, that's why you may want to convert F4V to MP4.
Here, we will talk about the different F4V video converter tools that you can use to transfer F4V into MP4 both online and offline. We will also talk about free, lossless, and fast ways to do it.
Contents: Part 1. The Fastest Way to Convert F4V to MP4 LosslessPart 2. Other 4 Tools to Convert F4V to MP4 for FreePart 3. What is F4V Format?Part 4. Conclusion
Part 1. The Fastest Way to Convert F4V to MP4 Lossless
You can convert videos and audio losslessly and quickly to any format you want. A sophisticated tool is capable of a wide range of activities and functions, including video editing and playback. You can use iMyMac Video Converter to convert video and audio files to the format of your choice for playback.
You can use video quality enhancement tools to correct dark and overexposed films by upscaling video resolution from a lower to a higher resolution and adjusting the brightness, saturation, and contrast of your videos for a more comfortable viewing experience.
Get A Free Trial Now!Get A Free Trial Now!
Are you bothered by playback incompatibility issues all the time? It will never happen again with an iMyMac Video Converter! It includes a preset profile with high-quality video settings for a variety of common devices.
This converter is the best tool for you to convert F4V to MP4. And it is able to transfer MPEG into MP4, MOV into MP4, and DVD into MP4.
The following are the steps for converting F4V to MP4 with iMyMac Video Converter:
After downloading and installing the tool, run it.
To add F4V files, drag them to the right side of the screen.
Click the button called "Convert Format"
Choose the export format as MP4. Edits and revisions should be made as needed. Click the "Save"button to save your changes.
Select a location for the files to be saved.
Then, select Export to start the conversion process.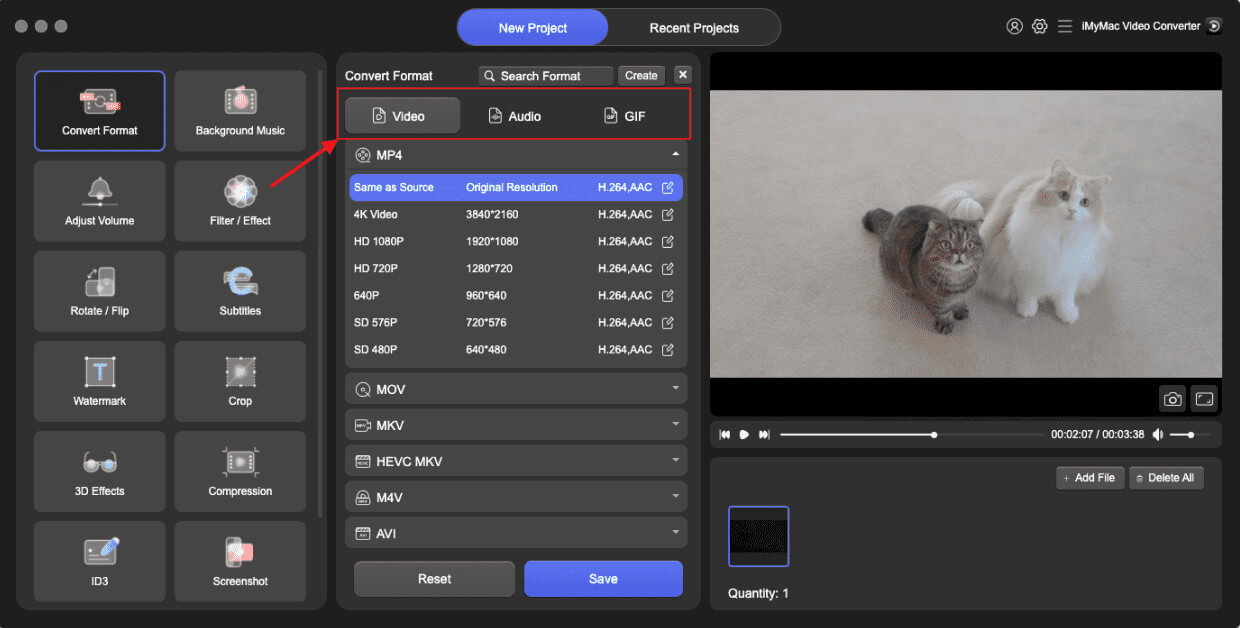 You can even use the tool to edit your video files first and convert F4V to MP4 format later. Here are some of its capabilities in terms of editing and improving your videos:
To make the existing video more shareable, divide it into two or more tiny segments.
To get a different perspective on your movies, rotate them with a few mouse clicks.
Change the color, brightness, contrast, and saturation of the video.
Add a watermark to movies that contain text or images to protect your personal work.
Include an external audio track and tracks with multiple audios to make your videos more appealing to viewers.
Crop the video file's blank or black border to remove any extraneous information.
Add external subtitles to your favorite movie to improve your viewing experience.
To get the best results, preview your modified films in real-time.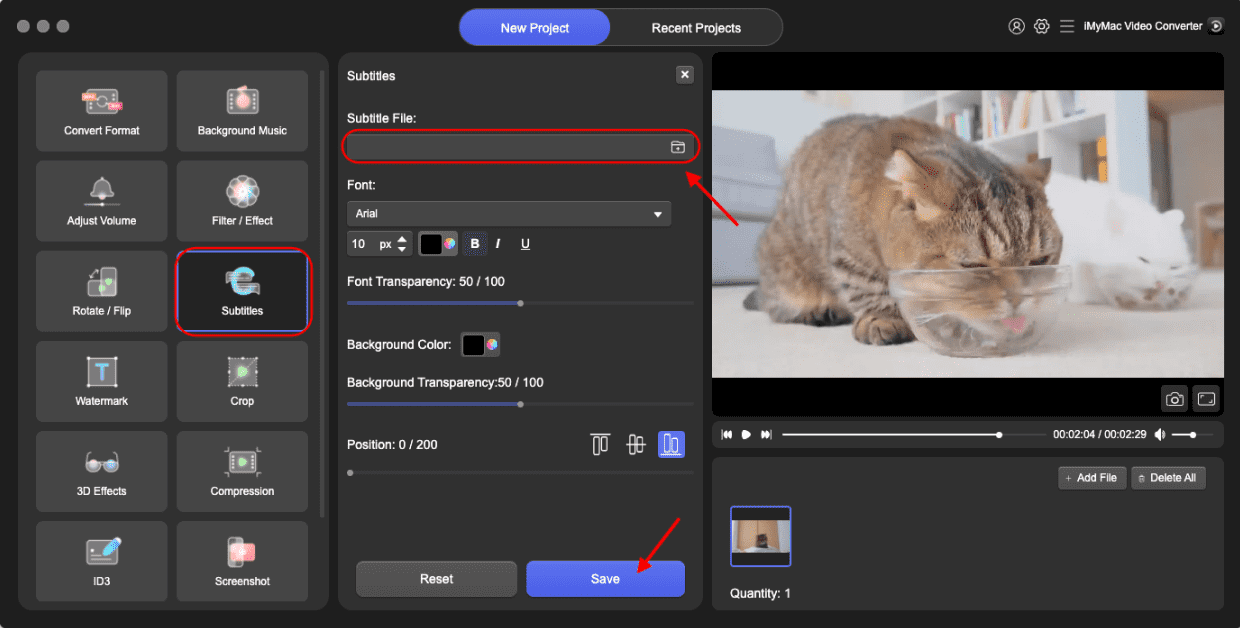 Part 2. Other 4 Tools to Convert F4V to MP4 for Free
#1. Zamzar.com
You can also use a web browser to convert your files online with Zamzar. Despite the fact that there is a catch, everything is completely free. Only files of 50MB or less can be converted. It is not possible to convert files larger than that.
A wide variety of file types can be converted using the program. Document records, ebooks, spreadsheets, songs, videos, images, archives, presentations, and other media are examples. There are no programs to download in order to use this; all you need is a web browser.
Here are the steps to use Zamzar to convert F4V to MP4:
Visit the website of Zamzarusing a web browser on your computer or mobile device.
You can add files you want to convert by selecting Choose Files. Or, you can add from Google Drive, Dropbox, OneDrive, or even from a URL.
After adding the files you want to convert, click the "Convert To" button and choose the output format that you want.
After that, click the Convert Now button that's colored green. You can also check "Email When Done" if you want Zamzar to email you the file after it has been converted.
Wait for the tool to convert and then click the big blue Download button. Save the file to your computer or mobile device. That's it!

#2. OnlineConvertFree.com
OnlineConvertFree.com is another online file converter. It works with a variety of data types, including documents, archives, audio, video, and images. Although there are advertisements on the tool's website, they do not interfere with using the online program. The reputable OnlineConvertFree has a file size limitation. As a result, it is best suited for small file sizes and works best with short audio and video files.
As an alternative to Zamzar, this free converter has advertisements and appears less professional than Zamzar. Although the number of audio and video files you can upload is limited, it can still be useful for conversion. OnlineConvertFree is a web-based platform that can be accessed from any desktop or mobile device connected to the Internet.

Here are the steps to convert F4V to MP4 through OnlineConvertFree.com:
Visit the official website of OnlIneConvertFree.
Click the Choose File button to add your files.
After you've added the file(s), select the output format you want. In this case, we'll select MP4 as the output format.
Then, on the right, click the blue convert
The file will be uploaded and converted by the tool. Wait until this is completed.
When the conversion is finished, save the converted file to your computer or mobile device.
#3. FreeFileConvert.com
This online converter can convert both audio and video files. It is also capable of editing video files. This online program, unlike other converters, displays advertisements on its web pages, which is most likely how they make money from the service.
It also makes converting file types other than music and video simple. Among them are images, text, ebooks, archives, and other forms of media. The limitation, as with other online converters, is that you can only convert files up to a certain size in megabytes.
Here are the steps for using FreeFileConvert to convert F4V to MP4:
Visit the official website of FreeFileConvert.
Add the files you want to convert and upload to the platform.
From the "Output Format" drop-down menu, select the desired output format.
Then, select the Convert
Save the file to your computer or mobile device once the conversion is complete.

#4. FreeConvert.com
You can use this free tool to convert files between formats. Over 1500 file types can be converted using FreeConvert. It is possible to convert photos, movies, audio files, and even e-books. It includes a few Advanced Options that can help you fine-tune conversion procedures.
FreeConvert is an online file converter. As a result, it works on Windows, Mac, Linux, and any mobile device. Every major browser is supported.
The following are the steps to using the tool to convert F4V to MP4:
Visit the FreeConvert website.
Add the files you want to convert by clicking Choose Files.
Then, select an output format to which the uploaded file should be converted.
Then, select "Convert to [OUTPUT FORMAT]."
Wait for the upload and conversion processes to complete.
Then, press the Download button to save the newly converted file to your computer or mobile device.
Part 3. What is F4V Format?
After introducing how to convert F4V to MP4, we will teach you more information bout F4V files in this part. Are you having trouble opening an F4V file or are you simply curious about what they contain? We describe the purpose of these files. We will also show you some software that can open or even handle your files.
An F4V type is actually a video file saved in the Adobe Flash video container format. It saves video with the H.264 codec. Audio and metadata are also included. F4V files are most commonly used to watch TV shows and movies online.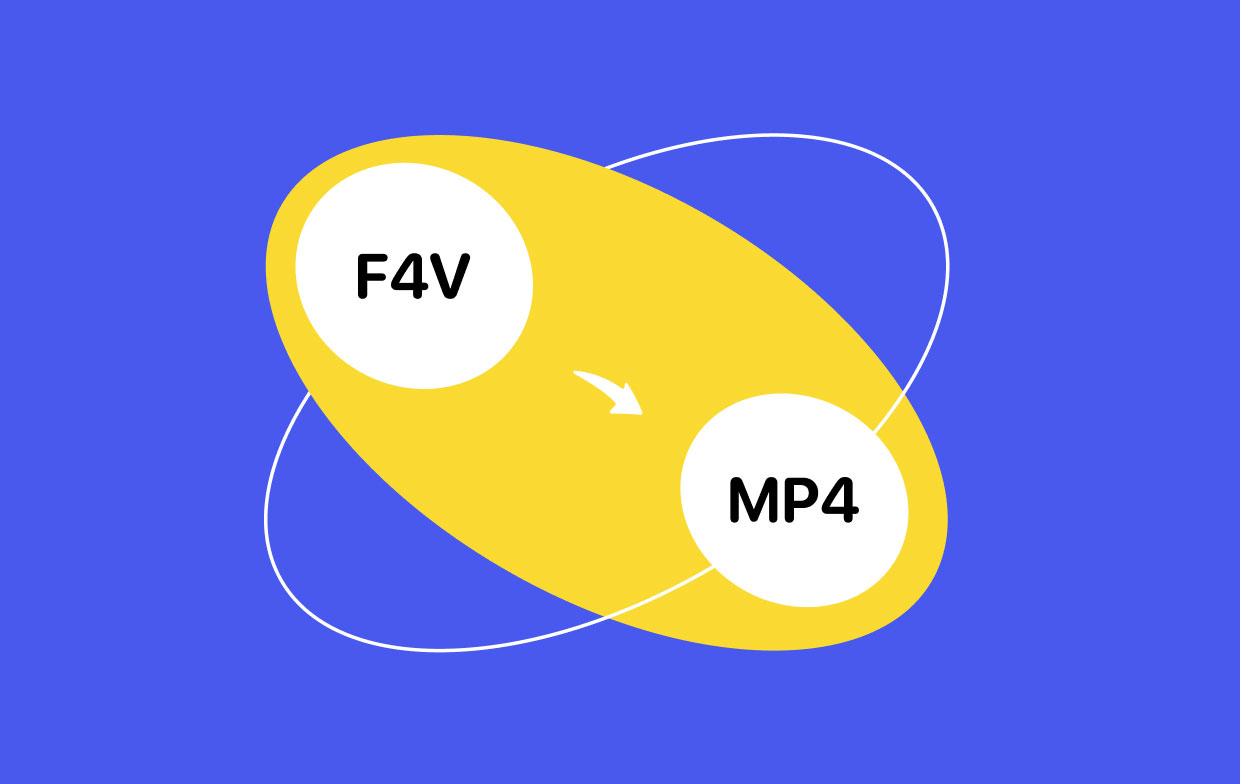 F4V file types are nearly identical to that of Flash Video(.FLV) files in that they store data within "boxes." Adobe Flash Player can be used to view F4V files on different platforms. VideoLAN VLC media player and J2 Interactive MX Player are some of your other options for playing F4V files.
Part 4. Conclusion
This article has given you the best F4V to MP4 conversion tools. The application in question is iMyMac Video Converter. Some of the advantages of using the aforementioned program as your converting software are as follows. The drawback of using online tools is that file sizes are limited.
As a result, we recommend the iMyMac Video Converter if you have large files. This program allows you to easily convert large audio and video files. It is also extremely fast and allows for high-quality conversion. Just try it to convert F4V to MP4 format!