Have you heard of a 4K monitor? Most probably, you've already heard of it. After all, it's pretty popular these days.
The good thing about it is that you can use it with your MacBook. You can use a 4K monitor to mirror your MacBook or you can use it as a secondary display.
Of course, choosing the right 4K monitor for your MacBook is critical. That means you have to know what is the best 4K monitor for MacBook Pro.
To come with the best 4k monitor for MacBook Pro, you would have to be given a list of options. You will find a good list here. Before you get right into the list, it's best that you learn more about the 4K monitor.
Article GuidePart 1: What Exactly Is A 4K Monitor?Part 2: List of the Best 4K Monitors for MacBook ProPart 3: Level Up Your MacBook Pro Experience PerformancePart 4: Conclusion
People Also Read:How to upgrade your MacBook Pro with an SSD?Chrome Running Slow on Mac? Here is How to Fix! [2019 Update]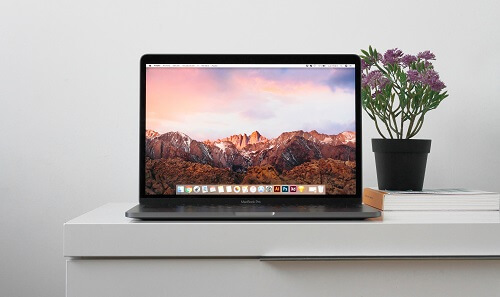 Part 1: What Exactly Is A 4K Monitor?
What is a 4K monitor? This is a pretty popular monitor these days. The name 4K is now used for the new standardized high definition resolution for displays.
It gets its name from the number of horizontal pixels on the resolution. It has roughly 4000 pixels and 200 pixels vertically.
The Origin of the 4K Monitor
Back in the day, the good old TV only had an aspect ratio of 4:3. From there, widescreen displays ratio moved on to 16:9.
That pretty much started the high definition era. The basic definition was born at 720p with a resolution of 1280x720. That meant 1280 pixels horizontally and 720 pixels vertically. Back in the day, that was considered basic HD, 720p. It was also known as 1080 full HD.
Hence, full HD also means 1080p HD. That has become the standard for all the monitors and TV displays. To this day, a 1080p screen with a full resolution of 1920 x1080 pixels tall is still pretty popular.
Just when you think it stops there, it doesn't. Now, it's at 4K. Hence, 4k is now the next high definition resolution standard for mass-market displays.
Why is it called 4K when in the past, HD 720p was derived from the vertical pixels? They named 4k after the horizontal pixels because 4K is roughly 4000 pixels wide by 2000 pixels high. So, why is that so?
The exact pixels for 4K ultra HD is actually 3840 pixels wide by 2160 pixels high. Hence, 4k is twice the width of 1080p (1920 pixels wide) and twice the height 1080p. That makes 4K four times larger than 1080p. It's four times as high definition as 1080p.
Hence, a full HD 1080p resolution has roughly 2 million pixels compared to a 4k which has roughly 8 million pixels. That is a lot of pixels for you.
Now that's enough to get you excited about having a 4K monitor. So, without further ado, here's a list of 4K monitors for your MacBook Pro.
Part 2: List of the Best 4K Monitors for MacBook Pro
1. ViewSonic VP3268 4K Monitor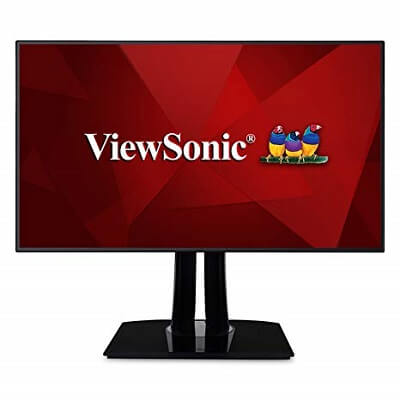 This is a color-accurate monitor that is very sleek. It can easily be installed by clicking it into the mount. The monitor can be moved up and down from the mount. Aside from that, it also swivels so that you can have it as a vertical display.
The ViewSonic VP3268 4K Monitor is known for its precise color signs. The colors you get on-screen are very turs to what it should be. It's very popular among photographers and graphic designers.
This particular 4K monitor is carefully calibrated with Delta levels below 2.0 to 4 commonly used color spaces: sRGB, Rec. 709, smpte-c, and EBU. Each of these color spaces gets its own display mode accessible through the on-screen display.
The panel is an IPS LCD that boasts of brightness, clarity, and excellent uniformity. However, the price is quite costly for personal use.
2. LG 27UD88 4K Monitor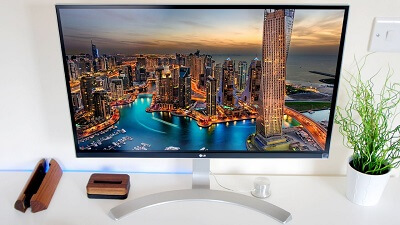 This is a USBC monitor which is great for the 12-inch MacBook. With just one cable, it charges, connects external peripherals, and provides you an output of a 4K video.
It comes with an external power supply and accessory packet, the latter consisting of the USBC cable that you will need for connecting it to your MacBook. It also comes with a USB C to USB A, an HDMI, and DisplayPort cables. You will also get the LG's display quality assurance report that shows you the exact calibration for the monitor.
The LG 27UD88 4K Monitor has a good display. It's a pretty good-looking monitor that you can easily raise and lower the monitor from its stand. You can also pitch it back or to whatever position you want it to be at. Just like the ViewSonic VP3268 4K Monitor, you can also rotate it to a full 90 degrees.
It comes with two HDMIs 2.0 ports and a DisplayPort version 1.2. It also comes two USB 3.0 ports which are capable of quick charge once enabled in settings.
The LG 27UD88 4K Monitor is a 27-inch IPS widescreen with an sRGB color spectrum that's around 99%.
You can either mirror the MacBook to the monitor and just close your Mac or you can use both the MacBook and the monitor at the same time as a second display just as long as you configure it in display settings.
Keep in mind that the MacBook natively outputs 4K at 30Hz. Ideally, it should be at 60 Hertz. This might be an issue for gamers out there. Nonetheless, it shouldn't be a big deal if you just want to browse the web or watch videos.
3. LG 27UK850 4K HDR USB C Monitor with HDR 10
Here's another LG 4K monitor that's more affordable. The LG 27UK850 4K HDR USB C Monitor with HDR 10 boasts of a pretty simple design that's functional. You get an almost edge-to-edge panel, with the bulk of the bezels at the bottom. Like most monitors, the height can be adjusted. It can also be tilted and rotated to 90 degrees.
When it comes to inputs, it comes with two HDMI ports with HDR 10 support, 1 DisplayPort, 1 USB C port that is capable of 60-watt powered delivery, which is enough to charge your MacBook Pro with just a use of a single cable.
You will also find a 3.5-millimeter port and two USB type A ports. It also comes with a feature that can help you manage your cable. You can actually hook it on the monitor stand.
You get a sharp and crisp display with this 27-inch 4K monitor. The colors are pretty accurate, thanks to LG's 99% sRGB color spectrum coverage. This is great for video editors using a MacBook Pro
4. Dell Ultrasharp U2718Q 27-Inch 4K IPS Monitor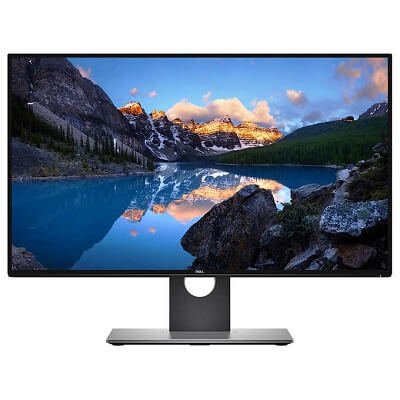 The Dell Ultrasharp U2718Q is a 27-inch professional 4K HDR10 monitor. It's considered to be one of the great options currently available.
This 27-inch monitor comes with a 16:9 aspect ratio. It runs with a 4K resolution. The panel runs at 60Hz, with a 6-millisecond response. As a professional tool, it's pretty good. Brightness is at 400 nits and can peak at 1000 nits when supporting HDR content.
The Dell Ultrasharp U2718Q is also an IPS panel that displays amazing colors. In terms of color accuracy, it's capable of 100% sRGB, 100% AdobeRGB, 100% Rec. 709, 97.7% of DCI-P3, and 76.9% of Rec.2020 with support for 1.07 billion different colors. That's a lot of colors for you.
It comes with an AC power input, two HDMI 2.0a ports, DisplayPort 1.4, Mini DisplayPort 1.4, 3.5mm audio out, 2 USB type-B connectors. This can easily be plugged into your MacBook so that you can use two USB 3.0 Type A ports. There are two more USB 3.0 Type A ports on the left side of the monitor.
In terms of cables, you get an HDMI cable, DisplayPort to mini DisplayPort cable, and USB Type B to Type A cable for connecting the monitor to your MacBook. It can also be adjusted and tilted like most 4K monitors.
Now that you have a list of the top 4K monitors for your MacBook Pro, it's up to you to make a choice. Only you can tell what the best 4K monitor for MacBook Pro is.
Part 3: Level Up Your MacBook Pro Experience Performance
There is no doubt that the 4k or the ultra-high definition monitor is the next step up after full HD 1080p. You're definitely going to be seeing a lot of it now.
In terms of content, networks and media service providers have already started to broadcast 4K content. If you want to align yourself with the 4K experience, the only way you can do that is by having a 4K monitor or TV display.
This doesn't mean that you have to go out and buy yourself a new computer to match a new 4K monitor. Your MacBook Pro is good enough for the 4K monitor experience. What you need to do right now is to ensure that your MacBook Pro is running at its top speed to accommodate a 4K monitor.
If you're in a quandary as to whether your MacBook Pro is in top shape to accommodate a 4K monitor, you can download the PowerMyMac. Once you install it, you can use it to scan your Mac and see how much space you have left.
The iMyMac PowerMyMac keeps your MacBook Pro running at its top speed by cleaning it regularly. Face it; that is something that you cannot possibly all the time.
So why is your Mac Book Pro so slow and how does the PowerMyMac take care of your MacBook Pro? Well, for starters, it automatically cleans it. That way, it optimizes the performance of your MacBook Pro.
By cleaning your MacBook Pro, the PowerMyMac is able to provide you more space. With more space, you're guaranteed a faster MacBook Pro. That is exactly what you need to accommodate a 4K monitor.
It's very easy to use the PowerMyMac to clean your MacBook Pro. The steps below will show you how to go about it.
Download and launch the PowerMyMac.
Open it to start cleaning out some files on your MacBook Pro.
Choose which category you want to clean out. You can clean out the junk in your MacBook Pro system, the junk photos in your iPhoto folders, the junk files in your email, the junk files in your iTunes, and Trash Bin. The PowerMyMac can also clean out similar photos and large files. Don't worry about finding all those junk files because the PowerMyMac can do all that for you as well.
Take your cursor up to the menu bar and click on Cleaner. You will get a pop-up window to confirm your action. Once you have confirmed, the PowerMyMac will start the cleaning for you.
As we will use more and more apps and there certainly our Macbook storage is nearly full. That's why iMyMac Mac Cleaner created. With this amazing tool, we can get rid of our Macbook storage with a few clicks.
Another great thing about the PoweMyMac is that it can uninstall those apps that you don't use anymore. Uninstalling those useless apps is important. You'll have more space in your MacBook Pro to accommodate the Herculean features of a 4K monitor.
To make use of this particular feature of the PowerMyMac, just take your cursor to the Toolkit in the menu bar and click on the Uninstaller. Click on the Scan button to see which apps are not being used anymore. After the scan, you will find a list of apps on the left side of your screen. Click on the apps so that more information about it could expand to the right side of the screen.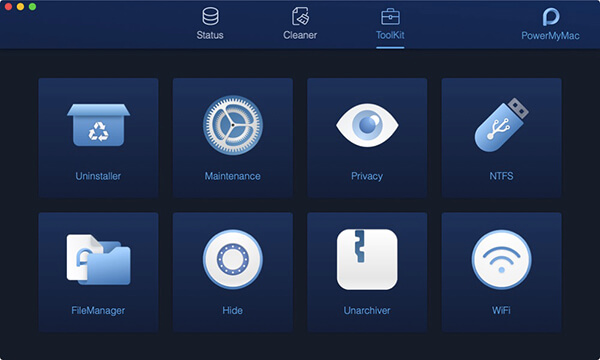 Select which apps to clean and click on the Clean button on the bottom part of the screen. Confirm the action on the pop-up window. That gets rid of all those apps you don't need anymore.
If you're really excited about trying out a 4K monitor, make sure your MacBook Pro is in good condition. Tune it up with the PowerMyMac.
Part 4: Conclusion
Choosing the best 4K monitor for MacBook Pro is yours to make. Why? Well, only you can tell what your needs are. The most that we can do is to give you a list of the top 4K monitors.
However, PowerMyMac is something worth recommending. It keeps your MacBook Pro in good condition so that is can accommodate a 4K monitor for a very long time. You won't have to buy a new computer to experience 4K.
What are your thoughts on this? Share them with us by leaving a comment.