As Apple pushes out slimmer and lighter laptops incrementally, extra ports that would broaden your connectivity repertoire keep petering out. Since MacBook Pro 2015, USB hubs rapidly emerged as a magic bullet for connecting multiple devices. The hub acts as a powerful gateway to an external hard drive, camera storage, 4K screen, and keyboard.
Wireless hubs boast a single USB upstream connector along with multiple downstream ports for remote connectivity between peripherals and the computer. Advanced USB hubs offer the capability to sync with multiple devices wirelessly and get cables out of your way.
Browse through our comprehensive guide for the best USB hub for Mac to set up multi-device connectivity based on reliability, power capacity, and port variety.
Article GuidePart 1: Introduction about USB-C Port and Wireless USB HubsPart 2: Features to Consider for The Best USB Hub for MacPart 3: Other Options to The Best USB Hub for MacPart 4: In Conclusion
People Also Read:Best PDF Reader For Mac: Free And Paid VersionsThe Best Ways On How To Play MKV On Mac [2019 Updated]
Part 1: Introduction about USB-C Port and Wireless USB Hubs
The Genesis of USB-C Port on Mac
Apple unveiled the 2015 MacBook phasing out the MagSafe Thunderbolt, charging port and SD Card Reader. USB-C may not have gained the toehold in its early stages but it supports lightning-fast speeds of 10Gbps. It outpaces a standard USB 3.0'S 5Gbps rate. And that's just a tip of the iceberg. USB-C means decreased charging times, supports rapid data transmission, video output, and power inlet.
Professional-grade USB-C hubs integrate older USB-A (3.0) ports for pre-2015 devices which acts as a standard for a vast majority of accessories. Paired with older USB slots and IQuick Charge 3.0 ports, you can charge a compatible Smartphone up to 80% in roughly half an hour.
Portable Wireless Hub
Wireless transmission between the computer and peripherals without a cable offers a de-cluttered setup. Wireless systems ditch the connection cable with radio frequency signals, infrared light signals, and ultrasonic signals to allow remote peripheral devices to sync with the computer. The convenience of connectivity wirelessly reduces dangle mess.
Portable wireless hubs allow you to stream your media files from your iPhone or iPad as the remote controller. It pairs your MacBook with peripherals for a productivity workhorse. It's a must-have travel device for MacBook seeking a multi-use dock. You can easily control all functions such as file sharing, wireless router, and multiple ports.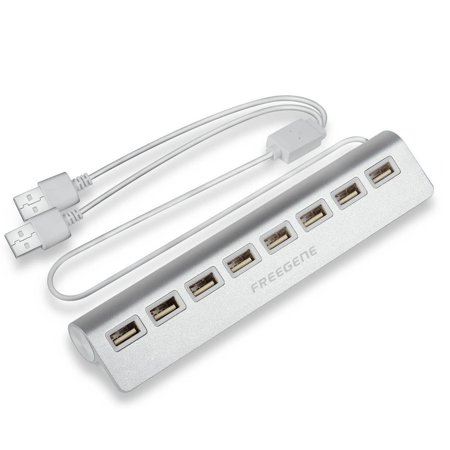 Part 2: Features to Consider for The Best USB Hub for Mac
Hubs provide your Mac with improved versatility with multiple ports. They also have a diminutive footprint and lightweight build for portable benefits. Before you hit the stores hunting down a USB-C hub, consider the size, versatility, and functionality.
Capacity & Ports
A USB-C multi-function hub not only supports high-speed data transmission but also boasts everything you need to synchronize your MacBook Pro with more peripherals. With the flexibility of numerous ports, you can plug different peripherals into your machine while you work. USB-C hubs with the most ports like 11-in-1 have one or more USB 3.0 or USB 2.0 to charge devices, interconnect external hard drives, throw in a keyboard, and much more. Others include VGA or HDMI ports for projected screen expansion, Gigabit Ethernet slot for hardwired connectivity, microphone/headphone jack and SD or micro-SD card readers.
Data Transfer Rate
A USB-C Thunderbolt connector promotes lightning-fast data transfer or streaming. Some Thunderbolt Dock machines boast twin ports supporting high-speed data transmission. At the lower end of the spectrum, most USB-C hubs supply 5Gps of data transmission rates. It answers your description for a shoestring budget. USB ports also matter; higher USB 3.0 speeds render the fastest data transfer.
Size & Construction
A compact hub eliminates clutter from your desk space, offers maximum portability and nestles snugly into the edge of your MacBook. Without cables, a streamlined hub steers clear of obtrusive wires. A portable data hub eats up insignificant space in your laptop bag or on your workstation. Look for aluminum construction with scratch-resistant exteriors. A sleek and sophisticated design completes the ensemble of most setups.
Compatibility
Having a hub that supports Windows, Mac, and Linux versions broaden your networking horizons. Most of the devices in the market support non-Apple USB-C laptops. These adapters come with older USB-A (3.0) ports common as standard in many accessories.
Part 3: Other Options to The Best USB Hub for Mac
Adapters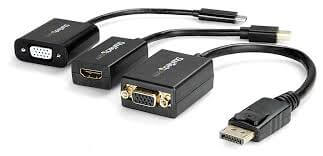 Adapters offer a minimalist peripheral with port flexibility. They mimic a single-point changeover paired with extra ports such as HDMI. They come at half cheap the price of top-of-the-line hubs but render less versatility. A single-port adapter provides an efficient solution for one peripheral.
Docking Stations
Docking stations support multi-display along with charging. They typically provide built-in power supply while they charge other devices with fast data transfer and up to 5K display support. Importantly, their stationary nature creates a more efficient desktop workflow for versatility and fluidity.
Wireless USB Hubs
USB hubs require physical connection of peripherals to the hub with cable connectors. A wireless USB hub with the capability to sync with many remote devices wirelessly eliminates the mess of many cable connections. A universal hub with wireless communication to remote peripherals transmits data to a USB upstream port and then to your MacBook Pro.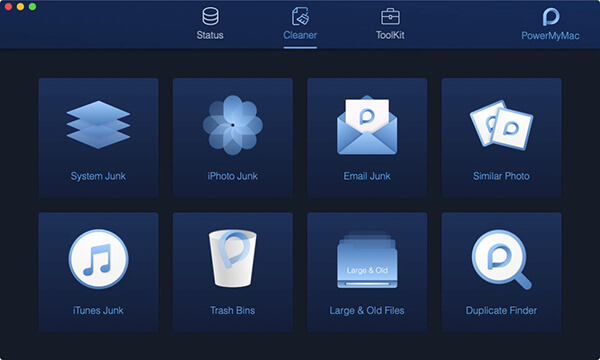 Tip: Keep Your Mac Neat & Fast
Launch processes on your Mac like hell and high lightning with PowerMyMac. A junk-infested Mac clogs USB hubs taking hours to complete intensive processes. Mass junk files slow down your Mac and prevent it from hitting peak performance. It's an all-in-one suite to tune up the performance of your Mac. PowerMyMac gives your device a new lease of life by clearing out junk, freeing up storage on Mac and managing performance.
Download PowerMyMac for a robust computer cleaner, speed booster, and health custodian developed to run your machine at full throttle. Eliminate large or old files, fragments of uninstalled apps, and wipe out unnecessary data for speedier USB hub transmission.
Part 4: In Conclusion
Hubs reinstate the unfettered versatility of a MacBook Pro with multi-function ports. They come in pocket-sized and lightweight designs for portability. Apple introduced USB-C to trim Macs and minimize clutter. Equally, a slim, versatile, and powerful hub will do the job.
The best USB hub for Mac makes it easier for multi-device connectivity. Best of all, most hubs have backward-facing compatibility to accommodate plenty of legacy peripherals. Ensure the device clips snugly and unobtrusively to get rid of potential cord clutter. Alternatively, adapters and docking stations bring many possibilities to new laptops.
However, a multi-purpose hub adds mass connectivity with fast-charging and data transfer making them a pearl at a great price.