Apple's iMovie app entered the Mac world in 1999 as a nifty tool to broaden your footage creativity horizons. Apple re-coded iMovie in the advent of iLife '08 to craft a video editor with ultra-high-speed at molding or slicing clips and steer clear of technical hitches. Consequently, iMovie '08 or later runs like a streak of lightning.
As a video-editing app, iMovie is a resource-intensive program that affects your Mac's overall performance. If you've been hit by a slowdown, implementing certain actions on how to speed up iMovie on Mac will revive your iMovie to its initial and fast performance. You'll get more efficiency, save time and optimize operations.
Contents: Part 1. Secrets on How to Speed Up iMovie and Resuscitate A Sluggish MacPart 2. Adjust Clip Speed in iMovie to Speed Up iMovie on MacPart 3. To Wrap it Up
People Also Read:How to Edit Videos on Mac with iMovie
Part 1. Secrets on How to Speed Up iMovie and Resuscitate A Sluggish Mac
"Why can't I speed up a clip in iMovie? Why can't I adjust speed in iMovie? Why iMovie speed button greyed out?". You may encounter such the above problems when you try ways on how to speed up a video on iMovie Mac. Don't worry, just keep reading the ways below on how to speed up iMovie well.
Method 1. Optimize Your Sluggish Mac Once and for All
Junk buildup hogs Mac's processing capability and memory leading to slow-moving performance. Redundant files, traces of uninstalled programs, iPhoto trash, large or outdated items, and imitations bring your computer to a crawl. Apps like iMovie spread your system too thin because the computing torque needed to render sizable image files or encode videos wears down almost all processors.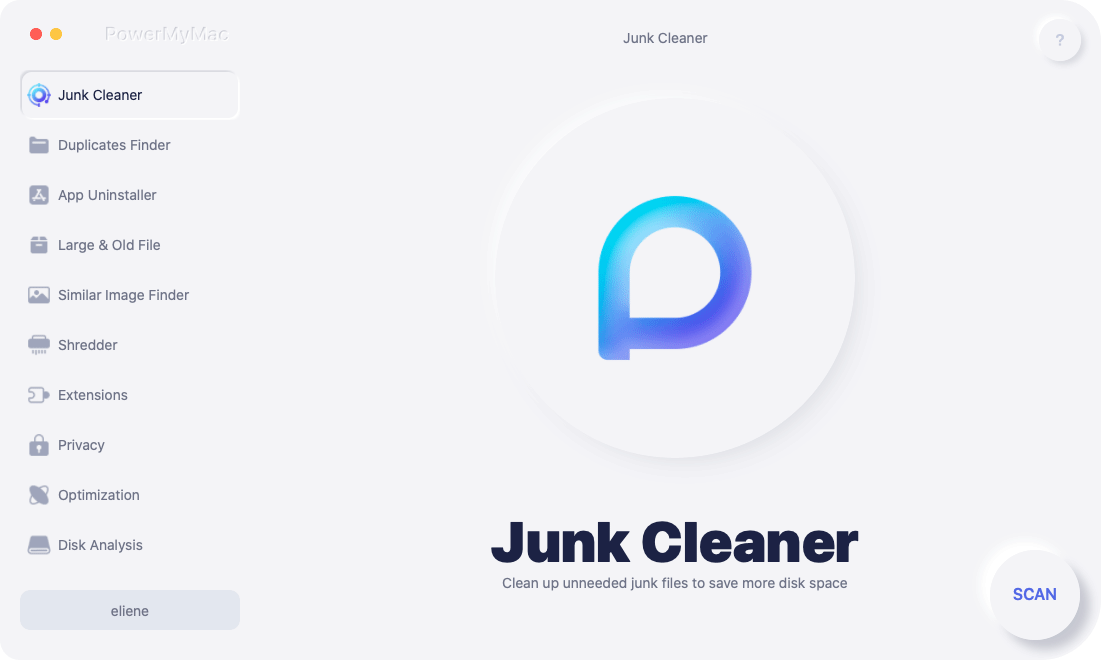 iMyMac PowerMyMac boasts a clever mix of utilities powered by proprietary algorithms for a faster and tidier Mac with more customizable results. It acts as a performance monitor, memory retriever and advanced Mac Apple cleaner.
This software has intelligent technology to sift through the entire system and comb out digital trash without affecting essential system files. It has a Preview Feature so you don't throw the baby out with the bathwater. It reclaims tons of space, optimizes your Mac, and boosts it to peak performance. Just get a free trial below to speed up your Mac now!
Get A Free Trial Now!
Method 2. Apple's Inbuilt Features to Speed Up iMovie
Adjusting speed intermittently within footage will throw in a dramatic or comic effect. Slowing down or speeding up portions iMovie offers a subtle way to liven up your piece of art. Export the file to retain the altered-speed portions. iMovie optimizes MPEG-4 video files' playback quality by adapting the clips.
iMovie '09 integrates an image stabilization component. The software scans each frame of a clip devises the most excellent zooming and crop it to enhance image stability. You can scrutinize the clips during the import. Alternatively, double-click the clip in the Event Browser and hit the Analyze Entire Clip button in the Clip Inspector.
How to speed up iMovie? If you thirst for a cursory composition at a single click, iMovie has an option to automatically insert transitions linking clips. This gets the task of yanking them from the Transitions section off your chest.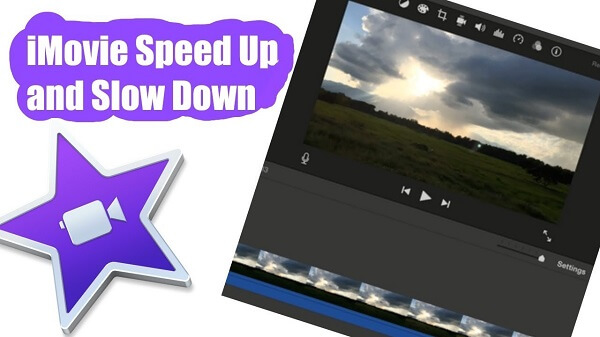 Part 2. Adjust Clip Speed in iMovie to Speed Up iMovie on Mac
You can adjust the speed of a clip in your footage. Moreover, iMovie can automatically tweak the frame speed of each clip in tandem with that of your iMovie based on the first portion you add to your file.
Solution 1. Adjust Clip Speed
Go to the timeline; pick out the clip whose speed you wish to adjust.
To unveil the speed settings, hit the Speed button.
Adjust either Slow or Fast in the Speed prompt menu, and select a speed button to reset the rate.
This is what to do to solve how to speed up iMovie. If you select Fast for shots less than 0.1 seconds, it applies the Custom speed by default and allows a predetermined rate. An icon pops up on your clip with a speed slider atop. Speeding up a clip makes it shorter and slowing down stretches out.
A clip with audio decreases the pitch if you play it more slowly while speeding it up raises it. To retain the initial pitch of the file, choose the Preserve Pitch checkbox over the viewer.
Solution 2. Tweak A Clip's Speed Adjustments
You can also speed up video without changing pitch in iMovie. In the timeline, yank the speed slider at the crest of a clip that has rate adjustments. Yanking the slider to the right reduces speed, and dragging it to the left accelerates the clip. The speed slider comes in handy for custom rate adjustments. As you move the slider, you see the clip's timeframe modification in the timeline.
Solution 3. Modify the Speed of Part A Clip
Any shred of a clip can be accelerated or held down. You can also determine whether to fluidly link the frame rates between the portion with the speed adjustment and the remainder of the clip.
Highlight a range within a clip in the timeline by pressing the R key and dragging along the footage.
To unveil the speed adjustments, hit the Speed button.
Choose any of the following:
Slow up the highlighted portion of the clip: Hit the Speed pop-up menu and select slow.
By default, the speed remains 50%, but you can hit any speed button.
Increase speed for the highlighted portion of the clip: Hit the Speed pop-up menu and select Fast.
By default, the speed remains twice normal speed (2x), that means you can speed up iMovie more than 2x, but you can hit any rate button.
Adjust a custom speed for the highlighted portion of the clip: Select the Speed pop-up menu, pick out Custom, and feed a figure in the field.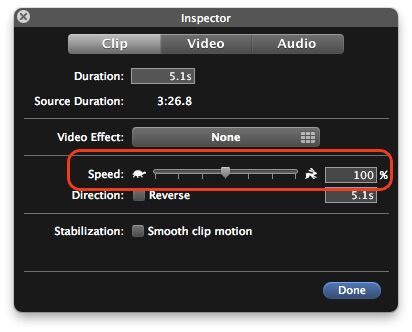 The speed change affects the highlighted portion of the clip, and speed sliders thrust above the selected range of the clip beyond this scope. If you play back the clip, it starts running at normal speed, then changes to the speed you prearrange before reverting to its normal rate again as it tails off.
To have the speed adjustments occur incrementally, choose the Smooth checkbox.
To modify the speed of the highlighted range or an area beyond it, yank any of the three sliders at the top of the clip.
The market offers alternatives on how to speed up iMovie with an intuitive interface. Look for highly specialized features that will make editing extremely enjoyable and immersive. A vast majority of the tools boast standard features for editing that include rotation, trimming, splitting, cropping, and merging. Other features to go for include video color tweak, customized texts watermark, scene detection, or verdant screen.
Tip: If you also want to know how to speed up iMovie on iPhone or iPad, just check the provide links to learn more details.
Part 3. To Wrap it Up
Speeding up videos constitutes a staple, simple and innovative technique to broadening iMovie HD's repertoire of effects, transitions, or titles. iMovie distinguishes itself from Adobe's video-editing toolkit as an easy-to-use tool. All versions of the program allow you to speed up a video.
When it comes to video editing, you'll always need to manipulate speed. By intermittently speeding clips up, you can narrate a long story or depict a detailed picture without sprawling out footage. For example, a 1-minute video sped up to 1000% packs your file down significantly.
Do you have food for thought? Weigh in below or ask questions that help you take your computer environment a notch higher.