Since the advent of the digital era, remote desktop software has evolved into an instrument that is indispensable to both people and enterprises. AnyDesk is a popular remote desktop program that gives users access to and control over their computers and other devices even when they are not physically there.
However, like any other program, AnyDesk keeps temporary data in a component known as a cache. This data may build up over time, which can have a negative influence on the speed of the application. Because of this, you might want to clear AnyDesk cache. It is very necessary to frequently delete the app's cache on Mac to maintain peak performance and guarantee data safety.
Contents: Part 1. What Does AnyDesk Do?Part 2. How Do I Clear AnyDesk Cache without Risks?Part 3. How to Remove AnyDesk Cache on My Mac? Bonus Tips: Want to Uninstall AnyDesk to Prevent Unknown Malicious Access?Conclusion
Part 1. What Does AnyDesk Do?
Before you choose to clear AnyDesk cache you need to know more about this software. AnyDesk is a sophisticated piece of remote desktop software that gives customers the ability to access and operate their computers or other devices from almost any location on the planet. It makes it easier to work together, provide support remotely, and effectively share files across devices.
AnyDesk distinguishes itself apart from other remote access solutions because of its intuitive interface, excellent video transmission quality, minimal latency, and robust encryption mechanisms, which together provide safe remote access.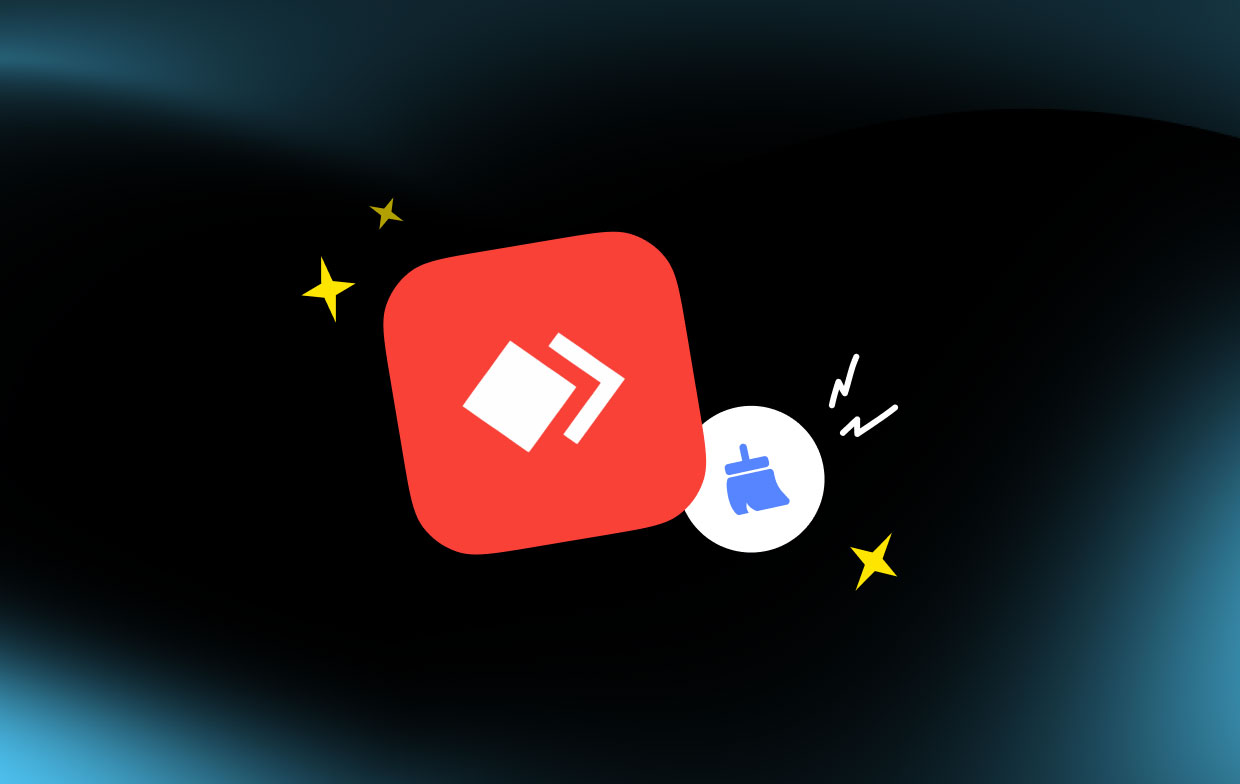 Part 2. How Do I Clear AnyDesk Cache without Risks?
By using a specialized tool, the process might be sped up and given more options to improve the system's overall effectiveness. The previously described technique offers a manual way to clear the AnyDesk cache. One example of such a thing is iMyMac PowerMyMac, a Mac computer maintenance tool that can be used wherever.
There is a "Junk Cleaner" feature in it that may be used to remove software caches, such as the AnyDesk cache. The Junk Cleaner module of PowerMyMac looks through the whole system for temporary files, log files, system caches, and other types of needless trash that might amass over time.
Users may quickly and simply delete any unwanted files and clear AnyDesk cache by choosing the relevant choices from the drop-down menu. PowerMyMac also provides a variety of other capabilities, including memory optimization, huge file cleanup, and program uninstalling, making it a complete solution for the maintenance and effectiveness of a system.
To clear the AnyDesk cache, carry out the actions below using PowerMyMac's "Junk Cleaner" module:
Run Junk Cleaner and choose SCAN to start scanning your computer for unused files.
When the scanning process is complete, you'll be able to arrange all of the useless papers on your computer.
Select the document you want to get rid of and then click "Select All", or select all of the papers you want to get rid of and then click "Select All".
Selecting "CLEAN" will instantly clear AnyDesk cache by removing all items from the list you've chosen.
When the cleaning process is done, a pop-up screen with the headline "Cleaned Completed" will appear.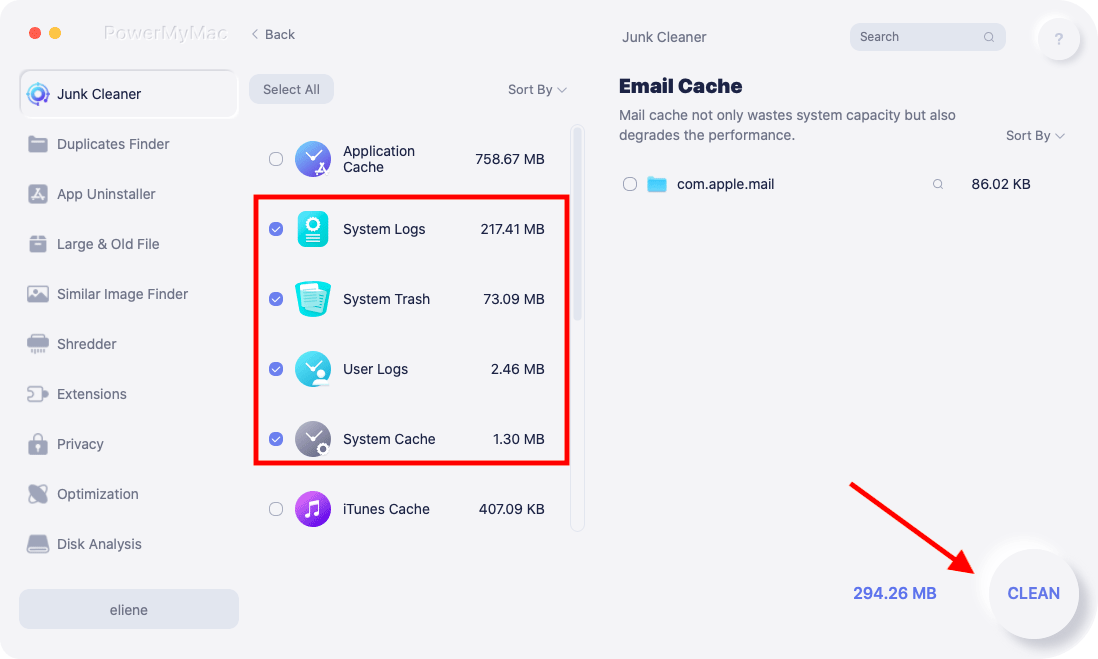 By using programs such as PowerMyMac, you may safely clear AnyDesk cache while ensuring that essential data is not destroyed. Using these tools is recommended. Always remember to clear your cache regularly so that you can keep your system running at peak speed and have plenty of free space on your disks.
Bonus Tips: Want to Uninstall AnyDesk to Prevent Unknown Malicious Access?
In addition to choosing to clear AnyDesk cache, you should consider removing the AnyDesk program from your computer if you no longer need it or if you wish to prevent any possible illegal access. The App Uninstaller module of PowerMyMac streamlines the removal process by eliminating all files and directories linked with the application being removed.
You may assure a complete eradication of the program AnyDesk by uninstalling it with the help of PowerMyMac. This will get rid of any remnant files or settings that might be a potential security issue.
Part 3. How to Remove AnyDesk Cache on My Mac?
If you would rather clear AnyDesk cache manually instead, you may do so by following the procedures that are explained below. Note that manual removal calls for a little bit more technical expertise and prudence than automatic removal does.
If the AnyDesk program is still running, shut it.
Open a Finder tab and choose "Go" from the menu.
Click "Go to Folder" and type the URL as follows: the directory /Library/Application Support/AnyDesk
In the AnyDesk directory, find the "trace" folder.
Delete the cache files and anything else in the "trace" folder.
To make certain the cache files are eliminated from your Mac, empty the trash.

You may get results that are comparable to those achieved by manually clearing the AnyDesk cache in terms of the optimization of the system's speed. Nevertheless, it is essential to proceed with extreme care and abstain from destroying any essential system files or directories.
Conclusion
The efficiency of this well-known remote desktop program may be enhanced by clearing the AnyDesk cache. We covered the features of AnyDesk in this post, along with thorough directions on how to clear the temporary files on a Mac. You may effectively delete unneeded cache files using PowerMyMac's Junk Cleaner module, guaranteeing a seamless and secure remote desktop experience.
Keep in mind that in today's digital environment, having a clean and safe system is essential. If you decide to clear AnyDesk cache regularly and other optimization techniques will not only improve AnyDesk's speed but also improve your Mac's general security and efficiency.
By clearing the AnyDesk cache and guaranteeing a quick and secure link between devices, you can improve your remote desktop experience right now.