iMazing would be an iOS device data management program that allows you to browse messages, contacts, and other iOS data by generating an iPhone backup. As one of the greatest iTunes substitutes, it allows you greater control over how you use the iPad, iPhone, and iPod.
Why should you uninstall iMazing on Mac? iMazing is a for-profit product that costs $29.99 USD annually. You might wish to uninstall iMazing from the Mac since many of its capabilities are only intended for one-time use or because your iMazing membership has just expired.
We'll demonstrate how to remove applications like iMazing on Mac in this short guide totally.
Contents: Part 1. Manually Uninstall iMazing on Mac & Delete BackupsPart 2. The Quickest Way to Uninstall iMazing on MacPart 3. What is iMazing?Part 4. Conclusion
Part 1. Manually Uninstall iMazing on Mac & Delete Backups
#1. How to delete all the iMazing backups?
You have either the choice to remove a single copy of the device or maybe all backups of such a device because iMazing keeps numerous copies of the device's data.
To remove a single back-up:
Select the device from the drop-down menu in the sidebar.
Select the Backups option in the toolbar located at the top of the screen. The Backup List will be open after you do this.
In the list of backups, choose the one you wish to remove from the list.
Hit the Delete button, then confirm.
To remove all back-ups:
Right-click the name of your device in the sidebar.
Choose "Delete Backup" from the contextual menu to proceed.
Select the Delete button that is located in the dialogue box.
#2. How to remove the pairing between your trusted devices and your Mac
In order to uninstall iMazing on Mac successfully, keep in mind that even though you delete all of the backups, the pairing that you have established between the device and the computer will still remain. You will need to forget about your device in order to eradicate any and all remains of it.
To unpair devices from the computer, follow these steps:
To forget the device, right-click it in the sidebar, and then choose the Forget option.
Keep the Remove Pairing checkbox checked within the popup, then select the Forget option.
The connection between your gadget and your computer has been disconnected. Before you could even access the data once it has been connected, you would have to go through its pairing procedure once again the next time you access it.
#3. How to manually uninstall iMazing on Mac
If you want to completely remove iMazing from Mac, the cache associated with it must first be deleted. This ensures that with the exception of any backups you may have made, no active files connected to iMazing will be left behind on the computer:
Open iMazing, then navigate to the iMazing > Preferences section of the menu bar...
Select the Clear iMazing cache button located in the General section.
Find iMazing in the Applications directory on the computer, then drag it out of there and into the Trash.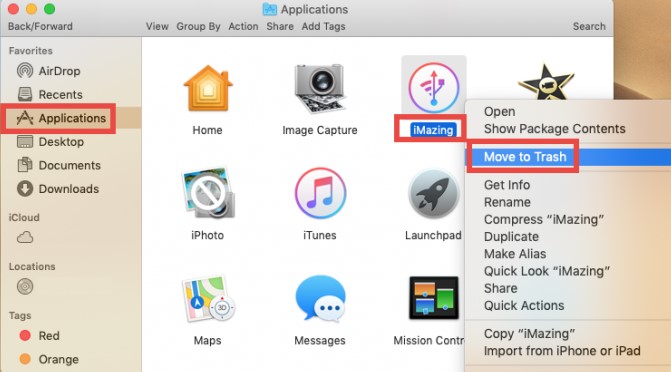 Part 2. The Quickest Way to Uninstall iMazing on Mac
Are you not sure as to whether or not you have located all of the components that constitute iMazing? What about avoiding the hassles entirely by making use of a useful tool? There is a wide variety of merchandise on the market that makes the promise that it can assist users in removing any undesirable application.
The following inquiry is: how do you determine which is the best option for your device? iMyMac PowerMyMac is an app eradication tool on Mac that is both light and efficient, and it differentiates out by its capabilities of uninstalling all elements of particular software in a matter of seconds.
One may gain knowledge on how to totally uninstall iMazing on Mac by following the methods that are provided below.
To start the removal process, open the PowerMyMac, navigate to the main page and choose App Uninstaller from the menu.
To do a thorough search of all the apps that are currently installed on your computer, choose SCAN.
Check the program you've selected, which should be iMazing or maybe another program you want to delete. By typing the software's name into the Search box, you may find it quickly.
Click "CLEAN" to remove every file, including those related to iMazing.
When it's finished, a notice with the words "Cleaned Completed" will show up on the screen.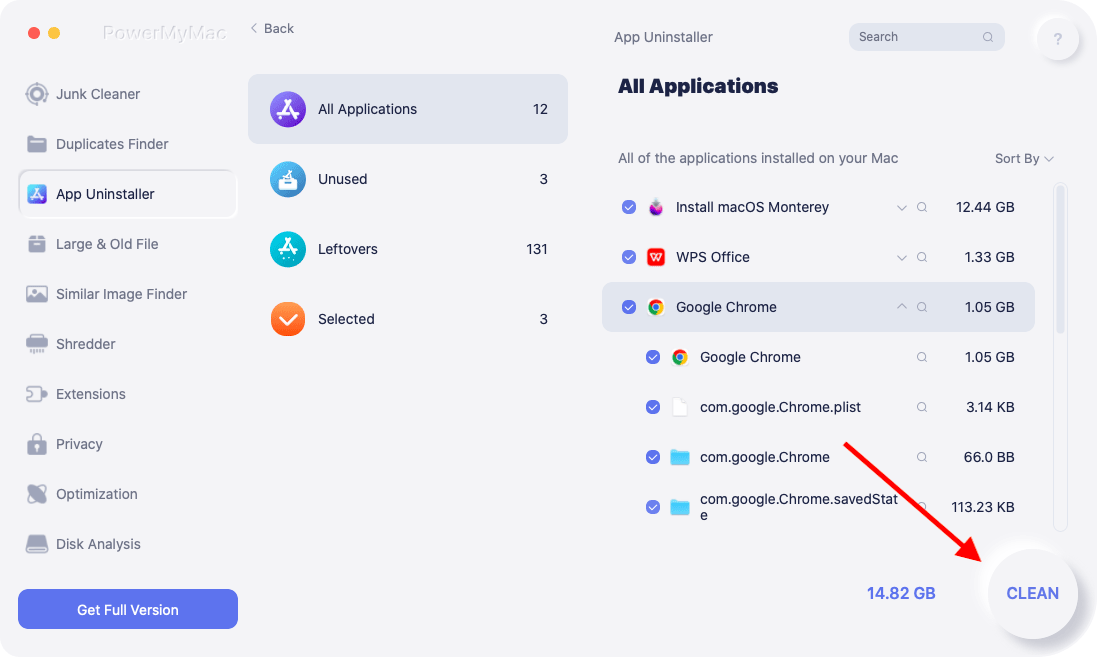 Obviously, you can not only get rid of apps easily, but also can delete all of their superfluous back-ups completely. Then other applications like Steam or Docker can be uninstalled by this cleaning tool successfully. Have a try.
Part 3. What is iMazing?
If you use Mac OS X, you may be familiar with a piece of software known as iMazing, which is available to buy. This piece of software essentially enables customers to transfer and handle a variety of data types across a variety of device platforms.
These data types include messages, contacts, voicemails, music files, and more. This implies that if you have ever found yourself in a position where you'd have to transmit files from an iOS device to the Mac over a Wi-Fi connection or USB, perhaps using this program could be the best option for you.
If a user decides not to purchase iMazing after trying it out for free for 14 days, they will need to uninstall iMazing on Mac in order to regain the space on their hard drive. However, the steps that you need to do in order to achieve this goal are outlined in this article.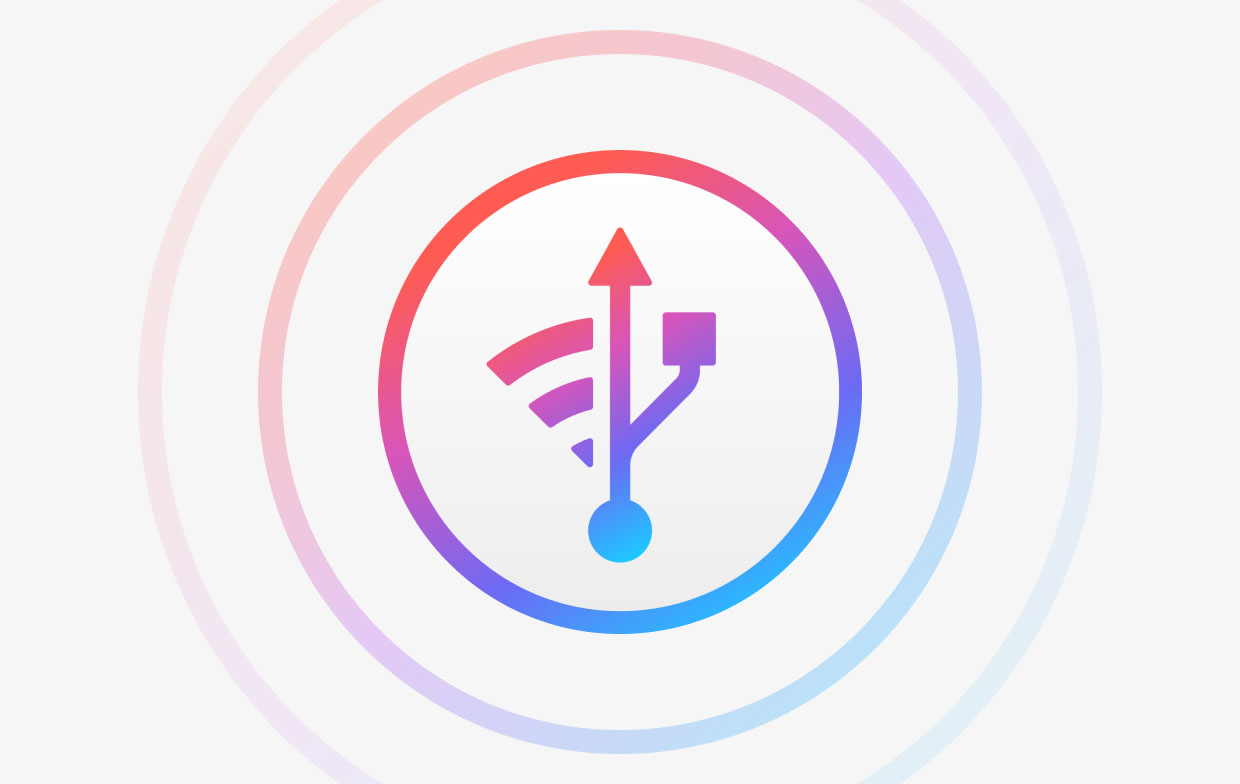 A number of customers say that they have difficulties while using it or attempting to remove iMazing, including receiving particular error messages such as "iMazing cannot be discarded" or "uninstall iMazing Mac isn't completed."
As a result, we highly advise you to check into numerous actual solutions to this issue in this area if you're interested in learning more.
Part 4. Conclusion
Now that you have read this article, it is possible that you have now been able to uninstall iMazing on Mac using one of the ways described above in order to rid it of this program. One would be manual removal, and the other is automatic removal which includes using the App Uninstaller module of the PowerMyMac.