A common video container both for video and audio is MP4. It is undeniable that videos under this format may be seen on all hardware and media players; however, web streaming is not really the best application for them.
On the other hand, there are a number of reasons why the FLV (Flash Video File) format is appropriate for online video streaming. The significant cause people have to convert MP4 to FLV format is because an FLV file has a smaller file size than a similar video under MP4 format.
In fact, the conversion requires a top-notch MP4 to FLV converter. You can view a list of the useful video converters that are accessible on various platforms in this article. Continue reading to decide which is best for you.
Contents: Part 1. MP4 or FLV, Which is Better?Part 2. The Most Recommended MP4 to FLV ConverterPart 3. 5 Ways to Convert MP4 to FLV Online for FreePart 4. Conclusion
Part 1. MP4 or FLV, Which is Better?
MP4 is a streaming media container file format that was established by the Moving Pictures Expert Group (MPEG). It can be used to hold video, audio, and other types of data, such as still photographs and captions.
It is among the most common and highly used file types, and its file extension is .mp4. This format supports live streaming on the internet and also is applicable to a broad variety of operating systems, devices, and platforms.
The FLV format, which stands for "Flash Video," is a file format that may be used with Adobe Air or Adobe Flash Player to transfer digital video material such as movies, television shows, and other types of media over the internet. FLV is a shortened form for "Flash Video."
It is also possible for these files to be contained under SWF file formats. FLV is a common video format that is used across the internet and is utilized by the majority of embedded videos, such as those seen on well-known websites such as YouTube and many others.
FLV is used more for video streaming services and is utilized by websites such as YouTube and Hulu.
On the other hand, MP4 is much more common for portable devices. In terms of comparison between these two files, the file size of an FLV is far less than that of MP4 files, and the format's video quality is likewise excellent; hence, it is an excellent choice for use when uploading videos to websites.
Therefore, it is vital to convert MP4 to FLV since it makes it much simpler to post videos on the device onto different websites that stream media.
Now, this guide will be going to teach you how to convert from MP4 to FLV with faster uploading speeds and superb quality of the video in the following guidelines.
Part 2. The Most Recommended MP4 to FLV Converter
It is highly urged that you make use of the iMyMac Video Converter if you find yourself in need of a great and spectacular file converter. This software stands out from the rest thanks to its excellent support for various different formats and its faultless conversion.
Consequently, convert MP4 to FLV isn't really a challenging task when utilizing it. You may also alter video and audio codecs without much effort. This includes the bitrate, frame rate, channel, and resolution, among other things.
Get A Free Trial Now!Get A Free Trial Now!
The majority of video converters have a slow processing speed, which might be a problem if you need to process multiple videos in a short amount of time. You don't need to be concerned because its MP4 to FLV converter may help you save a significant amount of time.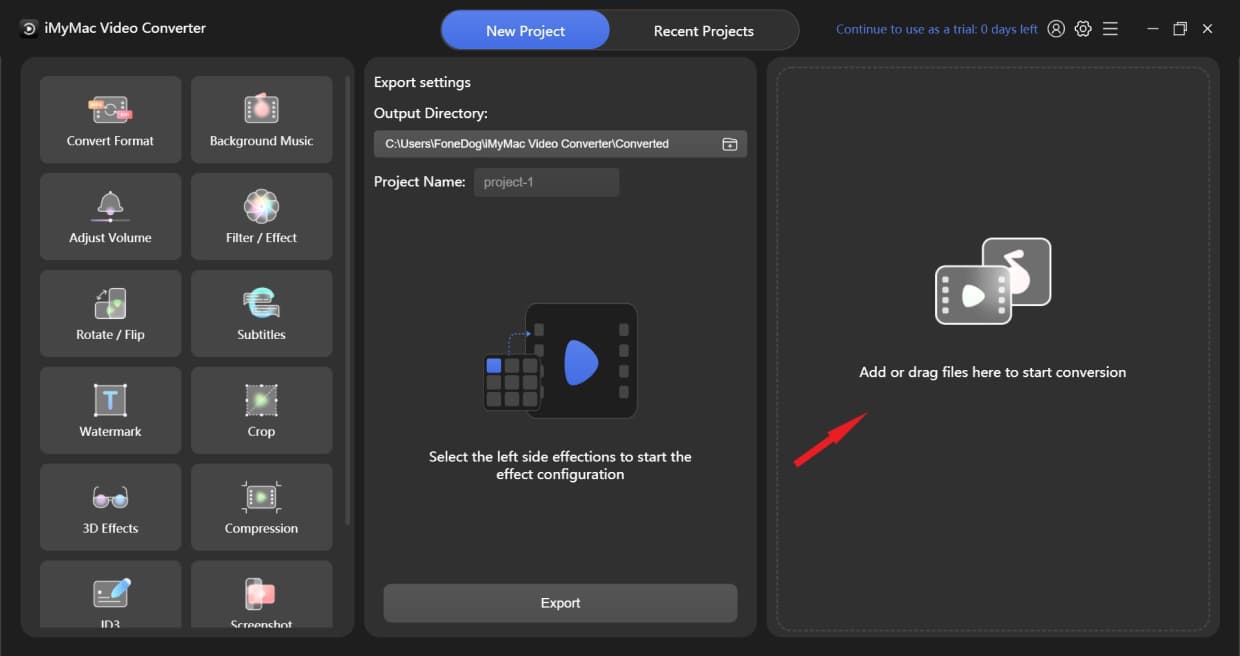 This application is capable of converting files at a rate that is six times better than that of competing converters since it makes use of hardware acceleration technologies. Because it also enables batch conversion, it is possible to convert MP4 to FLV format all at once.
Additionally, it is possible to combine multiple videos into a single file, which is a function that assists you in the effective management of video files.
Follow the steps below to know how to use the app:
Open the iMyMac Video Converter application on your Windows or Mac computer. Log in to access your account.
Your MP4 files can be dropped into the program's window by dragging it there.
By selecting the "Convert Format" option and selecting a format like FLV, you may quickly select the one you wish to convert the file to.
Now, a number of things can be changed by changing the files.
By choosing the Save/Set option, you can save the changes you've made to the settings.
When you select Export from the toolbar, the conversion process will begin.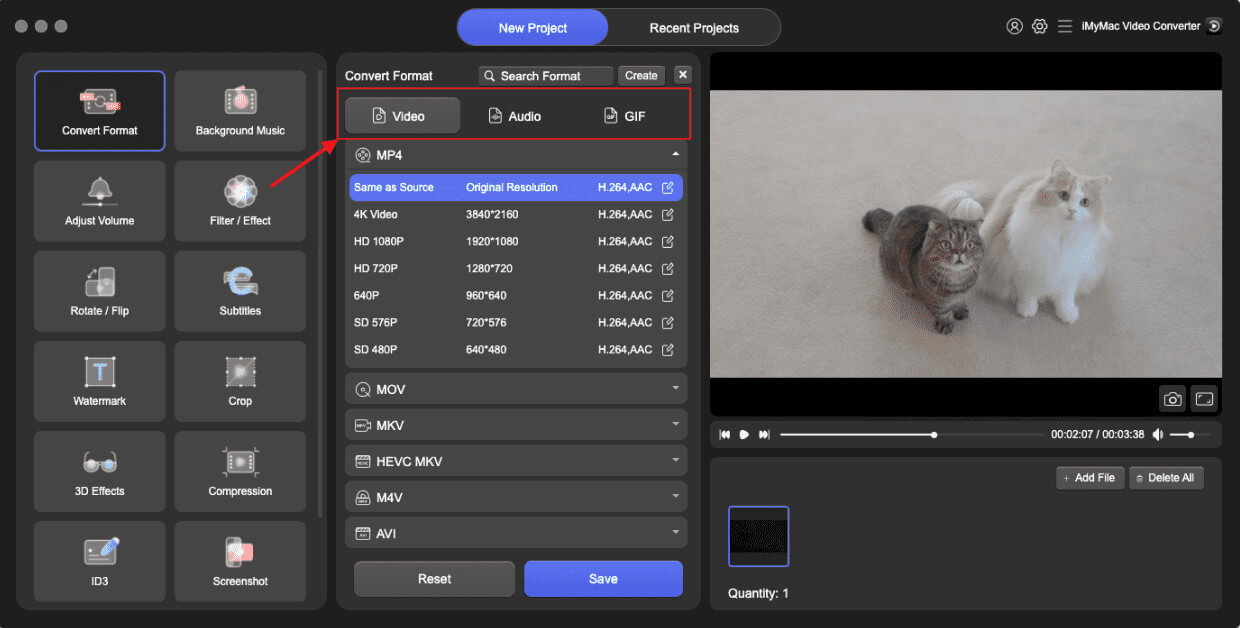 As the saying goes, practice makes perfect. The process of this offline converter is actually simple and brief. So it is better for you to download it for free and make a file like AVI converted to FLV.
Part 3. 5 Ways to Convert MP4 to FLV Online for Free
Do not worry that you can't find a good converter. In addition to offline converters, there are also some other online or free converters for you though their functions are not better than the former ones. Here we provide five online or free converters for you, just read the followings.
#1 iMyMac Online Converter
It is a related site to the offline utility iMyMac Video Converter, which can be found here. And despite the fact that such an online version would not provide you with the same outcomes as the application, it is still able to provide you with performance and functionality that is comparable.
Using this robust online media converter, you can try to quickly and effortlessly convert MP4 to FLV films as well as other types of media files. Due to the fact that you are providing the original files, there will be no degradation of the quality.
Utilization of it does not incur any fees or costs of any kind. To summarize, iMyMac Online Converter provides a solution for converting websites that is dependable and safe.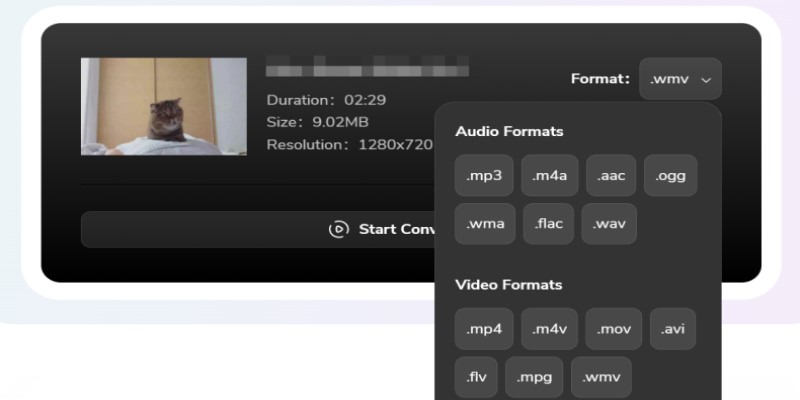 #2 cloudconvert.com
CloudConvert is a comprehensive and web-based MP4 to FLV converter program that is compatible with all operating systems. You may use its batch convert ability to convert either an MP4 file or a number of MP4 files at once.
This converter also provides you with complete command over the FLV file that is produced by giving you the opportunity to change the resolution, file size, audio and video codec, quality, as well as other parameters.
#3 zamzar.com
Whenever it comes to the best online converters, many people turn to Zamzar because the tool is capable of converting over 1200 different file kinds. These file types include audio, image, music, video, eBook, and CAD, amongst others.
Therefore, in addition to convert MP4 to FLV, this also functions as a converter for a variety of other file types. You will not be required to install any additional software in order to make use of the tool; hence, the process as a whole is both speedy and hassle-free.
The link to the processed files will be given to the email that was provided.

#4 online-convert.com
The MP4 files could be managed to convert to FLV or other formats with this web converter. The items could be uploaded via Dropbox, Google Drive, and the computer. Additionally, online videos can be added via the URL.
The files could be rotated, flipped, and cropped for personalization. The tool also supports video editing via parameter changes. The parameters can also be saved for later conversion. You must download converted files through the interface.
Part 4. Conclusion
It is an excellent technique to convert MP4 to FLV files to prevent incompatibility problems if you do have MP4 videos that you would like to upload to the website or publish on any social networking platform.
It is possible to complete the operation quickly and with high-quality data using a reliable MP4 to FLV converter.