Despite being a simple media player, VLC has a lot of functions that can be quite handy to video editors. You can convert files, rotate files, and even trim videos. No wonder it's one of the most popular media players on the market.
Unfortunately, not many people know about this function. Perhaps you too weren't aware of this until now, so it's only natural if you don't know how to use the trim video VLC function, but that's what you'll find out in this article, in addition to some alternatives. Let's start with how you can trim videos on Mac using VLC.
Article GuidePart 1. How Do I Trim A Video in VLC on Mac?Part 2. How to Trim Video with VLC in Windows 10?Part 3. Best Way to Crop Video on MacPart 4. How Can I Trim a Video Online for Free?
Part 1. How Do I Trim A Video in VLC on Mac?
Although you call it trimming a video, in VLC, it's called cutting videos, and it's the process of making a video shorter by removing some parts. Below are the steps on how you can accomplish this using the VLC media player:
Open the VLC program.
Click on File from the menu bar and select Open File.
The interface will change and what you need to do is click on the area where you want the video to start.
Now click Playback then Record button which should look like a red dot in a square.
Play the video until it gets to the endpoint that you want, wherein you should click the Record button again, indicating that this is where you want to stop.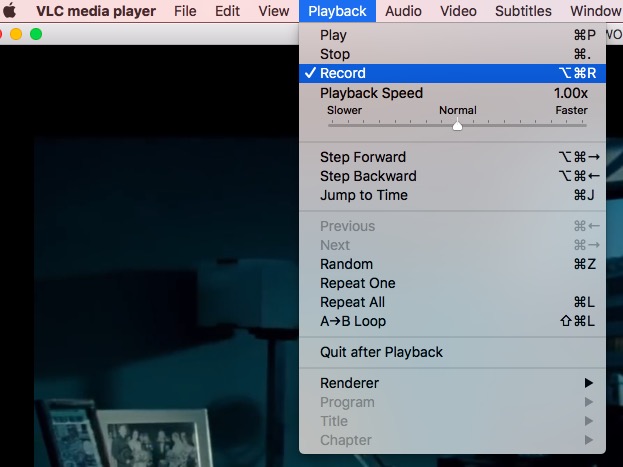 How to Merge Videos in VLC? (Mac)
Unfortunately, the trim video VLC function is not very accurate, but there's no other way. So, to make it more accurate, you can instead merge videos using the same program:
On the VLC menu bar, click Media and select Open Multiple Files…
Now on the File tab, click the Add… button and open all the videos that you want to add.
Click the arrow pointing downwards inside the Play button and select Convert instead.
Click Start.
Part 2. How to Trim Video with VLC in Windows 10?
Actually, the steps to use the trim video VLC function are similar for Mac and Windows 10 versions. However, there is a method that you can use on Windows but not on Mac, and it's a lot easier. Here's what you have to do:
Activate the Advanced Controls under the View button.
This time, instead of clicking the Record button, simply press Ctrl + R on your keyboard.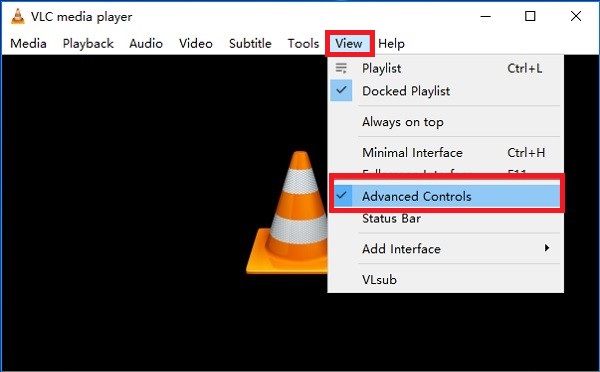 This works only on Windows 10 since Mac doesn't have such key binding. You can do this both at the start and the endpoints of the video.
Part 3. Best Way to Crop Video on Mac
There are several ways to trim videos, so it's hard to determine which is the best tool to do the job is. However, if you're looking to crop a video on your Mac computer, your best bet would be to use iMyMac Video Converter. To know more about this software, continue reading:
Supported Formats. iMyMac Video Converter supports numerous formats and these include both video and audio formats such as MP3, MP4, WAV, and may even support formats that are not compatible with VLC.
Acceleration Technology. It's also possible to trim multiple videos at once due to iMyMac's hardware acceleration technology, resulting in a conversion speed of up to six times faster than normal.
Full Control Over Resolution. You can change the resolution of the videos that you convert. More specifically, you can choose between 480P to 4K resolution.
Resolve Issues. iMyMac Video Converter is also capable of fixing issues that exist within the video, such as dark spots, vibration, and the likes. That way, you can have fewer problems to deal with.
Get A Free Trial Now!
Now that you know how powerful iMyMac Video Converter is, it's time to discuss the steps on how you can use iMyMac as an alternative to the trim video VLC function:
Step 1. Add Video Files
Launch iMyMac Video Converter on your Mac computer. Upon opening the software, there will be an empty space at the center. This is where you should drop the videos that you want to trim.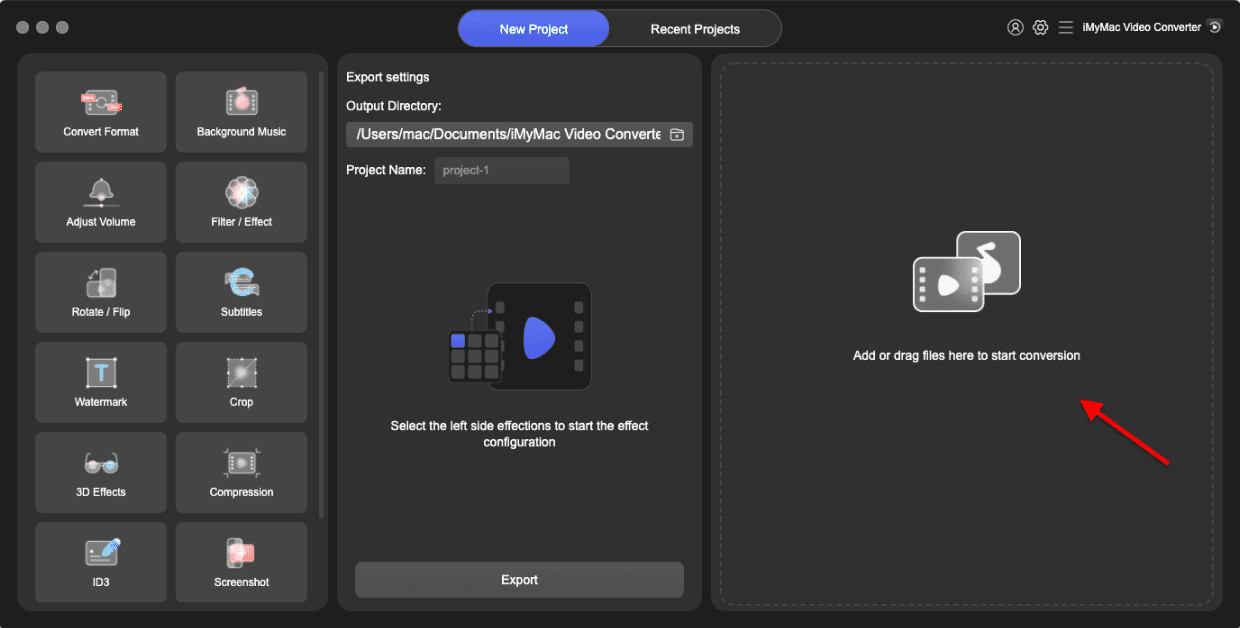 Step 2. Trim the Video
Click the Effects option on the video that you want to trim. Among the multiple options, there should be a Trim option, which you should then click. After doing so, you can adjust how you want to trim the video. This much should be easy for you.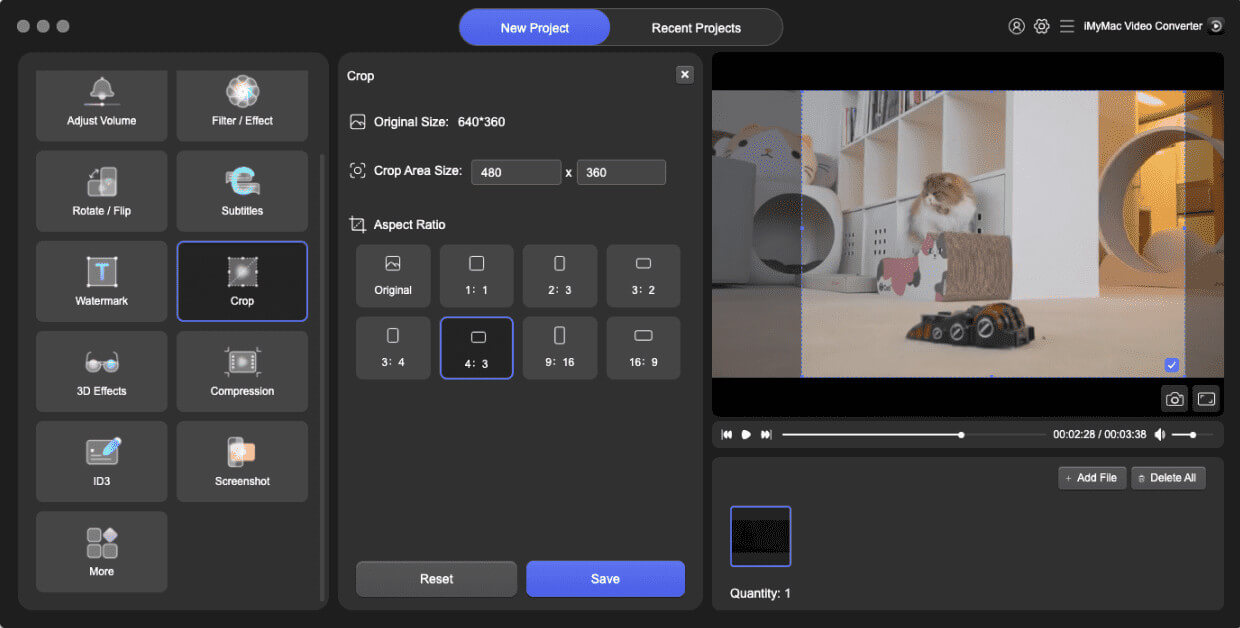 Step 3. Convert/Download Videos
After you add the videos and trim them, click the Convert button next to the file. This will convert the file, but you can make it so the format doesn't change by making sure the original format is the same as the output format, which is indicated at the top-right corner of the page.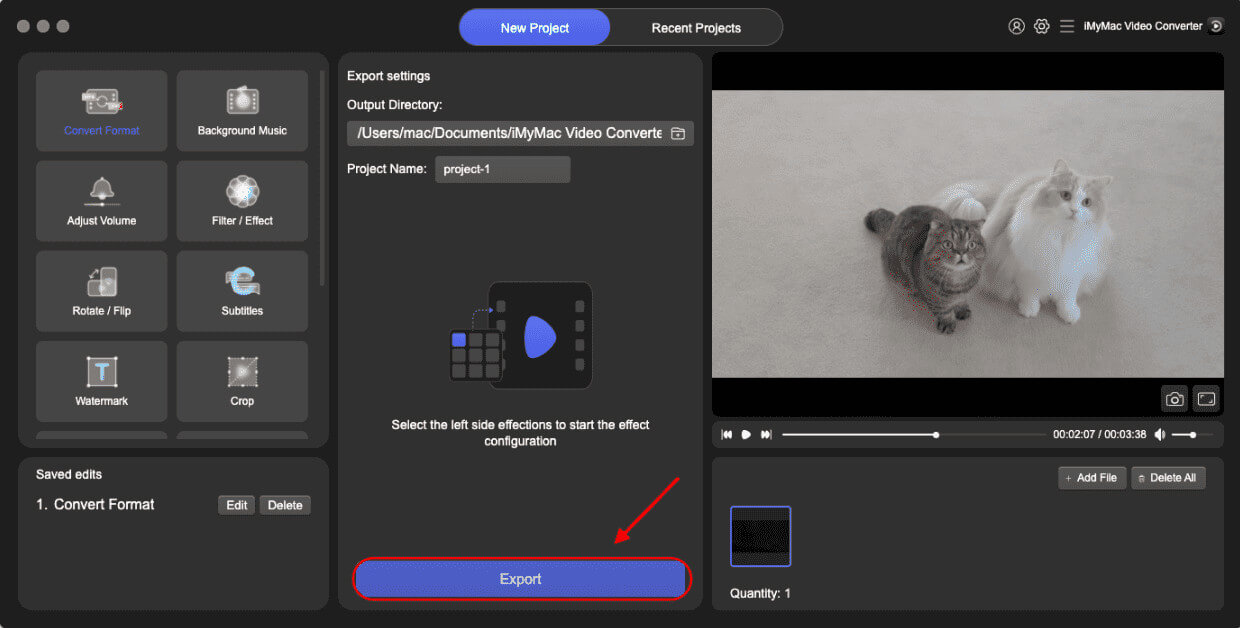 With this, you won't have to use the trim video VLC function to trim your videos. You just need this software and you'll be able to do what you want to do. You can even add effects if you want.
Part 4. How Can I Trim a Video Online for Free?
Third-party tools tend to take up some space on your computer. If you don't have enough space, but still want to trim videos, you can use online tools instead. Below are four of the best tools we can think of:
1. Online Video Cutter
Online Video Cutter is one of the most popular trimming tools out there. It has a simple design and the necessary buttons are all easy to see. You can trim videos using this tool if you follow these steps:
Click the Open file button at the center of the page and locate your files. You may also simply drag and drop the files into the page.
Once the video is uploaded, a new interface will show up. At the bottom of the interface, you can set the time that you want the video to start and the time where it ends.
Click the Save button.
2. Clipchamp
Clipchamp is another powerful online converter. The main selling point of Clipchamp is that you can create an account on the platform. With that account, you can keep tabs on the videos that you've edited, which can be quite handy if you like to go back to previous projects. Here's how you can use it:
Upload the video into the Clipchamp library. You can do so by dragging and dropping a video into the page.
Trim the video just like how you would trim videos using Adobe Premier.
Click Export and set the quality for the output file.
3. Ezgif.com
Ezgif is known for its simplicity, and we can't help but agree. This site consists of most texts, so it's quite easy to see which buttons you should click. Below are the steps to use this tool:
Click Choose File.
Locate the videos that you want to trim.
Click Upload Video!
Once the video is uploaded, set the starting point and the endpoint of the video.
Click Save.
4. Kapwing
Lastly, we have Kapwing. Just like Online Video Cutter, it has a simple yet elegant design. You can trim videos using this tool by following these steps:
Click the Upload button and open the videos that you to trim.
Once uploaded, you can set the start and endpoints for the output.
Click the Done button.
iMyMac Video Converter provides you high-speed conversion to convert videos and audios to any formats lossless. An all-in-one video converter, editor, player.
Free Download