We all know that people can't focus very long. Thus, videos tend to be watched partially and not completely. Still, videos are very popular and one of the most consumed types of media files online. Another popular file format is GIF images. GIF tends to be very succinct thus keeping us entertained in a short matter of time. With the popularity of the file type, most people want to know how to transform WebM to GIF. Heck, most people want to know how to make a GIF in itself.
This guide will be your go-to article on how to convert WebM to GIF image formats with ease. We will teach you the top tools you can use in order to get the task implemented. And, you'll have fun using these tools as you can entertain yourself plus other people as well. Let's start converting your WebM files to GIF!
Article GuidePart 1: How Do You Turn Something into A GIF?Part 2: Top Tools to Convert WebM to GIFPart 3: Bonus: Convert WebM to Other Video FormatsPart 4: Conclusion
Part 1: How Do You Turn Something into A GIF?
GIFs are animated graphics containing a sequence of frames that loops. Usually, it lasts only for a few seconds. That's why it is very popular for creating memes and expressing emotions on the Internet. Its small file size and short length make it very appealing to Internet users. Since GIF is a series of frames, it makes sense to say that in order to turn something into a GIF, you need images or videos. These images can be turned into a series of frames that look like a flipbook. The same goes for videos. You can trim parts of the video and turn them into animated graphics.
So, how do you turn these videos and image files into GIF files? How do you convert WebM to GIF? Well, the answer to that question is through the use of a GIF creator or a file converter. The former usually creates GIF files out of images and videos. While the file converter will be used to convert images or videos from one file type to the GIF image format.
Part 2: Top Tools to Convert WebM to GIF
Converting WebM to GIF is actually very easy and it's fun to do. You can do it even though you're not a professional video or photo editor. Thus, we're going through the top tools that will help you convert WebM to GIF in a few simple steps. Below are some of the software:
Tool 01: FileZigZag
This is an online platform for converting files from one format to another. File types supported include videos, images, ebooks, archives, and even web pages. It allows you to convert WebM to GIF file formats. In order to do so, you have to upload your videos to this online tool. Then, select an output format, which in this case is GIF. Then, you simply click the button called "Start Converting". If you're going for a free version of this tool, you can only upload files up to 50MB.
If you opt for the paid subscription, you will be allowed to upload files that are about 2GB or less in size. Batch conversion is possible for up to ten 50MB files for the free version. With this tool, 180 file formats are supported. Three thousand plus conversions from one format to another are available with the tool.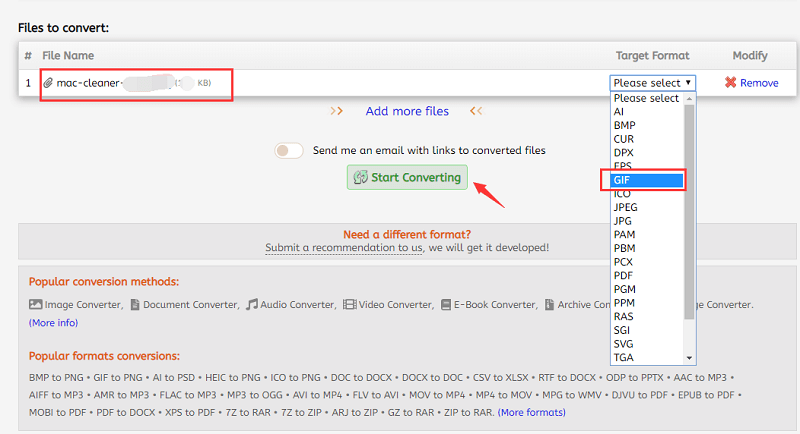 Tool 02: CloudConvert
This online file converter can be used for free. It supports over 200 formats of audio, video, ebook, image, presentation, and document file types. These include the most popular video types including MP4, AVI, MOV, and WebM. You can use it to convert WebM to GIF. Conversion processes can be customized with the ability to modify the resolution, aspect ratio, and frame rate. It also enables you to trim the finishing timestamp of your original WebM file.
Tool 03: Ezgif
This WebM to GIF converter is totally free and is based online. It provides you with various editing tools for videos enabling you to crop your media files and even place visual effects. It converts video files to GIF and supports the format WebM allowing you to create GIF files from this type of file. Once you upload your video to the online platform, you have to choose the part which you want the GIF to be generated from. However, if you don't choose a particular section of the video, the tool will create your new GIF from the first 5 seconds of your video. This is done automatically.
It is important to note that the video you can upload to Ezgif should not be over 100MB. That's the platform's size limit. The maximum length of the GIF you create will be 60 seconds. This is totally enough since most GIFs don't go past the 6-second mark.
Tool 04: EasyOnlineConverter's WebM To GIF Converter
Again, this is another free WebM to GIF tool that is based on the World Wide Web. As implied by its name, the process of forming your own GIF from WebM video files is "easy" with this tool. You just choose the specific file that will be used to convert to a GIF image. Then, you simply press the button for Upload and Convert. Once the conversion process is finished, you can just download the newly-created GIF file to your computer or your mobile device. Then, you can also share it on various social media platforms.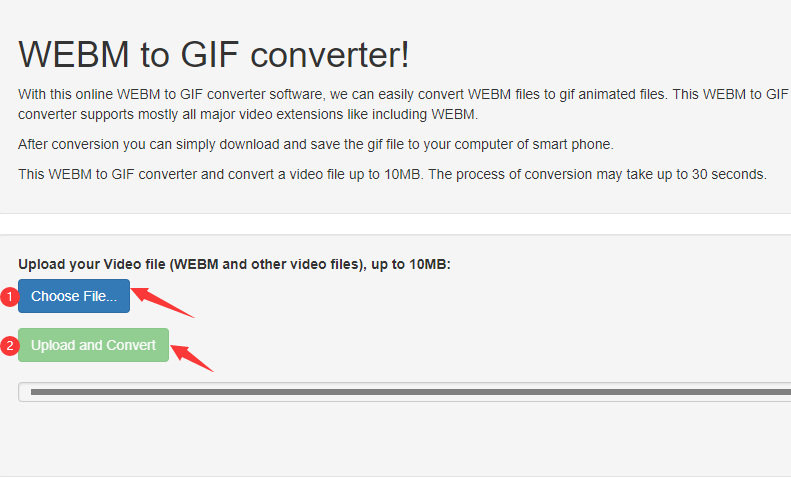 Again, similar to other platforms available, there are limits when it comes to the size of the file you can upload. For EasyOnlineConverter's WebM to GIF Converter, you can only upload a maximum of 10MB, smaller than other platforms in this list. Batch conversion is not possible with the tool, which can be a big hindrance to converting a lot of files at once. However, this tool can still be used for the conversion of WebM to GIF files one by one. And, if you don't need to convert a batch of files, then it's still a good option.
You can finish creating a GIF out of your WebM files in a minute or even less. The downside to using this tool is image quality. It doesn't produce a high-quality image after conversion which can be a reason not to use the tool.
Tool 05: PS2PDF
This is a free online tool you can take advantage of in order to convert your WebM video files to that of the GIF image format. Batch conversion is possible with the tool which makes it an easy, simple option for users who need multiple GIFs at once.
You can place files to the platform from that of your Google Drive or Dropbox account which is a faster way of uploading your video files compared to that of getting it from your local drive. Once your WebM file is uploaded to the platform, you should choose an output format, which in this case is GIF. Then, you should select the frame rate you want and choose one of the preset options for the output dimension. When you are ready to begin converting, simply click the button for "Convert Now". After that, wait for the process to be done and you can simply save your file to the computer.
Tool 06: Any Conv
This is another web-based utility that is completely free to use by anybody. It allows you to convert WebM to GIF using three steps only. The first thing you have to do is to upload your video from the local drive on your computer. Next, you have to click the button for "Convert". Finally, you simply download the newly-converted GIF image file to your computer. The downside to this is that you cannot upload videos from cloud storage platforms such as Google Drive, Microsoft OneDrive, or Dropbox.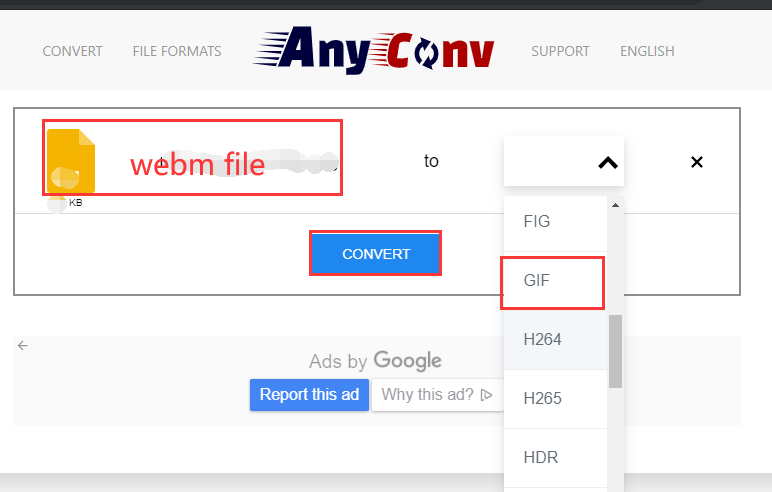 The maximum size you can upload to the platform is 50MB. Modifications are impossible as well as you cannot adjust conversion settings or even change your frame rate. In addition, you cannot get control of the output quality of the newly-converted GIF files.
Tool 07: Aconvert
This tool enables you to convert WebM to GIF through its easy-to-use web-based platform. Anybody can understand how to use the tool even without being "savvy" on technical stuff. The process of converting your WebM videos is made smooth and straightforward. This is one of the best tools out there. You can upload files through various modes. These include pasting a URL link, adding from your computer's local hard drive, and uploading from Google Drive or Dropbox.
You can even modify conversion settings if you wish. Various output resolutions are given and you can even modify the FPS (frames per second). Aspect ratios can be modified to your liking too! After the conversion process is complete, you can simply click the download button to save it on your local drive. Or, you can also use a generated QR code if you wish.
Tool 08: Convertio
This tool comes with both free and paid options for you to use at your disposal. If you wish to convert WebM to GIF, you need to make an account within its web-based platform. That is if you're uploading a file that is over 100MB.
Like other tools out there, you simply have to upload your video, choose the output settings, and start converting. The process will immediately begin and you can instantly download your new GIF image file to that of your local drive.
Tool 09: Zamzar
We're saving one of the top tools you can use as the last in this list. It comes with both free and paid packages and is totally web-based. It's a great way to convert a lot of file formats including WebM to GIF. In addition, you simply have to upload your file, ensure you choose the right output format and click "Convert".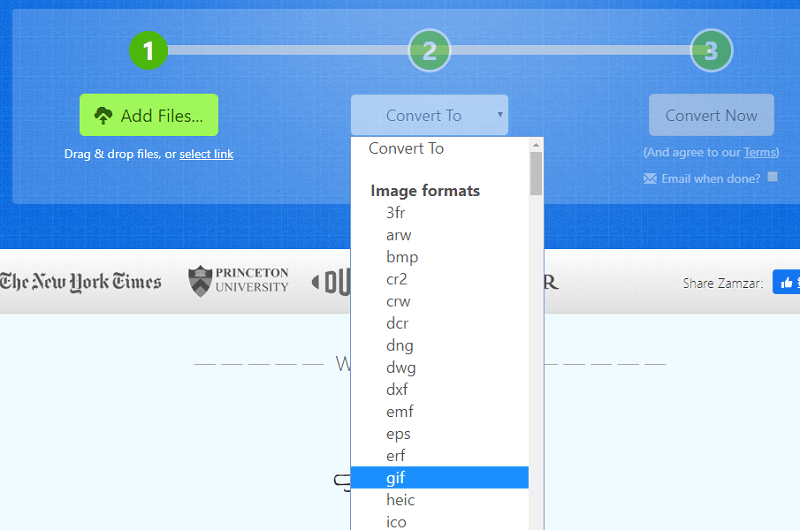 The file conversion process's duration will depend on the file size you have uploaded. If you're going for its free version, the maximum size limit you can upload is 150MB – that's larger than most of the tools we have in this guide. The subscription plans differ and will give you the ability to upload 200MB, 400MB, or even 2GB depending on the package you actually select. Overall, Zamzar is a great tool for converting different file types and is useful for conversions from WebM to GIF.
Part 3: Bonus: Convert WebM to Other Video Formats
If you're going to convert your video files to make them look better or to make file sizes smaller, you can opt for iMyMac Video Converter. This tool supports a lot of file formats including those of audio files and video files. It's a great way to convert your videos from one format to another because of its fast conversion speeds. It supports hardware acceleration technology making it six times faster than the average video converter out there.
Plus, it has video editing options allowing you to make your videos look better. You can adjust color, hue, saturation, and brightness. You can even trim, cut, and rotate your videos if you wish. This tool is a media powerhouse and is a top contender compared to a lot of video converters out there.
iMyMac Video Converter is very easy to use and you can convert your files in batches. This means you don't have to convert video and audio files one by one. Plus, you can choose specific resolutions if you wish. Conversion from 3D to 2D video file types (and vice-versa) is also supported. If you want to convert your WebM files to other formats like MP4, here is the easy guide you can follow.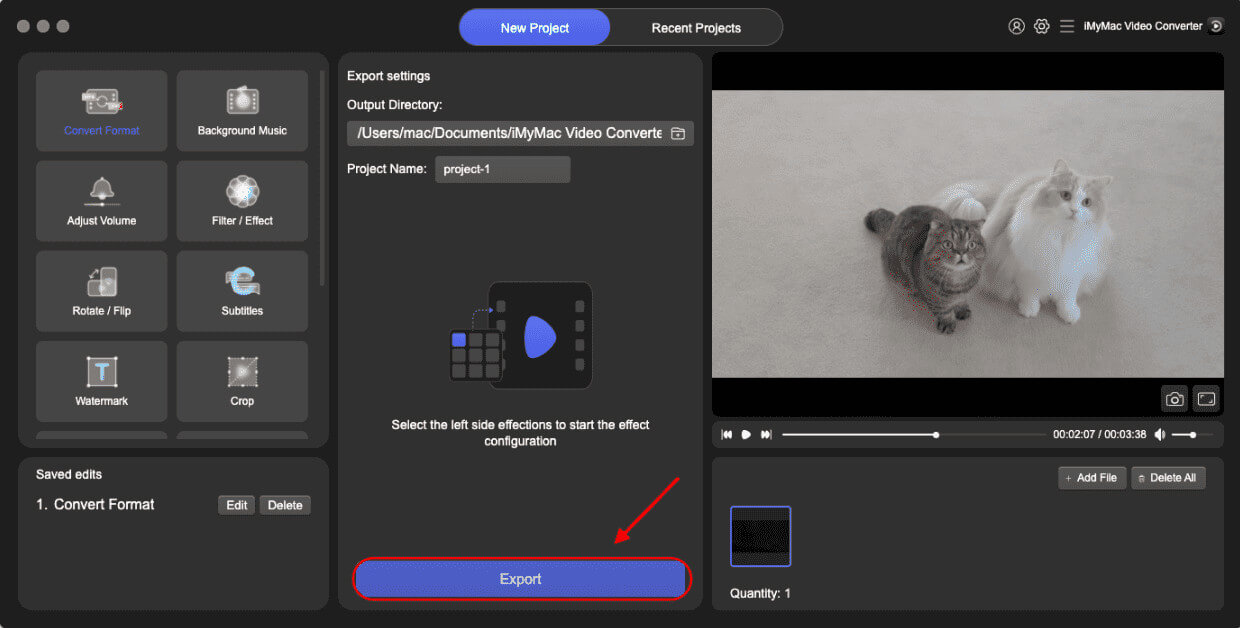 Part 4: Conclusion
Converting WebM to GIF is easy. You will notice that most of the tools we've listed here can be found online and are web-based utilities. There is also offline software that can do this for you, but these online tools are enough and most of them are totally free.
Plus, if you want to convert your videos, you can use iMyMac Video Converter as one of the top tools in the industry. This allows you to convert audio and video files with ease through its intuitive interface and ready-to-deploy technology.
If you wish to, you can immediately grab iMyMac Video Converter here. The tool is fast enough to make you convert videos in a few minutes only. Once you try the tool, it isn't difficult to notice that it is everything you need when it comes to conversion and editing!