When performing a variety of tasks using your browser such as visiting a website, filling out a form or clicking on a link, the web browser remembers all your activities.
For those who are using Chrome as a web browser, you can download a file which includes a complete history on all devices. Most find this feature beneficial since you can easily reference pages visited in the past or save time when filling up online questionnaires. Nevertheless, some find this undesirable, especially when it comes to privacy. So how to clear history on Chrome?
Any stored history can lead to compromised or leaked information, stolen identities, privacy concerns and more. You can prevent these issues by familiarizing yourself with measures on how to clear history on Chrome.
Article GuideA close look on your web browsing historyWhy should I clean up my web browser history?How to clear history on ChromeQuick advice on using PowerMyMacAdditional tips
People Also Read:How to Speed Up MacHow to Check out and Remove Your Siri History on Your Mac OS?
A Close Look on Your Web Browsing History
Regardless of when you last used the Internet, your web browser continuously monitors every website you have visited, links that you clicked and the pages that you have viewed which is your web browser history. This also holds information on your browsing habits, saved password, cookies, and even cached files.
Generally, your web browsing history can include personal information. The web browsing history has a variety of uses though such as quickly loading your favorite sites, auto-filling information when completing forms or reminding you where you last left off when online. Sadly, all the stored data can lead to several drawbacks in the long run.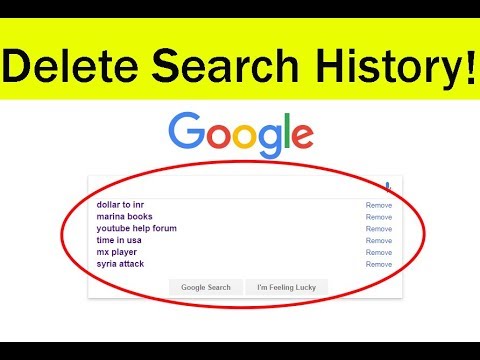 Why Should I Clean up My Web Browser History?
There are several reasons why it is best to remove your web browsing history. Generally, maintaining your privacy is the main concern. Cleaning up your browser history can protect you from invasive eyes especially when using a shared or public computer. This will ensure that no one else will know the sites that you visited or searches you made. Furthermore, it also helps remove any sensitive data such as credit card details that you entered on an online shopping site as well as prevent others from using this information.
Another reason why it is vital to learn ways on how to clear history on Chrome is to allow your browser to function more efficiently. Remember that every web browser has a "cache" of information that helps it run faster. When it comes to your browser history, it can be your form information, downloaded files or frequently visited sites. On the other hand, in case the cache is not cleaned up regularly, the browser can end up inefficient or sluggish. Cleaning your web browser history will clean this up and allow the browser to run smoothly.
There are instances, though, in which it is beneficial to keep your web browser history. A good example is when you are working on a large research project where you want to save the history to monitor your sources. In case your web browser history is useful, avoid clearing it until you no longer need it anymore. Remember that once you clear your browser history, you cannot restore it anymore.
How to Clear History on Chrome
For those who are using Google Chrome, there are 2 methods that you can use to clean up your web browser history. The method that you will use will depend on your main objective.
Method 1
Select History > Show Full History from the drop-down menu. An alternative is to press Command + Y
On the left sidebar, select the "Clear Browsing Data" option
On the pop-up window, select the time frame and type of data to remove. You have the option to remove the history log, cookies as well as the cached images and files.
Method 2
Select History > Show Full History from the drop-down menu. An alternative is to press Command + Y
You will be provided with a list of web pages that you have visited. Simply check on the boxes of the entries that you want to remove
Once you have selected all the entries you want to remove, tap on "Delete" which can be found in the blue bar along the top part of the screen.
All the entries that you have chosen are removed. In case you want to remove any cookies though, you will utilize a different method.
Quick Advice on Using PowerMyMac
An alternative method on how to clear history on Chrome is to use one of the tools by iMyMac PowerMyMac. If you want a simple yet highly efficient tool in clearing the history of your web browser, you must use the Privacy tool that you can find in PowerMyMac.
The Privacy tool in PowerMyMac functions by cleaning up cookies, searches, visits, and downloads from all browsers on your Mac.
Get A Free Trial Now!
Let us take a close look at the steps on how to use the Privacy tool.
Once you have downloaded PowerMyMac, install and open it on your device. On its interface, you will see 6 main modules inclusing the Privacy tool.
Select the Privacy tool.
Tap on the Scan button. The scanning process covers all the files in the web browsers on your Mac.
Once the scan completes, PowerMyMac displays all the browsers on your Mac on the left column. Choose the web browsers that you want to clean.
Once you have chosen the web browsers to clean, you will see Visit History, Cookies, Downloads History and other files on the right side. Choose the specific files or mark the Select All option on the top of the interface to confirm the files to clean.
After selecting the files to clean, tap on the Clean button at the bottom right of the interface to initiate the cleaning process. Wait for the cleaning process to finish.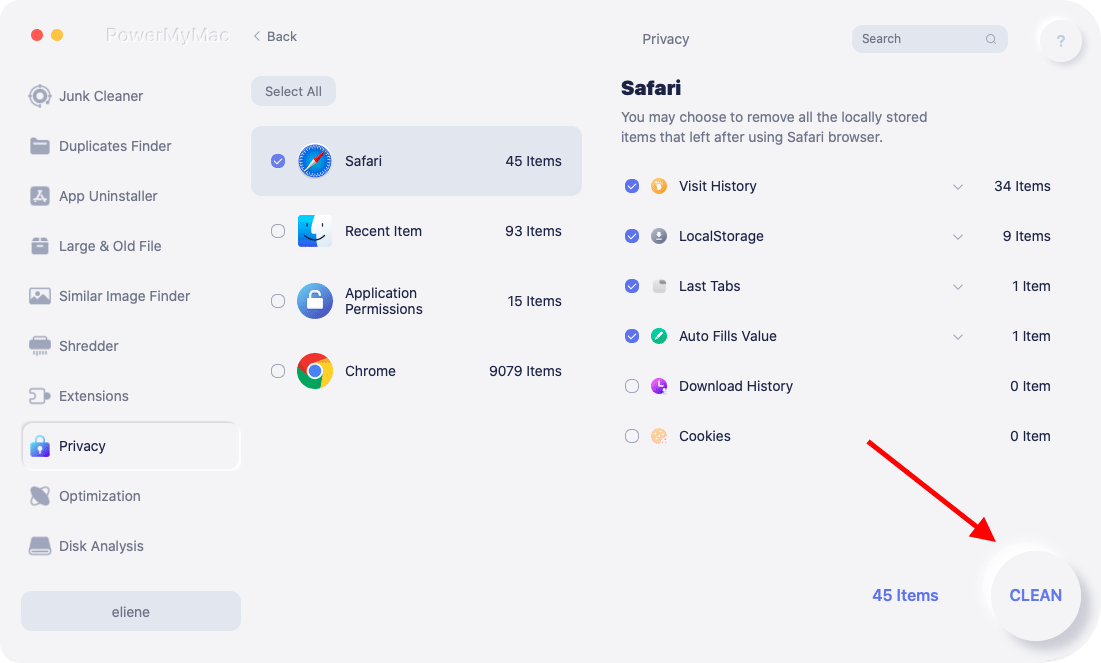 Additional tips
For those who are frequently clearing the web browser history, it is recommended to use the "Incognito" mode on Chrome instead. When this option is used, your web browser will not note down any history or cache any information on your activity.
With the Incognito mode, it opens a new, separate window and your activity is not recorded. This mode is also useful if you are checking airline tickets since it prevents websites from detecting that you have visited several times and unfairly adjust the ticket prices.
There are also drawbacks though and one is that you cannot autofill any passwords saved. In addition, you cannot utilize your history to find pages that you have visited. Nevertheless, it does provide better privacy than browsing in the standard manner.