We all spend a vast proportion of our time surfing, that's why your Mac swarms with a list of sites you have browsed in the past. Safari uses iCloud to maintain the same browsing history across your Macs and iOS devices. You only need to have Safari toggled on in iCloud preferences. Macs preserve your browsing history for up to a year, while iOS devices keep it for a month.
You've to manage your browsing history to determine what goes to your Apple data download. However, erasing it will not give you a clean slate due to iCloud backups. So in this article, we will show you how to view history on Safari, and ways to delete them. Let's get started.
Contents: Part 1. Understanding Search Browser History & Why You Need to Turn It offPart 2. How to View and Clear Safari History on Mac Manually Part 3. How to Clear Other Browser History ManuallyPart 4. Other Choices to Clear Browser HistoryPart 5. Conclusion
Part 1. Understanding Search Browser History & Why You Need to Turn It off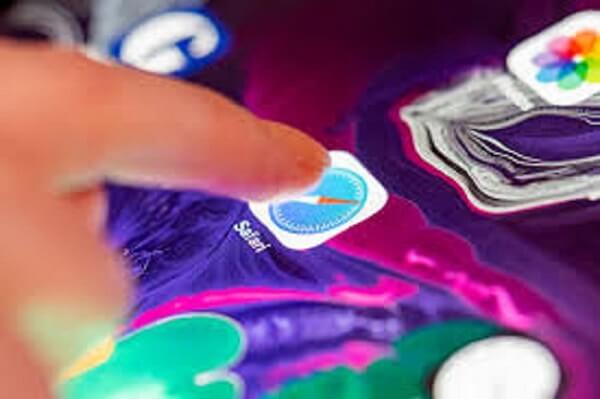 Unpacking Search Browser History
Your browser memorizes every website you visit. To prevent this, enable Incognito Mode or Private Browsing. Otherwise, your browser stores all these pages systematically and they're inextricably linked to your account. Sites you visit can pop up in autofill Google search forms if you track them. They stick out in violet in your search results.
Browsers also save information about the time when you surfed any page. Browsing history doubles as a website retrieval tool to home on any page from corpus items through the search bar.
Why would you mull over a nuked browsing history?
Sometimes, you wipe out this data for privacy, regulatory compliance, business secrecy, anxiety or simply spruce up your Mac. So, no website you opened will appear in your browser search results titled "already visited".
When you want to sell or give away your Mac, failure to erase browser history could expose troves of your online data to prying eyes. Equally, clearing your history will throw a snooping eye off the scent if someone attempts to look up your surfing history.
Wipe Out Browser History in a Click with a Dedicated Removal Tool
Automate your way of handling histories with a versatile browser removal tool for clockwork accuracy. Privacy tool adds an extra layer of security in safeguarding your privacy with the total annihilation of surfed pages.
We recommend you use the module Privacy of iMyMac PowerMyMac to automatically wipe away history details, cookies, and other pieces of data regurgitated by browsers. This software works like stink to clear out various types of Apple data download records.
Get A Free Trial Now!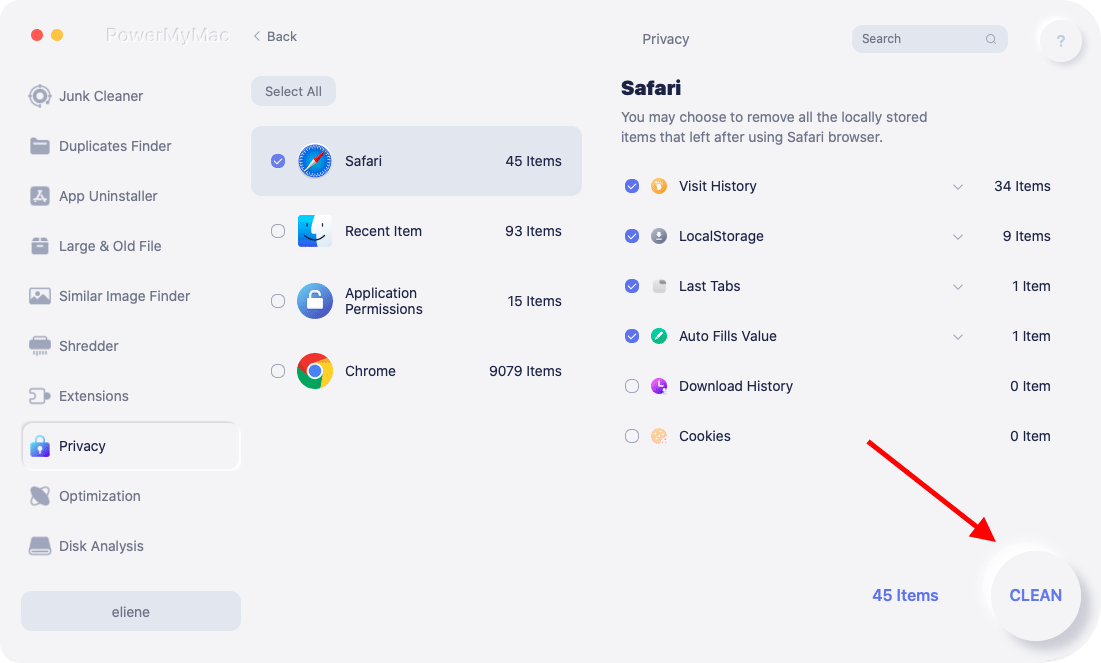 It also allows you to determine the cookies you wish to retain like the frequently-visited-sites. It boasts powerful algorithms that scan faster and delete in a single click. Try it out to wipe out your online footprint.
Part 2. How to View and Clear Safari History on Mac Manually
How to View Safari History on Mac

Search the web browsing history in Safari on your Mac. You can search your browsing history to quickly find webpages you visited before.
In the Safari app on your Mac, choose History > Show All History.
Type in the Search field at the top-right corner of the window.
How to Clear Safari History on Mac
Launch Safari from the dock.
Click on history in the menu bar at the upper parts of your screen. You can pore over your recent browsing history by drifting the mouse over the latest date in this list of entries.
Choose Show All History at the upper drop-down menu. This throws up the entire browser history exhibited by date. Use the keyboard shortcut ⌘Command+Y to launch the history in Safari.
Click ▶ on the left of any date to extend the browser archives for that date in a complete list. You can wipe out the history by clicking on Clear history on the upper-right of the page.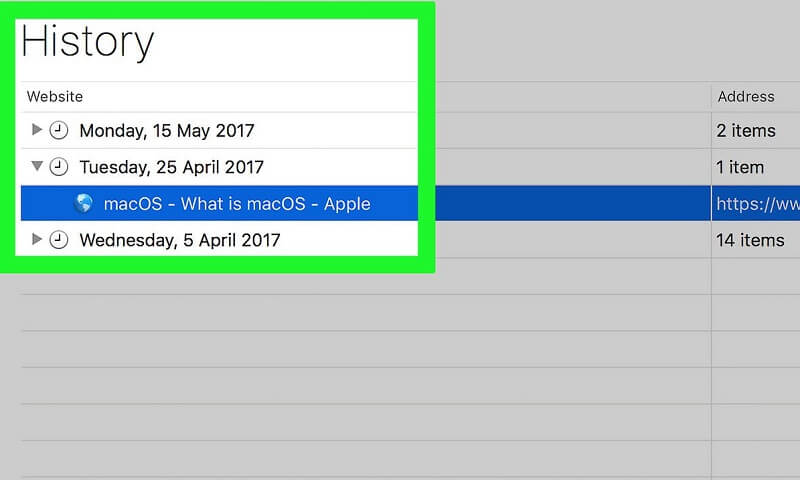 Part 3. How to Clear Other Browser History Manually
Google Chrome
Launch Chrome.
Click on History from the menu bar on the crest of the screen. This spew up a collection of Recently Closed websites and an assortment of Recently Visited
Click on Show Full History at the foot of the drop-down menu. This reveals a list of your Chrome browsing history.
Scroll down to see your browser history. The pages appear incrementally and you can keep looking through to go back months earlier. You can discard your history by clicking on Clear browsing data at the top left of the window.
Firefox
Launch the Firefox browser.
Click on the History tab at the top of the menu bar.
Select "Clear Recent History".
Decide the time range you want wiping out ("Everything" will erase all history).
Hover over the Details arrow, click it.
Select "Browsing and Download History".
Un-check the other options.
Select "Clear now" to wrap up.
Part 4. Other Choices to Clear Browser History
iCloud Apple's Data
You don't have to panic about iCloud backups associated with browsing history. Turn on Safari iCloud syncing and clear out your history across your able devices. Follow the steps under Safari with iCloud sync enabled.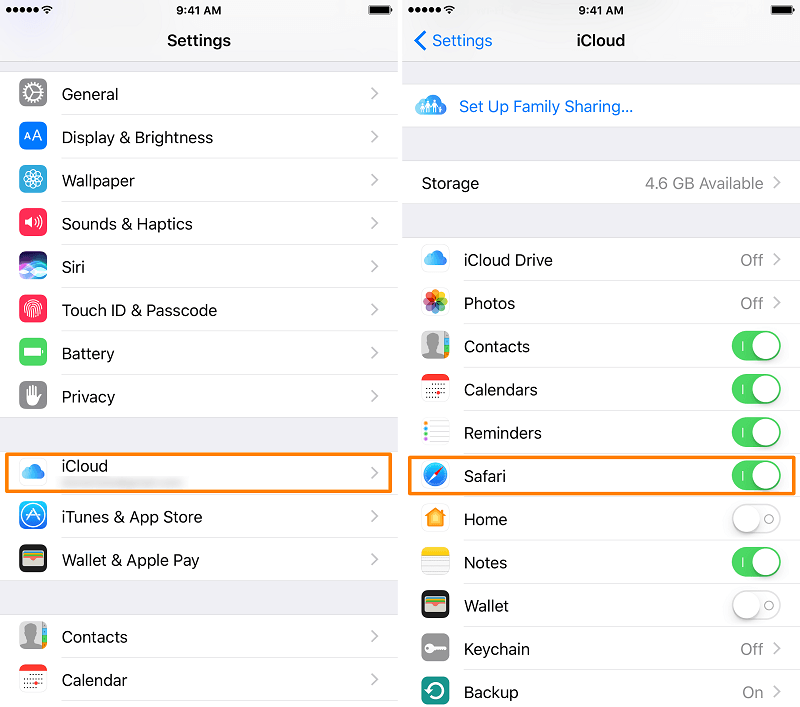 Sign Out your Accounts

Browsing without having social media, iTunes or Google account logged in prevents search engines from tying up pages visited you. However, these pages still exist in your browser history. But these pages will no longer appear as "already visited". Alternatively, use the Incognito Mode or Private Browsing to dissociate listed pages with your accounts.
Third-Party Tool
Erasing browser history ensures your history doesn't fall into the wrong hands. Browser Cleanup Tool "Privacy" of PowerMyMac blazes the trail as dedicated software to securely and quickly wipe out browser history from Macs, from the first day. It provides a safe pair of hands to clean up browsers in a split-second. Download it for free so you won't soil your hands with digital dirt.
Furthermore, Mac stores info on your internet activity with caches, logs, outdated files, and downloads. Privacy (Browser Cleanup) from iMyMac PowerMyMac offers a new broom to brush away all bits of your browser history.
Get A Free Trial Now!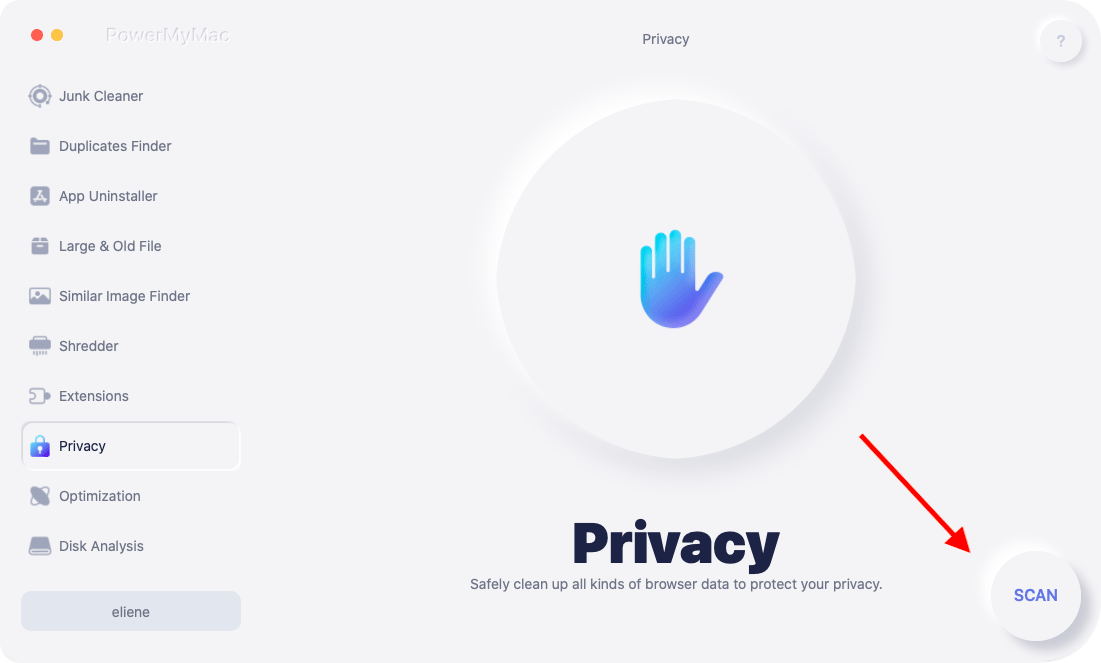 Part 5. Conclusion

You've learned the ropes on how to erase browsing history from Safari, Firefox, and Chrome manually. Use a browser history removal tool to clear out associated data, listed pages, cookies, and broken caches to save time. If you want to stop spies dead in their tracks, you need to clean up your browsing history once in a while.
Moreover, you can still manage Safari browsing history even if you've backed up in iCloud. In a data-driven world, companies such as Google and Facebook harvest troves of information online to gain a competitive edge.
Not everyone is ready to disclose data download, browsing history or privacy to these profit-driven behemoths. Employ our hacks and tricks to clear your browser history items for intrusion-free surfing.
Get A Free Trial Now!