Have you noticed that your Mac goes slower and slower though there are fewer applications occupied and operating? The truth is, your Mac may contain too many temp files. From caches to duplicates, your Mac has probably accumulated a number of files and folders that you don't know. These are the files that contain data generated by applications you use. Generally, these temporary files will disappear when you shut down the device. But sometimes, they won't. So you need to delete them by yourself or using a cleaner app.
Unlike caches, temporary files do not always stay under its corresponding app's file. It may remove itself when you close the application. But most likely, it would suddenly come out when you launch the system or application again, and then always "hides" in your Mac, occupying your space. Thus, in order to let you thoroughly know how to clear temp files on Mac, this passage is going to share you some efficient methods.
TIPS:
Article GuideWhat Are The Temp Files?Method 1: Clear Temp Files by Using CleanerMethod 2: Clear Temp Files by Your OwnConclusion
What Are The Temp Files?
Temp files are the files created by running applications or system processes to store data for a while. It is later used to support the operation process. Other than cache files, temp files are usually deleted by the process that created them. Usually, when you exit the application or the process or restart the system, those temp files will eliminate themselves. But in some circumstances, they fail and stay in your Mac. They make no harm to your Mac but occupy a little storage. If you want to smartly remove them, there are two useful methods to help you.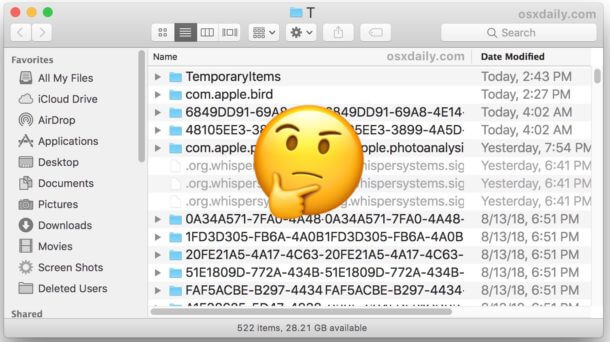 Method 1: Clear Temp Files by Using Cleaner
If you want to quickly and safely clear the temp files in your Mac, doing it by using a powerful Mac cleaner would be the best choice. Here recommended a very useful software-iMyMac PowerMyMacto you.iMyMac PowerMyMac is a multi-functional tool that helps clean and optimize Mac devices. It has more than 20 functions in solving different problems than you encounter on your Mac. If you want to delete any unused files, uninstall the unnecessary applications or maintain your Mac regularly, you are supposed to download iMyMac PowerMyMac to help you.
There are three main modules in this Mac cleaner-Status, Cleaner, and ToolKit. The one you need is the "System Junk" function in Cleaner. Now, let's go to see more details!
Step 1: Download and install the application
First, you need to have iMyMac PowerMyMac on your Mac. You can directly download it from the button below or click into our official website at www. Imymac.com. Once you have downloaded the program, install and launch it.
Step 2: Select"System Junk" in Cleaner
When you enter the app, you will find three modules-Status, Cleaner, and ToolKit on the interface. Then choose Cleaner, and next click "System Junk". This option allows you to clear your Mac's system storage which includes your System Cache, Application Cache, System Logs, User Logs, and Localization.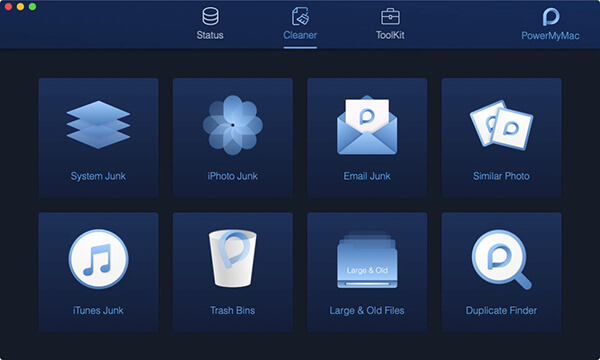 Step 3: Scan the system and wait for the results
Press the "Scan" button to examine and discover the junk files on your Mac. Then, wait a minute and click "View" to see the results. (Note: if you fail to scan the files, then keystroke theRe-scan button to check the files again.)
Step 4: Choose the targeted files and clean them
From here, the app will show you all the regulation files. Then, look for the temp files and select them to clean. (Note: in the "Clean" part, you may need to enter your password, but don't worry, just for safety verification.)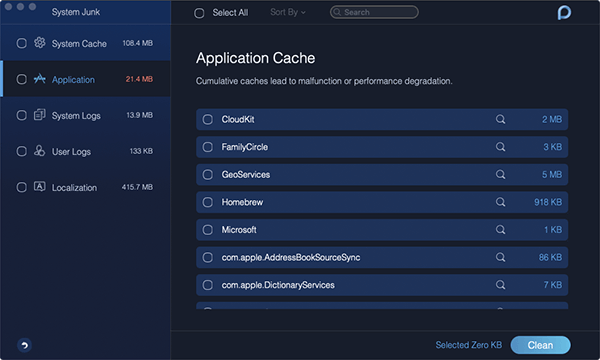 Step 5: Confirm the cleaning request
When you click the "Clean" button, the system will pop up a confirmation request to ensure the deletion again. Confirm it when you correctly select the temp files.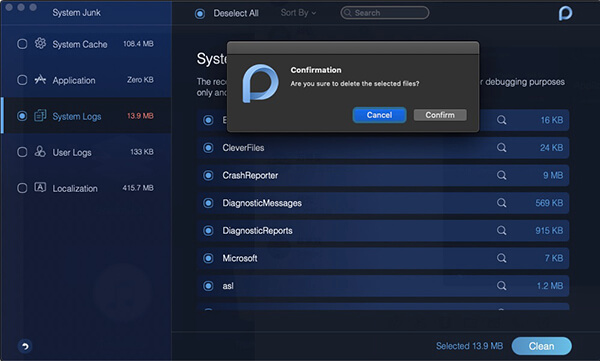 Now you can see all the temp files that you selected are gone. Your Mac is free again. By the way, you can also try the other seven options under the Cleaner so that you are able to boost the performance of your Mac and gain more storage back.
Method 2: Clear Temp Files by Your Own
Tip 1: Go to the Temp Folder and delete the files
Since the temp files will generally clear out themselves when the operating app exits or shutdown. Therefore, we can use the simplest and easiest way to sweep away those files. That is, to restart your Mac.
Tip 2: Use the Terminal
If tip 1 doesn't work well, try to clear out the files by using the Terminal.
First, go to the Finder and find out the temp files' location. What you need to do is:
Launch Finder on your Mac.
Then go ahead and click on "Go to folder".
From there, go ahead and type in/Applications/Utilities.
Then, enter the following by typing$TMPDIR.
Besides, several other temporary directories can be found except the main one:
/private/tmp
/private/var/tmp
/private/var/at/tmp
/private/var/spool/cups/tmp
Next, quit the running applications and eliminate the contents of the folders safely to make more room on your drive. Additionally, it's advisable to delete temporary internet files on your Mac too.
When you choose to delete temp files manually, make sure that you follow every step correctly. Since any files you remove may cause the abnormal operation of its relevant app, even worse, something wrong with the whole system. Thus, be patient, be careful.
Conclusion
As you can see, cleaning up the temp files is not hard and necessary work. You can choose to clean them when it's in certain circumstances. Doing this manually will take time and patience. But if you don't want to do it by yourself, download iMyMac PowerMyMac. All you need to do is to click a few buttons and wait. What's more, there is no need to worry about the application or system error caused by mistaken operations.