The Apex Legends game is a Battle Royale that was created by Electronic Arts and Respawn Entertainment. Players may participate in the game for free. There are millions of people all around the globe who play this game, making it one of the most popular first-person shooters and one of the most popular battle royales currently available.
But why would other people try to uninstall Apex Legends? Having said that, it isn't to everyone's liking by any means. A good number of them ultimately give up and remove it from their sites.
We will walk you through the process of uninstalling Apex Legends in the event that you have stopped playing these games or are looking to remove or clean up some apps on your device.
Contents: Part 1. Can I Play Apex Legends on Mac?Part 2. Automatic & Easy Way to Uninstall Apex Legends on Mac Part 3. Uninstall Apex Legends on Different PCs & Platforms Part 4. Conclusion
Part 1. Can I Play Apex Legends on Mac?
If a user owns a Mac and would like to play Apex Legends, one can do that without downloading any additional software or risk having their warranty invalidated in the process. Boot Camp is Apple's own virtual desktop software, and it gives you the ability to operate Windows applications on your Mac or iOS device.
You would be capable of playing Apex on your Mac after the installation is complete. On more recent Macs, the installation procedure is straightforward and may be finished in less than twenty minutes.
While the battle royale game Apex Legends is indeed a lot of fun and completely available for free, it does need a significant amount of storage space on your computer. That's why some users want to uninstall Apex Legends game.
It is also possible for it to be overly visually demanding, particularly on lower-end personal computers, and this might cause the system to overheat, which will cause it to wear down quicker.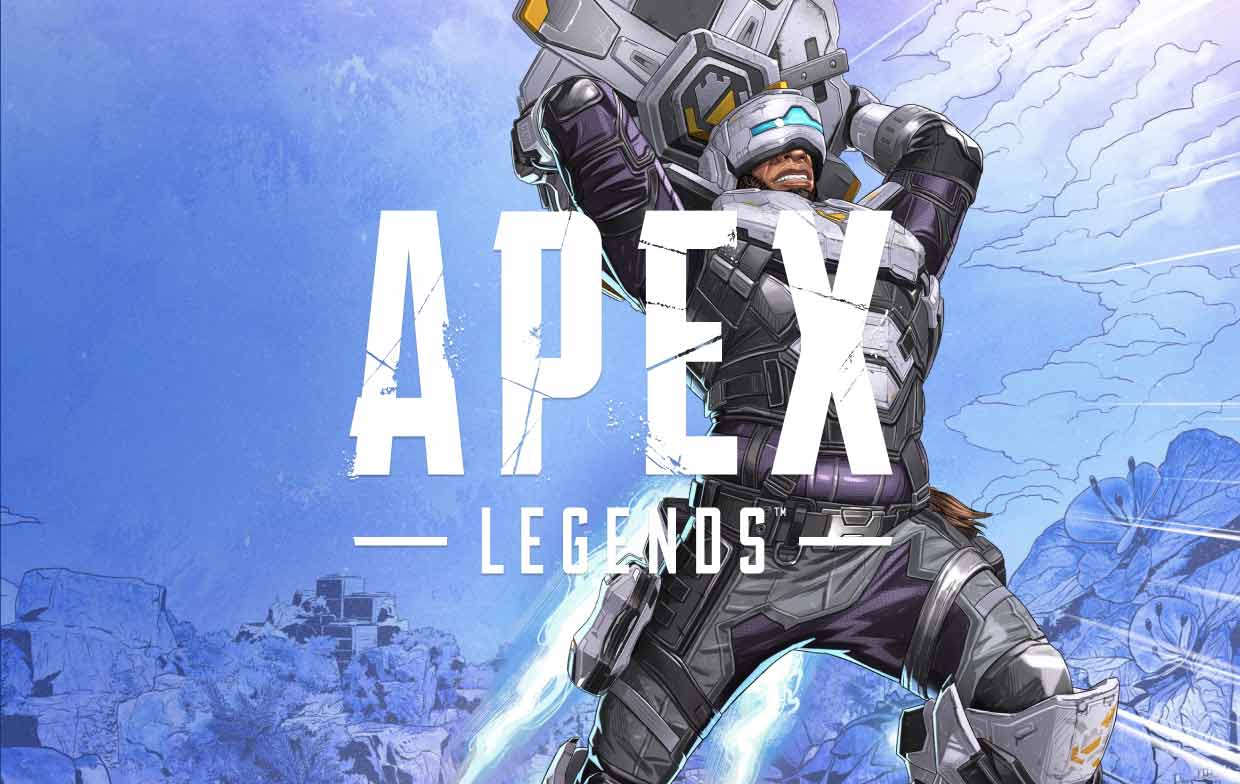 It's possible that over time, some gamers may get disinterested in Apex Legends and decide they no longer want the game installed on their computers. It's not too difficult to get rid of the game and all of its associated files.
So if you have decided to uninstall the game Apex Legends, the following sections will guide you to remove it completely.
Part 2. Automatic & Easy Way to Uninstall Apex Legends on Mac
If you are seeking a simple way to uninstall the game Apex from your system Mac, this might be the answer you're looking for.
The tool iMyMac PowerMyMac is a utility that not only enables the user to clear the MacOS registry but also assists them in methodically removing any program that has been installed on their Mac device.
To know how to uninstall the game, refer to these steps:
To begin the uninstallation process, launch the PowerMyMac, go to the main page of the application, and choose App Uninstaller from the menu.
Click the SCAN button to do a thorough scan of all of the applications that are currently installed on your computer.
You may choose Apex Legends or one of the other multiple candidates if you prefer. You can find the program if you put its name into the search box.
Click the "CLEAN" button to erase all files, including those that are connected to the Apex Legends. And now you can uninstall Apex Legends on your Mac completely.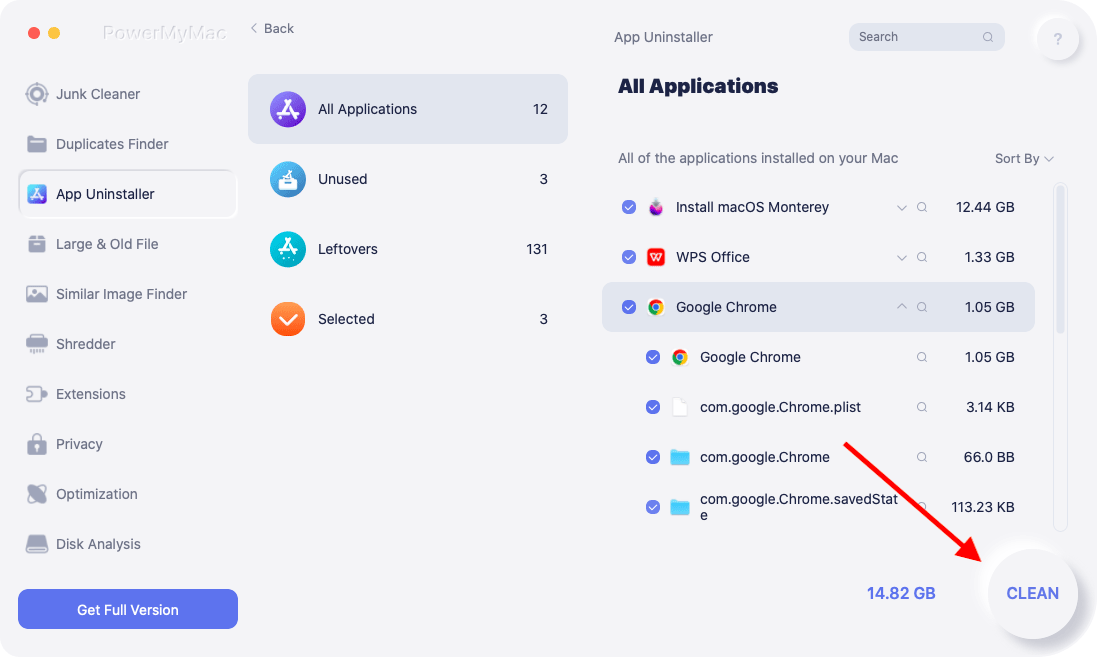 If you don't want to uninstall Apex Legends on Mac now, you are able to clean up and enhance the performance of the system on your device by making use of the all-in-one utility known as the PowerMyMac.
In addition, this application will be of great assistance to you in order to get the most out of your gaming experience, whether you are a gamer or a person who takes pleasure in playing a variety of different games.
With this uninstaller, Steam also can be uninstalled completely if you do not want it on your Mac anymore.
Part 3. Uninstall Apex Legends on Different PCs & Platforms
1. How to Uninstall Apex Legends from Origin
One of the primary ways that Apex Legends may be played on personal computers is via the Origin Client. The Origin Client includes an in-built removal function, similar to how it also includes a built-in FPS Counter.
Open the Origin client, then sign in.
Locate Apex Legends throughout the list under its "My Game Library" tab.
To uninstall a game, select it using the right mouse button, then confirm.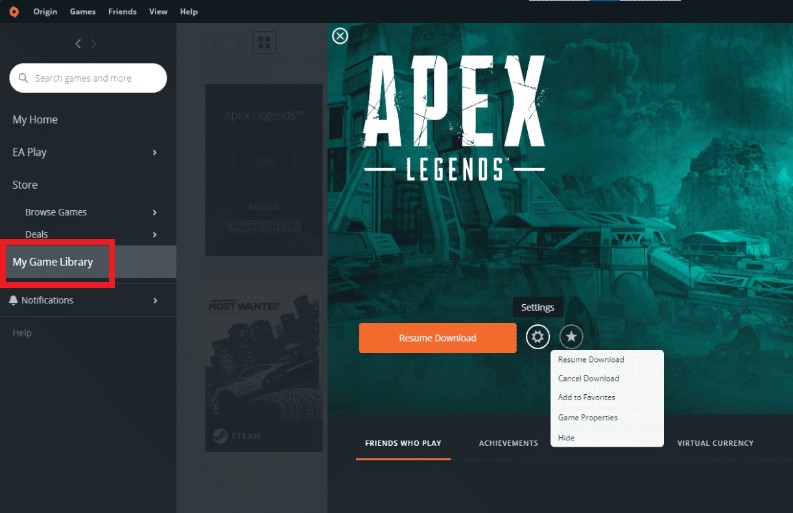 2. How to Uninstall Apex Legends via Steam
Since the introduction of Apex Legends on Steam, users of Apex Legends have, unsurprisingly, installed the most popular platform available for personal computers. Having said that, the process to uninstall Apex Legends from Steam is fairly identical to that of Origin.
Navigate to the library of the game, right-click it there, choose the Manage option, and then select Uninstall.
You'll see a confirmation prompt asking you whether you really want to remove the game. In the next box, click uninstall to confirm your choice.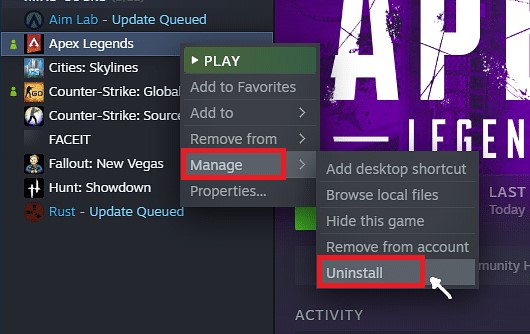 3. How to Uninstall Apex Legends on Windows
With the use of the operating system, users of Windows may remove installed software from their computers.
Simply go to the This PC folder and click the computer icon located at the very top (Windows 10). The tab will provide a few additional choices, one of which is "Uninstall or Change a Program."
Once you've found Apex Legends, scroll down and confirm the removal to complete the process. If you acquired it using Steam, it could launch that client to carry out the operation.
4. How to Uninstall Apex Legends on PlayStation
Go to the PlayStation games menu on your gaming system. Look in the game menu for Apoex Legends.
Once you've done that, click the controller's settings button while the cursor is above the title.
The uninstall option is one of the choices that will show up. Click, and then in the ensuing new window, verify your decision.
5. How to Uninstall Apex Legends Using Switch
From the Nintendo Switch's start page, you may navigate through games loaded on the device or perhaps the optional SD card.
Hit the minus or plus keys on this Joypad after discovering Apex Legends on the Nintendo Switch to display a menu. Select the Delete Software button after choosing Manage Software.
In order to make reinstalling at such a later time simple, you may also use the Archive program. A shortcut will remain on Nintendo Switch, making reinstalling the game simpler in the future.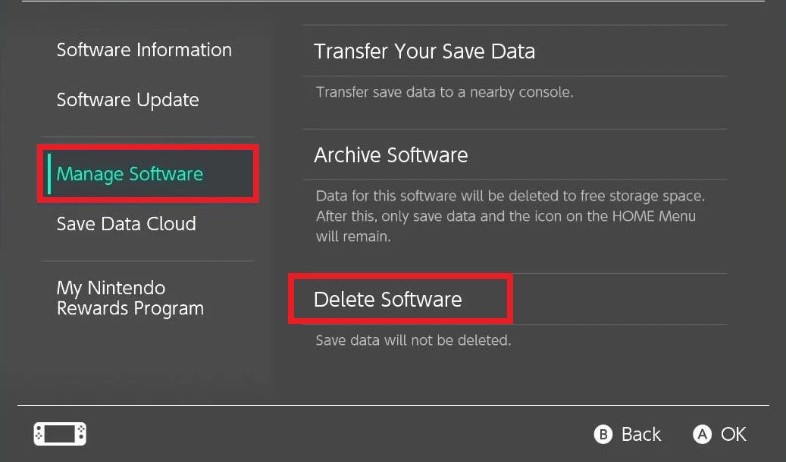 Part 4. Conclusion
Because it can be played on a variety of different platforms, uninstalling Apex Legends could be a little bit perplexing. However, you should now be able to uninstall Apex Legends successfully since you have the necessary information.