For various reasons, some users seem to want to uninstall iStat Menus on Mac. Unfortunately, according to the latest study, many Mac users have really no knowledge of how to delete malicious software from their computers totally. The majority of them simply drag the icons of the applications they wish to remove to the Mac Trash. In their perspective, the applications have been completely uninstalled.
Because having too many installed apps slows down the system, people must remove the unnecessary software from Mac to free up more system memory and space. One of the undesirable programs you may wish to delete from your Mac is iStat Menus. Prior to actually attempting to delete iStat Menus from your Mac OS X device, we highly urge that you read this document thoroughly. This site will provide you with very extensive information regarding removal procedures.
Article GuidePart 1. What Is iStat Menus?Part 2. Manually Uninstall iStat Menus from MacPart 3. Automatically Uninstall iStat Menus from MacPart 4. Conclusion
Part 1. What Is iStat Menus?
iStat Menus is a renowned app for monitoring Mac performance that was developed by the Bjango company. The software has features that enable you to observe lots of indicators on a real-time basis from the menu bar, including RAM use, CPU, the temperature of different computer components, IP and external IP, bandwidth, battery, uptime, and system load.
Despite the iStat Menus app's many benefits, several users have reported bugs and problems. If this is the case for you, you can resolve the issue by reinstalling the application. You may also need to uninstall iStat Menus on Mac if you want to reinstall an older version or simply clear up some space on your device. In this tutorial, we'll show you how to fully and properly uninstall iStat Menus from your Mac using two approaches.
Part 2. Manually Uninstall iStat Menus from Mac
The Uninstall option is available immediately from the menu of the iStat Menus program. However, you have to check the whole manual removal instructions before proceeding since you will need to manually locate and uninstall the app's related files even if you choose this option to uninstall iStat Menus on Mac. It's not just simply transferring iStat Menus for Mac programs to the Trash; it's fully removing them.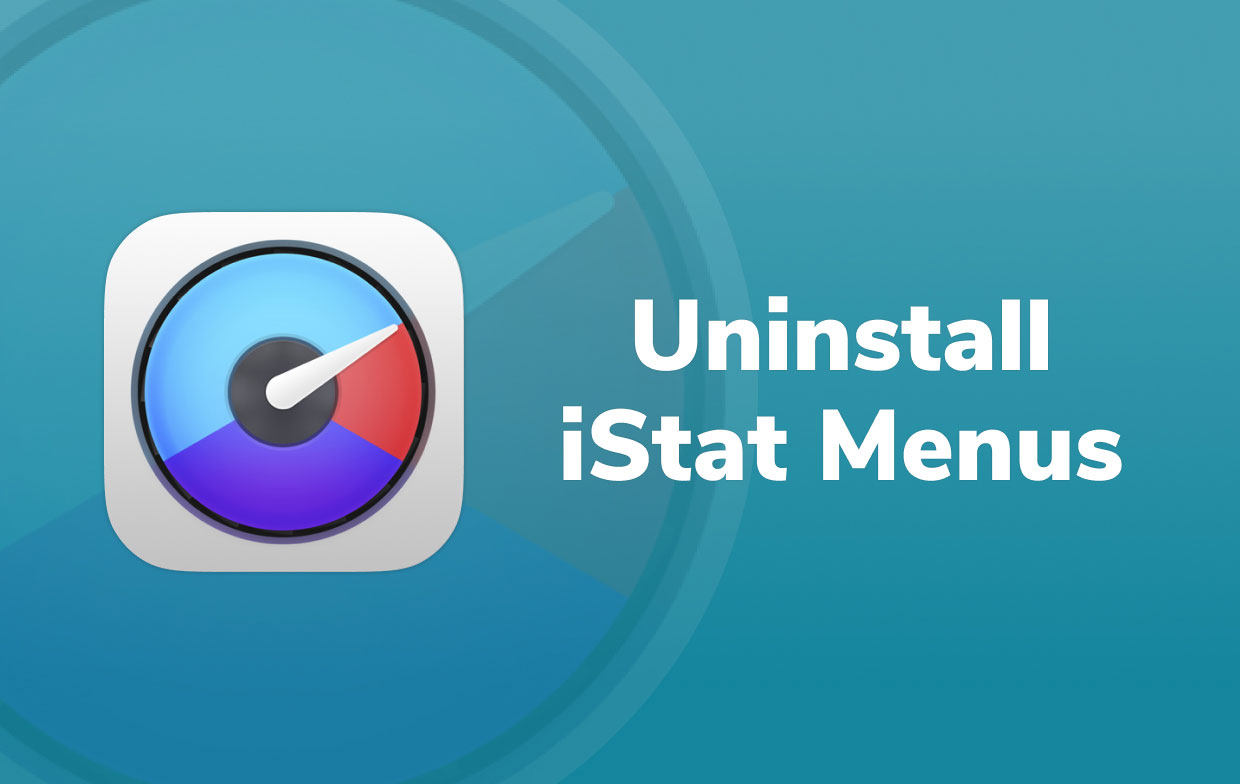 To remove the software entirely on a Mac manually, follow the steps below:
Open the iStat Menus app.
Click iStat Menus in the menu bar, then click Uninstall...
Click the Uninstall button in the pop-up dialog that displays.
Your confirmation will be required by the system. Type in your password then selects Install Helper after entering your user password.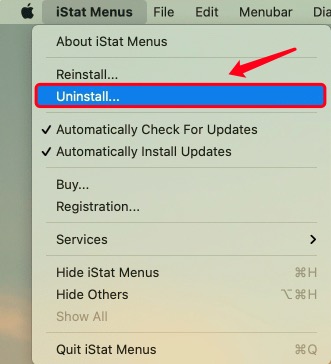 The window will shut in a few moments, and the program should be deleted.
Though the app is removed, the process doesn't end there. Now comes the most important part of the uninstallation procedure. It was discovered that the program had left its service files on the hard drive and had remnants all over different folders. This indicates that the program was not entirely removed. You'll have to hunt for and delete the cache files manually. Support files for apps are stored in the Library folder by default. Follow the steps below to completely uninstall iStat Menus on Mac.
Press Command+Shift+G to open Finder.
Type /Library into the search field and hit Enter.
Find and delete the following files and folders that are related to iStat Menus in the Library folder:
~Library/Caches/com.bjango.iStat-Menus-Updater
~Library/Caches/com.bjango.istatmenus
~Library/Caches/com.bjango.iStatMenusAgent
~Library/Preferences/com.bjango.istatmenus5.extras.plist
~Library/Preferences/com.bjango.istatmenusstatus.plist
~Library/Logs/iStat Menus
~Library/Cookies/com.bjango.iStat-Menus-Updater.binarycookies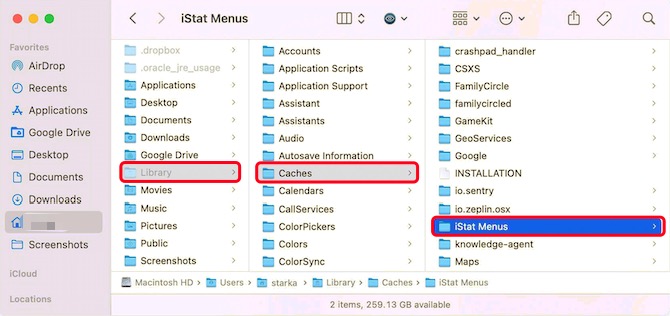 Clear your Trash to completely eliminate the program once you've deleted all of iStat Menus' support files.
Part 3. Automatically Uninstall iStat Menus from Mac
PowerMyMac's Uninstaller is the simplest and quickest way to uninstall iStat Menus on Mac. With just a few clicks, you can uninstall iStat Menus or any other software on your Mac, together with all of its support files. You don't have to waste time looking for temporary files manually. This is something that the app will take care of for you.
Get A Free Trial Now!
Download PowerMyMac, install it, then open the app. When you first start the program, it gives you an overview of your system's performance.
Scan after selecting the Uninstaller tool. Wait for it to complete scanning before clicking Re-scan if needed.
After scanning all of the installed programs on Mac, a list of apps will appear on the right side. Enter the name of the iStat Menus app or any other unwanted program into the search box to quickly find it. When you choose the software, the files and folders associated with it will appear on the right side.
Select all of the files you wish to delete. To finish the removal process, double-check it all first, then click Clean from the drop-down menu. Wait for the pop-up dialog "Cleanup Completed" to appear. Restart the Mac to finish the procedure.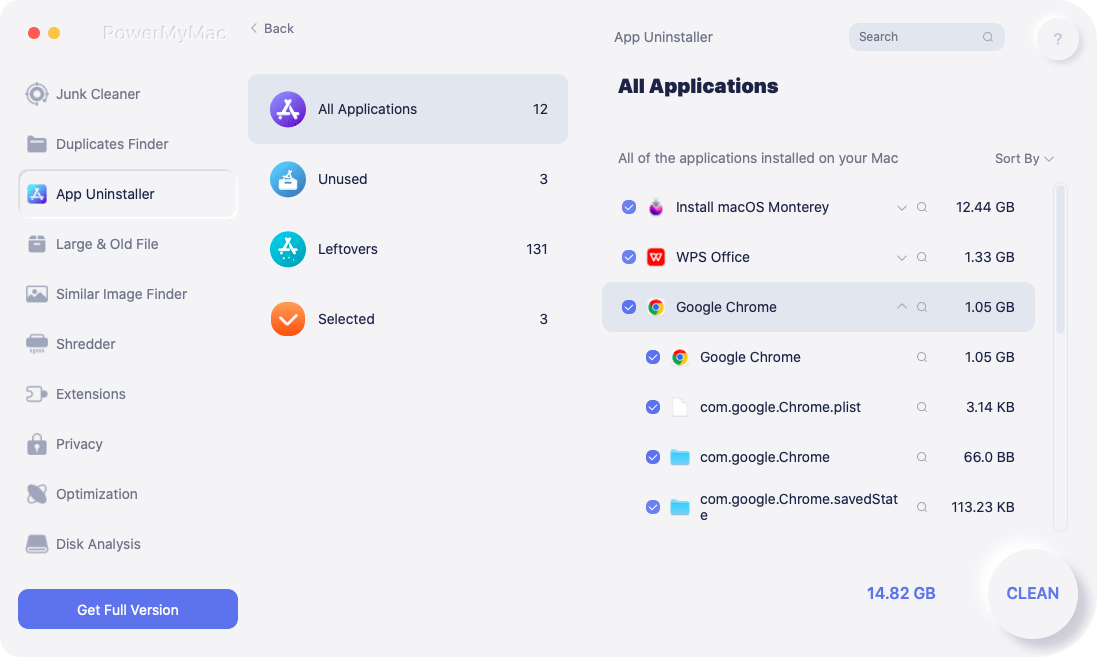 Part 4. Conclusion
iStat Menus is a program that enables users to track their Mac's performance and determine why it is running slowly. If you need to uninstall iStat Menus on Mac for whatever reason, you've come to the right place. This article showed you how to completely uninstall iStat Menus, including all of its leftover files, using two methods. Manually uninstalling the app may take too much time.
That is why users have been using a specialized tool to assist them in doing the procedure instead. Not only does it entirely remove all the files, but it also makes sure that your device is safe. The manual method can also cause errors if you mistakenly delete service files on other apps. PowerMyMac was introduced since it has a powerful Uninstaller tool that can efficiently and effectively delete the apps you don't use anymore or apps that you need to reinstall.