WMA and WAV are often compared to each other due to their similar specifications. However, WMA is more popular, so most of your files are probably in this format, but what if you were to know that WAV is also quite good as an audio format. Chances are you'd want to convert WMA to WAV, and that's why we're here.
This guide will show you how you can convert WMA to WAV without losing the quality. That way, you can make full use of the audio even after conversion. Without further ado, let's get started with the guide.
Article GuidePart 1. Which Is Better Quality WMA or WAV?Part 2. How Do I Convert WMA to WAV Using Windows Media Player?Part 3. How to Convert WMA to WAV on Mac?Part 4. Best Free WMA to WAV Converter Online
Part 1. Which Is Better Quality WMA or WAV?
WMA or WAV—which is better between these two formats? This is a question that many people ask when first encountering these formats. Unfortunately, there's no direct answer to such a question.
You can only make a judgment once you get to know more of WMA or WAV, and that's what we're going to do—we're going to make a comparison between the two formats using facts.
We have compiled four differences between WMA and WAV:
WMA is a format for compressed audio while WAV can only store uncompressed audio files, hence WMA files have a smaller file size.
WMA is a relatively new format which is why it's supported by a few new models, while WAV is supported by the majority of devices from different brands.
Despite its recent development, WMA is more popular than WMA, hence it's more commonly used as an audio format.
Editing WAV files are much easier due to the codecs they use than when you edit audio files with the WMA format.
As you can see, there are advantages and disadvantages to each format, but when we're talking about which has better quality, then the objective answer would be WMA since it stores uncompressed audio in exchange for a larger file size.
Part 2. How Do I Convert WMA to WAV Using Windows Media Player?
If you didn't know, you can use Windows Media Player to convert audio and remember that it's only possible with audio files. If you use it to convert video, you'll either encounter an issue or you won't find a convert function within Windows Media Player.
Regardless, the process is very simple and it'll be quick as long as you follow these steps carefully:
Buy an audio CD from your local store.
Insert the audio CD into the computer's CD port.
Open the Windows Media Player program.
Drag and drop the WMA files into the Windows Media Player window.
On the media player, click Rip from the menu bar.
Select WAV from the options.
Now click Rip again.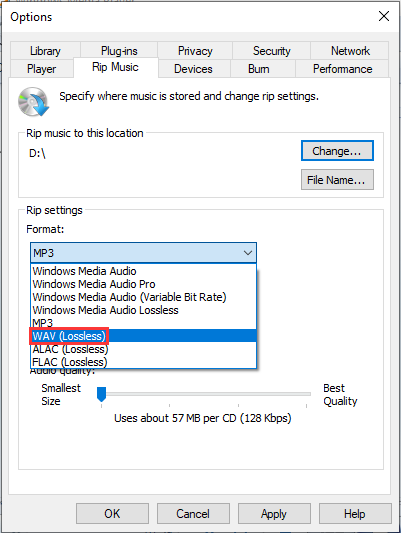 There are other programs available for converting audio files to an MP3 format. Some of these programs are available for free over the Internet, while others have to be purchased.
Part 3. How to Convert WMA to WAV on Mac?
As you can see, it's quite difficult to use a media player for conversion, especially since it's not its main purpose. If you intend to convert a file, you must use a converter to accomplish the task, and that's why we recommend using iMyMac Video Converter.
Despite its name, iMyMac Video Converter is a powerful tool that is capable of converting audio and video files alike. Below are some of its notable features:
Format Conversion. The iMyMac software supports a majority of formats you see nowadays, from popular ones like MP3, MP4, and FLAC to unfamiliar ones such as M4V and AAC. Most importantly, it supports both WMA and WAV.
Acceleration Technology. iMyMac utilizes hardware acceleration technology to have a much faster conversion, giving it six times the speed of normal converters.
Supported Quality. You can also convert videos regardless of the audio quality since iMyMac supports most bitrate. You can even change the bitrate if you want to with this software.
Supported Devices. Files converted using iMyMac can be played using devices from brands such as Google, Samsung, Vivo, and even iOS devices.
Get A Free Trial Now!
Here are the steps to convert WMA to WAV using iMyMac Video Converter:
Step 1. Select WMA Files to Add
Open the iMyMac Video Converter software on your computer. On the main page, drag and drop all the WMA files that you want to convert into WAV. You may also click Add Files and locate the WMA files manually if that's how you roll.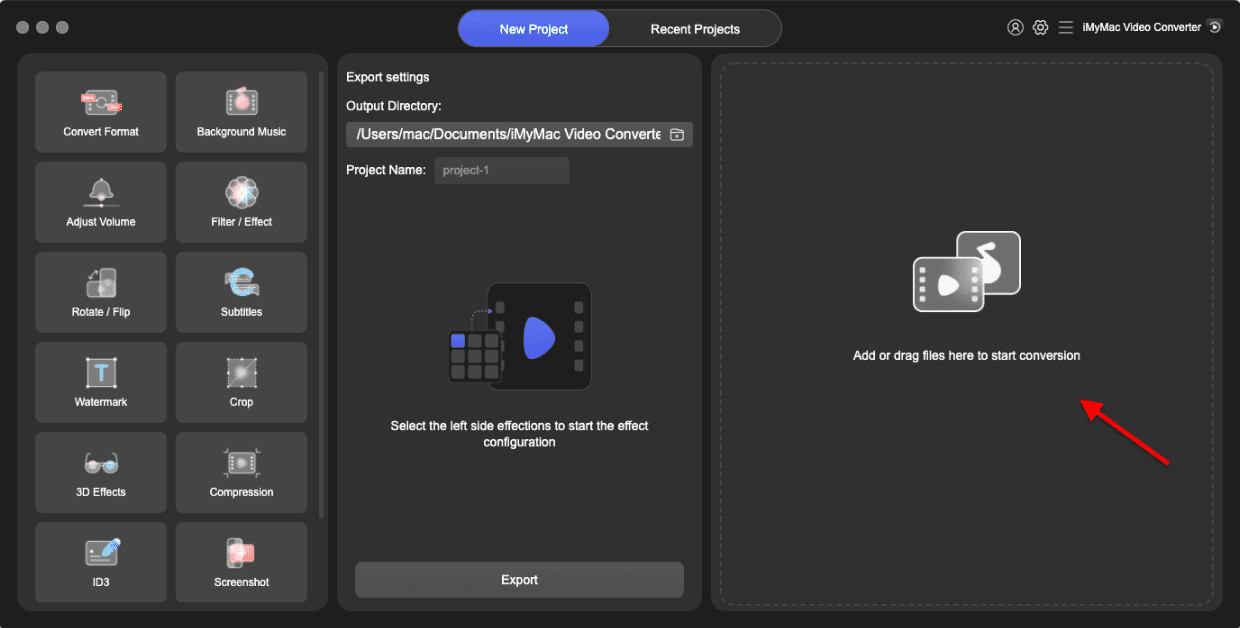 Step 2. Select WAV Format
Next, click the dropdown menu located in the top-right corner of the iMyMac tool. This will show you multiple options that should correspond to the output format. Simply select WAV since your goal is to convert WMA to WAV.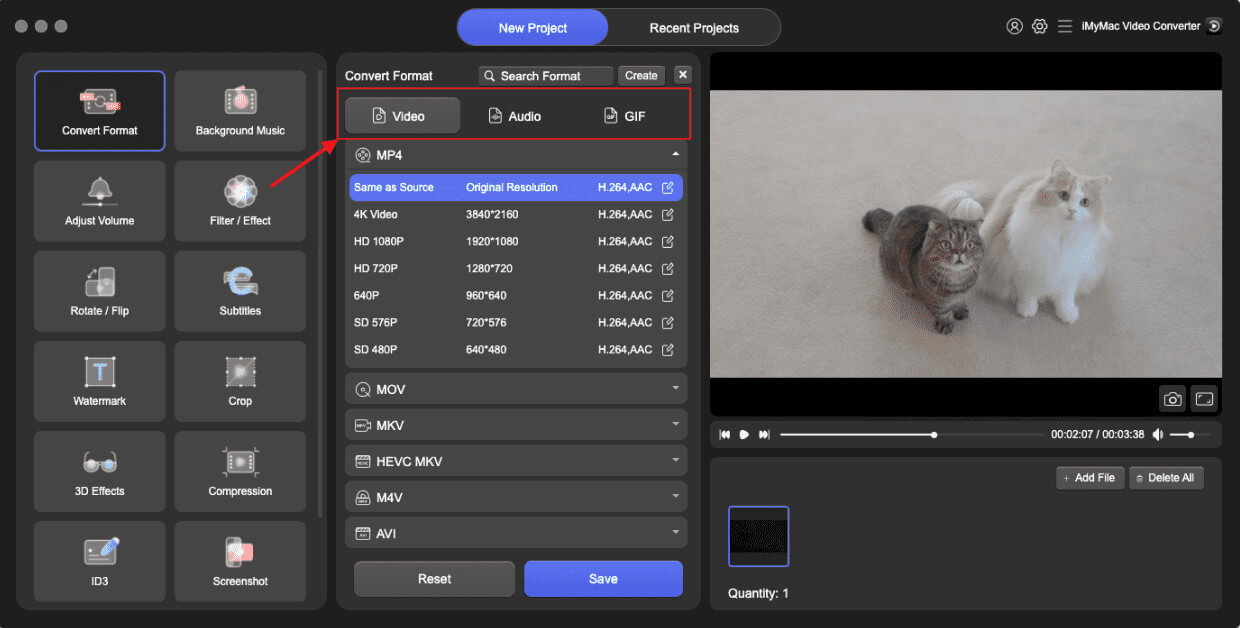 Step 3. Convert WMA to WAV
Finally, click the Convert button next to the file. If there are too many files, you can also click Convert All to simultaneously convert all the files. Although this may take some time, it's much faster than other converters, so there's nothing to worry about.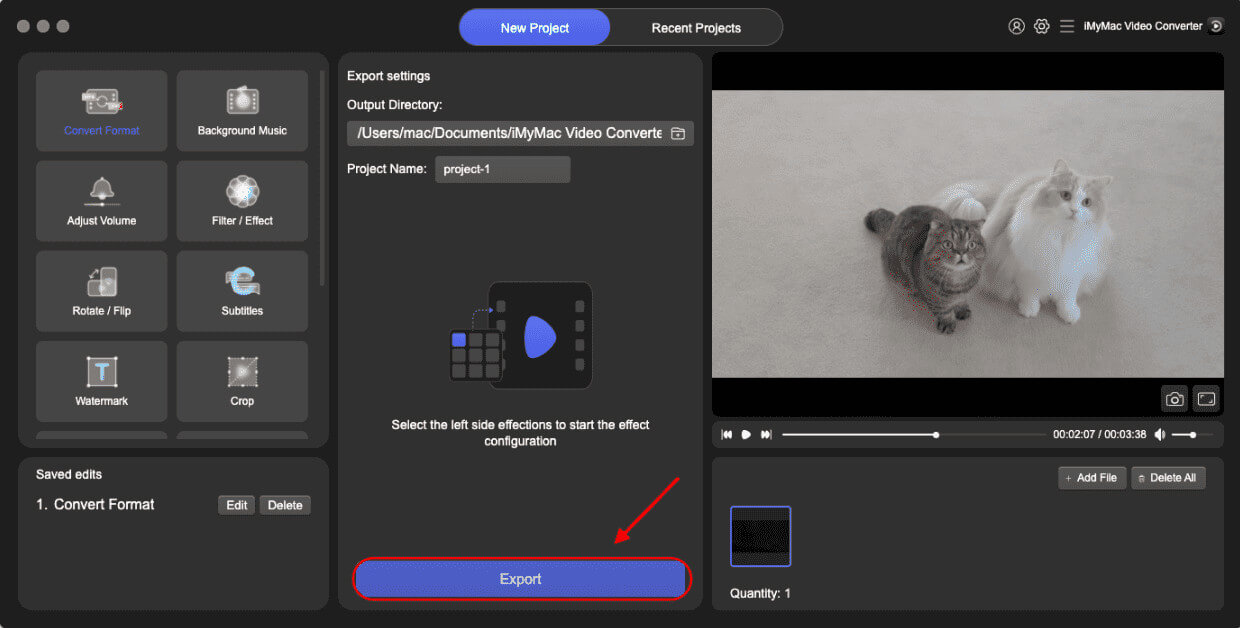 Part 4. Best Free WMA to WAV Converter Online
If you're not fond of third-party software, do not despair. You still have one last option to convert WMA to WAV, and that is by using an online converter. Here we have three suggestions for an online converter:
1. Online Converter
We suggest using Online Converter mainly because it has a simple interface. It's not as overwhelming as other tools, which is perfect for beginners. By simply dragging and dropping the files and choosing the format, you can convert WMA to WAV.
2. ZamZar
Another great online converter is ZAMZAR. Unlike your typical converters, it has a unique system where you can create an account. With that account, you can view your past activities such as what files you converted and what formats you converted them into. It's great if you want to monitor your past activities.
3. CloudConvert
Lastly, we have CloudConvert. The main selling point of this online converter is that it provides information on the formats involved in the conversion. So for example, you set it so you can convert WMA to WAV, it will also teach you about what WMA and WAV are.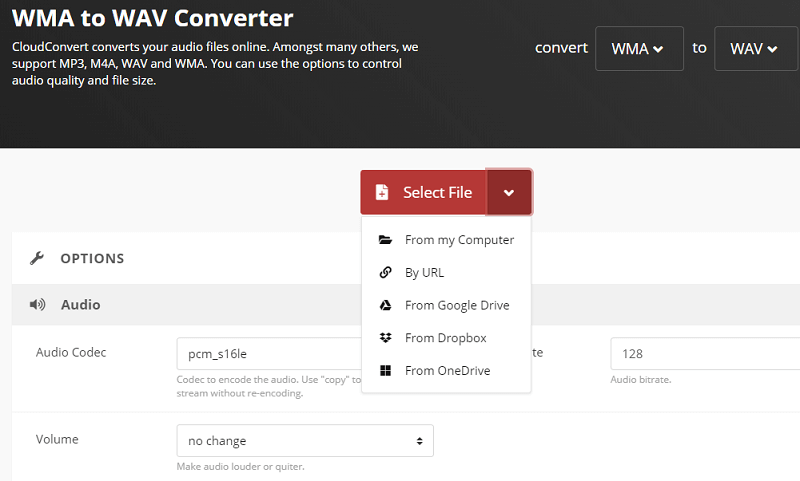 iMyMac Video Converter provides you high-speed conversion to convert videos and audios to any formats lossless. An all-in-one video converter, editor, player.
Free Download