Videos keep us entertained and so do GIF images. These media files are great for making people laugh and informed of our moods. They are typically shared within social media platforms such as YouTube, Instagram, and Facebook. The most popular video file format is MP4. And because of that, most people want to know how to convert MP4 to GIF image files. This will allow them to get interesting clips from the video file and save it as animated graphics in the form of GIFs.
This guide will teach you the tools you can use in order to convert MP4 to GIF. In this way, you can get the best clips out of your video files and turn them into interesting memes or GIF images that people would love. Let's start transforming your MP4 files to GIF!
Article GuidePart 1: Can You Convert An MP4 To GIF?Part 2: Top Tools To Convert MP4 To GIFPart 3: Convert MP4 to Other Video FormatsPart 4: Conclusion
Part 1: Can You Convert An MP4 To GIF?
Before we answer this question, we will talk about MP4 and GIF first. MP4 files are video file types and are one of the most popular around the world. A lot of media players, software, computers, and even mobile devices can play the MP4 format. On the other hand, GIF files are image files that support animation. We say that this file type is an animated graphics form because it is not essentially a video file. It is a graphics file that supports animation in it.
So, can you convert an MP4 to GIF? Of course, yes. It simply converting a video file to that of an image file. You do this by using MP4 to GIF converters or full-fledged video to image converters that can help you select clips within your video file and transform them into GIF.
So, did we answer your question on that? We hope, we did! But what tools do you use to convert MP4 to GIF? The section below will tell you all about these top software (both online and offline) that can transform your MP4 video clips into the image format GIF.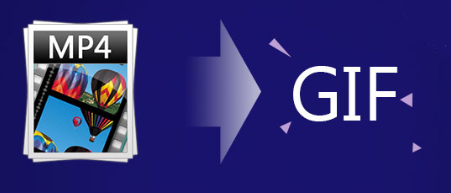 Part 2: Top Tools To Convert MP4 To GIF
There are different tools you can use in order to convert MP4 to GIF. These tools range from standalone tools you can install on your computer to that of online tools that need an Internet connection for you to use. Let's see them below:
Tool 01: Giphy's GIF Maker
If Facebook is the king of social media platforms, Giphy is the king of your favorite GIFs. It has a daily user count of 300 million. Plus, about 2 million different GIFs are placed on the platform every day. With this tool, you can upload your MP4 video file and convert it to GIF. You can also put a video that's already hosted on other sites such as Vimeo and YouTube. Here are the easy steps you can follow:
Simply copy and paste the URL or link to the video and make adjustments.
Then, it's good to go as a GIF file. While making adjustments, you can choose the actual length you want for your new image file.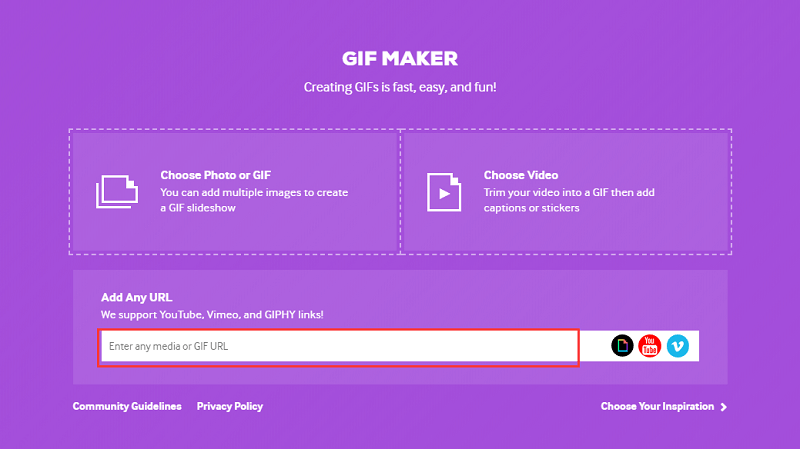 Other adjustments you can make include selecting the particular frame of time where you'd like to GIF to start and end, adding captions, including stickers, and placing in filters. It has a lot of customizations for you to make your GIF more personalized. Once the GIF is complete, the file is hosted within the site. You and other people can use it if you wish. You can even input tags so others can search for your GIF file. In addition, it provides an embed link so you can share your image file on other sites such as web pages and social media platforms.
The tool gives you a lot of links to choose from depending on the size of the file you may need. Aside from using MP4 video files to create GIFs, you can make this type of image with photos if you wish. This is a great feature allowing you to turn slideshows into animated visuals for your blog post, for instance. And, another thing. Because Giphy's GIF Maker is available through their website, you can use it on any device that you want, may it be iOS, Android, macOS, or Windows. Transforming MP4 to GIF is made simple by this tool.
Tool 02: Movavi
This is a leading software developer when it comes to video editing. They have a video conversion tool that is highly-recommended by both Windows PC and macOS users. The tool is very fast to process MP4 to GIF conversions. It is easy to understand and use and is very reliable. The great thing about this tool is you can do batch conversions if you wish. Thus, you can make dozens of image files of the GIF format in a quick manner.
If you're going for a single conversion, this isn't our recommendation because of its price tag. However, if you're going for creating a lot of GIFs, this is one of your best bets. It is available on both Windows PCs and Mac operating systems. The cost is $49.95. However, it comes with a free trial as well allowing you to test the tool before purchasing it.
Tool 03: Wondershare's Filmora
This tool, Filmora, was developed by Wondershare and has a lot of features when it comes to editing videos. You can use it to turn MP4 to GIF and it doesn't stop there. Other file formats can also be converted to GIF if you wish. This tool is great for editing videos, adding audio into clips, and a whole lot more. If you're looking for more than just an MP4 to GIF maker, this tool can come in handy because of its video editing capabilities.
However, if you're just doing a single file conversion, then purchasing this tool isn't necessary. This is because it can be pricey like Movavi. It is available on macOS and Windows computers for a price of $44.00 per year or $59.99 for a lifetime license.
Tool 04: Freemore Video To GIF Converter
This software, as its name states, allows you to convert videos including the MP4 file format to that of GIF images. Abilities include allowing you to choose the actual frames you wish to include in the GIF. Plus, you can even change the frame's height and width in special cases you may encounter.
This tool, again as its name implies, is totally free. However, it's not the best when it comes to appearance. But, it still works as a free converter. The design is made to be utilitarian as opposed to being attractive. Format supported include MOV, MPEG, FLV, MP4, and a whole lot more. The interface doesn't come with an attractive design. Though, it's very practical to use. It doesn't have a macOS version. Although, it supports Windows 10, 8.1, 8, 7, Vista, and XP.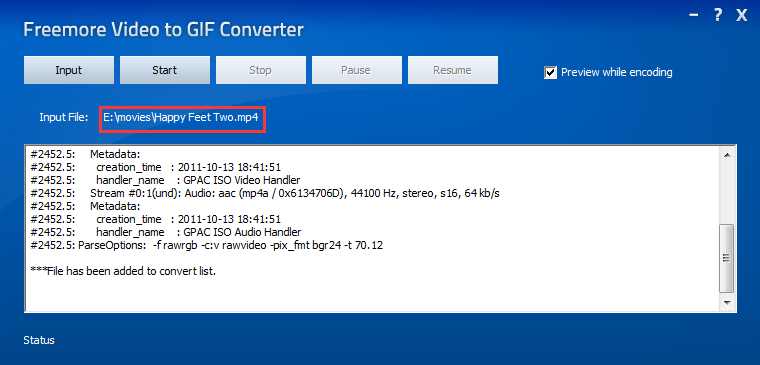 Tool 05: Imgur's Video To GIF Tool
Imgur is an online platform for sharing images on the World Wide Web. It is a giant website in terms of visual media. So, it does put the site's agenda into perspective when they have made a video to GIF tool available for free to its users. Similar to Giphy, their GIF creation tool can be utilized by pasting a link of the video to their website. You can choose the beginning and ending times of your GIF files. It has advantages when it comes to its features as well.
Since this tool is more like Giphy's we'll make a few comparisons. Adding captions to your new GIF images is possible with the tool. Giphy, on the other hand, allows you to add motion and color to GIF captions. Imgur allows you to place captions that look like what appears in TV series. Giphy will provide you with a lot of links in order to use the GIF for multiple purposes. While Imgur will give you only a single link to that of your GIF. This means it is necessary for you to download and also resize the GIF to make it suitable for use in social media platforms. This tool can be used on both mobile and desktop platforms.
Tool 06: Gfycat's GIF Brewery
This is an amazing tool for those looking for a basic MP4 to GIF converter. And it is much-loved among macOS users. It enables you to begin by importing your video, by recording through your camera, or by recording your screen.
After this, editing your GIF is possible by making adjustments including resizing, frame rate customizing, and applying overlays or filters. This enables you to make customized or personalized GIFs for the purpose you may want to use it for. The final step involves saving your GIF file to your own computer or you can share it through Mail or iMessage.
This app is totally free and is available through the Apple App Store. It's a great catch if you use it properly.
Tool 06: Convertio
This is a straightforward tool you can use to convert MP4 to GIF. To do so, you can simply drag your file to the interface or grab one from Dropbox or Google Drive. Then, simply hit the "Convert" button in order to finish the entire process. If you don't mind having any filters, overlays, or adjustments, this can be a great tool as the process is very quick. It is very easy to understand and use but it doesn't allow you to choose the starting and finishing points of your GIF. The frame rate can't be adjusted as well.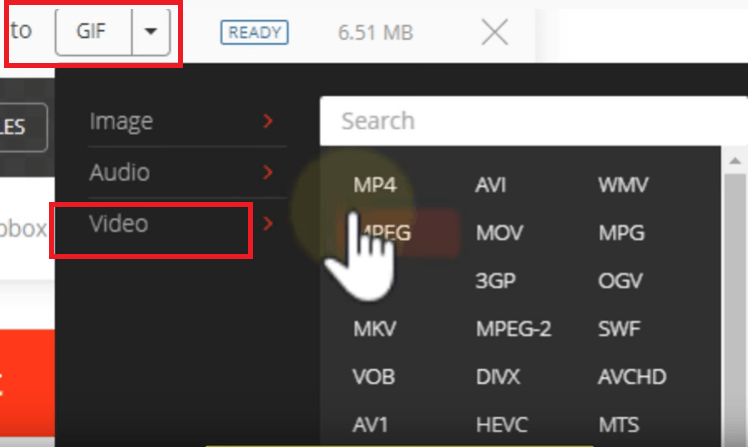 Tool 07: MakeAGIF
This is a tool that allows you to convert almost anything, including MP4, to GIF. This website is very easy to utilize. You can simply upload your video or record your video to turn it into a GIF file. Or you can paste a URL from a video hosted on a website. Another thing you can do is to use multiple photos to create this type of image file for it.
You can also place captions or stickers, you can modify the speed of the GIF, and you can select the beginning and ending time allowing you to customize your output image file. The downside to this is that it comes with a watermark for the MakeAGIF website. But, if you wish to remove the watermark, you can do so by going for the premium version at a monthly price of $11.95.
Tool 08: Imgflip
This is a simple tool that allows you to convert MP4 to GIF including converting from other video file formats. You simply paste the URL of your video into your tool, you edit it, and then, you convert it to GIF. The amazing thing with Imgflip is that it gives you a lot of options to grab your files. You can download the GIF file, copy a link to it, copy its HTML code, or even share it to Facebook, Pinterest, Twitter, and other social media platforms.
It prides itself on having a lot of sharing capabilities, probably the most you can have from all of the tools within this guide. It's an online tool that enables you to use it on both Windows PCs and macOS computers.
Tool 09: Ezgif
It's really "easy" to use Ezgif. To convert your video or MP4 to GIF, you simply have to upload it and export it as the output file. That's it! Just two easy steps. But there's more to Ezgif than you think there is. It allows you to edit, crop, and even add effects to your video. These features are always available with the tool. But, to be able to use it, you have to export your GIF and then re-upload this to the tool back again. The conversion process allows you to do these edits to your new GIF file. It is available for free and can be used by both Windows PC and macOS users.
Part 3: Convert MP4 to Other Video Formats
The best conversion tool you can use to convert your MP4 videos to other file formats is iMyMac Video Converter. This tool supports a lot of file formats plus you can use it to edit your videos to make them look better. The videos are compressed losslessly which means there is no loss of quality. The tool allows you to play these videos as well. Conversion speeds are fast at 6x faster than the standard speeds because it supports hardware acceleration technology of graphics cards.
It supports NVENC, AMD, NVIDIA CUDA, and Intel HD graphic cards. In addition, you can edit the hue, saturation, brightness, and contrast of your videos. Resolutions can be modified to your liking as it supports 480p, 720p, 1080p, and 4K.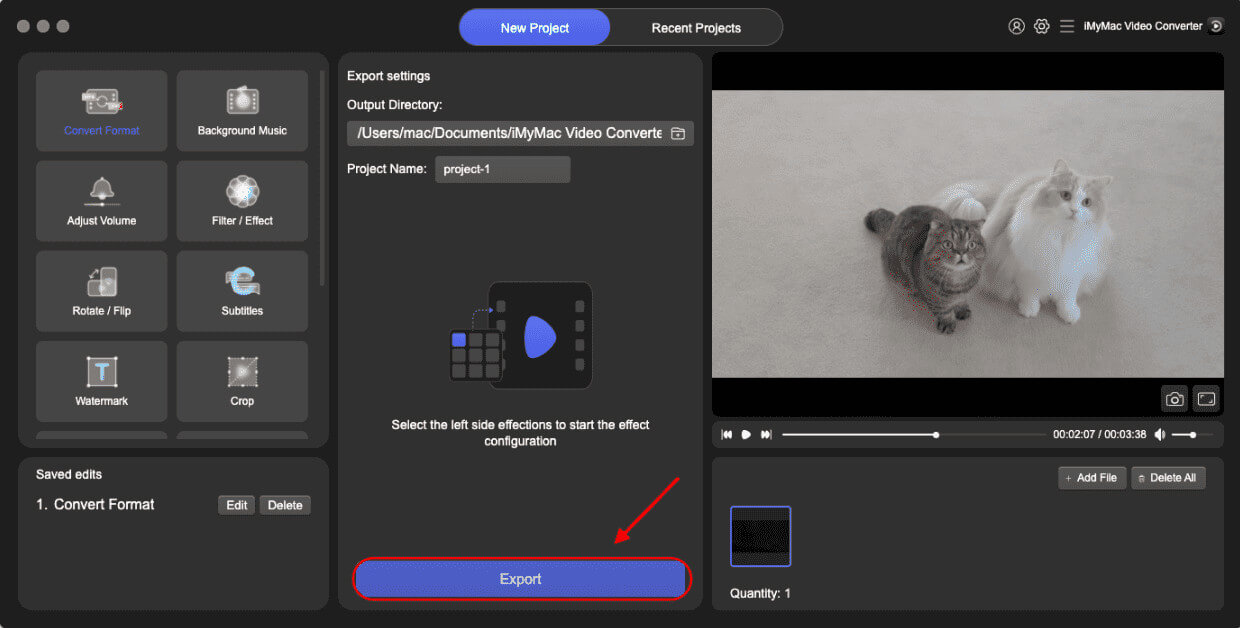 Part 4: Conclusion
To convert your MP4 to GIF, you can use online or offline video converters. These tools can be used on Android, iOS, macOS, and Windows devices, and picking the right one is up to you. As such, we still recommend you to do your due diligence when selecting the tool for your needs.
If you're up for a full-fledged conversion tool, you can use iMyMac Video Converter. This tool enables you to convert MP4 files and lots of file formats to other types. And, its conversion speeds are very fast. Grab the tool now to experience the wonders of multimedia!