There are many reasons why some users choose to save their videos in MTS or MP4. Both of these great formats each have their own advantages and disadvantages. But, if in any case, you have an MTS video which you want to convert to MP4 for whatever reason you have, then you have come to the right place!
In today's discussion, we are going to show you how you can convert MTS to MP4 using our most recommended video converter: iMyMac Video Converter which is a powerful video converter equipped with a lot of features. We will also give you 4 of the top online MTS to MP4 converters if you are looking for one.
But before that, let us discuss the things you need to know about MTS and MP4 and why you should convert MTS to MP4 in the next section.
Article GuidePart 1. What is MTS and MP4 File Format?Part 2. Best Way to Convert MTS to MP4Part 3. How Do I Convert MTS to MP4 Online?Part 4. Wrapping it Up
Part 1. What is MTS and MP4 File Format?
What Is An MTS File?
MTS is a video file related to Advanced Video Codec High Definition (AVCHD). It is a type of HD disc compression method that was designed for use in camcorders and is used as a file extension for AVCHD videos.
A lot of the famous HD camcorders such as Sony, Canon, and Panasonic camcorders record videos using the MTS format. The key reason behind this format is for the playback and recording of videos in high definition formats.
You can use MTS for video recording in 1080p, 1080i, 720p, and other higher resolutions. You can burn videos in MTS to standard DVDs which you can play on your Blu-Ray player or HDTV. This format uses Dolby Digital AC-3 for compression. Lastly, MTS formats are ideal for playing videos in outstanding picture quality.
What is MP4?
This is short for MPEG-4 with a file extension of .mp4. It is a format for digital multimedia that is used for storing audio or video as well as images and subtitles. This format makes the sizes of the video files smaller by compressing them. This process of file size reduction makes MP4 more favorable than MTS.
MP4 video files are also easier to stream and share compared to the MTS format. The most notable feature of MP4 is that MP4 videos are versatile which means that you can easily play them on your smartphones or upload online.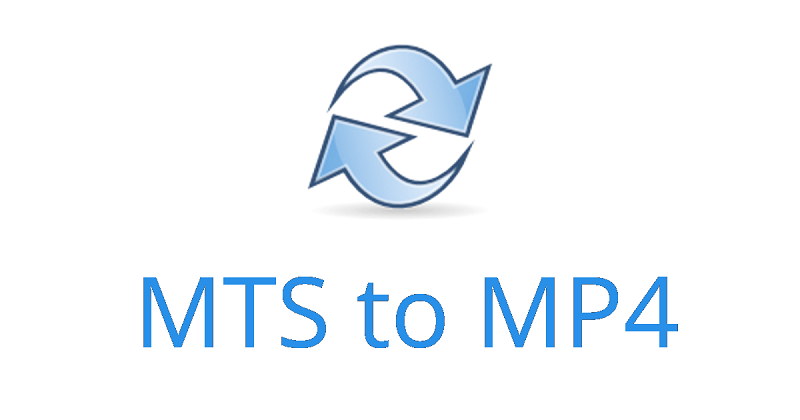 Is MTS Better than MP4?
Below are the reasons why you might want to convert MTS to MP4:
You cannot play MTS video files on our Android, iPad, iPhone, or other mobile phones.
You will not be able to edit MTS video files using movie editing tools such as Final Cut Pro and iMovie.
MTS will usually have large file sizes due to their HD resolution. You will be able to save more on space by converting these files to MP4 so you can play them on any portable device easily.
Only specific devices support camcorder-recorded MTS video files. This incompatibility issue requires you to convert MTS to MP4 so you can play them on other unsupported devices.
Part 2. Best Way to Convert MTS to MP4
We recommend using iMyMac Video Converter for converting any of your desired MTS videos to MP4. This video converter is an all-in-one video converter, player, and editor to help users personalize their videos more.
Steps to Convert MTS to MP4 Using iMyMac Video Converter
Download & Install the App
Add the Files You Want to Convert to the App
Select an Output Format & Storage Location
Start the Conversion Process
Step 1. Download & Install the App
The first step is to navigate to iMyMac Video Converter's website and download the installer. You can either download its free version or buy the full version. Once you have downloaded the installer, install the app on your computer.
Step 2. Add MTS Files You Want to Convert to the App
Once the app is installed, launch it. Look for the Add Files on the top-left corner of the app interface and click on it. Find the MTS files you want to convert and then add it to the app.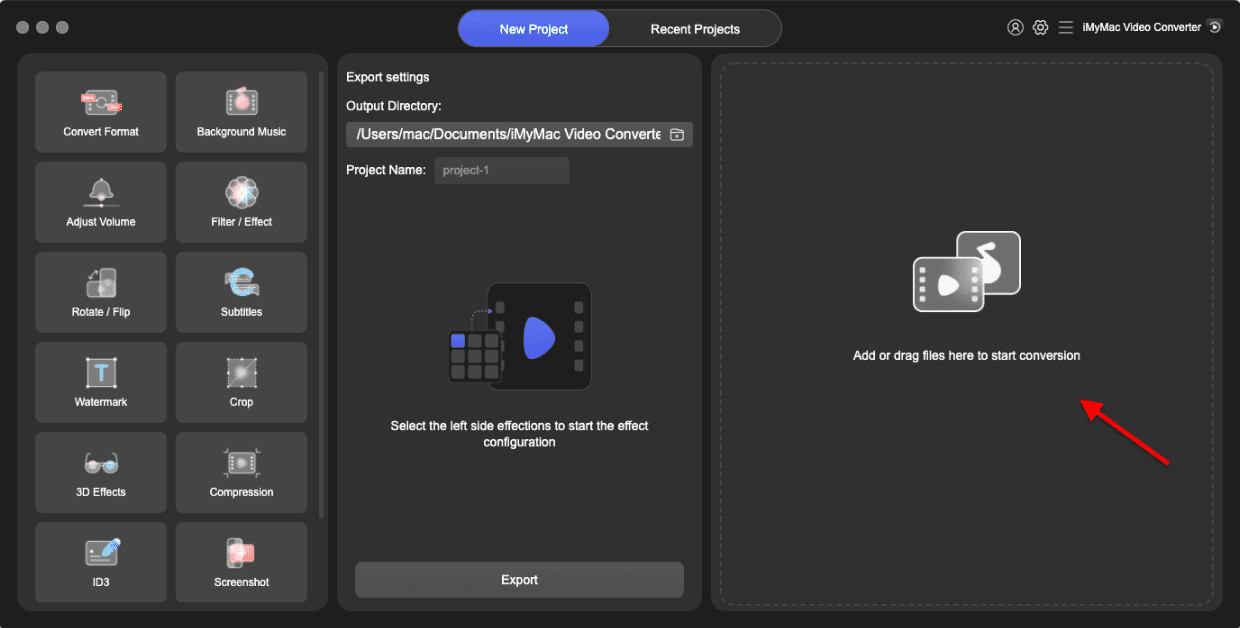 Step 3. Select MP4 as An Output Format
Now, look for the Convert all tasks to the dropdown button at the app interface's top-right corner. The first option would be (MPEG-4) MP4, select it. To choose an output storage location, click on the Browse button on the bottom-left section of the app interface. Choose an output location.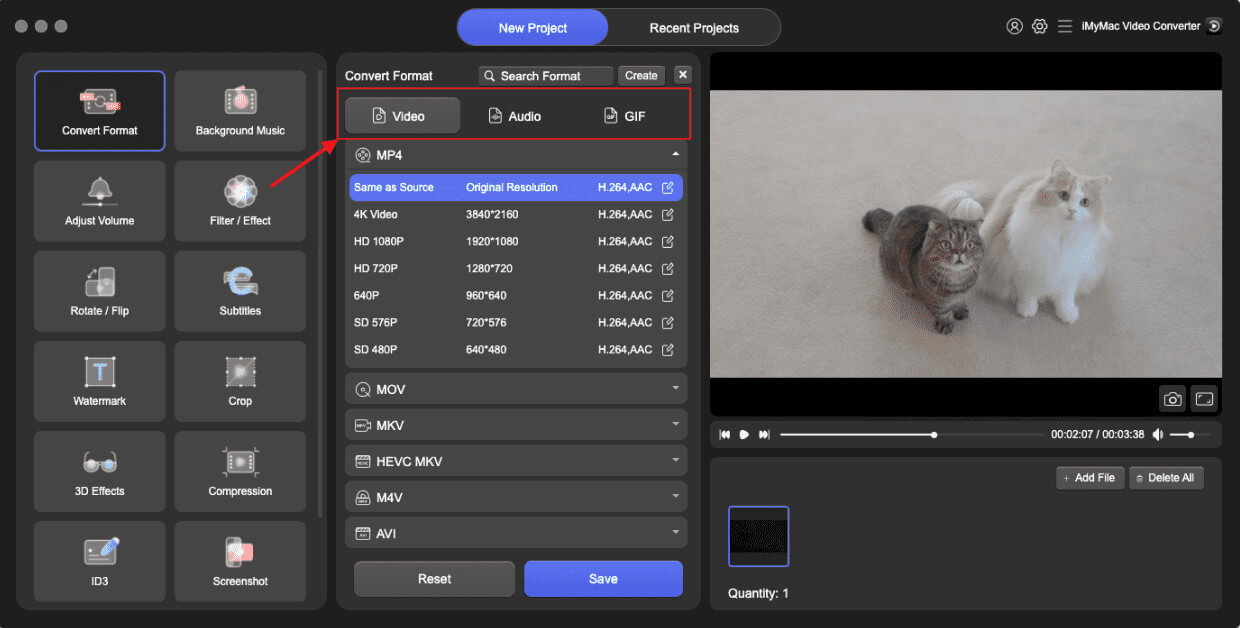 Step 4. Start the MTS to MP4 Conversion Process
Once you are satisfied with your output settings, click on the Convert button at the rightmost side of your imported video to start the conversion process.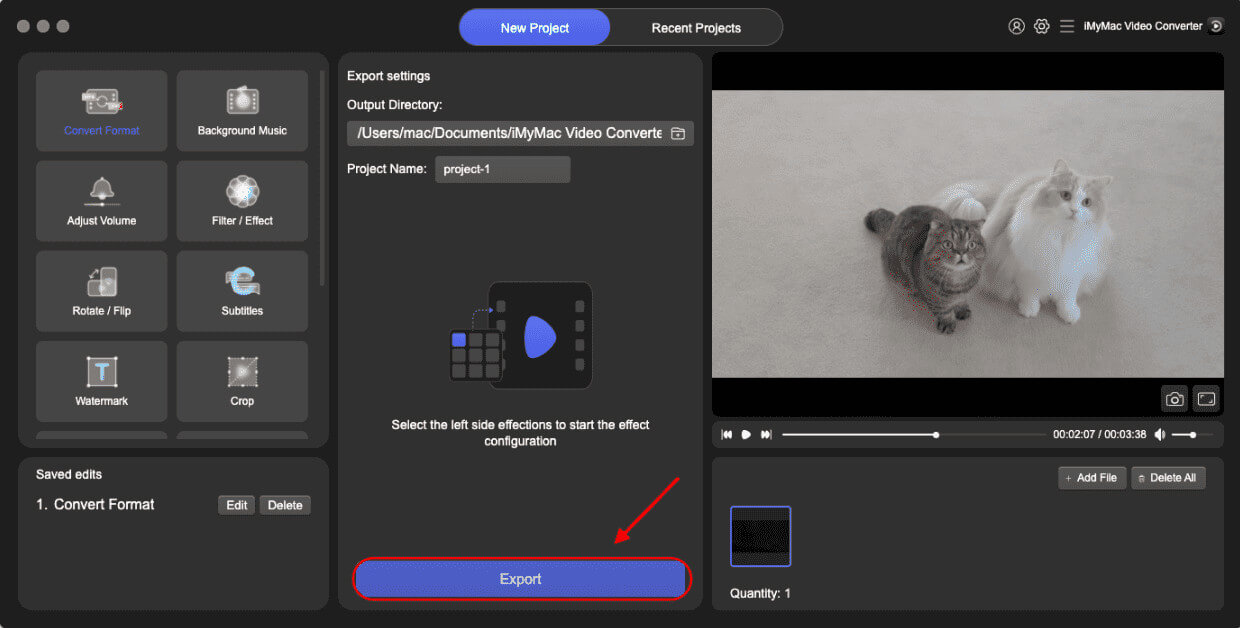 Aside from video files, you can also use it to convert audio files and DVDs to a wide variety of formats of your choice at lightning conversion speeds. To show you how powerful iMyMac Video Converter is, below is a list of its notable features.
Key Features of iMyMac Video Converter
#1 Conversion of Any of Your Desired Videos
You can convert any of your desired audio or video files to a wide variety of formats to make them compatible with your devices. Output formats available are MP4, MOV, MKV, WMV, FLV, AVI, 3GP, M4V, VOB, M4A, SWF, AAC, MP3, AC3, FLAC, OGG, WAV, WMA, and others.
#2 Video Enhancement
You can fix shaky, dark, and overexposed videos through video resolution upscaling. You can also adjust the contrast and brightness of videos to make them more comfortable to view.
#3 Video Editing
Video editing functions include the following:
Clipping videos, combining videos, cropping the blank edges of your videos, rotating your videos to 90 degrees, adding watermarks, adding external subtitles, adding external audio tracks, adjusting the saturation, contrast, brightness, volume control, and hue of your videos, previewing your edited video files
#4 High-Speed Conversion
Support for Intel HD Graphics, NVIDIA CUDA, AMD, and NVENC hardware acceleration technologies for faster video file conversions up to 6X compared to normal without re-compression and quality loss.
#5 Support for Different Video Resolutions
It supports conversion of 3D videos to & from 4K (UHD) , 1080P (FHD), 720P (HD), and 480P (SD) video resolutions. You can even rip homemade DVDs into MP4
#6 Support for a Wide Variety of Devices
Get rid of incompatibility issues with this converter which provides preset profiles containing video settings of top quality for various popular devices like iPod, iPad, iPhone, Samsung Galaxy, Blackberry, Kindle Fire, Nokia Lumia, Moto X, Google Nexus, and more.
Part 3. How Do I Convert MTS to MP4 Online?
Aside from using third-party software to convert your MTS videos to MP4, you can also use online converters if your main purpose is conversion only. We have compiled 4 online converters you can use for this task below:
#1 ConvertFiles
Aside from the conversion of video files, such as MTS to MP4, you can also use ConvertFiles to convert other file types like archives, documents, presentations, e-books, drawings, images, audio files, and many more. It also provides an option for sending your converted files through your email address using a download link.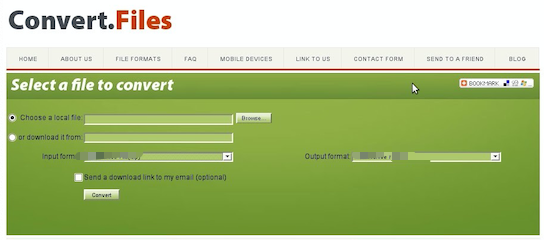 #2 Zamzar Online File Conversion
You can use Zamzar not only to convert MTS files to MP4 but also to other formats like 3GP, 3G2, AAC, AC3, AVI, FLAV, FLV, GIF, iPad, iPhone, iPod, MP3, MOV, MPG, OGG, WAV, WEBM, and WMV. It also has an MP3 online converter if you want to convert your MP3 audio files.
#3 Online-Convert.com
This online converter gives you the option of importing your files to the platform through uploading, URL, Dropbox, or Google Drive. You can even adjust video settings like screen size, bitrate, and frame rate and even cut or crop your videos. Other than a video converter, it is also an archive, audio, device, document, ebook, hash, image, software, and web service converter.You can also convert your MTS files to other formats other than MP4 such as 3GP, AVI, MKV, FLV, WMV, and MOV. Plus, it has an MP4 converter.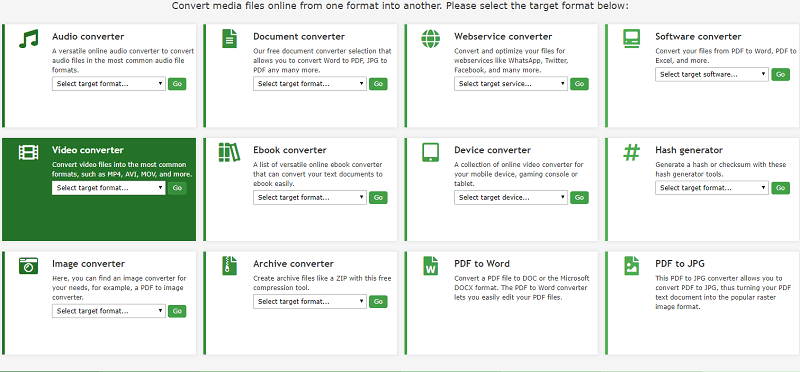 #4 Wondershare Online Uniconverter
This is an online converter that does not only support MTS to MP4 conversion but also of other file formats such as MP3, MP4, WAV, AVI, MOV, and 3GP. It also offers an MP3 compressor. You can download their desktop converter if you do not want to wait for a long time for the slow conversion to finish. Below are some features of this online converter:
Limits to 100-MB file sizes
Supports popular formats
Conversion of 2 files maximum in a single conversion
Part 4. Wrapping it Up
Once you have converted your MTS files to MP4, you can now transfer them into any devices like your Android or iPhone. Or you can upload them to YouTube easily without encountering incompatibility issues.
We hope that this guide was able to help you with your problem to keep on enjoying your favorite MTS videos in MP4 formats.