Thanks to technology, a lot of devices can take videos. That includes our smartphones, laptops, and of course, the actual video camera. However, having a device doesn't mean you will take perfect videos that look like these are funded by a Hollywood producer. Sometimes we take videos in dim or low lighting conditions. That's why you will need a video lighting editor. Apart from making your videos brighter, this kind of editor can make other adjustments to the brightness of your video.
Here, we will discuss a video lighting editor list that will help you make adjustments or enhancements to your media file. This leads to making videos that look stunning and will surely amaze your audience. Editors can also be used to make other adjustments to your media file including modifying hue, saturation, etc.
Article GuidePart 1. What App Can Brighten A Video On Mac?Part 2. How To Brighten A Video In Windows 10?Part 3. What Is The Best Free Video Lighting Editor Online?
Part 1. What App Can Brighten A Video On Mac?
So, what apps will be on our video lighting editor list? These apps below are known to make lighting adjustments, apart from other modifications. Check them out below:
1. iMyMac Video Converter
iMyMac Video Converter is a video lighting editor that also works as a converter. While converting your files, you can choose to make modifications in hue, brightness, and saturation. Apart from that, you can crop, edit, rotate, trim, and make other adjustments to your media file. The best thing about this Video Converter is it converts your file from one format to another. So, while you're editing your videos, you can even upgrade them from standard definition to high definition. 4K resolution videos are even supported.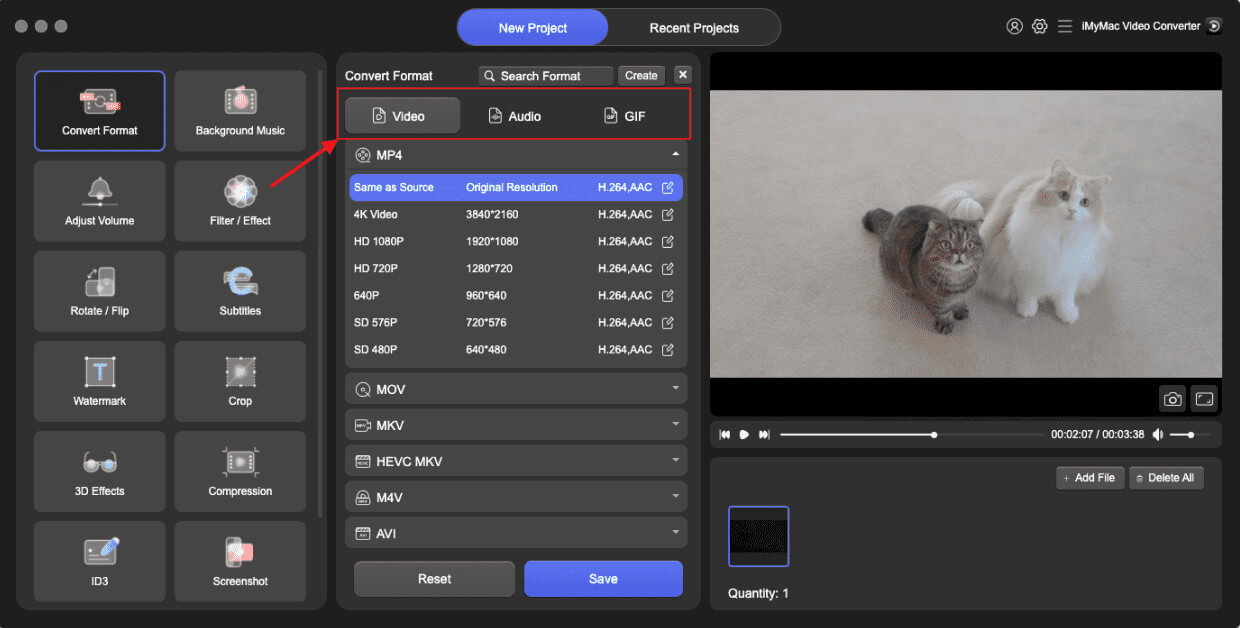 This software takes advantage of hardware acceleration technology to make editing and conversion faster. It supports NVIDIA CUDA, NVENC, AMD, and Intel HD graphics cards. These ensure that the output file will be smooth and lag-free. Apart from that, the iMyMac Video Converter supports a lot of file types. Thus, you don't have to worry about having a video file type that's not compatible with it. You can opt for the free trial or the paid version for more features.
Get A Free Trial Now!
2. Adobe Premiere Pro CC
This is a video lighting editor for professionals. The interface looks convenient and simple. Embedded layouts are available for various purposes. Apart from that, you can customize your video fully. Plus, the workspace itself is customizable to help you have a smooth flow.
Adobe Premiere Pro CC is a high-quality video lighting editor. It can be used to edit videos as well. This software is available on both Mac and Windows. The highlights of Premiere Pro CC are its presets and codecs allowing you to export videos conveniently. Examining the entire tool can be quite daunting as it has a lot of features for customization. And, the pricing is quite expensive. One drawback we can see is that it clutters your drive and takes up a lot of storage space. Other than that, it's quite useful.
3. Lightworks
Lightworks is a full-fledged video lighting editor that can be grabbed for free as long as you're using it for personal use. It has a very complicated interface, which means it's not your best bet if you're a beginner. You can use it to edit your videos and audio files too!
In terms of video rendering, Lightworks is a great tool. You can add an unlimited number of video and audio files to your timeline while editing. Another drawback we noticed is that you have to install various special drivers just to make it work on your ATI or NVIDIA graphics cards. At least, it saves your processes automatically, though. Overall, Lightworks can help you make adjustments to the lighting of your videos. And, it works for audio tracks too. So, it's still a great pick.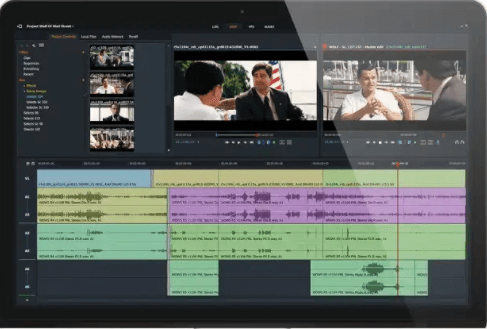 4. Blender
The Blender software is another video lighting editor that has a lot of add-ons. It's best for 3D modeling or animation. Still, it works to adjust your lighting on video files. The highlight of Blender is it offers a lot of special effects. The interface has integrated tools and is what most people would refer to as high-tech. The app doesn't require a lot of space. But, novice users might find it very complicated. This Mac video editor has an interface that's not that convenient. You might need to learn if you really need it before actually buying it.
5. Pinnacle Studio Ultimate
This software is a video lighting editor that has a quick performance. The interface is very straightforward as well. However, it doesn't support 4K videos. Plus, the unpaid, standard version has a lot of limitations. If you're going for a light editor, you can get the free option – this is good as long as you're editing small files. However, if you want a more complex solution to video editing, this is not your best bet. Pinnacle Studio Ultimate still has a user-friendly interface that improves workflow.
6. Final Cut Pro X
Our video lighting editor list won't be complete with Final Cut Pro X. This tool is built for Mac computers and has transitions, effects, and headings. It has a lot of auto settings as well. However, it's only designed for Mac and won't work on Windows operating systems. The drawback is that the interface doesn't have movable windows. However, the Magnetic Timeline provides you with a new way of editing your videos. Features are vast allowing you to make stunning media files easily.
Part 2. How To Brighten A Video In Windows 10?
So, how to do video lighting editor effects to Windows 10? We have talked about Mac. Now, we'll dig into this other operating system.
1. Windows Media Player
The steps to use Windows Media Player as a video lighting editor are simple. You open a video file. Right-click on the video and then click Enhancements. After that, click Video Settings. The next thing you should do is to adjust brightness. You can also adjust other settings such as hue, saturation, and contrast. After that, click the button for Close. If you want you can save the edited video as well by clicking the Save button found in the File menu. That's it!
2. VLC Media Player
This tool can also be used to adjust lighting, making it a video lighting editor apart from being a media player. To do this, click Tools on the menu bar and choose Effects And Filters. Visit the section labeled Adjustments And Effects. Then, go to Video Effects. Go to the tab labeled Essentials and check the Image Adjust checkbox. After that, you can drag brightness, contrast, and even other options on the slider. That's the easy way to edit your video lighting. You can save it afterward too!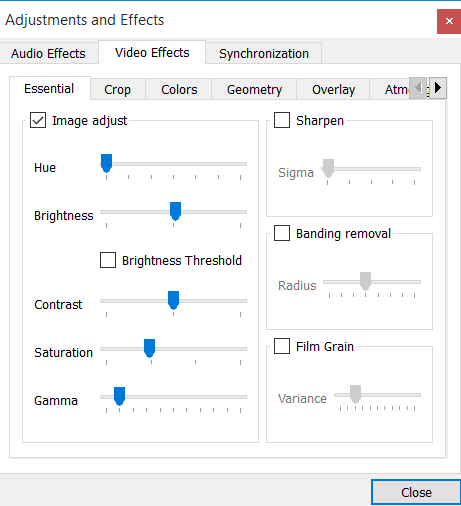 Part 3. What Is The Best Free Video Lighting Editor Online?
Online, you can find a video lighting editor that works. Below are some of them:
1. DumpMedia
DumpMedia is a brand that has a lot of tools including an online video lighting editor. You can use the video lighting editor to do a lot of things. For instance, you can simply drag and drop the video. After that, you can trim, adjust, crop, rotate, compress, and flip your videos. You can even use DumpMedia's Online Video Editor to convert video files from one format to another. As a lighting editor, you can adjust contrast, saturation, and brightness. The tool is very easy to use with just a few clicks to get the job done.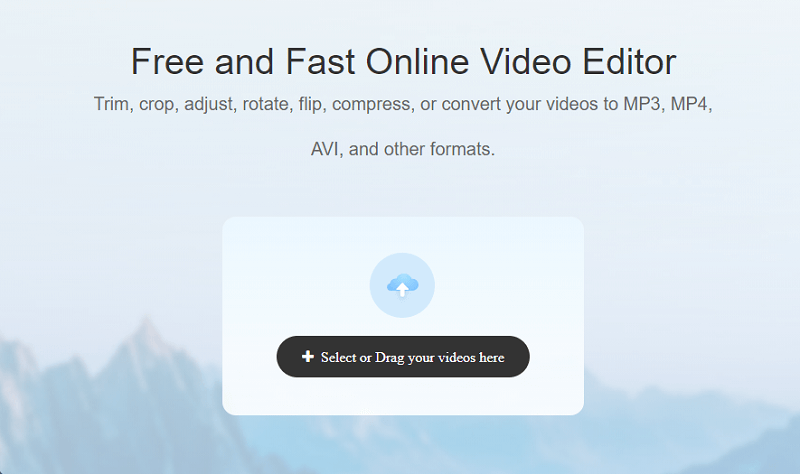 2. Clideo
Clideo is a video lighting editor that has a fast brightener for videos taken in dim lighting conditions. This can be done in a few seconds only. Plus, the interface is very simple and you don't have to download anything. Plus, installations aren't necessary. The tool can help you convert to any format as well. Plus, it keeps your files for 24 hours only, and it is deleted. This ensures that your files won't be distributed or used for piracy. The editor is compatible with a lot of formats including AVI, MOBV, WMV, and MP4, among others.
3. VEED.IO
VEED.IO is a video lighting editor for those who don't want to install anything on their computer. It works on both Mac and Windows as long as you have a browser. The website looks very professional and it allows you to edit exposure, brightness, and contrast.
4. Lumen5
Lumen5 is a great tool to use online. It's a video brightener that allows you to change colors, contrast, saturation, and more. You can even add various effects to your videos. This Lumen5 online tool can help add a vignette and fade effects too. The website looks very simple. It is also easy to understand and use. It has a set of features that enable a lot of adjustments to your media files. Security of your files is kept in mind. Uploaded and edited videos are deleted after some period of time.
This article has given you a video lighting editing tool list. We have provided a lot of options for Mac, Windows, and online web browsers. The best you can get for Mac computers is iMyMac Video Converter because it works as a video lighting editor and conversion tool in one software. Grab this iMyMac Video Converter today and make your videos look priceless.