WAV files and FLAC files are both audio-only file formats that have their own advantages and disadvantages. WAV refers to Waveform Audio File Format. On the other hand, FLAC refers to Free Lossless Audio Codec.
If you want to convert WAV to FLAC, there are advantages that may be associated with it. For one, the FLAC file format is an open-source format. On one end of the coin, the WAV format can have its advantages too. Whatever your reason may be, we will teach you how to convert WAV to FLAC to get the benefits of the latter file format. We will start with a discussion if FLAC files sound better compared to WAV files. Then, we will proceed to teach you how to convert from one to the other.
Article GuidePart 1. Do FLAC Files Sound Better?Part 2. How To Convert WAV To FLAC Lossless?Part 3. Top Online WAV To FLAC ConvertersPart 4. What Audio Converter Is The Best?
Part 1. Do FLAC Files Sound Better?
FLAC files refer to an audio file that was created to maintain high-quality audio but still offers a reduced size compared to WAV. Their quality is determined by its bit depth and sample rate. File sizes will vary depending on the level of compression used for that specific file. On one hand, WAV files are known for their superb audio quality. This makes it a great option for music producers and sound engineers. But, why do you need to convert WAV to FLAC? Well, there are a lot of reasons why.
FLAC still retains a great audio quality after compression. It even has a higher quality compared to MP3 files. In addition, file sizes are much smaller compared to WAV files. If you want an open-source audio file, you should go for FLAC too. It is still compatible with a lot of media players out there. So, if you're going for almost the same audio quality but lacks storage space, you should convert WAV to FLAC to get a reduced size. This will also help retain much of the superb audio quality found in WAV files.
Part 2. How To Convert WAV To FLAC Lossless?
So, how do you convert WAV to FLAC? Actually, the process is very simple and quick. You just need to use the right software in order to achieve this task. That's why we recommend that you use iMyMac Video Converter. This is a tool that helps you convert WAV to FLAC. In addition, it supports a lot of popular input and output formats for conversion. Compatible formats include MKV, MP4, WAV, FLAC, AAC, MP3, SWF, OGG, WMA, and more.
The tool offers video enhancing capabilities too. For instance, you can use it in order to fix videos that are dark, shaky, and overexposed. To do this, you simply use the tool to upscale the video resolution from a lower one to a higher resolution.
Video editing capabilities are a lot. iMyMac Video Converter lets you add audio tracks (e.g., background music or sound effects). It can also help you add subtitles making sure they are in sync with the video. Adding watermark text, logo or image is possible as well. Aside from that, you can adjust hue, brightness, saturation, contrast, and volume levels. Other things you do include splitting, merging, rotating, and cropping the videos.
Here are the steps you should follow in order to convert WAV to FLAC with iMyMac Video Converter:
Step 01. Download, Install, And Open The Software
First things first. You have to download iMyMac Video Converter's installer on the official website. You can either click the Free Download to get a free trial, or you can click the Buy Now button to purchase the tool outright. Then, you should open the installer file to start the installation process. Follow the prompts on the screen to install the tool on your computer. After that, launch the iMyMac Video Converter on your Mac computer.
Get A Free Trial Now!
Step 02. Add WAV Files
The next step would be to add your WAV files to the interface of iMyMac Video Converter. To do this, you have to click the Add Files button that has a plus sign beside it. Then, you should select the WAV files to convert. The Add Files button is located at the top left part of the interface of the tool.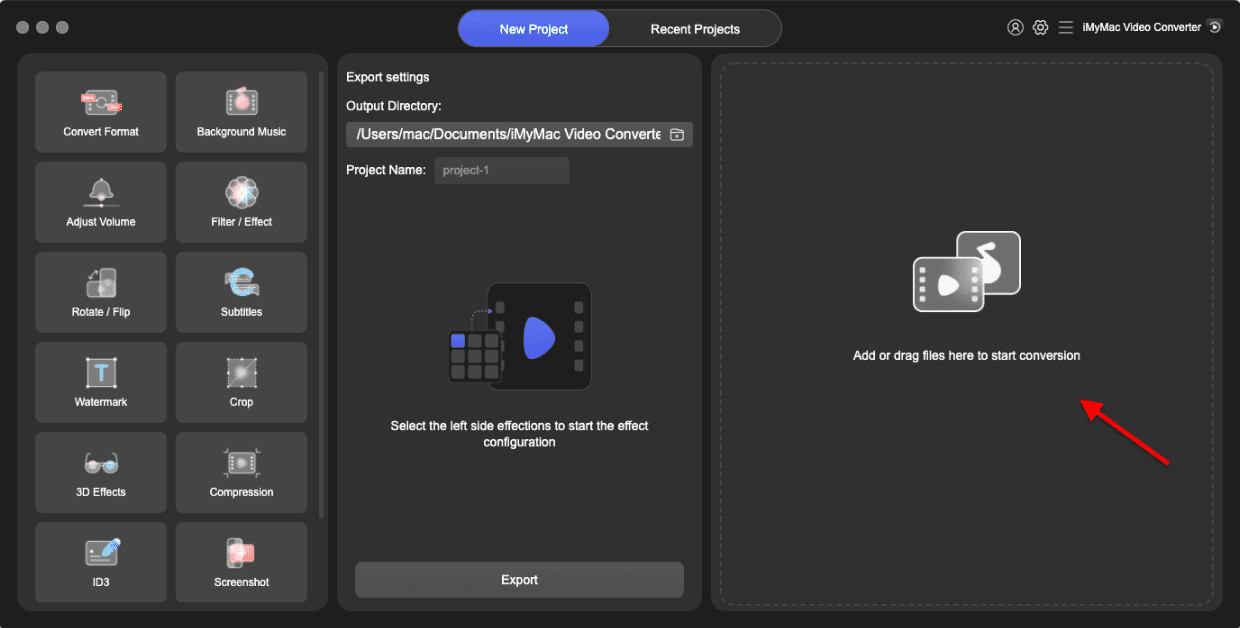 Step 03. Select FLAC File Format For Output
In this step, you have to tweak the settings to get what you prefer in terms of converting WAV to FLAC. So, you will choose FLAC as the output format. Then, choose a destination folder where the newly-converted files will be saved. After that, you can also make other adjustments if you wish.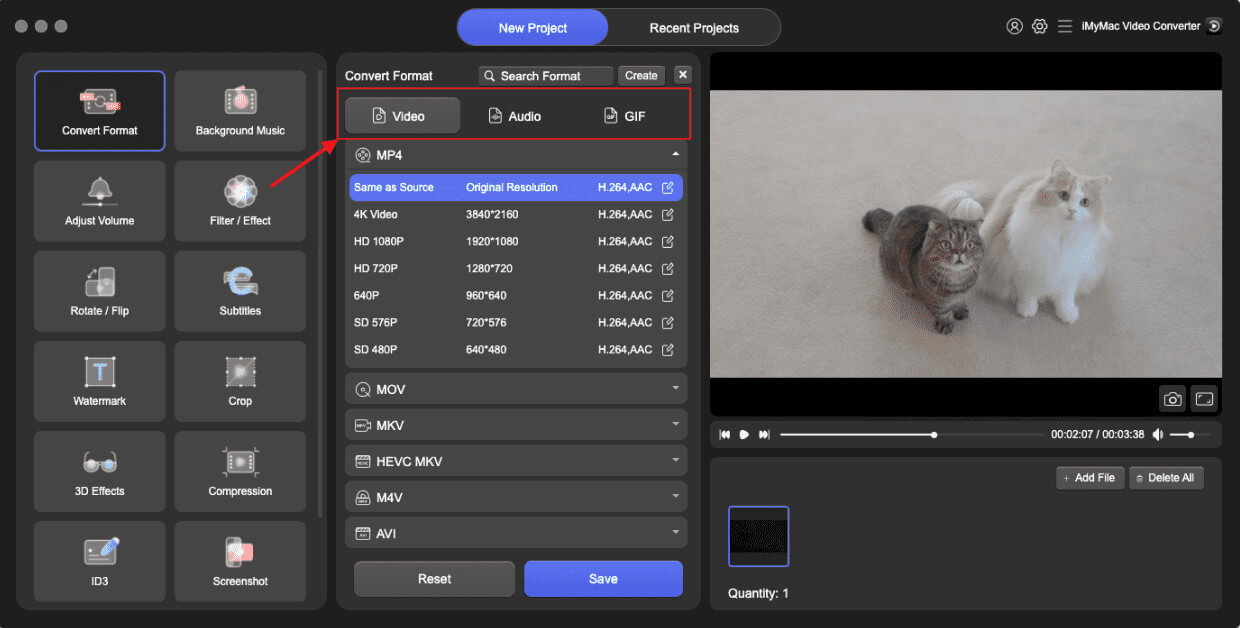 Step 04. Convert WAV to FLAC
The final step involves clicking the Convert button in order to convert WAV to FLAC. If you're converting multiple files, you can click the Convert All button located at the lower right side of iMyMac Video Converter's interface. Wait until the process is complete. You will find the converted files in the Output Folder you have chosen earlier.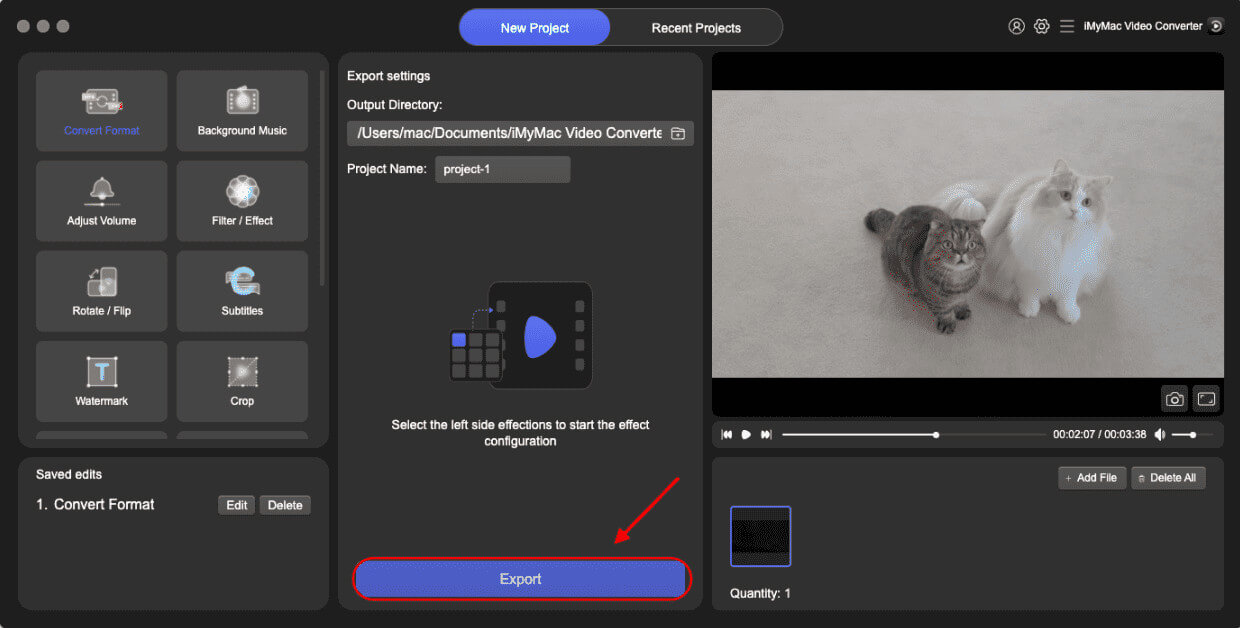 The great thing about iMyMac Video Converter is it enables you to convert at lightning-fast speeds. This is because it supports hardware acceleration technology of NVIDIA CUDA, NVENC, Intel HD Graphics, and AMD. Conversion is done without losing quality and without recompression.
iMyMac Video Converter can be used by Mac operating systems. It is available for a free trial. In addition, you can purchase it especially if you're happy with the results of the trial. There are different packages for different requirements. So, check out their site instantly.
Part 3. Top Online WAV To FLAC Converters
Here, we will discuss the top tools to help you convert WAV to FLAC. The tools here won't beat iMyMac Video Converter. However, they can also be alternatives to look at. These are all online tools that have their own capabilities and disadvantages. Check them out below:
Tool 01. Convertio
Convertio is a simple tool to help you convert WAV to FLAC. The website's appearance looks professional. It does have advertisements but isn't too intrusive. The WAV files can be added through your local hard drive, Dropbox, Google Drive, or through a link. There's a maximum file size limit of about 100MB. Basic settings you can change include Volume, Audio Channels, and Frequency. Advanced Settings include cutting a portion of the WAV file and adjusting the volume levels. You can reset all the settings you have tweaked if you want to use the default ones.
Convertio is a converter that supports 300 formats and more. Thus, possible conversions are at 25,600 different tweaks. It is very quick and easy to use as you simply add the file and choose the output format. You can even tweak settings if you wish. All of the conversions made in Convertio are done through the cloud. Thus, you don't use your own computing resources. Customized settings can be implemented to get the best results possible.
The tool promises the security and safety of your files. There's instant deletion for uploaded files. Then, converted files are kept for only 24 hours. They are deleted afterward. Convertio is a browser-based tool that works on different platforms including iOS, Android, Windows, and macOS. You don't need to install any software to use it.
Tool 02. CloudConvert
CloudConvert is one tool to help you convert WAV to FLAC. You will notice that this browser-based converter looks very professional and lightweight. Like Convertio, it allows you to add files using your local drive. It can also help you add files through URL, Google Drive, and Dropbox. However, it adds one layer of putting your files in its interface – through OneDrive. Settings you can edit through the tool include Audio Codec, Volume, Trim Start, Trim End, and Audio Bitrate. It even gives you a basic view of what WAV and FLAC are. Converting WAV to FLAC is a very easy process that's similar to most online converters out there.
CloudConvert supports about 200 different formats. It refers to itself as the "Swiss Army Knife" of conversions. File types you can convert include images, audio, videos, ebooks, spreadsheets, presentations, and documents, among others. Like most online tools, you don't need to install or download any software in order to use it. CloudConvert is an open-source tool and they've partnered with other organizations to give you optimal conversion results including that of converting WAV to FLAC.
The company has been in business since 2012 and is trusted by a lot of users worldwide. You're the only one who will gain access to your files. CloudConvert allows custom integrations through their API – this is their unique feature. High-volume customers can also get huge discounts.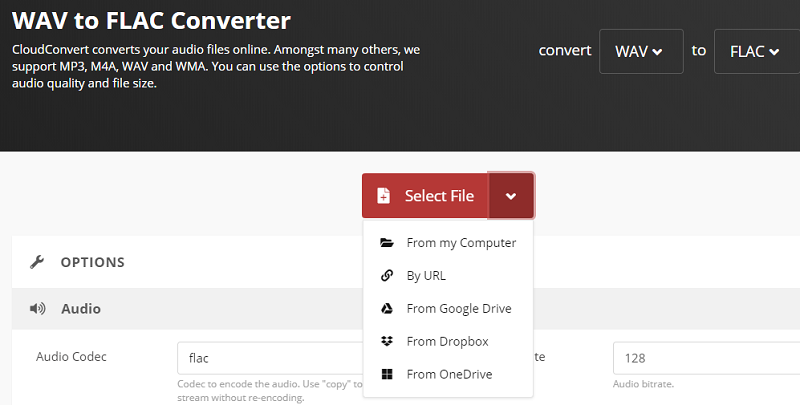 Tool 03. Zamzar
Zamzar is an online file conversion tool to help you transform WAV to FLAC. Limits to its file size are capped at 50MB. You can drag and drop files into it, you can click Add Files, or you can select a link. Ads are not that intrusive and are intelligently placed on the corners of the interface.
Zamzar supports multiple languages including English, French, Spanish, Italian, Polish, and Dutch. It also gives you an overview of the basics of WAV to FLAC files on its page for the said conversion. Zamzar is very convenient as you don't have to download any software in order to use it. You don't have to install anything too. Speed is of importance to the platform. They promise to finish conversions in 10 minutes or less. In addition, more than 1200 file types are supported by this conversion tool making it very versatile and flexible.
Zamzar has been in the industry since 2006. They have been serving their customers ever since as they've been in business for more than a decade. If you have a file that you can't convert, you can always email them. Their engineers will take a look at the file for you.
Tool 04. Wondershare Online Uniconverter
Wondershare Online Uniconverter is a tool to help you convert WAV to FLAC. You can choose to add files from the local drive. Or, you can add files from Dropbox or Google Drive. The great thing about this tool is it doesn't have any ads on its website. Because it is an online platform, you don't need to download anything in order to use it. However, it does have its own offline tool that can be used for conversion. If you don't want to use the offline tool, the online tool that's browser-based is enough.
Using Wondershare Online Uniconverter is easy. You simply have to upload the WAV file, convert WAV to FLAC, and then download the converted file. It can be used in only three different steps. The site also provides you with information about WAV and FLAC file formats.
Tool 05. FreeConvert.com
This is another online tool to help you convert WAV to FLAC. It does have a lot of ads within its website which makes the appearance quite shabby. However, it still gets the job done. Advanced settings that can be edited include compression level, audio sample rate, start and endpoints, audio channel, volume levels, fade in audio, fade out audio, and reverse audio.
Adding files is possible through a local drive. It can also be done through Dropbox, Google Drive, and URL. Using this tool is very easy as it requires only a few steps to convert WAV to FLAC. They also guarantee file security and privacy.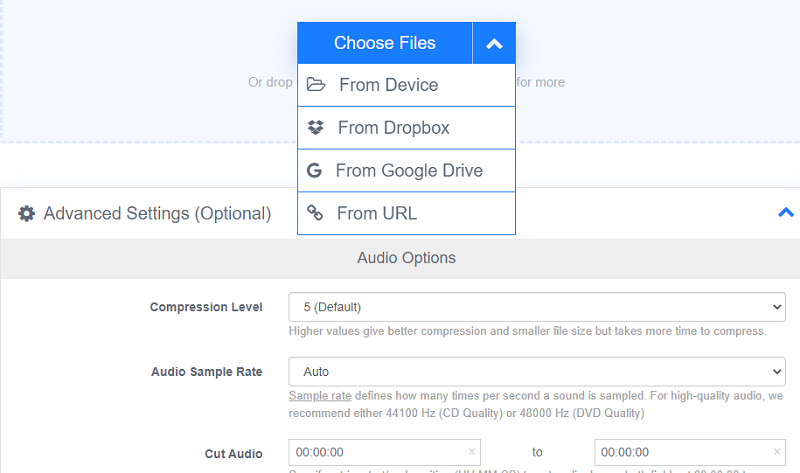 Part 4. What Audio Converter Is The Best?
We have discussed how to convert WAV to FLAC. However, which audio converter is the best? To recap, we have provided you with a list including iMyMac Video Converter, Convertio, CloudConvert, Zamzar, Wondershare Online Uniconverter, and FreeConvert.com. The best tool to help you convert audio is still iMyMac Video Converter. This is because it comes with a lot of options for the conversion. It has editing capabilities and it supports a lot of file formats for conversion. Plus, it is a really fast tool that is very reliable and professional. Grab iMyMac Video Converter now!