There are times that your Mac computer will display a message saying that you don't have enough space on your disk anymore. When these times come, you would need a disk space analyzer to help you find ways to increase the available space on your disk. Disk Inventory X is among the tools you can use to achieve this task.
In this article, we will give you alternatives to Disk Inventory X if you are looking for some as well as our most recommended Mac cleaner. But first, let us discuss what Disk Inventory X is in the next section.
Contents: Part 1. What Is Disk Inventory X?Part 2. Most Recommended Alternative for Disk Inventory XPart 3. 3 Other Alternatives for Disk Inventory XPart 4. Wrapping it Up
Part 1. What Is Disk Inventory X?
This is an analyzer for disk space that you can use for free and is available for users of macOS with versions 10.3 or better. It presents you with a summary of all the disks on your machine. It displays the results graphically using a treemap. This treemap will show all of your folders and files coded according to their type. It also shows the sizes as well as the number of files saved in a folder including subfolders. Plus, it even specifies the file sizes in a folder.
Moreover, you can also find more information associated with specific data. Just click on one item specified on the treemap. Disk Inventory X can also present the data using a list structured with folders and files displayed with respect to their sizes starting from the biggest file size. It allows you to analyze your entire drive or you can just select one folder.
The main features of this tool are it is easy to use and its data presentation is understandable. Its lists and treemaps are direct when presenting information to help you make proper decisions on what files to delete and not to. In summary, Disk Inventory X is a great choice considering that it is free.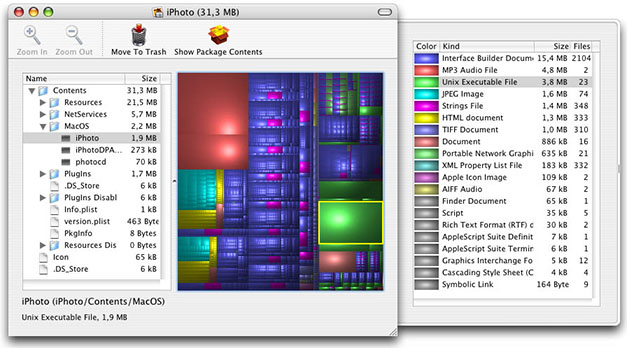 Part 2. Most Recommended Alternative for Disk Inventory X
We recommend using iMyMac PowerMyMac as an alternative to Disk Inventory X to speed up your Mac computer by uninstalling unneeded software completely. It can quickly erase your junk files with safety and allows you to remove unnecessary iTunes Backup and email attachments. The app can scan unneeded files that you can delete to free up space on your Mac computer.
Things that PowerMyMac Can Do
iMyMac PowerMyMac can help you clean unneeded files on your Mac in just one click. It can scan everything of your files and display them. They are organized by time, size, etc. Note that iMyMac PowerMyMac only chooses files that can be deleted safely so you do not have to worry about deleting the wrong files.
1. Delete Junk Files
Your computer will have a lot of junk files that can consume a lot of disk space. If you want to remove these junk files safely, you can do this with iMyMac PowerMyMac easily.
2. Erase Clutter
This tool can help in locating unnecessary files on your computer so that you can erase them. This will save a lot of space on your disk.
3. Remove Large & Old Files
It can automatically identify large files and choose the ones not needed anymore. This allows you to save gigabytes of space on your system.
How to Free up Space on Mac
If you are wondering why your Mac computer is so slow, you can use iMyMac PowerMyMac to speed it up. It can show you the system status, Memory, Disk, and CPU status of your Mac. It performs a deep scan of your Mac which includes your old folders, Trash bins, Mail Attachments, and iTunes Backup.
For sure, you will find a lot of unneeded junk files on your computer. Below is an overview of the steps on how to use iMyMac PowerMyMac as the alternative to Disk Inventory X:
Download & Open the App
Start the Scan of Junk Files
Select the Items You Want to Delete
Below are the detailed steps of how to free up space on your Mac computer:
Step 1. Download & Open the App
Proceed to iMyMac PowerMyMac's official website and then download the app. You can choose its free version. When you are done downloading the app, open it. You will see your system's status once you open the program. Just click Junk Cleaner on the left side to start cleaning junk files.
Get A Free Trial Now!
Step 2. Start the Scan of Junk Files
The next step is clicking SCAN. Wait for the scanning process to finish. After that, the app will present you with all of your computer's junk files. This makes it easier to check which files you should erase by folder. Click Rescan if you need to do another scan on your Mac.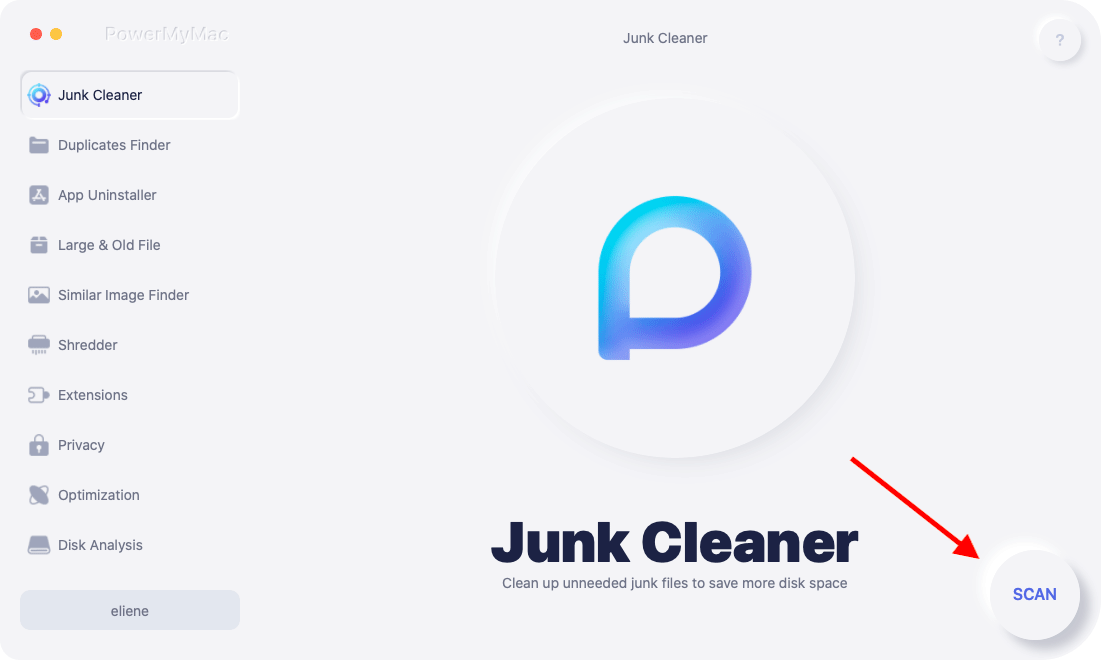 Step 3. Select the Items You Want to Delete
You can use iMyMac PowerMyMac to display junk files by categories such as System Cache, System Logs, Email Cache, Photo Cache, Application Cache, and others. You just need to choose the category name corresponding to your needed files.
Check the boxes corresponding to the files you want to delete and click CLEAN located at the app's bottom. In a few moments, the unnecessary files on your Mac's disk will be completed. All deleted files will be marked with "Zero KB".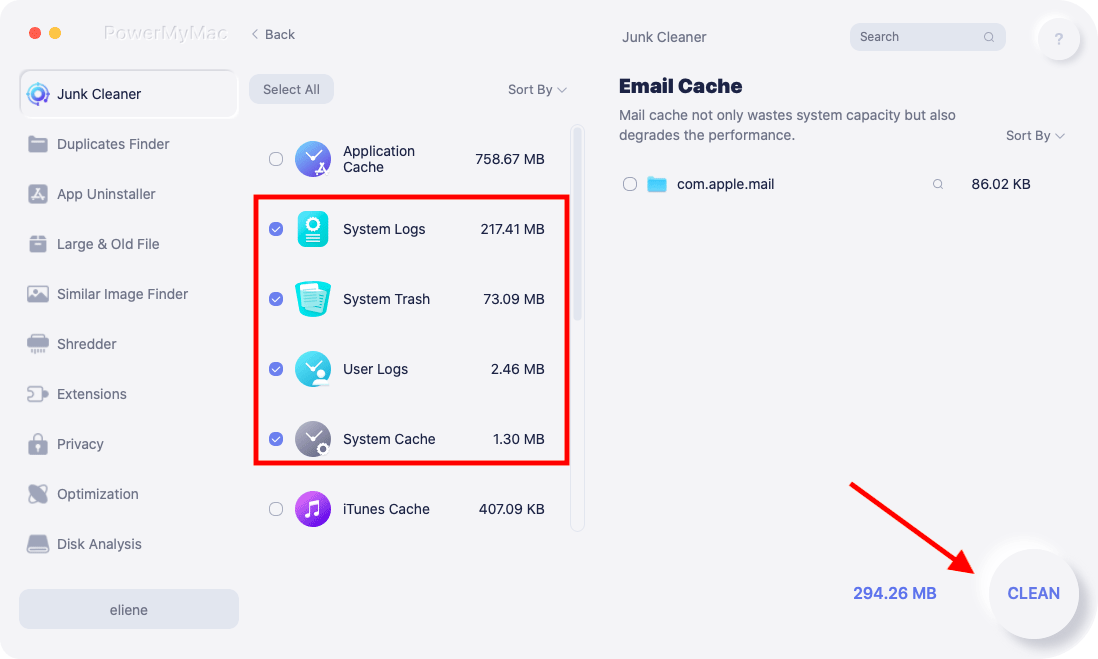 Part 3. 3 Other Alternatives for Disk Inventory X
#1 OmniDiskSweeper
This disk space cleaner is free to use by users and it presents the scan results using a column similar to Finder's view so you will have more convenience in using it since it is already familiar. OmniDiskSweeper presents the files it found using a list that is organized according to their size from the largest ones.
In summary, this tool may be small but it is effective and is very useful once your computer gave a warning that you no longer have enough space. Its familiar way of presenting data is its greatest advantage, especially for the users who are not that into technical stuff.
#2 GrandPerspective
This is another free analyzer for your Mac's disk storage. It can create a very detailed map of your Mac's disk usage. Even if some user reviews say that GrandPerspective's interface looks a little old, the tool can present the data very efficiently using an information display similar to a drawer.
The main drawback of this tool is that it presents a lot of information which can be quite overwhelming to the user. It will not display an overview of your disks which contradicts its name. In summary, GrandPerspective can be an acceptable option for average users who are searching for a straightforward but simple tool. It can free up space on your drive quite quickly.
#3 DaisyDisk
The last alternative for Disk Inventory X we will be presenting to you is DaisyDisk. It can efficiently check and free up space on your Mac's disk in a very simple way. This is due to this tool's beautiful interface which presents data using a wheel to make intuitive visualization easier for you.
Moreover, this tool can scan your computer very fast. It can show you an overview of all of the disks on your Mac. It updates changes in real-time which makes it perfect for analyzing your files so that you can make a good decision on which would you want to delete and keep. DaisyDisk is also very popular among artists and IT professionals who commonly use Macs.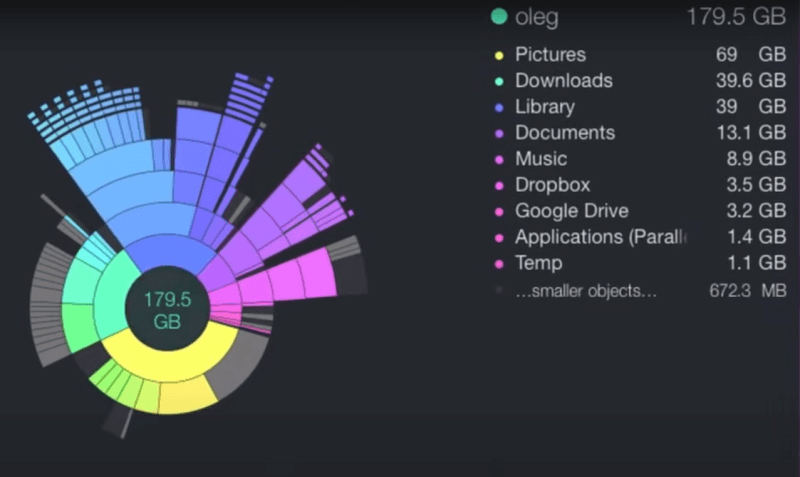 Although it is available commercially, it offers a free version that you can use to clean up your Mac's disk space casually. In summary, DaisyDisk is an excellent tool for analyzing Mac disk space and deciding what to clean. It is user-friendly as well as easy to use even for those that do not know anything about technical stuff.
Part 4. Wrapping it Up
In this article, we discussed what Disk Inventory X is and gave you our most recommended alternative for this free Mac disk analyzer - iMyMac PowerMyMac. Now, if you find that your Mac is running so slow, you can use this great cleaning tool for Mac to check unnecessary files on your computer and delete them in just one click to speed up your Mac. Hopefully, the alternatives we gave in this article were able to help you find your desired Mac cleaner.
Get A Free Trial Now!