Photos – everybody has them. Even kids have their own photos to share with the world. With the advancements in smartphones and tablets and the prevalence of high-quality built-in cameras, we take photos almost every single day. If you have a lot of duplicate photos on your device, you may have heard of Duplicate Photos Fixer Pro. Essentially, this is a tool that allows you to remove duplicate photos on your device, whatever its operating system may be.
This article is an in-depth review of Duplicate Photos Fixer Pro. We'll run through the ropes of the tool including its features and limitations. Then, we will end with a suggestion of the best tool you can use to find duplicate photos and files in your system. Let's get started with the review!
Get A Free Trial Now!
Contents: Part 1. Duplicate Photos Fixer Pro: An OverviewPart 2. How Does Duplicate Photos Fixer Pro Work?Part 3. What Are the Pros and Cons of Duplicate Photos Fixer Pro?Part 4. What Is the Best Duplicate Photo Remover?Part 5. Conclusion
Part 1. Duplicate Photos Fixer Pro: An Overview
Duplicate Photos Fixer Pro is a very powerful tool that enables users to scan their devices quickly and organize their roster of photos by removing their duplicates. It works on different platforms including Windows, macOS, iOS, and Android operating systems.
The program has the ability to scan the various folders within these different platforms and eliminate similar files depending on the selected matching level. It has a lot of features which we will dive into the next sections of this article. But first, let's check out how much it costs.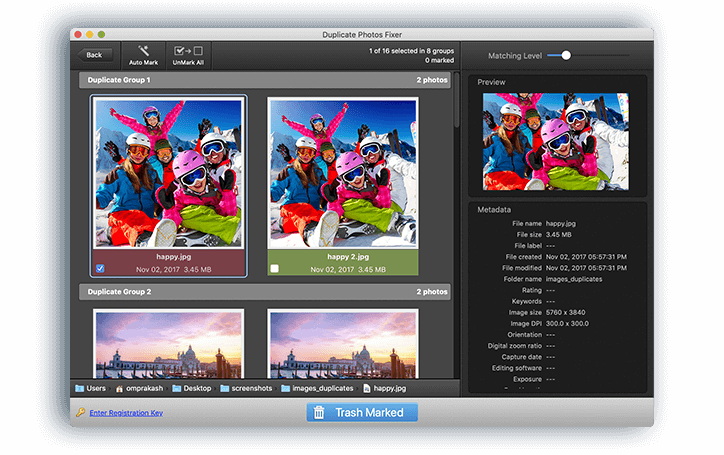 How Much Is Duplicate Photos Fixer Pro?
Is Duplicate Photos Fixer Pro free? Duplicate Photos Fixer Pro offers a free trial for all users who would like to test the product out. In this case, you will check out if it meets your expectations. Of course, the free version offers a limited amount of features. For instance, in the trial version, only about 15 identical files can be removed or fixed. In order to get all the capabilities of this duplicate removal tool, you should need to purchase its premium or Pro version.
The price of Duplicate Photos Fixer Pro for Windows is $71.90. For macOS, it is $18.99. iOS users would be happy that the cost is slightly lower compared to other platforms at $6.99. And the happiest users would be the Android owners because it is totally free for the platform.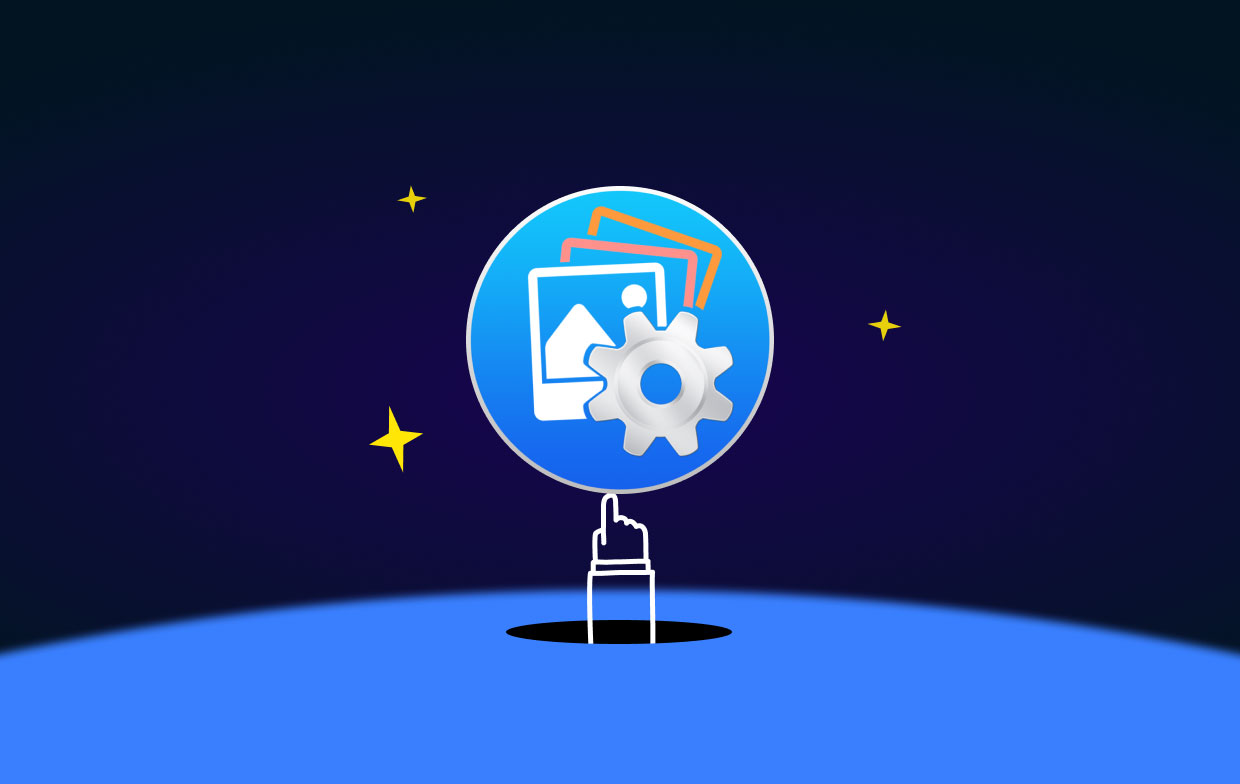 Part 2. How Does Duplicate Photos Fixer Pro Work?
So, is this tool really effective when it comes to removing duplicate images on your system? Does it have an easy-to-use, user-friendly interface? In this review, you will learn all the answers to these questions plus more. Stay tuned with our review below.
The Average User In Mind
Typically, photographers sync their photos on their computers. This is true, even if their camera has a memory card with a large capacity. Syncing multiple similar photos to the computer is done because it's tedious to select only one photo out of tens (or even hundreds) of similar shots. In addition, a lot of people clutter their computer's or mobile device's system by creating multiple backups to prevent data loss. This is where our tool comes in. The software was developed, not only for photographers but for the average person who has a roster of images within their system.
Computers can store thousands (even millions) of images and these can be scattered over different locations and folders. This is true, even if you aren't a professional photographer. Almost everybody has a massive roster of images. If you wish to view every image you have to check the best out of the similar photos, then you will find yourself having a hard time. Thus, Duplicate Photos Fixer Pro was created to do this job efficiently for you. This tool comes in handy when you want to remove duplicates of the best photos from your system.
The User Interface
The interface of this tool is very user-friendly and intuitive. Navigation is made easy with a sleek, stylish design. Simple functions can be understood by anybody who uses the tool and is free of the mumbo jumbo making it non-complicated. The great thing about the user interface of Duplicate Photos Fixer Pro is that even a newbie can use it. Within the main page of the interface, you can easily add photos and entire folders you wish to scan for duplicates.
If you wish to add your files to the tool, there are two different options. The first option would be to "Add Folder" or "Add Photos" and then browse to the location of the necessary files.
The second option would be the easier and more preferred option which is a simple drag-and-drop method. If your images are already scattered in different locations, you can simply move them towards one folder and collect them there. It would be an easier method to scan one folder only. If duplicate photos are present in various locations, you can scan entire drives if you wish.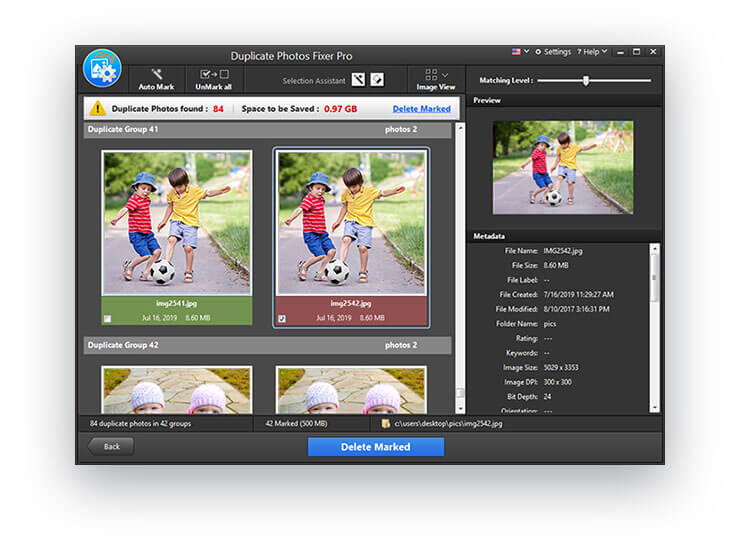 The Identification Process
Duplicate Photos Fixer Pro is a tool that works with a large number of different file formats including GIF, JPEG, JPEG, PNG, EPS, EXR, MPO, SGI, BMP, ICO, and TIFF, among others. The process of looking for and identifying duplicate images are done depending on specific parameters including the following below:
Burst photos or series of photos that are quickly shot in a matter of milliseconds.
Photos that were slightly edited within the Adobe Photoshop tool.
Images that differ in levels of color, contrast, or brightness.
Similar images that were taken within a range of 24 hours.
Identical photos that were clicked within the range of 1 meter to 100 meters.
The Comparison Techniques
Once you select your photos for comprehensive scanning, you may utilize its default search. Or, you can also modify the search depending on your needs. You can adjust it through a sidebar that will feature additional parameters for filtering. Once the needed folders are added, you can modify certain settings in order to determine which kind of similar or identical images you wish to eliminate. If you want to delete duplicate or identical photos, for instance, you should select "Exact Match". When you have selected this setting, you don't need to adjust other parameters.
If you select the option labeled "Similar Match", it is necessary to determine your desired "Matching Level". A slider should be tweaked from Low to High. The more you modify the slider to fit a "High" matching level, the higher the level of similarity among the duplicates you have set. The function called "Bitmap Size" enables users to select between two options. The first option would give you fast, nearly accurate results. The second option would take a long time but the match would be highly accurate.
Once all parameters are modified to your liking, you can click the label for "Scan for Duplicates" and check out the results. If you think the adjustments are too complicated for you, utilizing the default settings is possible. This will still give you great results.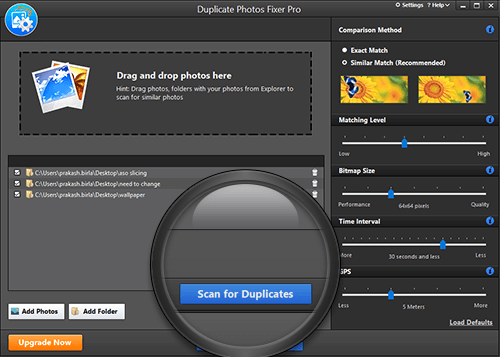 The Scan Results
The quick scanning feature of Duplicate Photos Fixer Pro allows you to locate duplicate images without the hassle. The process is automated entirely. Thus, it will only take you about 15 seconds to 20 seconds to scan a total of a thousand images.
Once the tool locates and scans the images, similar photos will be bundled into their corresponding groups. You can delete images in a manual manner by checking out their own thumbnails. Duplicate Photos Fixer Pro can even help you decide if a photo should be kept or deleted. For instance, the feature named "Auto Mark" allows you to mark out all photos that look identical and keeps one unmarked.
The best thing about this is its slider called "Matching Level" and can be seen within the windows of the scanned results. If you think the results are not that good, you may modify its matching level in order to make the search more specific and let the tool look for identical photos. It is not suggested that you set the tool's Matching Level to a low setting. This is because it may find photos that are not that similar to each other. And most probably, you wouldn't want to delete these dissimilar images.
The Photo Recovery Feature
Now, if you want to delete the files you have marked, simply click the button for "Delete Marked". If you're actually deleting hundreds or even thousands of images on your computer, you will notice that you may have deleted a few important ones. The great thing about Duplicate Photos Fixer Pro is that it has a Recycle Bin allowing you to locate images you accidentally deleted. Thus, you can retrieve them back immediately if you wish.
However, it is important to note that when you are using this app within your mobile device, recovering deleted files is not possible. Thus, it is important to carefully check each group of similar photos before removing the ones you don't need.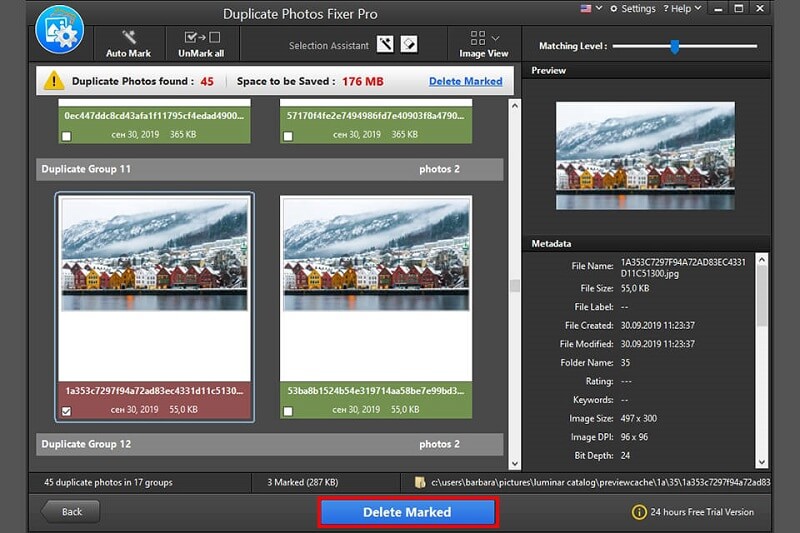 The Freebies
Amazingly, Duplicate Photos Fixer Pro provides you with freebies for enhancing your images. Below are some of these free features:
Pure Wedding
This freebie allows you to improve the dull sections of your photos. And, it enhances color saturation. It even gives wedding photos a special glow and a very warm atmosphere.
Clear Contrast
As its name states, this is used to increase the contrast of your photos. In addition, it enhances the colors making it look more natural and realistic. Poor lighting conditions are not a problem. This is because this freebie will help you enhance image exposure giving the photo a professional appearance.
Strong Monochrome
Adding a "mysterious" appearance to your images is a great way to make it look different. This is the preset you will have to use to do just that. Dark areas will be lightened within the photos. Thus, your photos will be touched with a dreamy look.
Night Mood
This freebie is actually an overlay and gives you a holiday-like mood to your photos. The images are made more appealing to the eye. It makes it grab your attention. Christmas shots are best for this overlay because of its effects.
Classical Black And White
This is a black and white effect that is great for nude and boudoir images. Skin tones are improved ensuring that it looks gentle and smooth. It makes your skin look natural. Once used properly, this freebie features can help you create a film-like finish to your photo.
Part 3. What Are the Pros and Cons of Duplicate Photos Fixer Pro?
Now, let's look at the strengths and weaknesses of the tool. Below are the pros and cons outlined in a list.
Pros:
The matching Level can be adjusted with sliders.
It has a fast scanning feature for saving time.
The interface is very user-friendly.
It is possible to view photos in groups and you can select which ones you want to delete and which ones you want to keep.
It helps you save more space on your drive.
Compatible with a lot of platforms including iOS, Android, macOS, and Windows.
Cons:
It doesn't have a feature that sends automatic alerts for having duplicate images.
The free trial can only remove 15 duplicates.
Duplicate images shown are those within the last 24 hours only.
Part 4. What Is the Best Duplicate Photo Remover?
The best tool you can use to find duplicate photos is iMyMac PowerMyMac' Duplicates Finder. This tool easily locates duplicate videos, music, documents, and pictures on your system.
Get A Free Trial Now!
You can easily delete them with only a few clicks. It helps you free up more space within your Mac including MacBooks, MacBook Pros, MacBook Airs, and iMacs. Plus, it enhances the performance of your system.
The great thing about it is it does a byte-to-byte comparison so accurate results are shown. It will scan your entire system for duplicate files allowing you to focus on more important things instead of doing this on your own.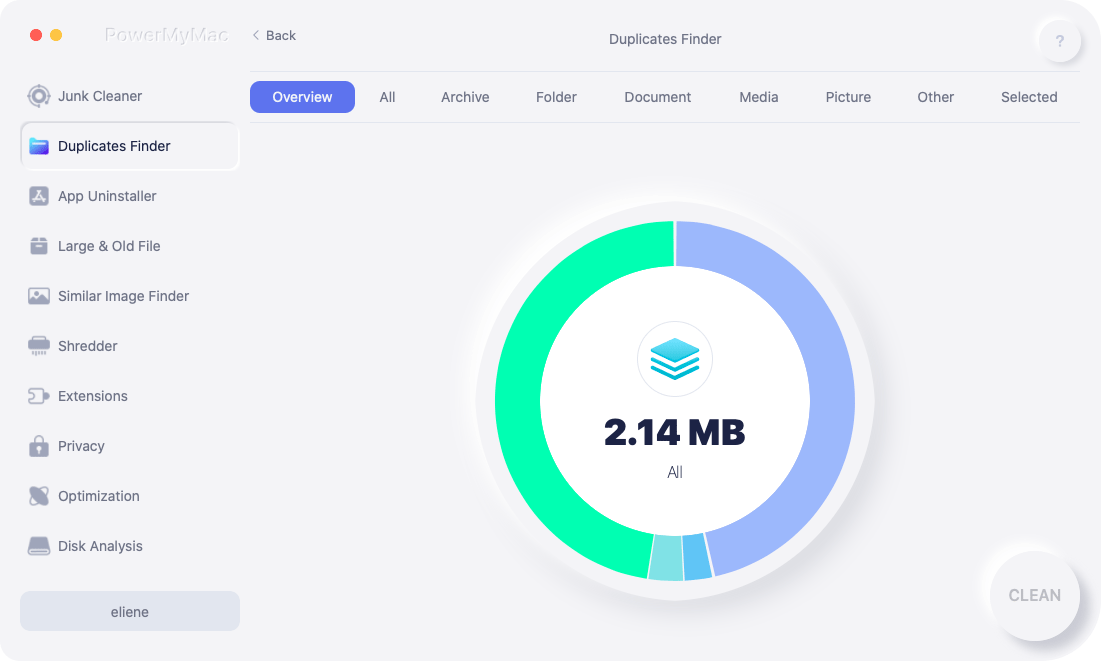 Part 5. Conclusion
We have given you a comprehensive review of Duplicate Photos Fixer Pro. This is a tool that can be used to find duplicate images within your system through its powerful scanning features. It even allows you to set a matching level of photos you want to consider as duplicates.
However, if you're looking for an all-around duplicate finder and removal tool, you must opt for iMyMac PowerMyMac's Duplicates Finder. Aside from photos, you can also locate documents, videos, and audio with this software – those that are duplicates.
Get A Free Trial Now!
This Duplicate Finder has a very thorough and comprehensive scanning process allowing you to locate duplicates byte-per-byte. No important files are lost with the tool. Get the tool now and free up more space on your Mac!