Has your Mac computer felt sluggish lately that using it feels more cumbersome than how it was previously? Are you thinking of making an expensive upgrade to yet another updated model of Mac just to get over it? Or you may want to clear up some Mac purgeable space on Mac with a cheap but reliable tool to speed up your Mac device.
If these were the prevailing themes with your Macintosh right now, you may want to think over FoneDog PowerMyMac as it can solve problems due to accumulated clutters at the software level arising from prolonged use.
Today let's have a detailed FoneDog PowerMyMac review that can help you to learn more about the features of this product and how it works to speed up your Mac.
What is FoneDog PowerMyMac?
As an all-in-one solution to Mac computers' many existing problems such as the need for decluttering, optimization for optimum processing speed, and having functionalities that are absent in a Macintosh by default, the PowerMyMac encompasses many neat features which are essential in maintaining a tip-top shape computer. You can have FoneDog free trial to solve your problems.
App Cleaner
Our constant interaction with the computer makes us leave files that only clutters the seamless flow of data processing. While a handful of clutters may not be an issue for a Mac, accumulate too much of the same mess—possibly, after a prolonged period of using the computer without cleaning it at the software level—and the aftereffects would be made more ostensive.
Running certain apps might get slowed, switching pages might become soggy, and even shutting down the computer would take longer time than it used to are among the few common consequences of leaving a computer excessively "dirtied".
Incorporating a powerful yet smart app cleaner in one of its core, the PowerMyMac cleans every known mess in computers it could safely remove. It's smart enough to identify which files are considered a litter in a virtual sense from important files that are critical in the normal functioning of the computer itself. Trust me, not all apps that label themselves as a "utility tool" will do your computer good. Some can actually do damage than they fix.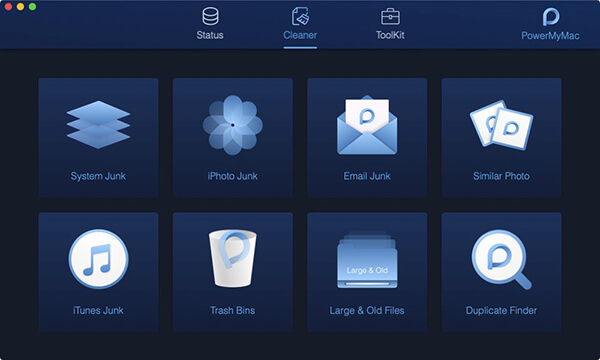 Memory Retriever
The corollary to the process of cleaning the computer to facilitate smooth and fast processing of information is the procedure's capability to take back whichever memory the said clutters were occupying. As no data in a computer would exist virtually without taking a slot in the computer's permanent memory storage, these clutter' eventual removal subsequently free up some needed space for other important pieces of data.
Optimizer
But not all clutters are always hidden from the spotlight. Some actually like to take center stage even if they only occupy certain memory space for no, particularly good reason than just to be there. By this, I meant about third-party apps running in the background which do nothing significant but are nonetheless active.
If you are a power user or at least an end-user who runs more than a handful of apps at every single time, then the issue of having an app you do not need taking some space in the virtual memory should be an unwelcome idea.
People Also Read:PowerMyMac VS CleanMyMac: Complete ReviewWhat Are The Best Apps for Your MacBookPro?
Application Uninstaller
Uninstalling no longer wanted or needed applications may be a feature inherent in all operating systems, including Mac. But while they are effective in what they do—that is, to remove applications from the system—they oftentimes leave clutter which the system fails to notice. For this reason and that reason alone, it makes the default app uninstaller functionality less efficient in what it could have been.
Addressing this concern, PowerMyMac's strong app uninstaller ensures that, not only is the unwanted application be removed from the system, it does so with completeness to the task. From the registry to the permanent memory storage, PowerMyMac cleans every remnant of the uninstalled software.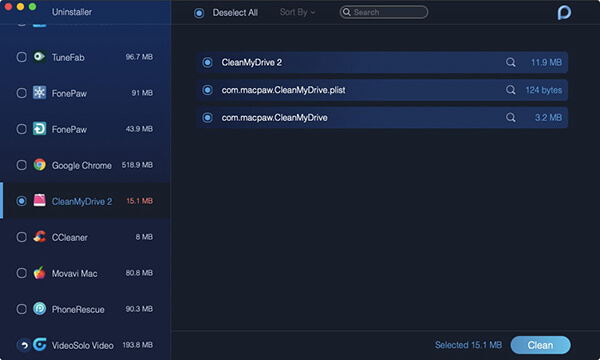 Performance Monitor
Getting a feel about how fast or smooth the computer works may be one thing in telling the quality of performance which your computer exhibits. But having an actual metric to it is a much more accurate view of how it does perform.
Thanks to PowerMyMac's "performance monitoring" aspect, you can now have a by-the-minute look at how your computer runs when you use it. By using it as a benchmark, you get a valid set of data that you could use as a reference for comparison.
For instance, by making use of this tool, you can get a closer look at your CPU's performance at any given time, whether in idle mode or in heavy load. Alternatively, it is also through this functionality that you get to see how much your computer's system consumes RAM and how much available disk space you still have.
Want to see an increase in your computer's performance after using PowerMyMac's app cleaner? Now you can with the same program's "performance monitor" tool.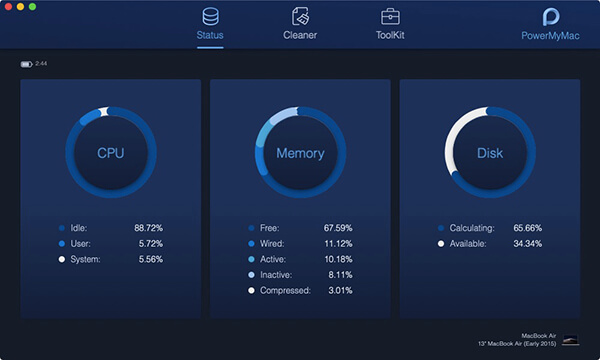 Encryption
Privacy, especially with sensitive files, has always been an issue with computers. But encrypting sensitive data to keep them out from prying hands is also a solution developed to counter it.
Making use of an effective encrypting mechanism that ensures no illicit access from a total stranger, PowerMyMac helps you in either encrypting your data with hard-to-crack code or hiding information you would rather not disclose to anybody else by keeping it out of sight.
File Unarchiver
The need to shrink file sizes for easy transfer across different platforms has always been a convenient option for people sharing data remotely. But a feature such as this does not come pre-installed in the most operating systems by default or, if do, not as effective as a dedicated third-party app developer does it.
PowerMyMac's "file unarchiver" not only enables this functionality to reduce large file sizes into smaller ones, but it also aids in the extraction of data within their compression.
If you are looking for a great "all-in-one" solution to some functionalities that may be missing with your current Mac setup, you can never go wrong with an app specially developed in meeting those needs such as PowerMyMac from FoneDog.