So, you want an answer to the question of how much RAM do you need on your Mac? Well, the simplest way to check whether you really need more RAM is to check the device' RAM usage. You can do it with some tools that allow you to check the system status of your device.
But, you can also do it manually. Here's how to do it step by step:
Step 01 - Visit the Applications folder.
Step 02 - Launch Utilities folder.
Step 03 - Launch Activity Monitor.
Step 04 - Press the tab labeled Memory. This is located at the tap.
Step 05 - Check out Memory Pressure graph. This is located at the bottom part of the screen.
Step 06 - Look at the right side of the graph. Within it, you'll be able to see a table. The Physical Memory part states the amount of RAM your Mac has installed.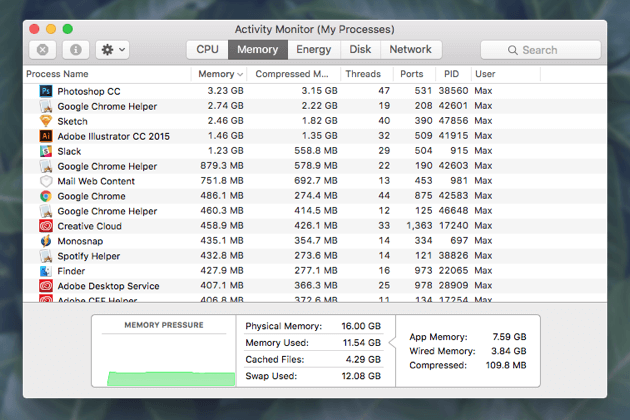 Make sure you keep the said window open while you are currently working. Check it every now and then. If the graph you are looking at is always green, then there is not much pressure on your RAM. This means, more memory is not necessary for your device.
If the graph is color yellow and green, some pressure is being placed on your device' RAM. However, this is still okay. But what if the color is always red? This means, your RAM is being put on serious pressure.
It also means that the startup drive of your Mac is being utilized for storage of data that should be placed in the RAM. This results in the slowing down of your Mac device.
But what if the graph is red? Well, that doesn't mean you have to upgrade your RAM instantly. You can try to turn off browser tabs you're not actually using. Plus, you can have more memory freed by quitting applications you're not actually using.
You can also try to log out of accounts that you don't use. This is true especially if you are logged into more than a single account.
In the Activity Monitor, you can simply press the down arrow located at the top part of the Memory Column to check out which processes, apps, and browser tabs are currently taking up the use of most of the memory.
This will sort them in the order of the processes (or apps and browsers) that use up the most RAM up to the least one.
If you find out that you are using some apps or pages or processes that use up a lot of RAM and you don't necessarily need them, then simply close these apps (or pages and processes).
You can also use third-party tools that give you a report of memory usage. Some of these tools can help you clean your RAM when you simply close applications. Thus, the memory is made free for utilization by other apps and tools.