Have you ever experienced that when you are scanning your Mac for malware and virus, the numbers of threats are getting higher and higher? If you did, then this article could help you.
When you browse through the web most of them have tracking cookies, they are not harmful though it can cause security issues. However, it's best to learn how to get rid of tracking cookies on your Mac.
It is supposed to be an aid to personalize your online experience. Also, to help you locate all the similar websites and contents that you are looking for. But sometimes some users feel that it is already invading their privacy.
Article GuidePart 1: What is Tracking Cookies?Part 2: How to Get Rid of Tracking Cookies without Disabling themPart 3: How to Prevent Tracking CookiesPart 4: Conclusion
Part 1: What is Tracking Cookies?
From the term Cookies are small text files that are used to save a user-specific data that we usually encounter when we browse, they are mainly used by advertisers to track the sites that you visit, that is why you will see some other website suggestions that are similar on the website that you are browsing.
By its capability to store a browsing history of a user on different websites, it can also be used to track the user's behavior.
Though some of the sites that you visit it will prompt you that they are using cookies for your better online experience and you will have the option to accept or to decline it or block it, some of the sites do not have these kinds of option.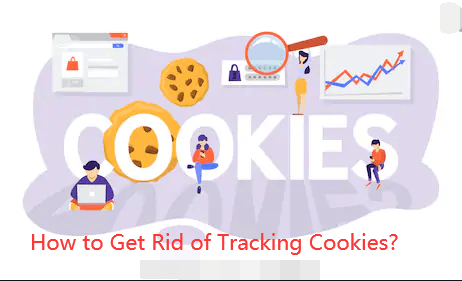 Are Tracking Cookies Dangerous?
This, for the most part, relies upon what your meaning of "awful" is. In case you're somebody who is alarmed by tracking cookies during a virus scan, these do not harm your Mac and will not make any serious negative effects on your Mac.
In any case, tracking cookies from a big advertising network could contain your confidential information that could potentially be a threat to your privacy. Some of the sites that use tracking cookies are Google, Facebook, and Twitter.
If the tracking cookies are quite powerful, these websites can detect your location, the information of your device, the things that you purchased, your searches and many more.
You may not be aware that these kinds of information are picked up, but some countries implemented a regulation that requires the websites to let the user know that their information is being picked up through their website like the UK.
How Tracking Cookies Affect my Security?
A few people erroneously accept that cookies are malware. They aren't. It is highly unlikely for them to duplicate without anyone else and spread to different systems or PCs. In any case, having said that, they can be utilized as spyware – why your enemy of malware may caution you against utilizing cookies from certain sites.
Reminder: Caution! There's a major hazard if your cookies are sent over the web as clear content with no encryption. Remember that anything individual could be spared into cookies, for instance, your SSN, bank card, email address, and the sky is the limit from there.
This implies if the treats aren't sent over HTTPS, they're discernible by anybody on the system.
Any programmer associated with a similar system would then be able to utilize spyware (a product that captures traffic on a system) and take all your confidential information. Avoid using public Wi-Fi for your security.
Part 2: How to Get Rid of Tracking Cookies without Disabling them
There are some consequences by blocking cookies, for example, I clean up cookies from Facebook and it automatically logged me out, so I need to log in again, but what if I forgot my password right?
To help you balance everything, what you can do is to delete your browser cookies regularly to keep those strong adverts to know your whereabouts and browsing history and use iMyMac Mac Cleaner:
Download and Launch iMyMacMac Cleaner from imymac.com
On the left side of the screen > Select on the categories Privacy> Select Scan
It will show you the list of the Browsers that you are using > Select Safari
A list of browsing history and cookies will show on the right side of the page, If you wish to delete everything > Click on Clean at the bottom right side of the page
A confirmation box will appear > Select Confirm
Results will show and you will be presented how much of storage was clean up and remaining storage space
Repeat Steps 1-6 for your other browsers such as Chrome or Firefox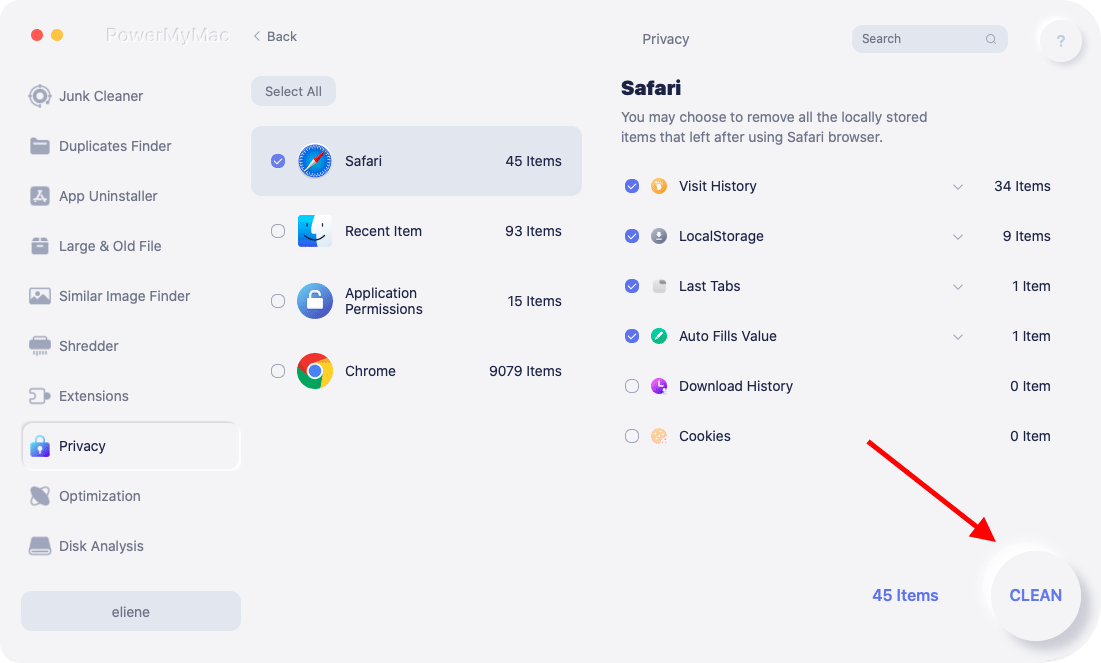 iMyMac Mac Cleaner has a lot of features aside from helping you on the security of your Mac such as:
It can free up space on your Mac to improve its performance and speed by cleaning out Junk files like System Junks, iTunes Junks and Mail Junks that contain broken downloads, unnecessary Mail Attachments, and User Logs
Duplicate Finder and Similar Image Finder that helps you scan those identical files and photos on your library so you can delete some of them and recover space on your Mac
It also has Uninstaller that can uninstall apps together with its related files in few clicks away, so you don't have to do it manually
User friendly, you can perform a deep clean on your Mac in just a few clicks and few minutes. Unlike cleaning your Mac manually that could take you a couple of hours
Will let you have some peace of mind from all the threats of malware such as adware like tracking cookies through a thorough Mac clean up
It gives you up to 500MB to clean up and optimize your Mac for free without spending anything
Part 3: How to Prevent Tracking Cookies
You can definitely prevent cookies from lurking into your web browsing experience, though you have to do it manually in every browser that you are using, these are the steps to follow to disable those third-party cookies.
Do Not Track Option and Blocking Cookies in Safari
Launch Preferences, Click on the Safari Menu > Press on "Command +," or Select Preferences on the drop-down list under Safari
Select the Privacy icon at the Menu bar > Under Cookies and Website Data > Select Allow From Current Website Only or you can Select Always Block
At the bottom of the list beside Website Tracking > Put a Check on the Tick Box Ask Websites not to Track me
You may close the window since it will automatically save your changes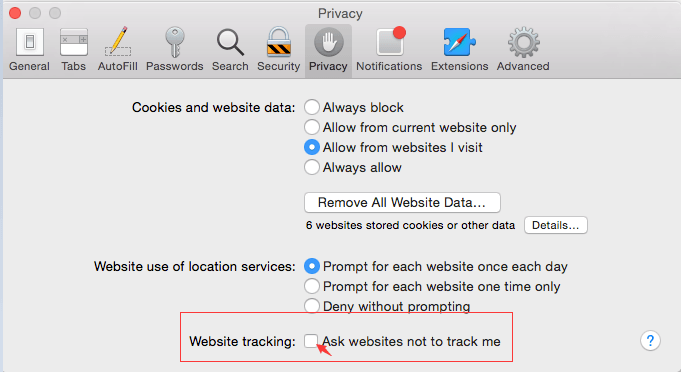 Do Not Track Option and Block Cookies in Chrome
Launch Google Chrome Browser > Click on the Three Dots icon beside the address bar of the page > Select Settings on the list
A new page will open, on the left side > Select Privacy and Security > Under Permissions Category > Select Cookies and Site Data
Clean Up cookies first > Click on See All Cookies Site and Data > Select Remove All > Go Back
Turn on Block Third Party Cookies by toggling the on and off button beside it
You can also turn on Clear cookies and site data when you quit chrome
Do Not Track Option and Block Cookies in Firefox
Open Firefox > Select the Three Horizontal Lines beside the address bar of the page
Select Preferences > On the left side of the page > Select Privacy
On the right side under tracking option > Tick the box Request that sites not track you
Under History > On the first option Select on the drop-down Use Custom Settings for History
Select Never > The changes will be automatically changed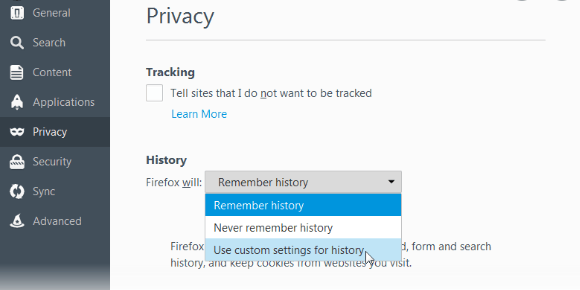 Remember: Blocking Third-Party Cookies can have undesired outcomes. From one viewpoint, you're certain to have the option to keep these adverts from having the option to follow your whereabouts.
Clearly, that is something to be thankful for and not many individuals won't have any desire to stop that.
Then again, blocking cookies may impair highlights and features. So as to get them back, you need to unblock those third-party cookies, there is no option in between.
Part 4: Conclusion
Since the market competency on the web nowadays is so tight, sometimes we could not blame those marketers that generate those ads and reason for them to even track what we search on the web. It is like it's their way of pairing up the target market and their clients.
Though we have an option to block those Tracking Cookies from getting into our system there are some consequences that we need to face and there is not getting in between.
The reason behind it is best advised that we perform a deep clean on our Mac on a regular basis, not just we can utilize the personalization feature of the cookies also to help us be more secured by cleaning it up every now and then.