In this piece, you'll learn the ropes on how to remove opera from mac with a powerful proprietary tool developed to erase stubborn software. Opera data lurks in your registry if you just drag and drop to the Trash.
Download the latest version of Mac Cleaner to access the nifty uninstaller before continuing. Your Opera browser may fall prey to virus or malware corrupting the entire program and you've to get rid of it.
Opera refers to a web browser engineered by a Norwegian company. A prototype version of Opera with the Presto layout engine still works on Free BSD architecture. The flagship web browser dropped its paywall in 2005 to become freeware.
Article GuidePart 1: How to Completely Remove Opera from MacPart 2: How to Uninstall Opera on Mac ManuallyPart 3: Alternatives to Solve Opera Problems Instead of UninstallingPart 4: Wrap-Up
Part 1: How to Completely Remove Opera from Mac
Why Uninstall Opera on Mac?
Opera browser exists as either a detached browser on Mac or embedded into third-party apps. Mac platforms have users flocking with concerns of uninstalling Opera web browser from the Applications directory.
Failure to erase all pieces of data affiliated with the browser will corrupt a future installation of Opera. This comes in handy if you want uninstall and reinstall immediately lest it gets unstable or dysfunctional.
Completely Uninstall Opera Browser on Mac
Stubborn applications throw a spanner in the works when you want to remove them manually. It also takes time and efforts trying to locate every rogue file. You can use a one-click method to get rid of Opera on your computer forever with iMyMac Mac Cleaner's uninstaller tool.
This dedicated tool will go at stubborn apps like a boy killing snakes. It's a very straightforward app that makes this brain-agonizing process a breeze.
Download and install the latest version of Mac Cleaner to access the specialized uninstaller instrument.
Launch Mac Cleaner and choose the Uninstaller module in the left column.
Click on the Scan option and it'll generate a detailed list of all software installed on your computer.
Select Opera web browser and hit the "Clean" option and authorize the operation. It will wipe away the unwanted app.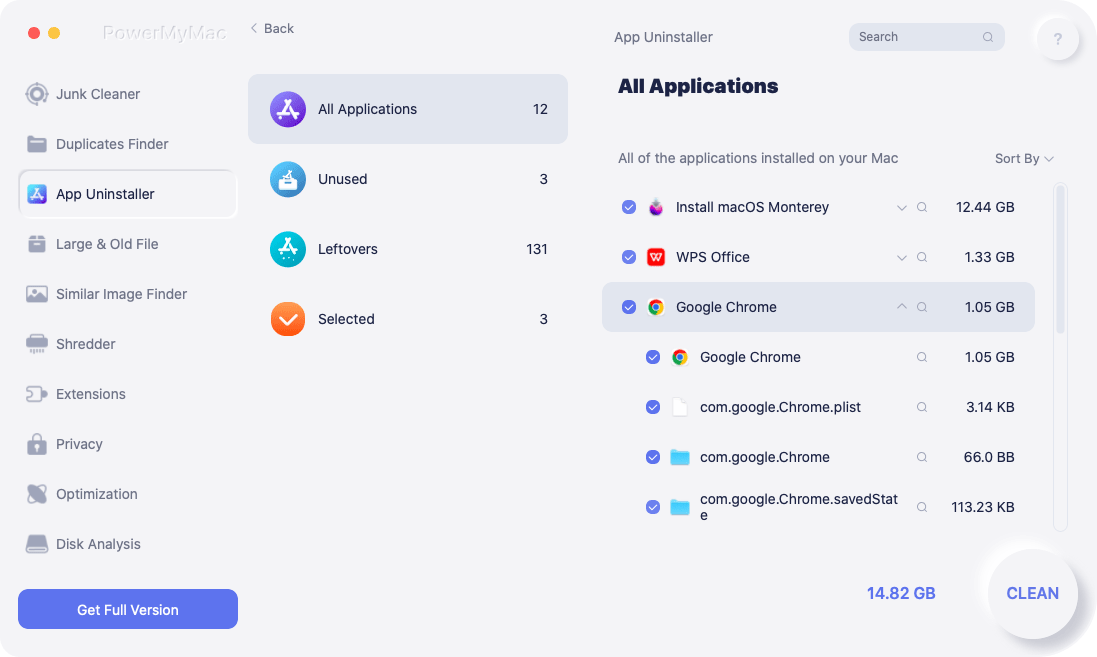 The tool eliminates leftover files decisively to a clean slate. You don't have to scramble with the remnants of Opera that bypass the default uninstaller.
Part 2: How to Uninstall Opera on Mac Manually
Method 1: Delete Hidden Opera via Shortcuts
Stubborn applications entrench in unknown locations making it harder to pinpoint. However, there are a number of ways to smoke out associated data via Spotlight searches or Terminal commands. If Opera launches with contextual menu shortcuts, follow the steps below:
Fire up Opera browser with the 'open with' option in the contextual menus. It should pop up in the Dock like other apps.
Right-click the web browser and choose "Show in Finder" menu option. This will launch a folder with the browser.
Erase the browser by simply deleting it.
You may want to restart your computer after deleting to update contextual options or other application links.
Method 2: Remove Opera Manually by Drag and Drop
First, you'll have to shut down Opera if it's still running in the background.
Head to Applications>Utilities before double-clicking Activity Monitor to fire it up.
Check for processes with Opera in the title.
Click on files with Opera icon and then hit the Quit process option in the toolbar.
Once you've shut down the Opera browser, close Activity Monitor.
Next, navigate to Applications folder, seize and drag the Opera browser to the Trash. Empty and embark on deleting all files in your startup drive.
Go to Finder, click Go menu and select "Go to Folder" then enter the following into the text field: ~/Library/Caches
Zero in on the following folder: operasoftware.Opera
Once you pinpoint it, yank it to the Trash and empty it.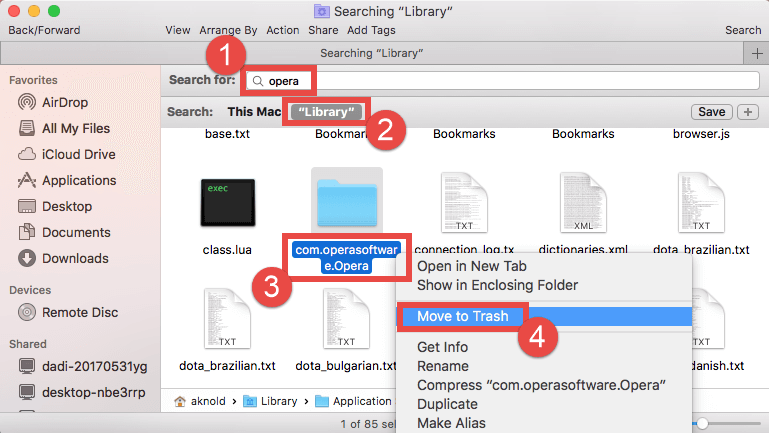 Part 3: Alternatives to Solve Opera Problems Instead of Uninstalling
Alternative #1 Reset Opera on Mac
Apart from uninstalling the Opera app, resetting it can resolve issues on your Mac caused by corrupted files. You should consider this solution to avoid the stresses and strains of uninstalling apps. This is because it wipes out certain settings or preference files but leaves Opera intact.
Once you launch it, it runs like stink as if you just installed it anew. Users with firsthand knowledge suggest this helps address a slew of performance issues. To reset the browser back to square one:
Click on the Opera icon in the upper left of the Window interface, select Update & Recovery.
Tap on Recover to access a list of options to delete pinned tabs, cookies, and temporary data. It also disables extensions. Decide whether you want to save bookmarks, archived passwords, or history.
Alternative #2 Remove, Scan and Shield your Mac from Opera Virus
For Macs hit by the Opera virus redirect, you've to remove the threat from your machine. This is a string of viruses devised to hijack your browser or throw up multiple on-page redirects with a flood of ads on your system.
If your browser spews different genres of online ads that slow your Mac, it's infected by this virus. Tool up with a state-of-the-art malware remover to scan and wipe it away professionally without opening a new can of worms.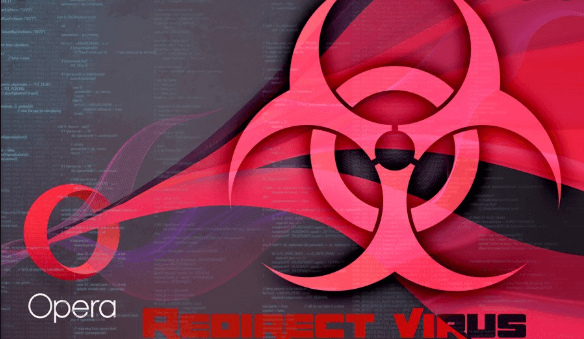 Part 4: Wrap-Up
We've condensed quick, super-easy ways on how to remove Opera from Mac. I hope our suggestions gave you something extra in your bag of tricks to successfully remove the web browser.
If you encounter difficulties during the uninstallation process, please let us know, and we'll respond soon. Apart from its efficiency in purging unwanted programs from your machine, Mac Cleaner packs advanced features for tidying up your system to reclaim storage space and optimize performance.
Use a dedicated program uninstaller to sift through the depths of your machine and wipe away all traces of Opera. This will ensure there are no undercover files that outlive a banished program. Resetting will fix performance issues and save you the hassle of uninstalling.