Apple File System (APFS) is a newly-created file storage system with a slew of features and benefits for users. When you upgrade a Mac to macOS 10.13 High Sierra, 10.14 Mojave, or 10.15 Catalina, the system drive converts to HFS+ to APFS automatically. You will see an "Other Volume in Container" in the Storage area and "Other Volume" set nestled in Disk Utility.
APFS introduced a novel file system with a set of new principles for formatting or managing drives. Users stumble upon "Other volumes in container on Mac" when it gobbles up hundreds of gigabytes, often slowing down Mac.
This article feeds into the quest for hacks about other volumes in container, APFS partition and how to manage your file system.
Article GuidePart 1: What Does 'Other Volumes in Container' Mean?Part 2: How to Delete an APFS Volume and ContainerPart 3: Other Options to Clear Other Volumes in Container on MacPart 4: Conclusion
Part 1: What Does 'Other Volumes in Container' Mean?
In the advent of macOS 10.13, Apple unveiled APFS out-crowding HFS+ in every Mac computer, iPad, and iPhone. Most users encounter the "Other Volumes in Container" prompt in Disk Utility. It's an eye-catching message as these volumes depict they eat up hundreds of gigabytes in aggregate hard drive space and the size balloons gradually.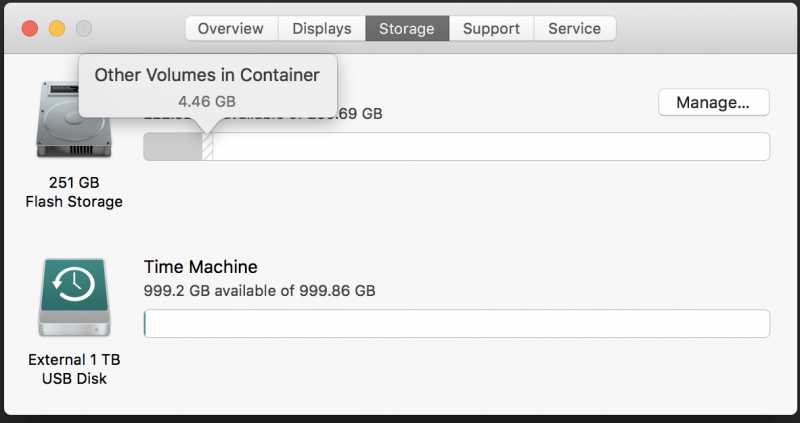 At this point, you're scrambling with other volumes in container or how you remove them from Mac to free up storage. Entry-level startup APFS containers integrate Preboot, VM/Virtual Machine, Recovery, and Macintosh HD. Accordingly, "other volumes in a container" refers to these components of APFS.
In APFS parlance, a container refers to the basic storage unit. Each APFS container holds one or more volumes. A physical drive is divisible into different containers. The volumes depict actual drives accessible via Finder but you can only see containers in Disk Utility.
Deleting an APFS volume differs from an APFS partition. The riddles of APFS partition, APFS container and APFS volume stem from this issue. Removal of other volumes in a container is out of question as these pieces of data are essential for Mac to run.
The only solution is to rein in other volumes in the container and prevent it from expanding. This way, you can shrink the space eaten up by other volumes.
Part 2: How to Delete an APFS Volume and Container
Let's begin with the most straightforward. You can remove APFS volume with simple steps for Macintosh HD and an external drive. Invoke Disk Utility to delete an APFS volume.
Head to Application> Utilities > Disk Utility and pinpoint the APFS volume that you wish to delete.
Right-click on APFS volume and select "Delete APFS volume".
Hit the "Delete" option when re-prompted "Delete APFS volume".
Wait until the removal process ends.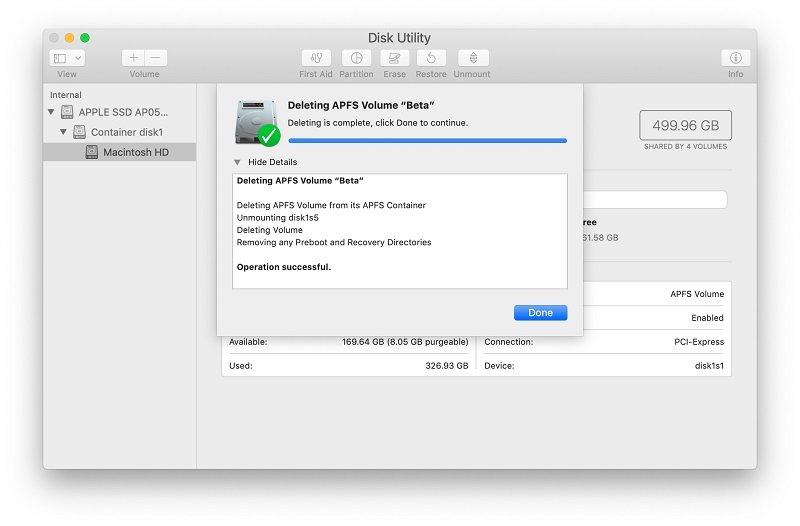 Delete an APFS Container/Partition on Macintosh HD
Unlike erasing an APFS volume, when you right-click the APFS partition or container via Disk Utility, you don't get an option to delete. Deleting your APFS partition takes different approaches for Macintosh HD and external drives. Given an APFS partition or container for Macintosh HD holds system data, tampering with the files means the Mac computer is not bootable.
Go to the Apple menu, select Restart on Mac.
As your computer restarts, press the Command + R right away once the startup chime becomes audible. Release the buttons until you spot the Apple trademark.
When you shift to Recovery Mode, hit "Utilities" on the upper menu and choose "Terminal" in the drop-down window.
Fill in the command diskutil list and hit Return to unveil all of your mounted drives.
Type diskutil apfs delete container disk0s2 and substitute disk0s2 with the existent APFS container's identity.
Delete APFS Partition/Container on External Drives
With an APFS external hard drive, you can amalgamate APFS partitions with the following steps:
Click Application > Utilities > Disk Utility.
Select "View" in the left menu bar and pick out "Show All Devices".
Right-click the APFS container in the left panel and tap on "Eject" in the menu.
Once you eject the APFS container, you need to fire up Terminal (Application > Utilities > Terminal).
Next, enter the command diskutil list. This will throw up all the information of the disk. Pour over the readings to differentiate the identifier for your APFS container.
Once you know its identifier, you can type diskutil apfs deleteContainer disk2s3 (Replace disk23s with the existing device identifier).
Part 3: Other Options to Clear Other Volumes in Container on Mac
Get Rid of Retrievable Space with Mac Cleaner
iMyMac Mac Cleaner represents the cream of space-freeing tools for general maintenance. It hives off space on your startup disk occupied by redundant files when your Mac falls short of storage. It scans the bowels of your system to wipe away junk to fix other volumes in a container gobbling up excess space.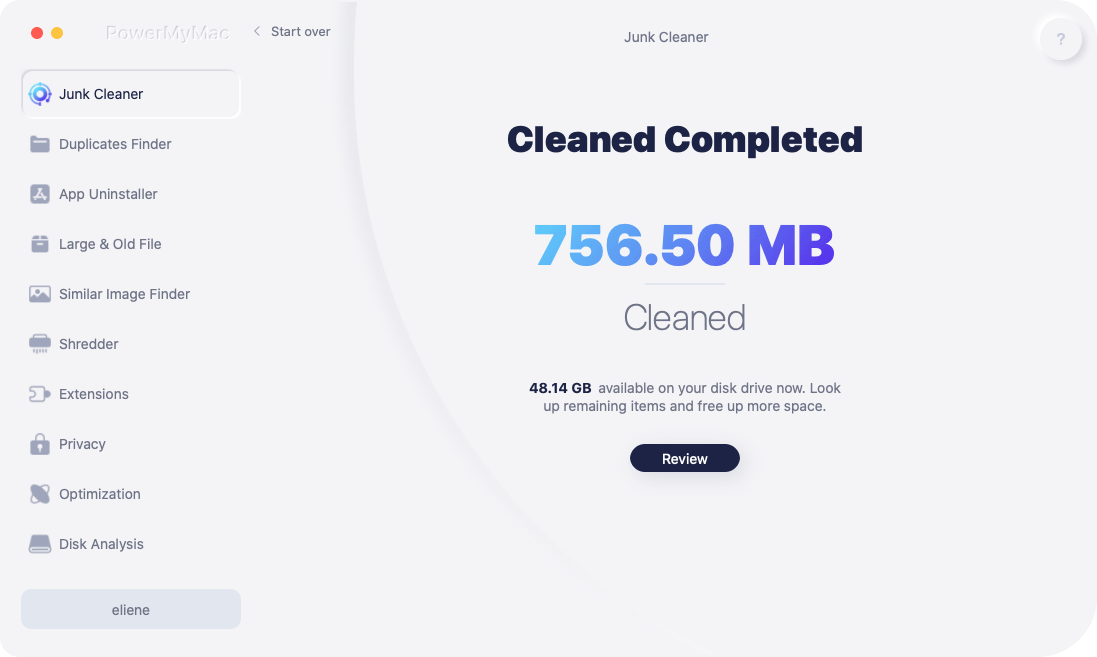 Combined with system junk, photo junk, duplicates, large or obsolete files create a recipe for a tired and sluggish Mac. Tidy up system junk to drive performance to full pelt and reclaim storage space with Mac Cleaner regularly. It seizes system cache, user logs, localization, and traces of purged apps.
Under the hood, Mac Cleaner sports an activity monitor to check memory status and identify processes slowing down your Mac. Shut down the app and check about this Mac to see if you've removed 'other volumes in container' wanes.
Toggle Off Content Caching
Content caching saves updates for synced devices on your Mac's local network so you don't need to download them online. However, these are space-avengers out hungry for precious slots on Mac. Head to the Apple menu and select System Preferences, hit Sharing pane and uncheck the box near Content Caching if necessary. Restart your Mac.
Mac Tip: If none of these steps does the tricks, try to recreate your user account to retrieve storage from other volumes in a container.
Part 4: Conclusion
macOS has seen plethora advancements to storage space because SSDs have lower capacities than physical disks. You need to proceed with extra caution to avoid data loss when removing an APFS container, volume, or partition. In a nightmare scenario where data is lost, use APFS data recovery software to recover lost files.
Mac Cleaner tools up your machine with an anti-other-volumes-in-container tool to hold guard against ebbing space.
Did it work? Please give ebullience to others in the same boat.