Formatting an SD card is quick and easy. Thanks to your Mac's Disk Utility. Find out the complete steps in this guide on how to format SD card on Mac effectively.

Tips:
Part 1. How to Format SD Card on Mac via Disk Utility
SD cards are highly popular forms of storage devices especially for electronics such as smartphones, DSLRs and more. These tiny chip-like storage devices are lifesavers for our everyday use. However, before you can use them completely, you need to format the SD card first.
In this tutorial, we will teach you how to format SD card on Mac using the Disk Utility. First, you have to understand that formatting an SD card or micro SD card will erase all data saved on the card as set a file system format for the SD card.
To ensure that all your files such as photos and videos are safe, copy these media files or create a backup.
Once you are done taking backups, follow these steps on how to format SD card on Mac:
Mount your SD card or micro SD card to your Mac. Make sure that the metal contacts face down and pointing towards your computer.
Before inserting your SD card, verify if your Mac supports an SD card slot otherwise you can use an SD card adapter.
Launch the Disk Utility. You can do this by going to Finder, then go to Applications and select Utilities

Find and select your SD card from the left sidebar.

At the upper toolbar, click Erase

Create a name for the SD card and select the file system format you want to use. If you have an SD card with 64GB or larger, choose ExFAT. If you have 32GB or smaller then choose FAT32. Macs with SD card slots running on OS X 10.6.5 or later can use the exFAT file system.

Wait until formatting is complete and click done.

Safely eject your SD card/micro SD when finished.
Don't be too excited to pull out the SD card without safely ejecting it from your Mac. Just make sure you are not bypassing some operations and cause issues on your SD card.
After safely removing your card, you are now able to use it in whatever purpose you wish such as using it in another device.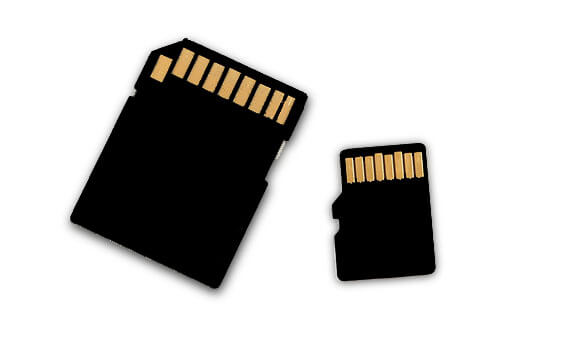 Part 2. How to Format SD Card on Mac without the SD card slot
After 2016, Mac Book releases did not include SD card slots which meant getting an extra piece when you needed one.
You can get a USB SD card reader or adapter depending on the Mac device you own. The price ranges from $7-$30.
Once you have the card reader ready, you can follow the same guide mentioned in the first part of the article.
Part 3. How to Select the Correct File System Format
Mac supports the SD 1.x, 2.x, and 3.x standards. Your SD card slot should work with:
4MB to 2GB – Standard SDs

MMC (Multimedia Cards)

4GB/32GB - SDHC (Secure Digital High Capacity)

4GB to 2TB - SDXC

UHS‑II - up to 2TB for iMac Pro only
Your device also supports SD card adapters for MiniSD, MicroSD and even higher densities including MiniSDHC and MicroSDHC.
Each SD media has a different transfer rate. You can check with the package to determine the transfer rate of your SD card. Mac desktops have faster transfer speed in which you can check it by:
Click the Apple menu

Go to About This Mac

Click System Report
Mac notebooks, on the other hand, use the USB bus to communicate with the SD card slot at a maximum speed of up to 480Mbit/s.
Part 4. How to Format Corrupted SD Card on Mac
We may not avoid it sometimes that SD cards get corrupted due to various reasons. Regardless of the causes, you can format a corrupted SD card on Mac by following these steps:
Insert the SD card into the card slot or the adapter.

Open Disk Utility. You can also launch it by double-clicking its icon or go into the Utilities folder inside Applications.

On the upper toolbar, click First Aid. You can choose to click the Show Details box to see how will the Disk Utility repair your SD card

Click on Repair Disk button found at the bottom-right corner

Wait until Disk Utility completes the repair. You can see a progress screen filling up from left to right

Quit the Disk Utility once the progress bar is filled completely

Drag the SD card icon from the desktop into the Trash folder and wait until it disappears

Safely remove the SD card from the card slot.
Again, un-mount the SD card properly from your Mac because sometimes, a careless mistake can cause card corruption.
Good thing, your Disk Utility offers a wide range of functions including repairing the SD card structure. You may now use your SD card as you wish after its recovery.
Part 5. How to Import Media Files from SD card to Mac
–
Bonus Tip
SD cards hold a lot of photos and videos, especially when used in smartphones. If you own one and you wish to import it to your Mac, you can do the following:
Mount your SD card into the card slot or an SD card reader.

Go to Photos and click File and then select Import

Carefully select the photos and videos you want to transfer and then click Review for Import. You can also select Import All New Photos if you want.

Click the Import To pop up and set a file location

Name the folder and continue to import media files when needed

After transferring all the photos and videos, you can select to delete the media contents inside the SD card. (*Optional Step)

Safely eject SD card after use
Otherwise, if you have an iOS device, you can simply turn on the iCloud backup or use iTunes to sync the photos.

Part 6. Summary
We have just completed the tutorial on how to format SD card on Mac using the Disk Utility. You may also choose to download third-party software to format your SD card but it comes with a price.
I hope you have learned a lot of important things such as repairing a corrupted SD card and even understanding the different SD file system format supported by your computer. We even gave some bonus tips on how to import your files from the SD card.
You can also let share this to your friends so they too can learn great tips and tricks on your Mac!