You have the option to record video on Mac. Whether you want to capture a special moment as a movie, record a quick video presentation or record a movie for social media purposes, you can effortlessly record video on Mac. Depending on the reason, you can simply utilize the front camera and a built-in application on your device.
There are various ways to record video on Mac, but we will take a close look at recording video using QuickTime Player and other built-in apps in your device. Remember that the software is included on all Macs and all devices have a built-in camera to record from. You will have a movie file that you can share, upload, revise or utilize in any way you want.
TIPS:
Article GuideSimple Preparatory WorkHow to Record Your Screen on Mac Using QuickTimeHow to Record Video on Mac Using iMovieHow to Record Video on Mac Using Photo BoothLet's Wrap It Up
Simple Preparatory Work
Since you are going to record videos on your Mac, you will surely need a tool to keep your video files in check especially if you already have several video files stored on your Mac.
A highly recommended application is PowerMyMac by iMyMac, specifically its Duplicate Finder tool in the Cleaner module. With the Duplicate Finder tool, it will find and remove any duplicate video files on your Mac. Doing so will help free up space and optimize the overall functioning of your device as well as ease the burden of having to scroll through duplicate video files. In addition, another useful tool is the FileManager which is found in the ToolKit module which allows you to view detailed information of your files as well as also aids with the removal of unwanted ones.
Before you decide to record video on Mac, you need these useful and highly efficient tools by PowerMyMac.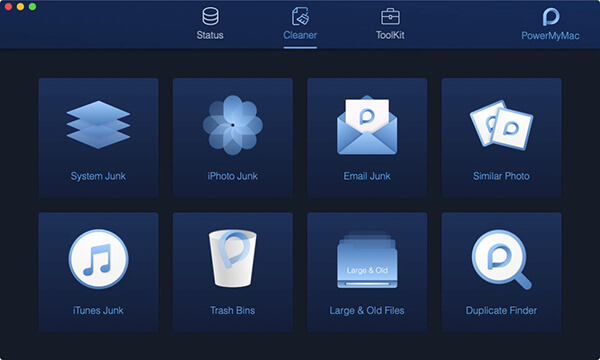 How to Record Your Screen on Mac Using QuickTime
QuickTime is not only a video player but can also be used to record videos on Mac on your screen.
QuickTime Player is a powerful application that possesses several useful features and recording capabilities including a screen recorder to capture videos on your Mac display which is a similar choice to record an iPhone or iPad screen. In addition, it can also record sound and audio by utilizing the built-in microphone of your device.
If you want to record a video on Mac using QuickTime, simply follow these steps.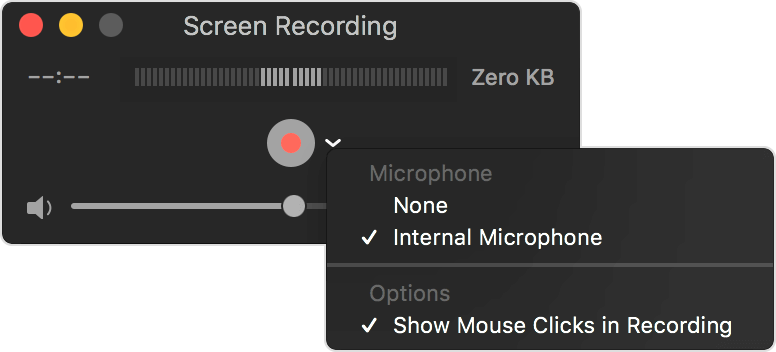 · Step 1. Open QuickTime
It is a simple task to record any event you are watching on your Mac. You can start to record your screen by opening QuickTime. This program is already installed by default on your device.
You can find QuickTime in the dock. If not, you can check out the Applications in the Finder or simply press F4 on the keyboard to check if it can be found in the LaunchPad. Another approach is to search for QuickTime in Spotlight. Simply key in CMD+SPACE BAR and type QuickTime.
Once you have opened QuickTime, tick on the New Screen Recording at the File menu or right-click on the QuickTime knob in the Dock and choose New Screen Recording at the menu. Take note that although there are other suggestions on how to record video on Mac, this is the simplest approach since it utilizes QuickTime which is readily available in most Mac computers.
· Step 2. Select a suitable recording option.
The recording box will open. Tap on the drop-down menu arrow to preview other available selections. You have the option to choose whether to utilize the built-in microphone or an external device for sound which is essential. You also have the option to change other settings such as canceling out the audible clicks of the mouse.
· Step 3. Recording a voice-over
You can record a voice-over if you are going to record a video on Mac. Simply click on the triangle positioned just beside the record button in the window.
At this point, you can select the audio source. You can decide whether to use the in-built microphone of your device or an external one.
· Step 4. Partial or entire screen recording
You have the option to choose to record videos on Mac using only a section or the entire screen. In case you want to record only a segment of the screen, simply click on the red Record button.
A message will appear and instruct you to drag to record part of your screen. Drag the box over the part of the screen that you want to record (it will look like a visible marked area on the screen).
Once you have the ideal area chosen, click on the Record button again. You can record the entire screen as well. Simply click on the red Record button and click anywhere on the screen to start recording. Since you did not drag to select an area, the whole screen will be recorded by default.
· Step 5. End of the recording
Once the recording is completed, right-tap on the QuickTime knob and click on the "Stop Recording" option from the selection. Doing so will stop the recording process on your device and you will be reminded to save the recording.
· Step 6. Saving your video
When you are done with recording, you must save the video file. The videos that you will save is compatible with iMovie.
The general format of the video used by QuickTime is ".mov" but you have the option to save the recorded file in other formats or later converted if necessary. It is important to note that the .mov file is readily compatible and can be directly uploaded to any social media or accessed on any Mac, iPad, iPhone, Android or even on Windows without requiring format conversion.
As for the resolution of the recorded video, it depends on the model of your Mac and the native screen resolution. Generally, you can expect the resolutions to range from 480p to 720p for the majority of the recorded videos. QuickTime might compress these videos; thus the overall quality tends to vary.
Furthermore, if you want complex videos, QuickTime might not be a good choice. This is a potential drawback with QuickTime. You must use a more powerful application in such cases.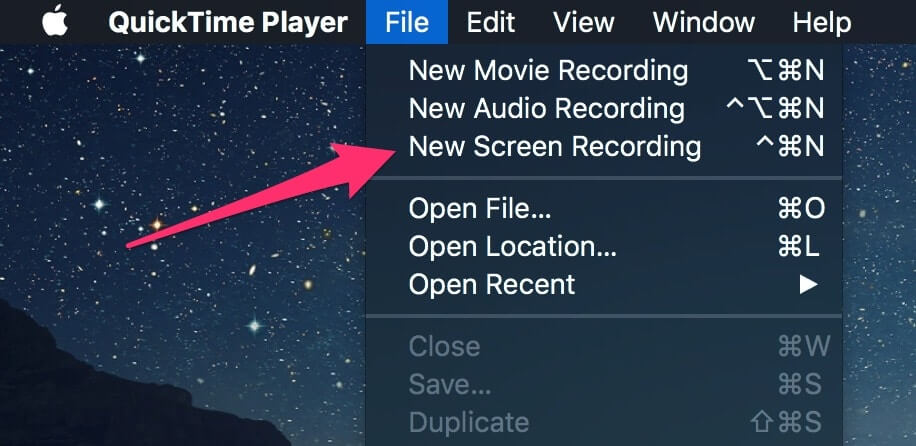 How to Record Video on Mac Using iMovie
iMovie is also a popular choice as a video editing tool in Mac for novices since it is easy to operate. You have the capability to record tutorials or demos using iMovie easily either by using the in-built camera of your Mac or using an external device.
Step 1. Open iMovie
Step 2. Click on File and select "New Event"
Step 3. Click on the "Import Media"
Step 4. Select the front camera of your device
Step 5. Tap on Record to begin the recording process
Step 6. Click on the save button once finished.
How to Record Video on Mac Using Photo Booth
You can also record video on Mac with the help of Photo Booth. With this application, it is an easy and fun way to create selfies and even record small videos. You can utilize a variety of effects before starting your video by clicking on the Effects button once you have opened the application.
Step 1. Double check to ensure that you have selected video in the bottom left corner of the application
Step 2. Click on Record
Step 3. Click on Stop to finish the recording process
Step 4. When saving your video, click on File > Export
Let's Wrap It Up
You can effortlessly record video on Mac using a variety of methods discussed above. Depending on your purpose for recording videos on your Mac, you can choose a method that you prefer.