If you're here, you may want to uninstall BlackHole on Mac. You want to know how to remove the app or driver from your computer to save more space. Or, you may simply want to uninstall to fix issues and reinstall it back again.
BlackHole is a virtual audio driver for modern macOS computers. It enables different applications to transfer or pass audio towards other apps. This is done with zero added latency. BlackHole has a lot of features including support for both Apple Silicon and Intel chipsets. It can also be customized to more than 256 different audio channels.
Here, we will discuss BlackHole and how to remove it from your Mac computer. The different steps to uninstall BlackHole on Mac will be shown. We will teach you both manual and automatic ways of removing the said audio driver from your Mac.
Contents: Part 1. How Do I Manually Uninstall BlackHole On Mac?Part 2. Easily Uninstall BlackHole on Mac with A Professional ToolPart 3. Conclusion
Part 1. How Do I Manually Uninstall BlackHole On Mac?
Here are the steps you should follow in order to manually uninstall BlackHole on Mac. If you installed the said app from the official Mac App Store, you can do the following steps in order to remove them:
Make sure the BlackHole app and its related processes are closed. To do this, visit the Activity Monitor of your computer and quit all processes and apps related to BlackHole.
Within the Dock, press the icon for Launchpad. Then, find the icon for the BlackHole driver. Once that is done, long-press or long hold the said icon till it shakes.
Now, press the delete button within the upper left corner of the icon to delete the app.
Now, locate the uninstaller app of Black Hole. A new window will show up. Follow the prompts on the screen to remove BlackHole using the uninstaller.
Now, visit the Applications Folder on your computer. Within that Applications folder, find the Black Hole app or driver. Move this towards the Trash to uninstall BlackHole on Mac. If the computer asks for the password, input your admin password. After that, click OK to confirm that you really want to remove the audio driver.
Empty the Trash.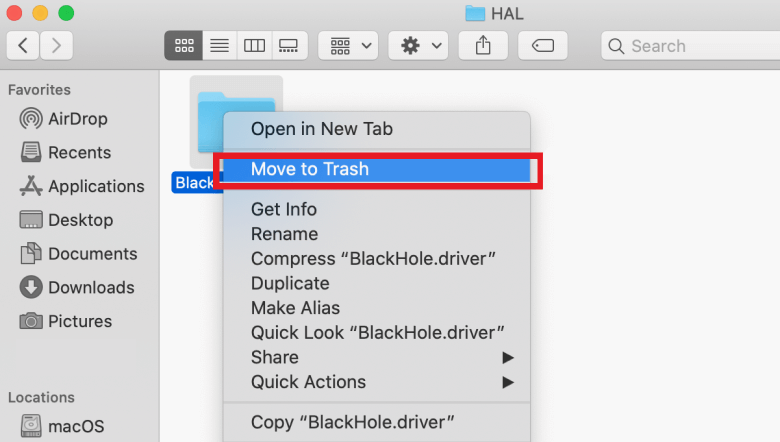 Now, that is not the complete way to uninstall BlackHole on Mac. You still have to locate the leftover files and delete them. To do that, follow the steps below:
Press the Go menu at the top of the computer's screen.
Now, press the option that says Go To Folder.
In the new window that appears, click on the search box. Type ~/Library in it and then click the button for GO.
Visit the following subfolders of the main Library folder below:
Library/Application Support/
Library/Preferences/
Library/Caches/
Now, in that subfolders, you should locate all the data associated with Black Hole. Deleted all these associated data to completely uninstall BlackHole on Mac. Check out each subfolder one by one and make sure you don't miss anything.
Empty the Trash afterward. Then, you can simply restart your computer.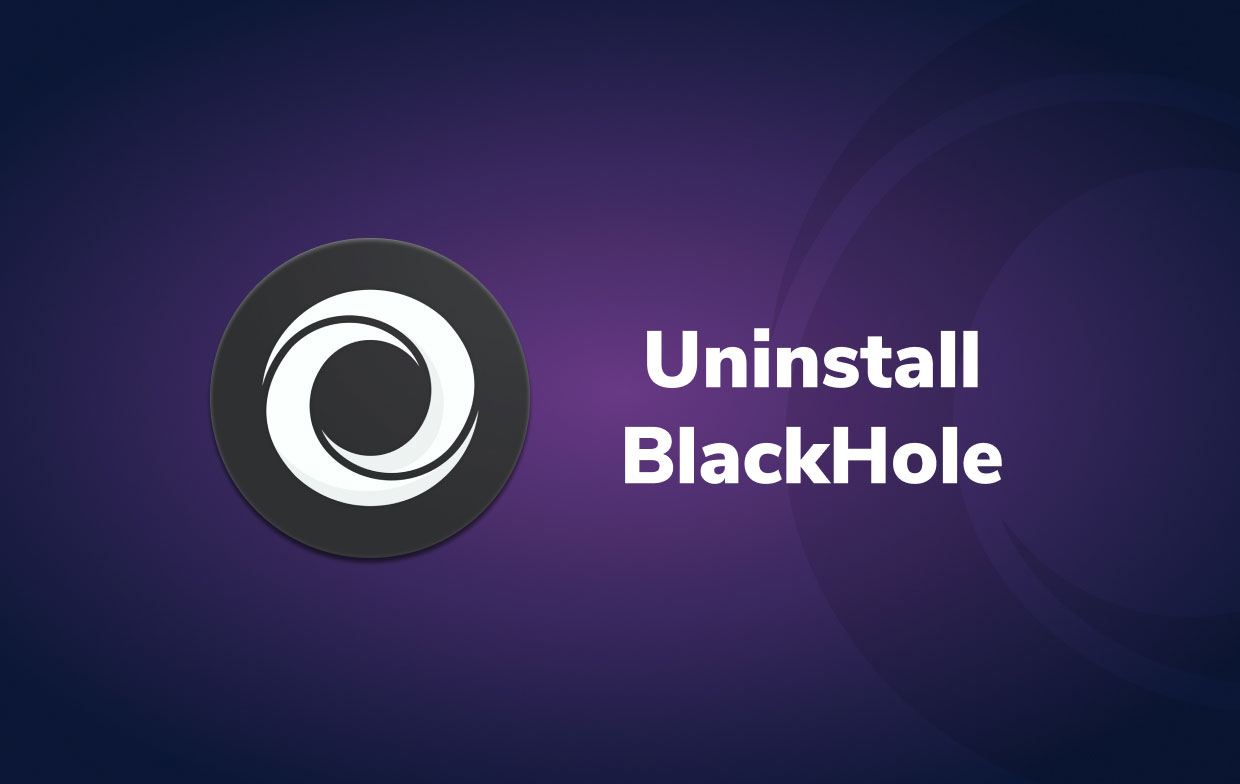 Uninstall BlackHole on Mac Using Terminal
Apart from manually uninstalling the audio driver from your computer, you can also use the Terminal in order to do it. The steps are very easy to follow. Just check it out below:
Go to the System Settings within your Mac computer.
On that System Settings, make sure you close and exit audio devices. These include closing Sound and closing Audio MIDI Setup.
Now, open the Terminal.
Now, you have to visit the directory where the said BlackHole audio driver is found. To do that, you can simply type the following command without the dot at the end: cd /Library/Audio/Plug-Ins/HAL
Now, ensure that the audio driver is in that location. To double-check, just locate the directory named 'BlackHole.driver' ls.
Now, to uninstall BlackHole on Mac, you have to remove the said driver. It is necessary to delete 'BlackHoleXch.driver', and to do that, you have to type the following commands on your Terminal:
COMMAND TO REMOVE OLDER DRIVERS: sudo rm -rf BlackHole.driver
COMMAND TO DELETE 16CH DRIVER VERSIONS: sudo rm -rf BlackHole16ch.driver
COMMAND TO REMOVE 2CH DRIVER VERSIONS: sudo rm –rf BlackHole2ch.driver

Type the command: sudo launchctl kickstart -kp system/com.apple.audio.coreaudiod in order to restart the main or core driver for audio within your Mac computer.
Now, you can check out your setup for Audio MIDI or your System Preferences. Ensure that the audio driver for BlackHole is not available anymore.
Part 2. Easily Uninstall BlackHole on Mac with A Professional Tool
You can also use iMyMac PowerMyMac in order to uninstall apps and drivers within your computer. This professional tool has a lot of features that can help you do many things on your Mac.
Its App Uninstaller module is used to remove apps and all of their associated data to perform complete removal.
If you find it difficult to manually uninstall BlackHole on Mac, try for free the PowerMyMac that will absolutely help you! You can also use it to remove those difficult-to-delete apps like iTunes, Roblox, Avast, etc.
Get A Free Trial Now!
Here are the steps to use it to easily Uninstall BlackHole on Mac:
Download, install, and then launch the PowerMyMac app on your computer.
Once opened, click the App Uninstaller module on the left panel. Then, click the SCAN button at the center.
On the list that appears, select the Black Hole driver. Make sure all related data are selected too.
Then, click the CLEAN button.
Wait for the uninstallation process to be done. The tool will send a confirmation. Once that is done, you can simply exit PowerMyMac. You can also restart your Mac computer if you want to.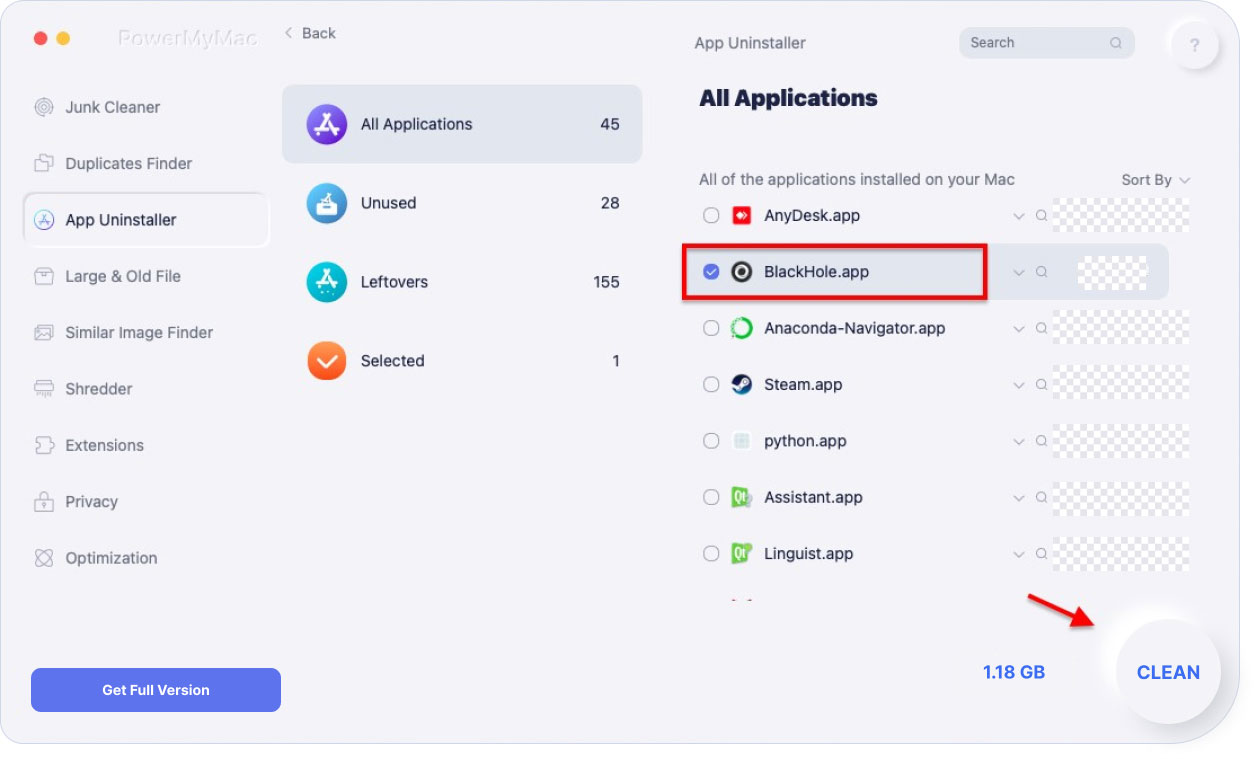 You can do more than just uninstall BlackHole on Mac! Use PowerMyMac to clean and optimize your Mac! In addition to uninstalling software, it can delete a lot of junk files, scan duplicate files, and large or old files, and you can manage your Mac's plug-ins to make the Mac run faster.
Part 3. Conclusion
This guide has taught you how to uninstall BlackHole on Mac. We gave you the manual methods to remove the audio drivers on your Mac computer. We even taught you how to do it using the Mac's Terminal. OF course, these methods are not recommended.
In the end, we talked about the tool PowerMyMac which will help you remove the app from your computer by deleting all data associated with BlackHole. In addition, you can use it to clean up Mac computers and optimize their performance.
Get A Free Trial Now!