Do you want to uninstall GoToMeeting Mac? Right now, it is one of the favorite tools for teleconferencing, online meetings, and even sales demonstrations. GoToMeeting plans, as you can see, are more focused on the scale that major companies would enjoy which is why its pricing is slightly higher compared to others.
If you're just beginning a small-to-medium-sized business that only needs to accommodate fewer people and are unable to fully benefit from the unlimited cloud storage and a no-minimum-host requirement plans, or if you want an app that focuses more on the end-user experience, GoToMeeting might not be the best fit. It is time to uninstall an application from Mac when it is useless for you. The following will show you how to uninstall GoToMeeting on Mac properly.
Article GuidePart 1. Can I Cancel GoToMeeting? Part 2. How Do I Uninstall GoToMeeting on My Mac?Part 3. Conclusion
Part 1. Can I Cancel GoToMeeting?
Your GoToMeeting subscription is scheduled to renew automatically at the end of your monthly or yearly plan. The billing contact on the account has the option to cancel the next scheduled payment at any time. No need to worry, you can always reactivate your GoToMeeting membership at any time if you change your mind.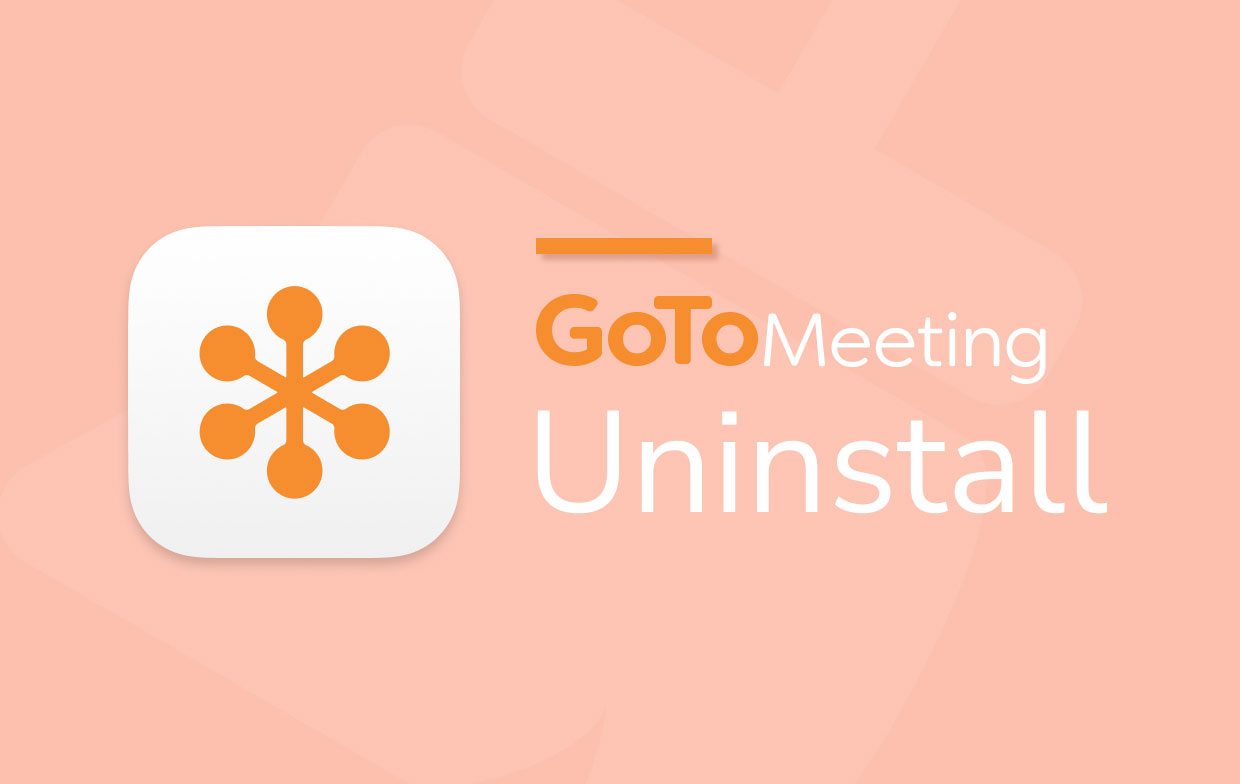 Signing up for a free GoToMeeting trial without providing billing information is preferable. A paid plan will automatically take place after the trial period ends, so it will save you money and avoid any unnecessary bills if you don't want to go through with it. If you already have one, here is the way on how the cancel your GoToMeeting subscription.
Log in to your account on the Billing Center.
Click the Options icon in the upper-right corner of your product subscription on the Subscriptions page, then click Cancel Subscription. When prompted, check the confirmation window's details and click Yes.
A confirmation notice will appear showing your subscription information like the membership plan will expiration. An email confirmation will be sent to the email address associated with your account.
You have successfully disabled automatic renewal for your selected subscription, and a "Pending Cancellation" notification will display underneath the product on your Subscriptions page. After canceling your subscription, we can now proceed on how to uninstall GoToMeeting on Mac
Part 2. How Do I Uninstall GoToMeeting on My Mac?
If you wish to thoroughly remove GoToMeeting, you should know that just dragging and dropping the app to the Trash will not work. Its residual files, logs, caches, and other data do not harm your system, but they do eat memory. On your Mac, the GoToMeeting like any other app has support files and folders. These files are generated automatically when you use the program. They are necessary for the software to run smoothly.
Deleting the GoToMeeting.app file on your Mac, though, and the service files will be rendered unusable. If you decide to uninstall GoToMeeting, you must also uninstall its related files. With this in mind, we recommend that you read our tutorial on "How to Uninstall GoToMeeting on Mac" to do so effectively and safely.
Get rid of the executable file
Open the Finder app, click Applications on the left side menu. Select the GoToMeeting icon and drag it to Trash. If you can't transfer GoToMeeting to the Trash, hold down the Option key while selecting Empty Trash from the Finder menu, or restart your Mac and try again later.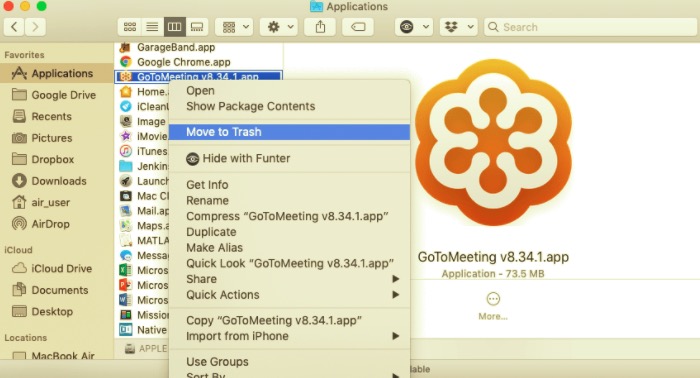 Delete the service files
To completely uninstall GoToMeeting on Mac, you need to delete the service files. These are kept in the Library folder, which is hidden. To get access to the Library folder, launch Finder, click on Go in the menu bar, pick Go to Folder from the drop-down menu, and then input the path ~/Library to access the hidden Library folder.
Find and remove the files connected with the GoToMeeting app in the Library folder. They can be found in the following subfolders:
Application Support: ~/Library/Application Support/LogMeInInc/GoToMeeting/
Caches: ~/Library/Caches/com.logmein.GoToMeeting/
Preferences: ~/Library/Preferences/com.logmein.GoToMeeting/~/Library/Preferences/ByHost/com.logmein.GoToMeeting.5EEBD9EO-EECD-54BA-A262-F2ED696E8A90.plst/
Logs: ~/Library/Logs/com.logmein.GoToMeeting/
Launch Agents: ~/Library/LaunchAgents/com.logmein.GoToMeeting.G2MUpdate.plist
Empty the Trash to complete the process. Make sure you restore any files you don't want to delete permanently by selecting the file, right-click, and selecting the Put Back option before emptying the Trash because this action is irreversible.
Efficient Solution to Completely Remove GoToMeeting on Mac
Fortunately, instead of manually looking for all service files, you have another alternative to uninstalling GoToMeeting on Mac automatically. PowerMyMac is a simple software that keeps things easy. Its Mac Uninstaller module is a powerful application that can help you uninstall GoToMeeting on Mac and its associated files with only a few clicks.
Get A Free Trial Now!
To remove the Mac version of GoToMeeting, follow these steps:
Select Uninstaller and then Scan to scan all of the apps that are already installed on your Mac.
When the scanning is finished, a list of all applications will appear on the left side of the Uninstall screen. Locate your GoToMeeting, in that list or use the Search box in the upper right corner to find it quickly.
After picking GoToMeeting, all of the files related to it will be displayed on the right side. Simply choose the application and hit the Clean button to remove GoToMeeting and all of its related files.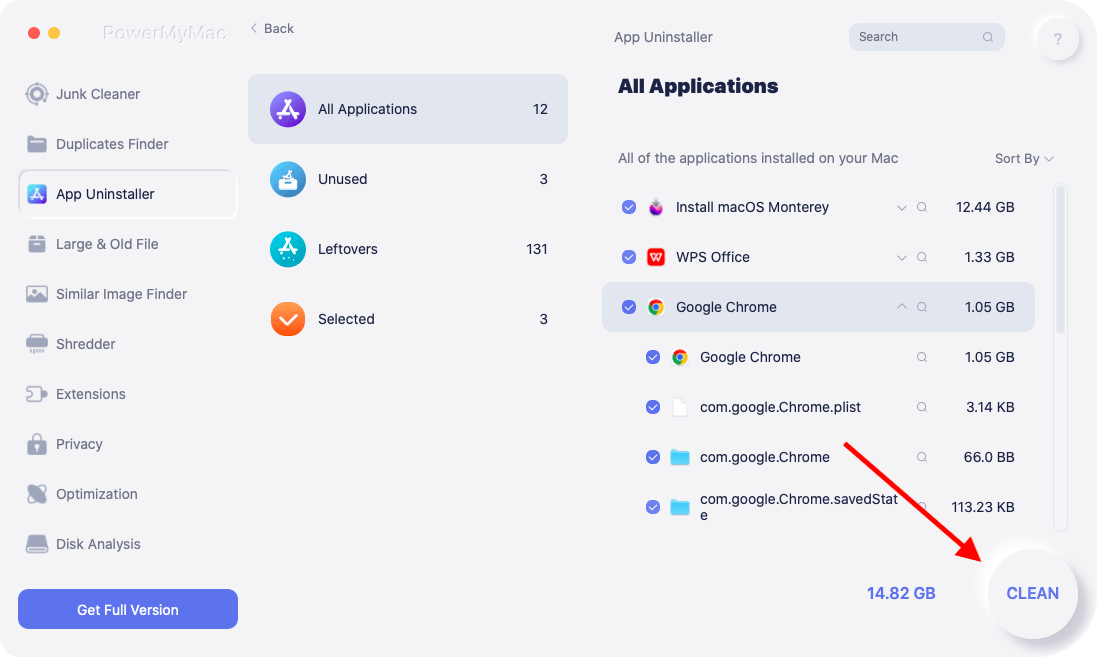 A "Cleanup Completed" pop-up window will appear, alerting you of the number of files deleted and the amount of space now available on your disk.
Part 3. Conclusion
We hope this answers your questions about how to uninstall GoToMeeting on Mac. As seen above, removing a program has a higher chance of leaving temporary and associated files behind if done manually. To uninstall GoToMeeting on Mac can be easy or difficult. It is entirely up to you whether to remove applications on Mac manually or automatically.
PowerMyMac, on the other hand, is an excellent alternative if you want to save time and uninstall an app completely. It does not only allow you to automatically uninstall an app and its related program, but it also cleans a large number of junk files and detects duplicate files to clear up disk space, making your Mac run much faster.