Perhaps you may have read that Trend Micro Antivirus was officially removed from the App Store after their clients' data was hacked. If you currently have the Trend Micro Antivirus on your Mac, you will most probably want to uninstall Trend Micro Mac entirely.
Trend Micro Internet Security (also identified as PC-cillin Internet Security in Australia and Virus Buster in Japan) is a consumer-oriented anti-virus and internet security program created by Trend Micro. Trend Micro Antivirus, like any other anti-virus software for computers, ensures your Mac is safe while you use it with security and privacy. However, you may decide to uninstall an app from your Mac completely due to unwanted circumstances.
In this article, you will be guided by different ways to uninstall Trend Micro on Mac without leaving any remnants and keeping your data safe at the same time.
Contents: Part 1. Remove Trend Micro Using Its Built-in UninstallerPart 2. Remove Trend Micro from Mac ManuallyPart 3. Completely Remove Trend Micro via PowerMyMacPart 4. Conclusion
Part 1. Remove Trend Micro Using Its Built-in Uninstaller
When you install Trend Micro Antivirus on your Mac, the antivirus software takes control of your web browser, microphone, and camera. Before you start uninstalling Trend Micro Mac, you need to stop all Trend Micro Antivirus processes. To do so, open Trend Micro Antivirus, click the Lock icon in the Overview tab to make changes, disable Trend Micro Antivirus features, and then click the Lock icon to save the changes.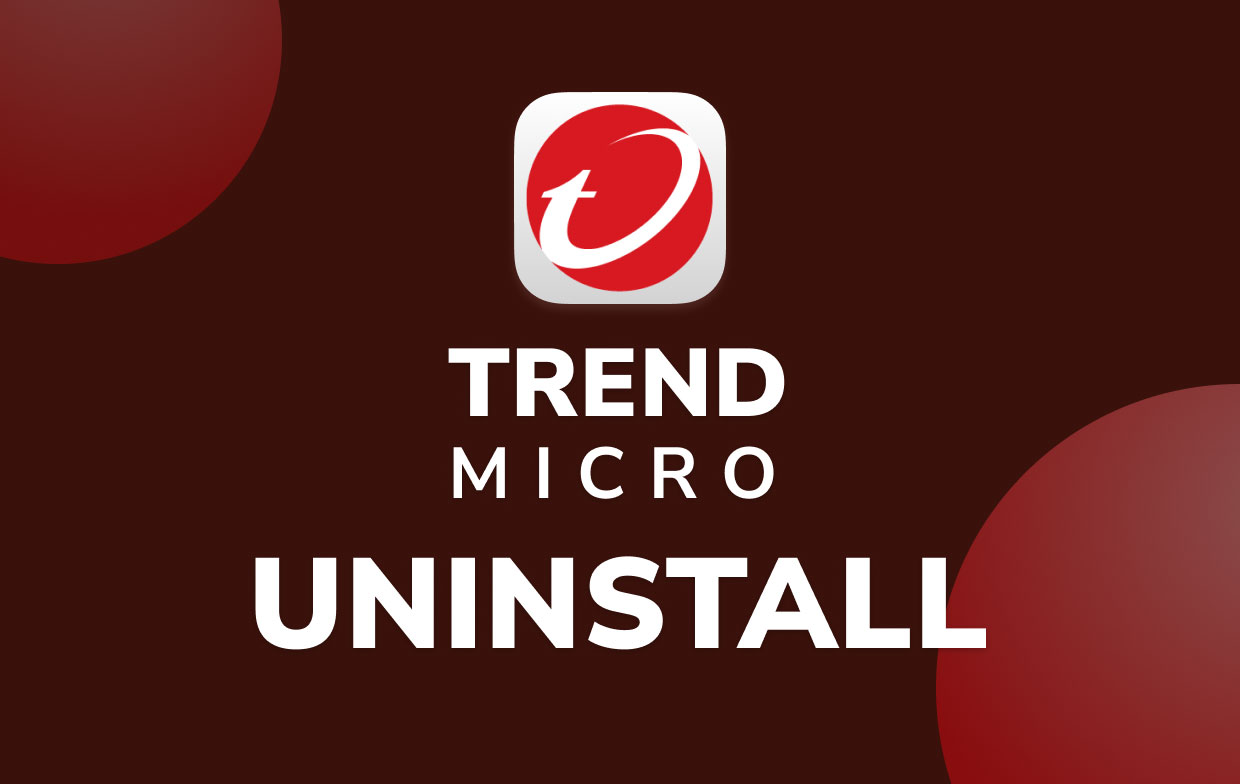 Trend Micro Antivirus has a built-in uninstaller software that will assist you if you want to uninstall Trend Micro on Mac. You may see that there is an uninstaller software in the Trend Micro folder in the Applications folder. This native Uninstaller was built by Trend Micro developers specifically for the removal of Trend Micro Antivirus software.
To use the Uninstaller to remove Antivirus for Mac, follow these steps:
In the Applications folder, find the Trend Micro folder and open it.
Double-click Uninstall Trend Micro Antivirus.app.
Click Uninstall to confirm the process.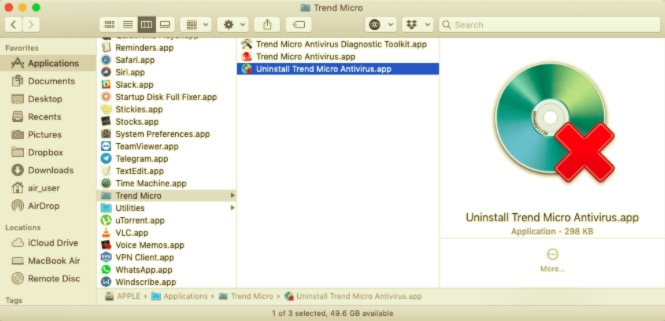 Unfortunately, this approach does not assure that Trend Micro Antivirus will be removed entirely. This means you'll have to go through the Trend Micro Antivirus manual removal process again to fully get rid of the program.
Part 2. Remove Trend Micro from Mac Manually
Before you begin to uninstall Trend Micro on Mac manually, be mindful that it will take some time and effort on your part. Applications, as you may know, generate additional service files on your Mac in order to function correctly. Although using the Uninstaller software or the Drag-to-Trash technique is simple, it will leave a pile of orphaned Trend Micro Antivirus trash on your Mac.
Trend Micro Antivirus distributes its service files across your hard drive. As a result, in order to altogether remove the application, you must first eliminate its remnants. The following are comprehensive instructions for completely uninstalling Trend Micro Internet Security on your Mac:
Quit the app. Right-click on Trend Micro Antivirus's icon in the menu bar and select Shut Down Trend Micro Antivirus.
Open the Applications folder, locate the Trend Micro folder, choose Trend Micro Antivirus.app, and then right-click and select Move to Trash.
The user's Library folder and the main Library folder usually are where the service files are kept. Open Finder to gain access to the main Library. Go to Folder in the menu bar, type /Library in the presented window, and click Go.
Find and delete all files and folders in the following subfolders that have Trend Micro in their names to get rid of the Trend Micro Antivirus's useless leftovers:
/Library/Application Support
/Library/LaunchAgents
/Library/LaunchDaemons

In Finder, repeat the previous procedure, but this time type /Library (with a tilde) and click Go in the presented window to gain access to the user's Library folder. Find and delete all unwanted files associated with Trend Micro Antivirus in the following subfolders in the user's Library folder:
~/Library/Caches
~/Library/Containers
~/Library/Preferences
~/Library/Saved Application State
To totally remove Trend Micro Antivirus from your Mac, empty the Trash bin.
Part 3. Completely Remove Trend Micro via PowerMyMac
If you can't discover another way or utilize a Trend Micro uninstaller for whatever reason, we recommend using third-party software like PowerMyMac. This application assists with the accurate and complete deletion of several apps on a Mac.
Get A Free Trial Now!
The manual method of uninstalling Trend Micro Antivirus on Mac saves a lot of space on your Mac, but it takes too long. This professional tool does not just ensure a smooth process, but also it makes sure that all data in your Mac is safe.
To uninstall Trend Micro on Mac using PowerMyMac's App Uninstaller, follow these steps:
Download the app, install, and launch PowerMyMac. When the app is opened, it automatically displays the overview of your system's status.
Click the App Uninstaller tool, then click SCAN. Wait for it to finish scanning and when needed, click Re-scan.
After scanning all the installed apps on Mac, the list of apps will appear on the right side. Locate Trend Micro app or any unwanted app, or you can simply type the name on the search box to quickly find it. Once you select the app, the files and folders associated with it will appear below.
Select all the items you need to remove. Double-check first, then click the CLEAN button to finish the uninstallation process. Wait until a pop-up dialog will appear "Cleanup Completed". Then restart your Mac, and the whole process will be finished.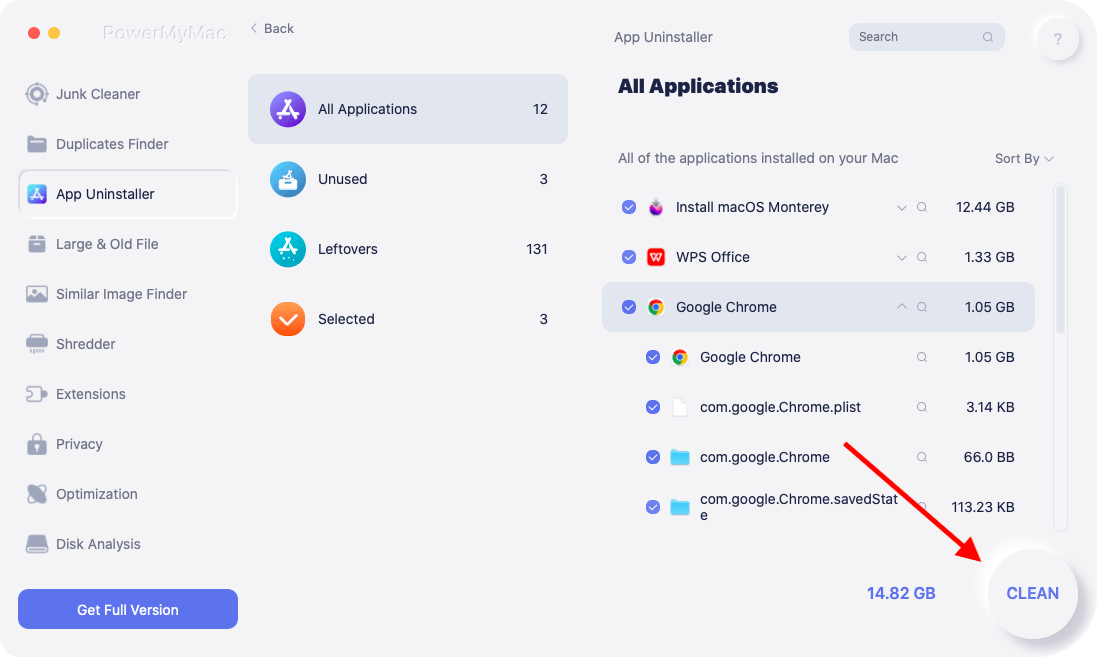 Part 4. Conclusion
Every day, we utilize a variety of apps on our computers. With the flow of time, we become aware that some apps are no longer in use. To be able to uninstall Trend Micro on Mac, three different ways were mentioned in this article. Nevertheless, the critical thing to do is always make sure that the remnant files are removed together with the app to avoid problems in the future.