The Trusteer Rapport program from IBM is a desktop security solution that was developed to safeguard users from malicious financial software and phishing scams. However, there have been reports from certain customers that they have had issues after downloading Trusteer Rapport, leading others to uninstall Trusteer Rapport on Mac.These issues include the program often crashing, using a lot of CPU, and not being compatible with Safari.
Therefore, this article will provide you with some measures to get rid of Mac software like the Trusteer Rapport.
Contents: Part 1. What is the IBM Trusteer Rapport?Part 2. Automatic Way to Uninstall Trusteer Rapport on MacPart 3. How Do I Manually Uninstall Trusteer Rapport on Mac?Part 4. Conclusion
Part 1. What is the IBM Trusteer Rapport?
Trusteer Rapport is an integrated endpoint solution that protects financial companies as well as their end-users through transparently identifying and safeguarding against financial malware attacks, phishing attacks, and account takeover. It is a renowned IBM company software application. It offers a more complete protective barrier than an anti-virus application, which isn't usually built to deal with financial fraud.
There are some benefits of using Trusteer Rapport. For example, Pharming, phishing, screenshots, overlays, and other financial malware are all detected and alerted by Trusteer Rapport, an excellent tool for identifying and warning the company.
However, since Trusteer Rapport needs the installation of extra plug-ins in Google Chrome, Apple Safari, and Mozilla Firefox, the experience may be negatively impacted. If you like to uninstall Trusteer Rapport on Mac, follow our guide on how to remove Trusteer Rapport fully on Mac.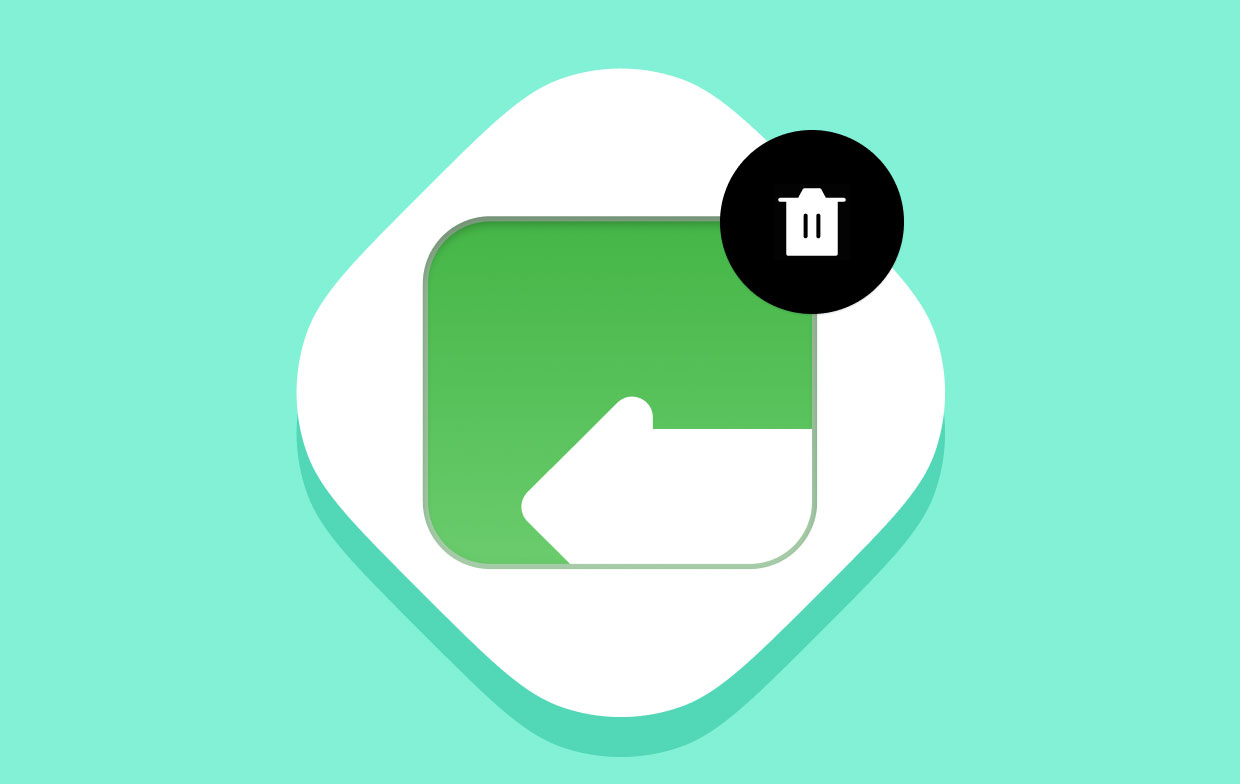 Part 2. Automatic Way to Uninstall Trusteer Rapport on Mac
Do you find it difficult to complete the manual removal? What is the best method for doing a complete uninstall? Using a competent and dependable uninstall program is a fast method to resolve removal troubles.
iMyMac PowerMyMac is a lightweight software that may help you delete any unwanted, troublesome, or resistant apps using a simplified interface.
The steps to uninstall Trusteer Rapport on Mac are provided below:

Go to the homepage after running iMyMac PowerMyMac and choose App Uninstaller from the drop-down menu.
Go to the menu and choose SCAN to do a search that will go through all of the programs on your system.
Select Trusteer Rapport or any other applications you don't wish to use again, and then confirm your selection.
To get rid of everything, including the files linked with it, click "CLEAN".
The words "Cleaned Completed" will show on the screen after it's done.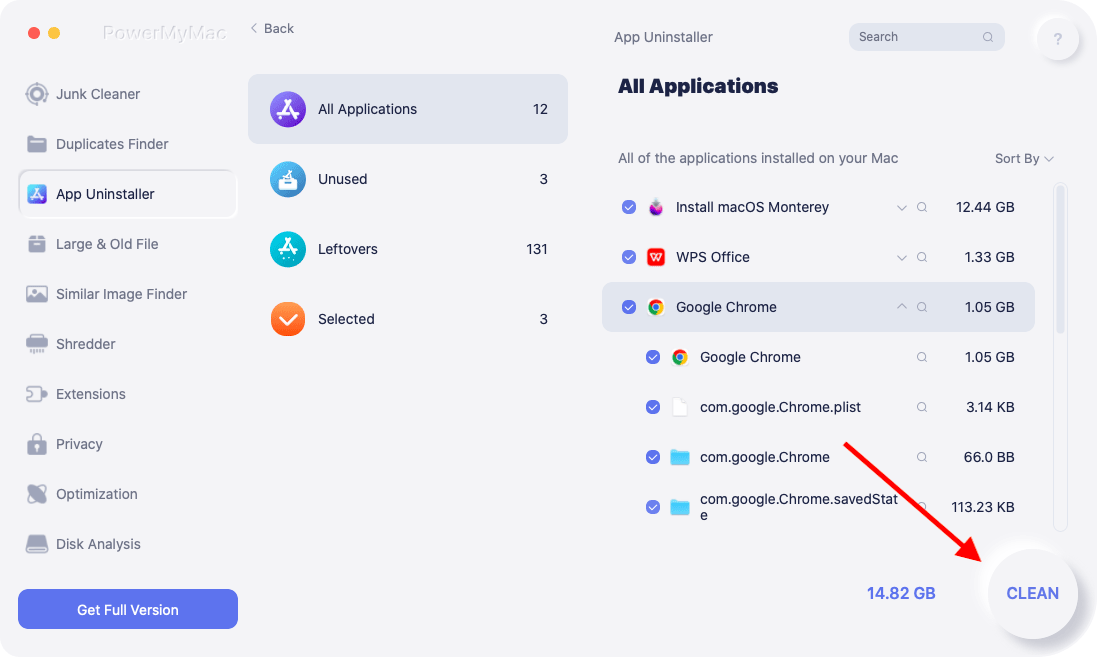 Similar to Trusteer Rapport, apps like Kaspersky or Avira can be removed from Mac completely. Of course, any other kind of application and software can be uninstalled as well.
Part 3. How Do I Manually Uninstall Trusteer Rapport on Mac?
Users should consider it as the first option to use the program's specific uninstaller to remove any program that comes packaged with one since this is the most efficient way to remove the program. When you attempt to download Trusteer Rapport by using the .dmg file, you might also detect an icon within the installation package called Uninstall Rapport. This icon can be found in the Trusteer Rapport folder. This is the correct way to uninstall Trusteer Rapport on Mac.
However, before we get to it, we have to disable Trusteer Rapport from executing via the user interface:
To access the user interface for Trusteer Rapport, locate it in the menu bar and choose its icon.
Simply stop the Rapport by clicking the Stop Rapport button in the top right corner.
In order to make the change, you will need to input the administrator password and then hit the OK
Enter the characters in the pop-up box that appears when requested, and then select OK.
Uninstall Trusteer Rapport on Mac using its uninstaller
After you have ensured that Trusteer Rapport is not operating, proceed with the uninstallation by following these steps:
Simply double-click the Trusteer Rapport install bundle file to launch it (unless you have accidentally removed the file from the Mac, you will need to attempt to install it again at the website of the app's developer).
Inside this Trusteer Rapport.dmg file, the Uninstall Rapport program may be executed by double-clicking its icon.
To approve the start of the application, select the Open button that appears in the pop-up box.
When the Uninstall IBM Security Trusteer Endpoint Protection pop-up appears, choose Yes to proceed.
After entering the administrator password, which is required before the removal may proceed, select OK
After a few minutes, you will be notified whether Trusteer Endpoint Protection was successfully removed, and you may hit OK to exit and finish the removal process.
Move Trusteer Rapport to Trash and delete its leftovers manually
Most third-party programs may be simply removed by deleting them from the Applications folder and the Trash. The standard procedure to uninstall Trusteer Rapport on Mac is as follows:
Out from the sidebar or the Go menu, launch Finder and then go to the Applications folder.
Find the application you wish to delete, right-click it, and select Move to Trash from the menu.
After you've tossed the undesirable program into Trash, you may pick Empty Trash from its Finder menu to erase all of the objects in Trash, but keep in mind that this is an irreversible action that will wipe everything in Trash.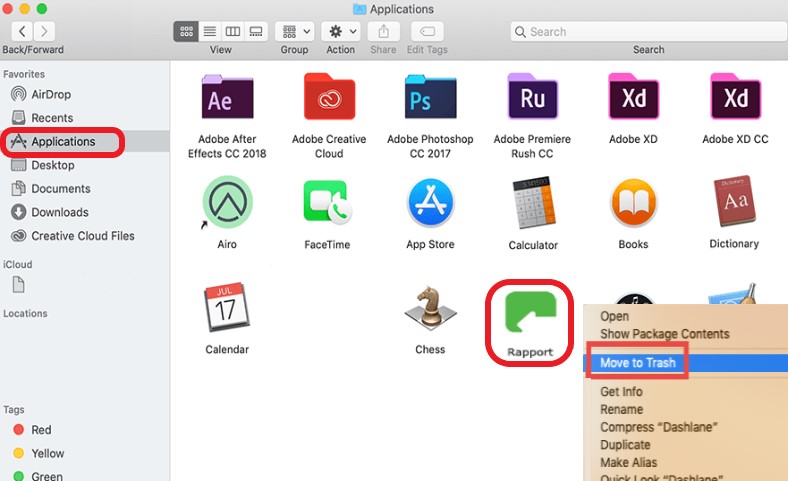 After you uninstall Trusteer Rapport on Mac successfully, how to get tid of its remains? You may use Finder's Search tool to find any Trusteer Rapport remnants on the computer.
In an open Finder panel, select Go from Menu Bar, then select Go to Folder.
To access it, enter /Library within the window and press Return (or select the Go button).
In the top right corner, hit Search, and put Trusteer Rapport into the search field.
Select 'Library,' then remove the files with Trusteer Rapport in their titles.
To enable the removal, enter your username and password and select the OK option when requested.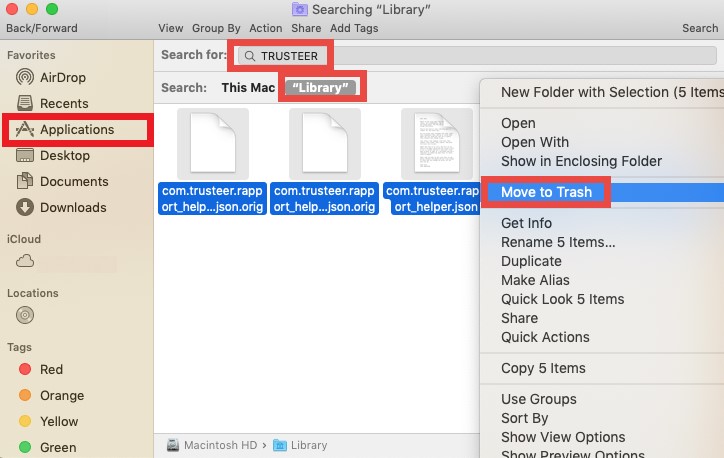 Don't fail to restart the Mac after discarding Trusteer Rapport residues in Library.
Part 4. Conclusion
Because of the reoccurring problems, users may choose to uninstall Trusteer Rapport on Mac. This article will help and guide you on how to do it completely, whether you may decide to remove it manually or automatically. Honestly, we advise you to try to use the competent uninstaller of the PowerMyMac to remove unwanted apps and files.