WhatsApp is a renowned, free, and encrypted online messaging program that was first released for the Mac OS X operating system in 2016. You may have downloaded this app to stay connected with your pals, but you've now decided to uninstall WhatsApp on Mac for personal reasons.
For the user's ease, several modern messengers feature a desktop version. WhatsApp is no exception, with a WhatsApp Web client available for Mac. It's simple to install and synchronize with your smartphone, allowing you to stay in touch on both platforms. However, if you need to uninstall any unneeded apps on Mac for whatever reason, this guide will assist you. Explore two methods for thoroughly uninstalling WhatsApp and any apps from your Mac.
Contents: Part 1. Reasons that Users May Want to Uninstall WhatsAppPart 2. Uninstall WhatsApp on Mac: Manual ApproachPart 3. Uninstall WhatsApp on Mac: Faster and Easier ApproachPart 4. Conclusion
Part 1. Reasons that Users May Want to Uninstall WhatsApp
WhatsApp is a secure and easy desktop application that allows you a new way to keep in contact whenever and wherever you want, whether on your mobile phone or Mac at home or at work.
Many of us have been cut off from family and friends due to the COVID-19 pandemic. As a result, users have spent an average of almost 15 billion minutes each day on WhatsApp calls during the last month. If you'd instead use an iOS/Android mobile app for video conferencing than the WhatsApp Desktop client, or if you're having difficulty with macOS.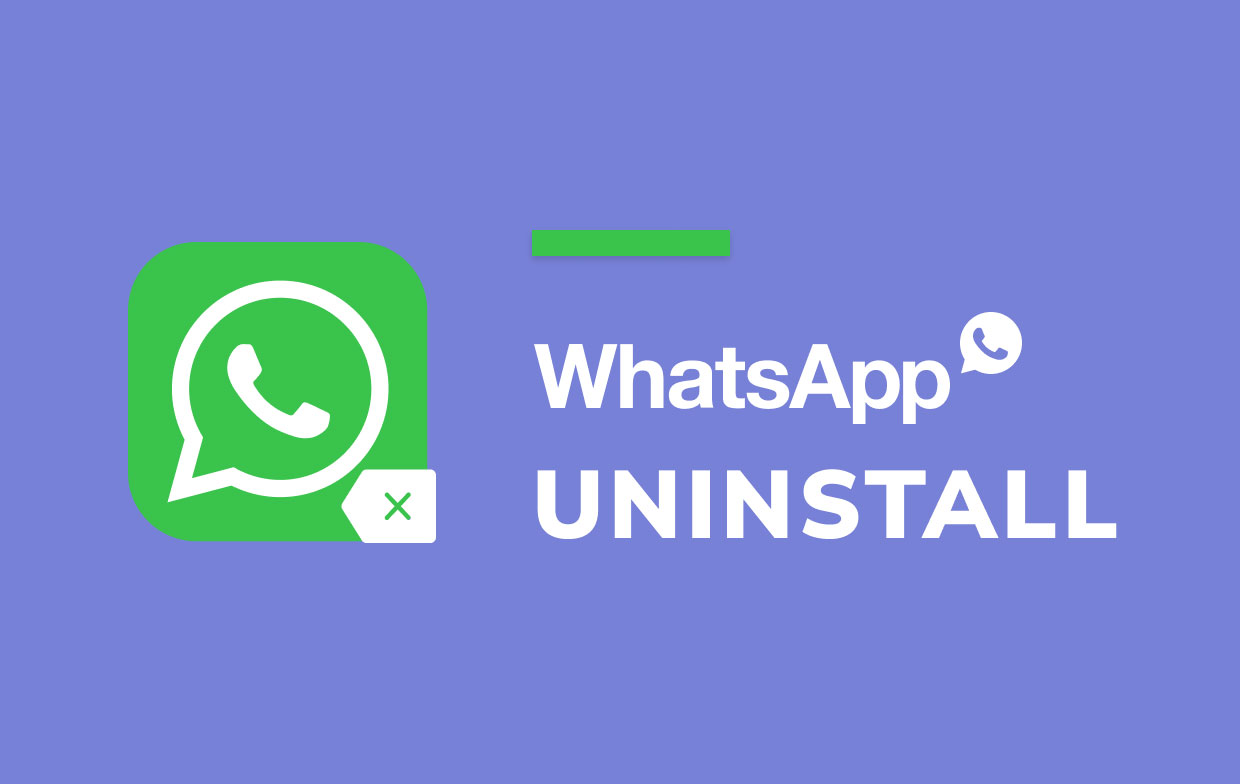 So, in this guide, we'll show you how to uninstall WhatsApp on Mac OS thoroughly. Before that, what are the possible reasons that most users would want to uninstall WhatsApp Desktop on Mac?
When using WhatsApp Desktop on a Mac, it has unforeseen issues.
Because users were unable to install or upgrade the latest version of WhatsApp Desktop, they were forced to remove it first.
Because the software has been contaminated with viruses, deleting the harmful files has become a primary concern.
On Apple Mac OS X, WhatsApp Desktop does not open or close suddenly.
Too many applications loaded on a Mac will cause the system to slow down. Therefore users should clean out the apps they don't use very often to free space on the hard drive.
Users would also like to remove WhatsApp Desktop from Mac OS X because it has been neglected and replaced by other Mac Internet applications.
Part 2. Uninstall WhatsApp on Mac: Manual Approach
Customers may want to erase the WhatsApp Desktop app from their Mac in a variety of ways. However, consider the fact that using the manual approach to uninstall WhatsApp on Mac may result in a large amount of residual program trash. To understand how to effectively remove WhatsApp Desktop on Mac, first make sure you have an advanced understanding of your Mac computer. Then, follow the steps below.
Quit WhatsApp. When WhatsApp is active, press ⌘+Q or go to the Menu bar and select Quit WhatsApp.
Go to the Applications folder and uninstall WhatsApp. You may either drag and drop it into the trash or use the context menu to select Move to Trash.
You must now delete WhatsApp's service files. They should be kept in the Library folder, which is hidden by default to avoid the destruction of important system files. In Finder, click the Command+Shift+G shortcut and browse to the /Library location to access the Library folder.
Find and delete all files related to WhatsApp in the Library Please be mindful and only delete items associated with the WhatsApp software. It's possible that accidentally deleting vital system files can harm your computer.
Consider the following directories:
~/Library/Application Support/WhatsApp/
~/Library/Caches/WhatsApp/
~/Library/Saved Application State/WhatsApp.savedState/
~/Library/Preferences/WhatsApp.plist/
~/Library/Preferences/WhatsApp.Helper.plist/
~/Library/Logs/WhatsApp/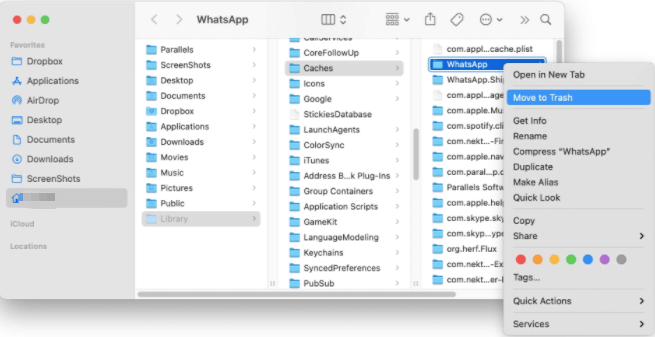 Empty your Trash bin once you've removed all of the WhatsApp service files.
Part 3. Uninstall WhatsApp on Mac: Faster and Easier Approach
It is critical to delete all of WhatsApp's service files in order to completely uninstall the app. It's actually uncomplicated for experienced users to uninstall the WhatsApp Mac client manually. However, it requires a long time, and beginners may experience difficulties since you must manually locate and delete WhatsApp's remnant files.
PowerMyMac's App Uninstaller, on the other hand, is the simplest way to remove apps and check for leftover files on a Mac. This part will explain how to use it to uninstall WhatsApp on Mac in a few easy steps.
Get A Free Trial Now!
Download the PowerMyMac app, install it, and open it. When you open the app, it will show you the current status of your system.
Select App Uninstaller and then click Scan. Wait for it to complete the scan. Only click Re-scan if it's needed.
Once all of the applications have been scanned, a list of them will display on the left side. Select WhatsApp or any other undesired programs from the list of apps. You may also search for the app by typing its name. The WhatsApp-related files and folders will then appear on the right side.
Select all of the app's linked items as well. Double-check the files you've chosen, then click the Clean button to continue the procedure and wait for it to finish.
A "Cleanup Completed" notice will show, indicating that the uninstallation procedure is complete.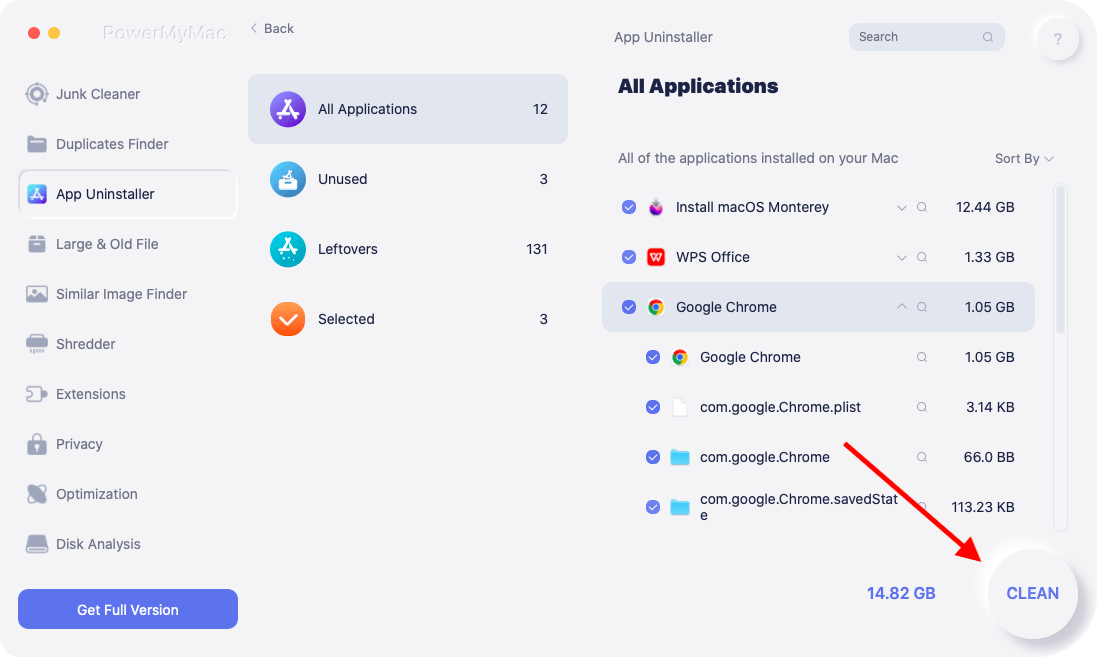 Part 4. Conclusion
Simply moving to Trash or deleting the program on Mac will not result in a thorough uninstallation, which is why you need also go to the Library folder and delete all of the WhatsApp for Mac files and contents. Please keep in mind that a complete uninstallation requires more than merely deleting the software from your Mac directly. That is why most people use a professional tool to assist them in uninstalling WhatsApp.
Get A Free Trial Now!
Using an effective uninstaller tool is another and much easier way to uninstall WhatsApp on Mac. Rather than uninstalling the software and manually cleaning all of the directories in various locations on the computer, an excellent uninstall utility can browse and locate all of the associated components and assist you to remove them all easily with its professional removing tool.