Audio files are common occurrences in our computing and mobile devices. The most common is the MP3 files that are run by all media players including software and hardware. Another audio file format is the AIF, however, this type is not that popular among consumers. That's why you may want to convert AIF to MP3 to get a more universal audio file type. In this way, your audio files can be played on all devices you own. Plus, media player software can surely recognize the MP3 file type.
This guide will help you convert AIF to MP3 easily. We will give you tools and steps to follow in order to achieve this. Learning how to convert these file types will enable you to transform not only AIF to MP3, but also other formats as well. Let's start converting your AIF files.
Contents: Part 1. Which Is Better AIF or MP3?Part 2. How Do I Convert AIF to MP3 on Mac?Part 3. Top Online Tools to Convert AIF to MP3 for FreePart 4. Conclusion
Part 1. Which Is Better AIF or MP3?
Let's start with an explanation of AIF and MP3 files. We'll discuss what these two file formats are below.
What Are AIF Files?
AIF is the file extension used by AIFF (Audio Interchange File Format). It is developed by Apple in the 1980s and is based upon the IFF format. They're designed to be audio that's "CD Quality". Actually, this means that AIF files have large file sizes compared to MP3. AIF files are typically utilized for audio recording purposes. In addition, they are saved in a format that is uncompressed. Opening this file format is possible through Apple iTunes and QuickTime Player. Other media players can open this type of file as well.
What Are MP3 Files?
The MP3 file extension is one of the most popular extensions used nowadays. These are actually files that contain digital audio where a lot of programs can play it easily. It is a compressed file format where it produces sound quality that's near to that of CDs. Opening MP3 files are very easy. On Windows and Mac operating systems, they can be opened by iTunes, Windows Media Player, and Winamp, for instance. VLC Media Player can also open MP3 files without any issues.
Part 2. How Do I Convert AIF to MP3 on Mac?
Here, we will discuss the best method on how to convert AIF to MP3. This involves using the right tools that will get the job done. Thus, we recommend that you use iMyMac Video Converter and its powerful conversion feature. This tool enables you to convert different formats of audio and video. This will allow you to have files that are compatible with your media players, computers, or mobile devices. The software supports a lot of input and output formats in terms of conversion.
Aside from conversion features, iMyMac Video Converter has editing capabilities for you to improve your media file. You can repair shaky videos, for instance, by upscaling it from standard definition to high definition. Other settings can be tweaked as well. For instance, you can adjust brightness, contrast, hue, saturation, and more. Conversion speeds are very fast with iMyMac Video Converter. It utilizes technologies of hardware acceleration for blazing-fast conversion. You are sure to get converted files that don't materialize quality loss or recompression.
Here are the steps to use iMyMac Video Converter to convert AIF to MP3:
Step 01 – Download, Install, Launch iMyMac Video Converter
For you to reap the benefits of iMyMac Video Converter, you must download the tool first. After that, install it on your computer using the downloaded installation package. Then, launch the tool after you have finished the installation.
Get A Free Trial Now!Get A Free Trial Now!
Step 02 – Add Your AIF Files
First, you should add your AIF files by clicking "Add Multiple Videos or Audios" within the top left part of the software. Locate the AIF files on your local hard drive, then add them towards the interface.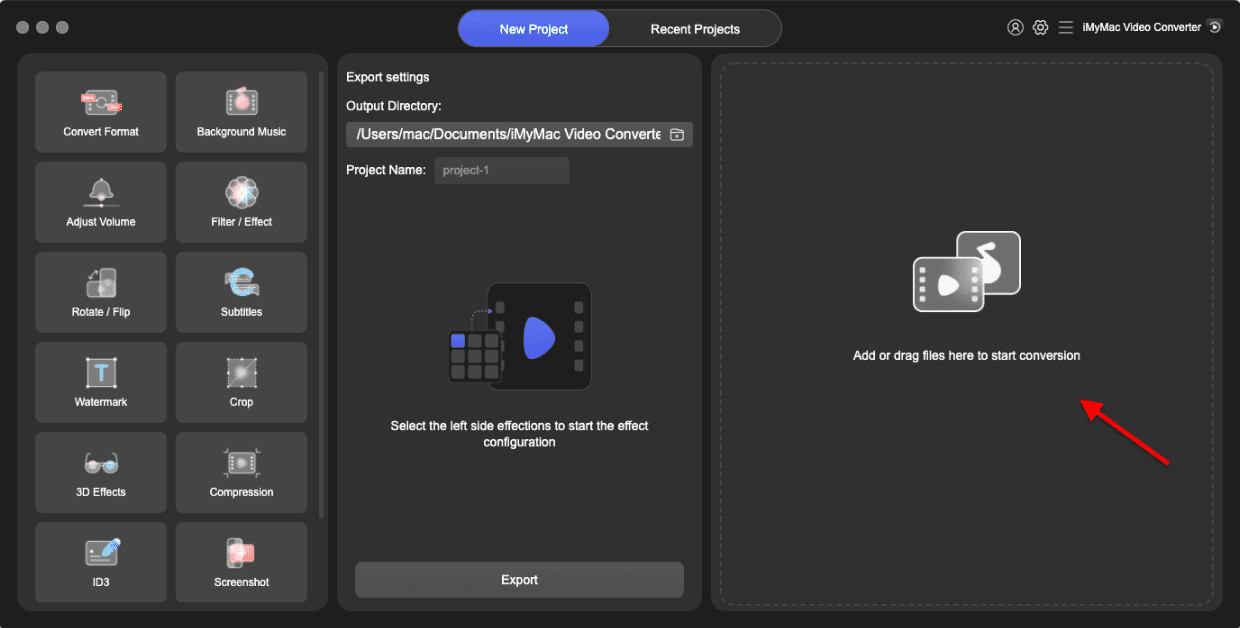 Step 03 – Choose MP3 As the Output Format
This step involves tweaking the settings that you wish for the output file. When you convert AIF to MP3, you should click "Convert Format" and select MP3 as the output format. Then, click Save.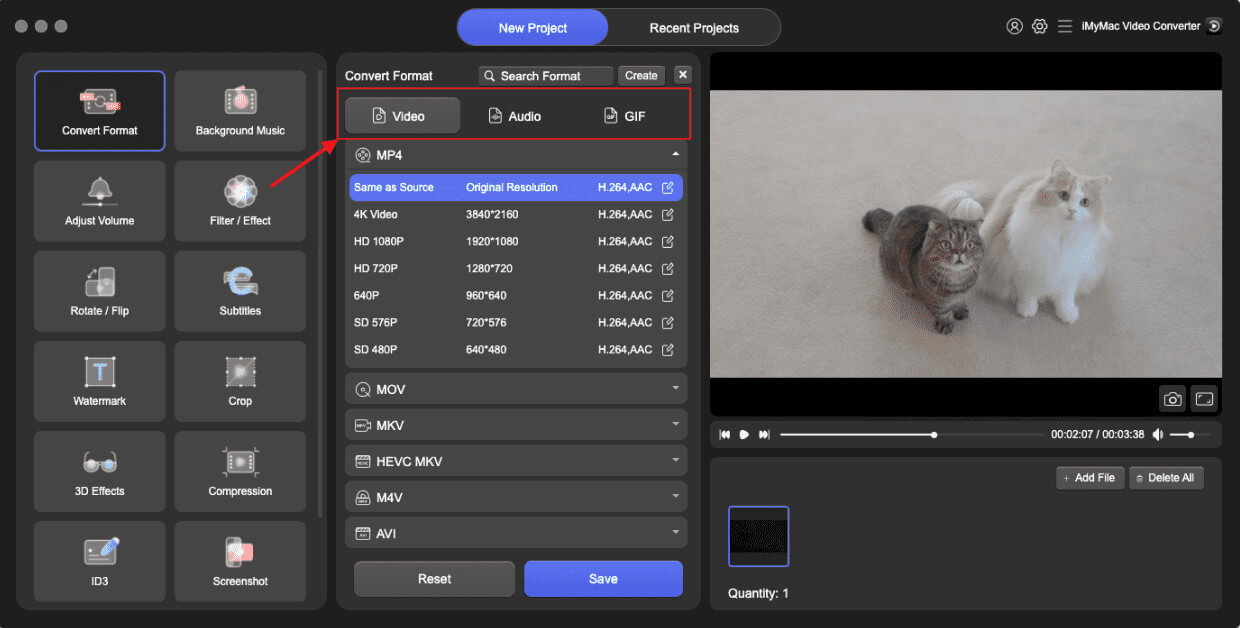 Step 04 – Start To Convert AIF to MP3
The final step involves selecting the desired output location where the files will be saved, and clicking "Convert" for the AIF file you wish to turn to MP3. You will notice that the conversion process is very quick. Plus, you'll find the converted files in "Recent Projects" after the conversion process is complete.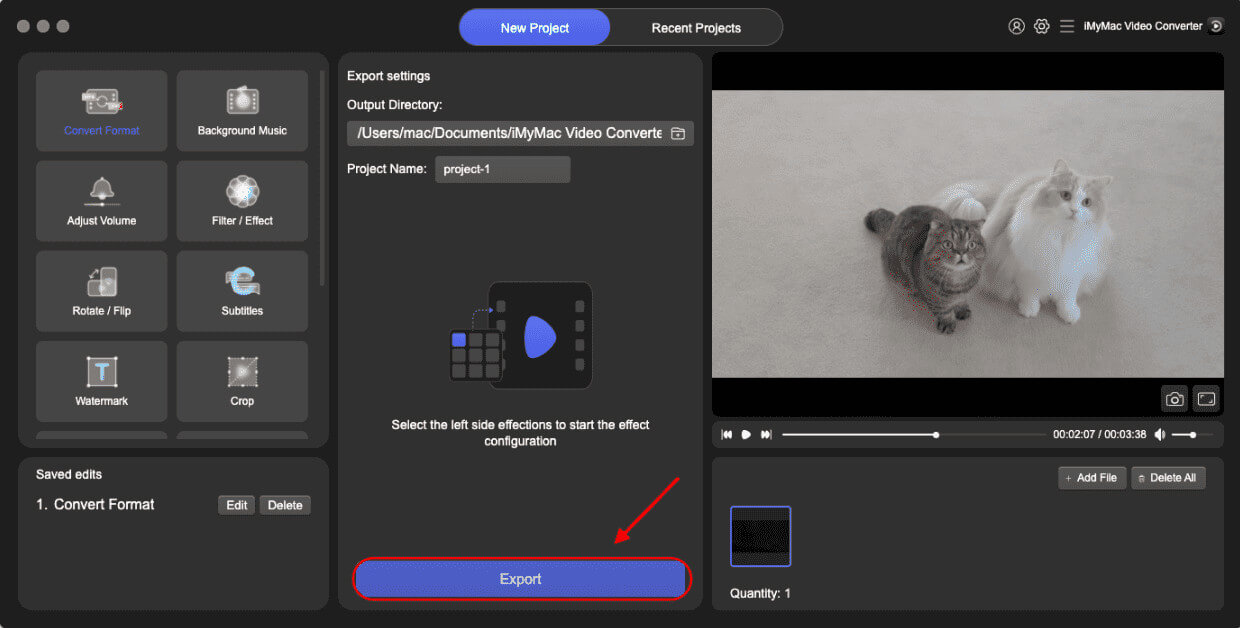 Part 3. Top Online Tools to Convert AIF to MP3 for Free
This section will focus on online tools you can use to convert your AIF files to that of the MP3 format. Some of them are included below.
1. Zamzar
This is an online file conversion tool that is web-based. It has been around for decades and started way back in 2006. If you wish to convert AIF to MP3, you simply add the files; then choose MP3 as the output format. Finally, you agree to their terms and click "Convert Now" as the last step. As of the moment, Zamzar has been used to convert 500 million files. It even gives a detailed explanation of AIF (or AIFF) and MP3 on its webpage. Based in England, this platform aims to provide high-quality conversion processes for as many file formats as they can implement.
Aside from AIF and MP3, it can convert different types of files such as PDFs, DOCX, JPG, GIF, Word, Excel, FLV, FLAC, WAV, AVI, MPG, MOV, MP4, and more. The site aims to finish conversions within 10 minutes or less. The great thing about Zamzar is you don't need to download any software just to use it. You simply select a file that you want from the local hard drive. The web-based tool supports more than 1200 file formats for conversion.
Since they have been around since 2006, they're experienced in this industry. Plus, if you have a file you can't convert, you can contact their support team. They'll be happy to assist you through dedicated engineers that will help you solve your problem.
2. Convertio
Convertio is another platform that will help to convert AIF to MP3. You simply choose the files from your local hard drive, from Dropbox, from Google Drive, or from a URL link. Then, you can convert AIFF files to MP3. If you want more advanced settings, you can change variable bitrate (VBR), bitrate, and audio channels, among others. Other advanced settings include trimming the audio file, choosing a frequency, and modifying the volume.
The page even gives you the steps you need to convert your AIF to MP3. As of the moment, Convertio has converted nearly 700 million files worth approximately 12 terabytes. Although it only supports over 300 file formats, it is as good as Zamzar. The tool is very easy to use and is fast. Compared to Zamzar, they aim to finish conversion processes in 2 minutes or less. Conversions happen within the cloud so your computer's processing power is not used.
Because Convertio is a web-based platform, it guarantees use in multiple devices including mobile devices, Mac, and Windows PC. Advanced options are possible for different conversions. For instance, its video converter allows you to edit codec, aspect ratio, and more. If you're worried about security, you don't have to hesitate when using Convertio. They make sure the security of your files is kept private. All uploaded files are deleted instantly. Plus, converted ones are deleted after 24 hours. The site specifically says that they guarantee privacy 100%.
3. FreeConvert
This tool is web-based and allows you to convert AIF to MP3. It doesn't look as good as Zamzar and Convertio, but it still gets the job done. The main page of the AIFF to MP3 conversion page shows you the steps you should follow to convert from one format to another. In addition, it gives an overview of what AIFF and MP3 files are. Aside from these two file formats, FreeConvert can help you transform different file types. These include other audio file formats to MP3 and more.
To convert your files, you simply choose it from your hard drive and start converting. However, you have a limit of 1GB only. If you want to have more features or capabilities, you should sign up on the site.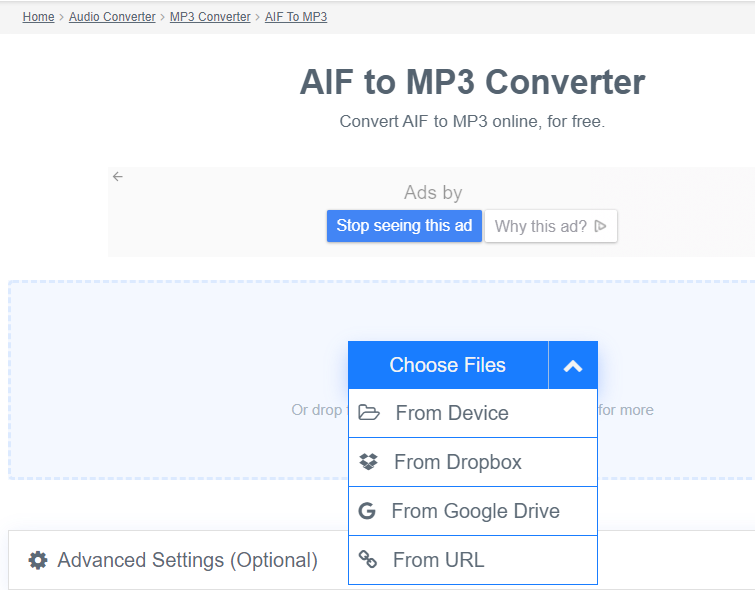 4. CloudConvert
So far, CloudConvert is a great tool in terms of converting AIF to MP3. The interface looks very neat and it supports a lot of file types for conversion. Like other online tools, it says a little about MP3 and AIFF files to give you an overview of the two formats. It supports over 200 file types for conversion including documents, videos, audio, ebook, and archives, among others. Conversions are of high quality all the time. Plus, they make sure that your security is maintained. All files are kept private. No one can gain access to your files.
CloudConvert also has an API that allows custom integrations with applications that you own. High volume customers that convert a lot of files get discounts to use their power tool. However, if you're going for a few files only, you can use their site for free. As of the moment, CloudConvert has converted over 500 million files worth more than 4 terabytes of storage space. The company was founded in 2012 and is used by both consumers and corporate customers.
They even have the MIT Technology Review as one of their clients. CloudCnovert is a great tool because it offers security, storage integration, custom workflows, scalability, and reasonable prices. You can even contact their customer support team for timely assistance.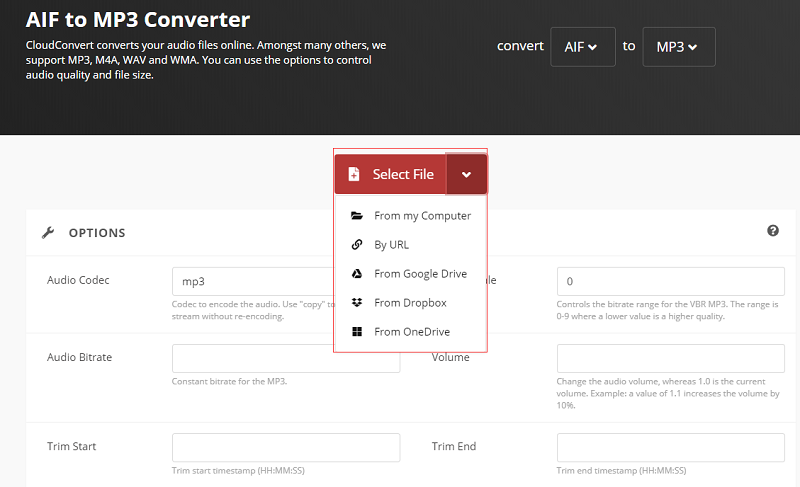 5. AConvert
This is a very simple web-based tool to convert AIF to MP3. You can simply add files by clicking the Browse button on their page. Plus, you choose the target format, sample rate, and audio bitrate. If you don't want to tweak the settings of the file, you can also do so. It offers an overview of different uses and technical details of MP3 and AIFF files. Plus, it can help convert other formats as well. These include PDF, documents, ebooks, archives, webpages, video, and audio files.
AConvert doesn't look as good as Zamzar, Convertio, and CloudConvert. However, the interface is still clean and the ads are not that intrusive. You can even use it to cut or trim your audio file. Merging multiple audio files is possible with the AConvert as well. Getting your AIF or AIFF files isn't limited to your local drive only. You can also grab from your Dropbox account, from your Google Drive account, and from an online file through a URL. AConvert is surely a great tool for conversions. But, we still prefer iMyMac Video Converter to do the job because it has more features.
Part 4. Conclusion
Converting AIF to MP3 is very easy and fast. Of course, we first gave you a basic understanding of what these two files are. Then, we moved to tell you the best method to convert AIF to MP3. The recommended tool is iMyMac Video Converter which is a blazing fast software for these types of conversions. The third part of this article focuses on online tools you can use through your browser. These online tools have their own capabilities and features. But, a lot of them are similar as well. The list includes Zamzar, Convertio, FreeConvert, CloudConvert, and AConvert. The drawback we can see with these online tools is they don't have the editing capabilities of iMyMac Video Converter.
Thus, if you want a full-fledged conversion and editing tool, you should opt for iMyMac Video Converter. It's a great software that uses hardware acceleration technologies of graphics cards for lighting speed. Plus, it has editing capabilities to help you improve your video files. You can grab it with a free trial as well. But, you can also purchase the tool outright as it is the best you can use in terms of converting audio and video files.