Music is great for bringing life into people's "lives." We'll ask you this question, "Have you ever watched a movie with no background music?" It's boring, isn't it? Background music in videos help people feel stronger emotions and empathize with the content. Two main audio formats include MP3 and AAC. But what's the difference between the two? And, how can you convert one from the other using your computer? How do you actually convert AAC to MP3?
Before we delve into how to do it, let's talk about what's happening in the world today. In today's society, music has become very important. We listen to them while working, studying, and even while taking our morning workouts. Vinyls and radios may be outdated. But still, audio is a clear KING in many people's daily routine. So, are you ready for the fun part? Let's convert AAC to MP3 free in a matter of minutes!
Contents: Part 1. Is AAC Better than MP3? Part 2. What Is The Best AAC to MP3 Converter?Part 3. How Do I Convert AAC to MP3 in iTunes?Part 4. Conclusion
Part 1. Is AAC Better than MP3?
MP3 is an encoding format for digital audio which was created for music playback and transfer. It works through the compression of an audio file based on certain encoding rules. The goal here is to reduce the audio file's size using data compression while still maintaining good sound quality when listened to by audiences.
Usually, when you utilize the 128 Kbps setting, MP3's compression technology will result in a reduction of 1/11th of the size of the uncompressed, original CD version. Today, MP3 is one of the most popular file formats for audio in the world. It is compatible with most media players and platforms available. The extension for MP3 audio file formats is .MP3.
Before we start to convert AAC to MP3, let's discuss AAC first. Advanced Audio Coding refers to AAC. Similar to MP3, it is also a lossy format created as a better version of the MP3 (a successor to it). According to its developers, AAC results in better quality audio compared to MP3 even when using similar bitrates.
AAC was developed through the collaboration of multiple companies including Dolby Laboratories, Fraunhofer IIS, Nokia, Sony Corporation, and AT&T-Bell Laboratories. AAC can be played with recently-made media players and audio gadgets. The default audio format for platforms and devices such as iPhone, iPad, iPod, iTunes, and Nintendo DSi is AAC. The file extensions for this format includes .M4B, .M4A, .M4V, .M4P, .3GP, .M4R, .AAC, and .MP4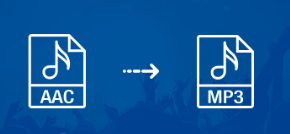 Part 2. What Is The Best AAC to MP3 Converter?
The best way to transform your AAC audio files and make it an MP3 is to use iMyMac Video Converter tool. This is a software that can convert not only video files but audio files as well. This versatile tool supports a wide range of audio and video formats as its input and output files. That is, you can convert AAC or other file formats like M4A to MP3 or other output formats.
With its support of the hardware acceleration technology of graphics cards such as NVIDIA CUDA, AMD, NVENC, and Intel HD, video and audio conversion are done at blazing, fast speeds. It converts up to six times faster without resulting in re-compression and loss of quality. It's a great tool to grab right now!
Aside from these, this video converter for Mac supports a lot of devices. You don't have to be annoyed about issues with playback incompatibility. It contains video and audio settings through preset profiles for popular devices such as iPhones, iPads, Samsung, Google, Kindle Fire, Blackberry, and a whole lot more.
How do I convert an AAC file to MP3? Here's how to use the tool to convert AAC to MP3:
Step 01 - Download And Install The Software
First, you have to get the software from its official website here. Then, simply install it on your computer. Finally, launch the tool to start working on the conversion process.
Get A Free Trial Now!Get A Free Trial Now!
Step 02 - Add AAC Files
Click "Add Multiple Videos or Audios" to add the AAC file you wish to convert. You can also drag and then drop files from your folder to the software's middle part.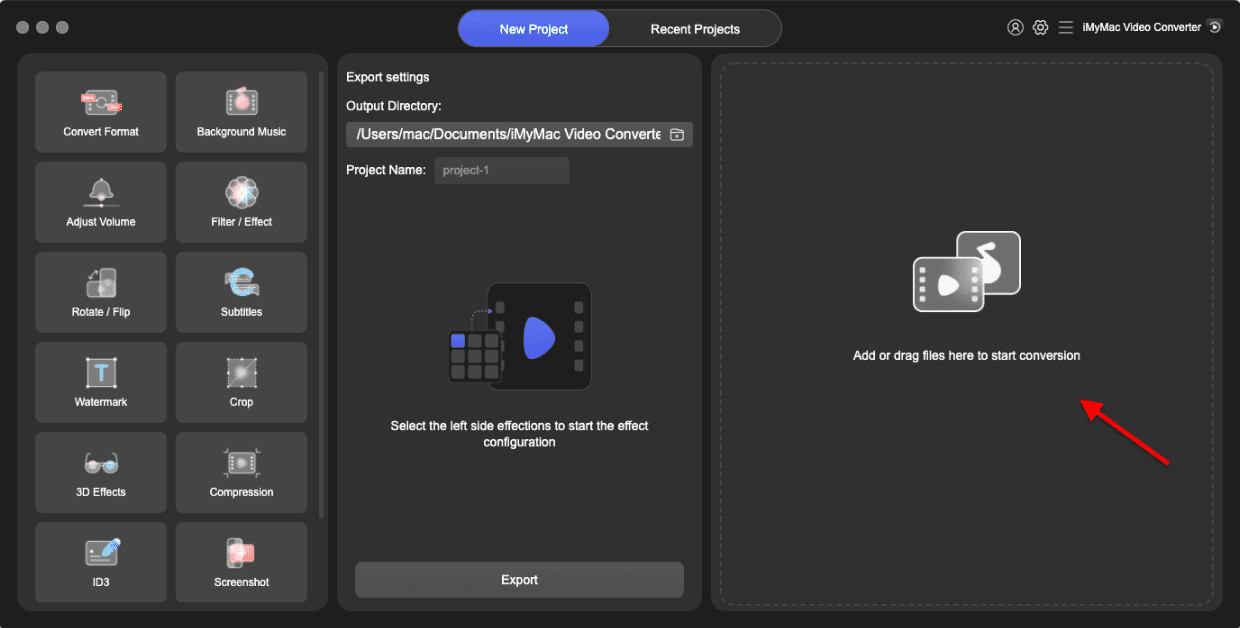 Step 03 - Choose MP3 as The Output Format and Convert
Select Convert Format and choose MP3 as the output format for the audio file. Click Save. Then, choose a destination folder where the new MP3 file will be saved. Finally, click "Convert" and wait until the process is finished. You will see the new MP3 file in the Recent Projects.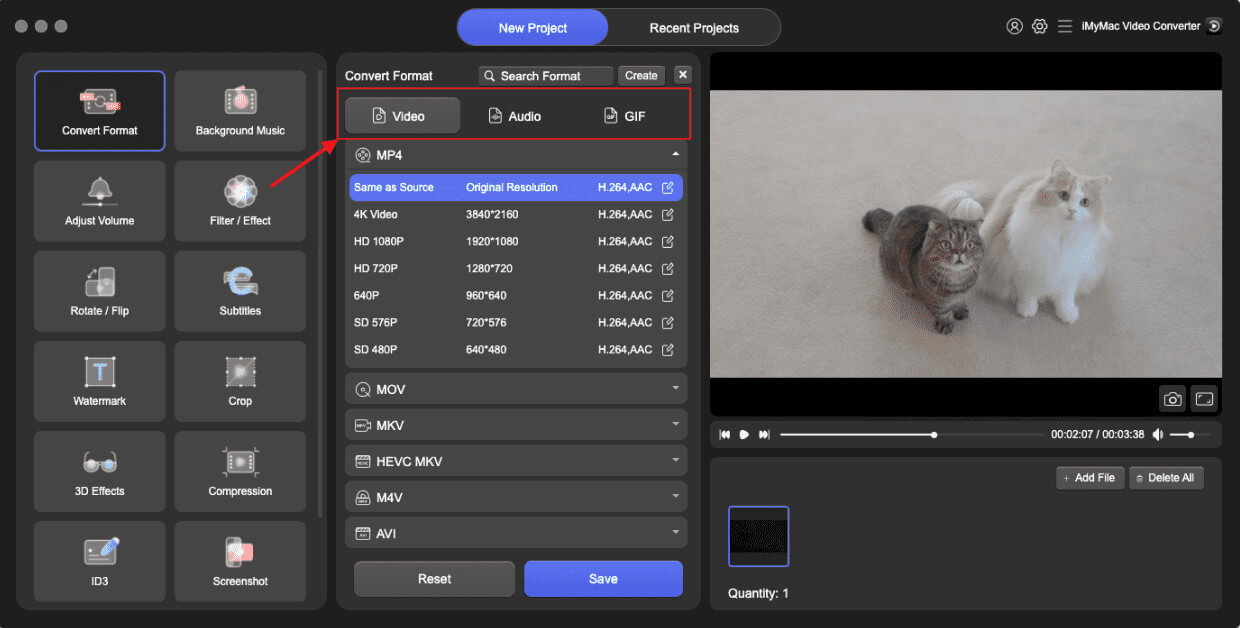 Part 3. How Do I Convert AAC to MP3 in iTunes?
Before you start to convert AAC to MP3 for free, you have to ensure that the file conversion feature of iTunes is set up to make MP3 files. Here are the steps you should follow in order to convert iTunes library to MP3 on Mac:
Open iTunes on your Mac computer and then launch "Preferences".
Go to the tab labeled "General" and then choose "Import Settings".
Choose the dropdown arrow labeled "Import Using". Then, select "MP3 Encoder".
Click the dropdown arrow for "Setting" and then select the quality that you want. It is important to know that you shouldn't choose a lower bit rate compared to the original files. You can look at it at the ID3 tags of the song.
Choose OK.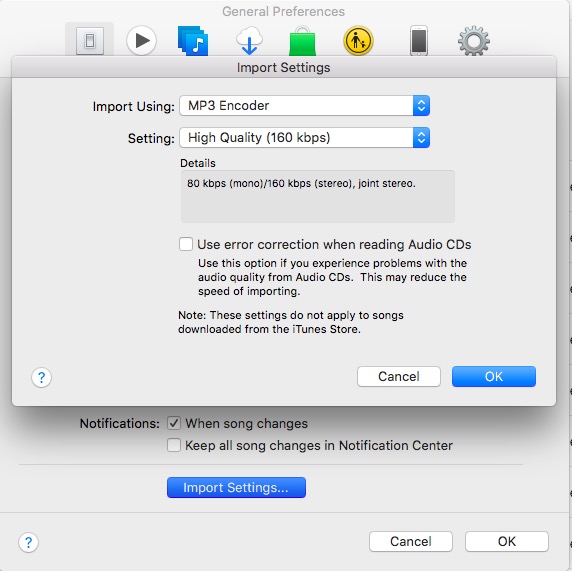 Now, after you have set up iTunes, you should start to convert AAC to MP3 free using the software:
Make sure iTunes is open and select the song(s) you want to convert.
Choose "Convert" and then choose "Create MP3 Version".
Some songs that have DRM protection can't be converted. Deselect these songs.
Wait until the conversion process is complete. When it is finished, the library of iTunes will contain a copy of the song in both formats. Delete the unnecessary format of the song if you don't want duplicates.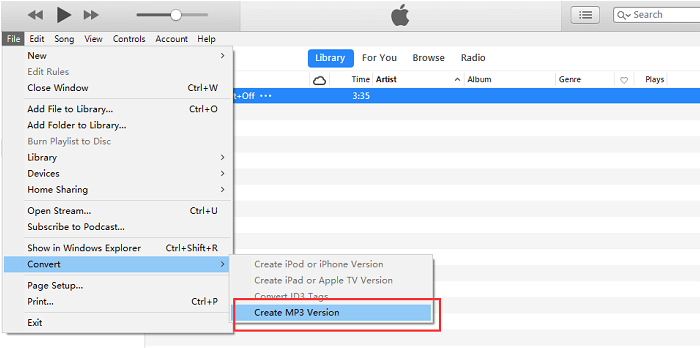 Part 4. Conclusion
Two different methods to convert AAC to MP3 free were included in this guide. These methods involve iTunes and iMyMac's Video Converter. iTunes has restrictions on converting files with DRM protection and doesn't allow it.
The best way to convert from one audio format to the other is through iMyMac Video Converter. Once you have the software, you can easily convert not only audio files but video files as well. Plus, it is a great tool that you can edit video settings easily. They provide you with a free download so you can try the tool first. Then, you can opt to purchase it for additional features. Get the tool now!