I just bought a Mac mini and Safari is the recommended browser but I don't seem to like it that much compared to Google Chrome. Why can't I uninstall safari? How do I uninstall Safari from my Mac mini?
In the following, we will tell you how to uninstall safari on Mac Mojave, Catalina or other versions.
Article GuidePart 1. Can You Uninstall Safari on Mac?Part 2. How Do I Uninstall Safari on My Mac Completely?Part 3. How Do I Get Rid of Safari Manually?Bonus Tip: Systems and Its Relation to Safari Uninstallation
Part 1. Can You Uninstall Safari on Mac?
Is your system run out of application memory? Do you wish you can uninstall Safari to completely remove it from your Mac OS X? Can you delete Safari from Mac? Well, you can actually do it. And you can save yourself much-needed space too after you have finished uninstalling Safari.
Maybe you prefer Chrome or Firefox, or maybe you just want to uninstall and reinstall Safari on mac. That's why you've tried to uninstall Safari. But have you ever tried to uninstall something on your Mac device just by moving it to the Trash? Well, that's not the best way to do it. When you drag your application to Trash, you're not completely removing the app from your device. A lot of application leftovers will still remain and this takes up space.
What's the result? Your Mac device ends up using up too much space just because of app leftovers. So it is not as easy as you think to get rid of apps from Mac. So, how do you actually completely uninstall Safari from your Mac device? Let's take a look below.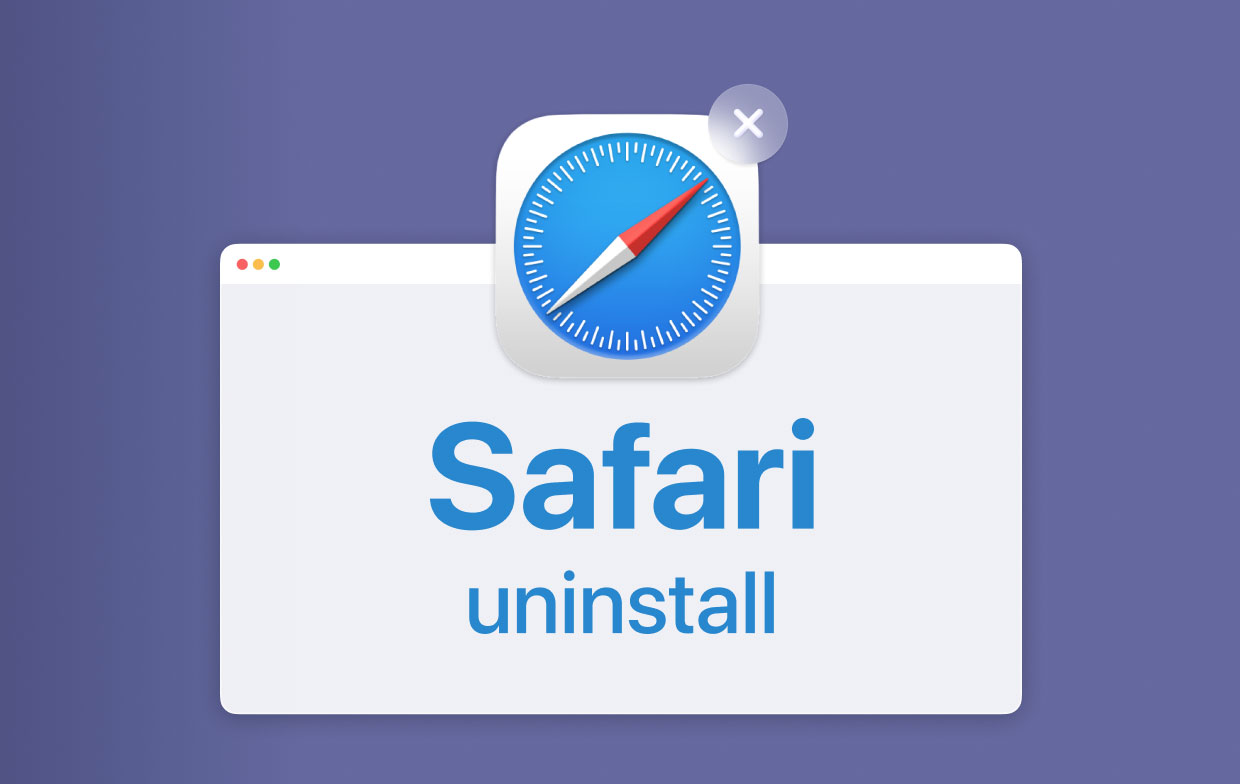 Part 2. How Do I Uninstall Safari on My Mac Completely?
Note: Before we actually start with the uninstallation process, you have to know that if you remove Safari, you might remove files that are critical to the operation of Mac's system.
Some applications actually rely on the said browser to function properly. You must know that this might affect your system adversely. iMyMac PowerMyMac can help you to get rid of apps completely with all related files.

Here's how to remove Safari from Mac completely with PowerMyMac step by step:
Get A Free Trial Now!
Download and install PowerMyMac on your Mac. Choose "Uninstaller" from the left side.
Click Scan to scan all applications in your device. Wait for the results to display.
Select Safari from the results and click the Clean button.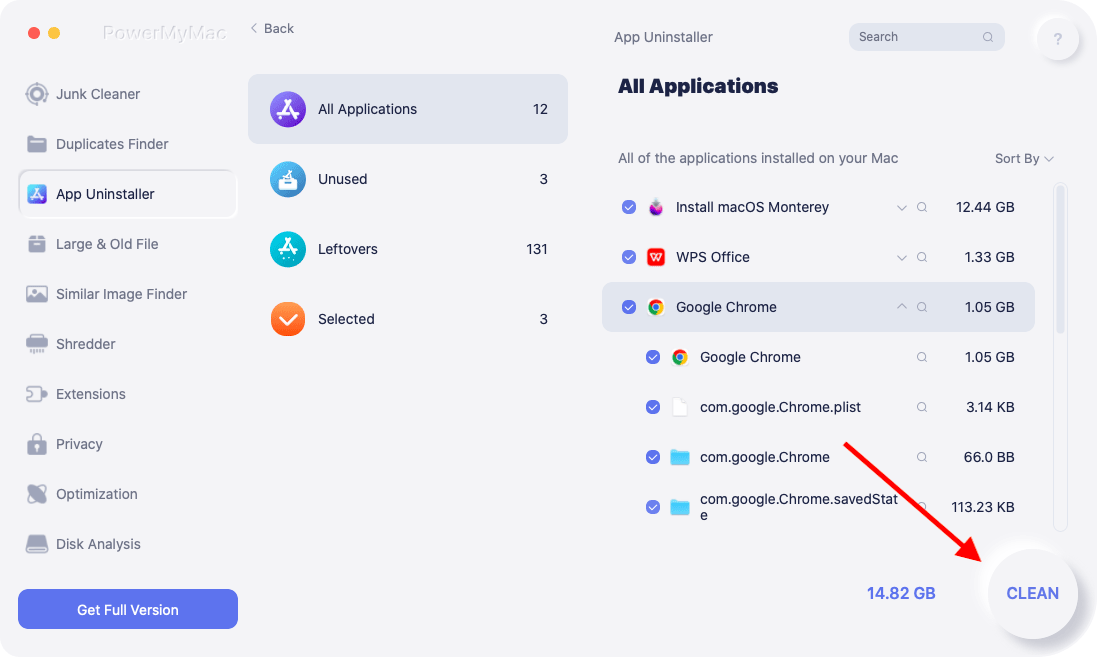 Tip: PowerMyMac has the following features and advantages:
Powerful

- It comprehensively scans your Mac for all applications and it can efficiently do the said task.
Efficient - It can completely remove applications you want to delete. It also removes the associated files of the said applications.
Selective - It shows scanned results in a variety of classifications (by time, size, date, etc.). You can preview applications one by one. And you can choose which apps to uninstall.
Free Trial - You can use PowerMyMac for the first 500MB of your data. You can now experience the power of this tool without having to put out money from your pocket.
Part 3. How Do I Get Rid of Safari Manually?
How to remove Safari from Mac dock? Will this completely delete Safari? You have to know that you should also find all extra, associated files of Safari to completely uninstall Safari. You simply cannot drag the application towards the Trash. Why is this so? First, dragging it to Trash will result in leftover files being kept inside your system. Second, Safari cannot be deleted or even modified since it is necessary for the operation of OS X.
So, if you want to remove the files of Safari yourself, you have to clean up file types of these nature (take note that you should try to look the words Safari within the file's name):
First, look at "Binaries" in /Applications/.
Then look at the "Dock Icon" within /Applications/.
Check out "Application Support Files" in /Users/YourName. After you have gone to the YourName folder, you should go to subfolders named /Library/Application Support/,
Check out plugins in /Users/YourName/. After which go to Library/Address Book Plug-Ins/.
Remove caches in /Users/YourName/. Then go to /Library/Caches/. (Here are some other useful tips for you to clear the application cache on Mac.)
Check out the Library in /Users/YourName/. Then, go to /Library/
Find Preferences located in /Users/YourName/. Then, go to /Library/. Then go to /Preferences/.
Find the Saved States in /Users/YourName/. Then go to /Library/. Then go to /Saved Application State/.
Finally, find Crashes. These can be found in /Users/YourName/. Then go to Library/ Application Support/. Then go to CrashReporter/.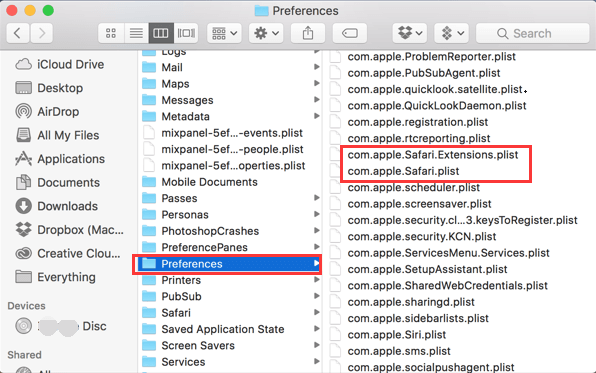 Again, you have to completely delete ALL of these files to remove Safari totally. Also, be sure to check if there is the word "Safari" located within the name of the files in these folders (stated above).
How to Disable Safari on iPhone?
You are not allowed to remove Safari from iPhone completely since it's a built-in app on iPhone, to disable it, you need to clear all the Safari data first:
Locate Safari in your Settings menu and tap on it.
Click Clear History and Website Data.
Confirm your action.
Now you can disable Safari on iPhone, then follow these steps:
Find Settings on your iPhone screen, open it.
Locate General on your Settings menu then tap on it.
Locate Restrictions on the General Settings menu and tap on it.
You need to fill in your password to access the list of all active restrictions.
Locate Safari and turn it off.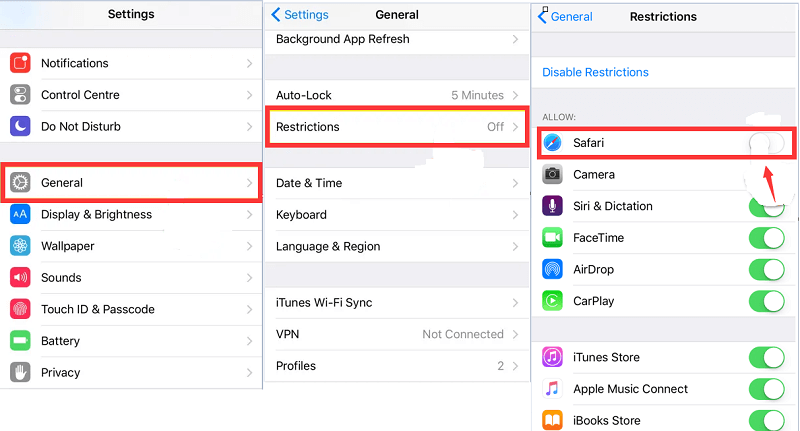 Bonus Tip: Systems and Its Relation to Safari Uninstallation
Well, to uninstall your Safari, it depends on the type of system you currently have.
System 1. Uninstalling Safari If You Have OS X Yosemite (10.10) Or Older Versions Of It
If you have OS X Yosemite 10.10 or older version of it (e.g. Mavericks 10.9, OS X Lion 10.7, OS X Mountain Lion 10.8, etc.), you've hit the jackpot. You can completely uninstall the browser Safari from your Mac device. It can be done in two ways: easily with a tool called iMyMac PowerMyMac and another way through manual removal of the browser.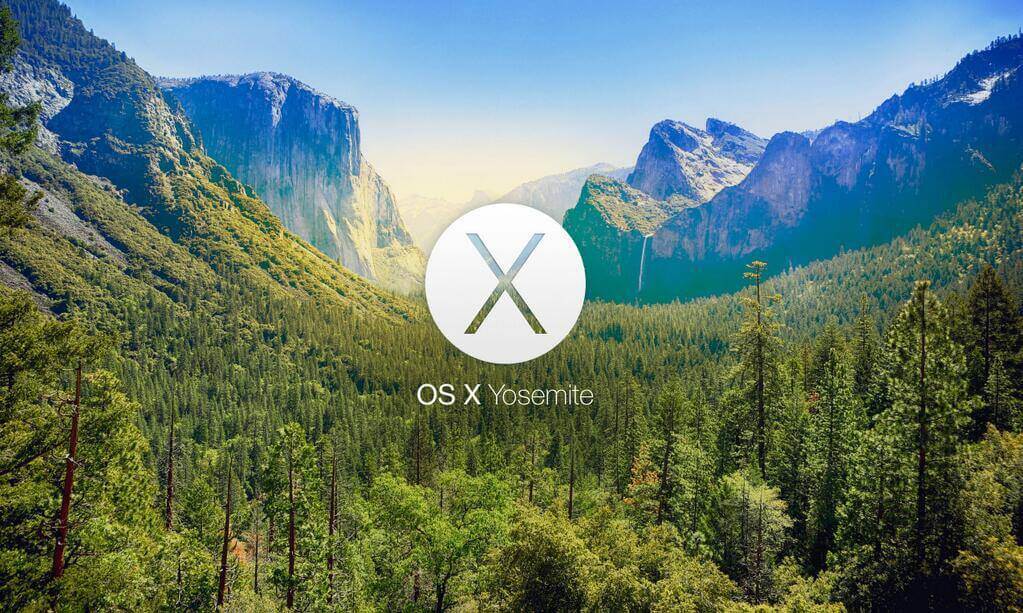 System 2. Uninstalling Safari From macOS Sierra Or OS X El Capitan (Version 10.11)
If you have the newer systems, it is impossible to completely uninstall Safari. This is true for mac OS Sierra (Version 10.12) and OS X El Capitan (Version 10.11). The farthest you can actually go towards doing it is by resetting the Safari browser and cleaning up all the information it contains. Why is this so? Why is it impossible to uninstall Safari in newer versions? Well, it's because after El Capitan Version 10.11 was released, Apple also released System Integrity Protection.
It's actually is a security feature. And of course, it only thinks about your best interests. With the System Integrity Protection, users cannot harm their device and its corresponding system files in any possible way. Anything important to the operating system cannot be deleted, uninstalled, disabled, or even corrupted. Thus, you are unable to modify things that are critical to the operation of your system. Thus, you cannot remove pre-installed system applications and that includes the browser Safari.
To get you to the point: Nope, you cannot uninstall Safari on these newer versions of the macOS. If you try to remove all associated files and even its history, the application's binary file will still be kept. What you can do is to reset the Safari.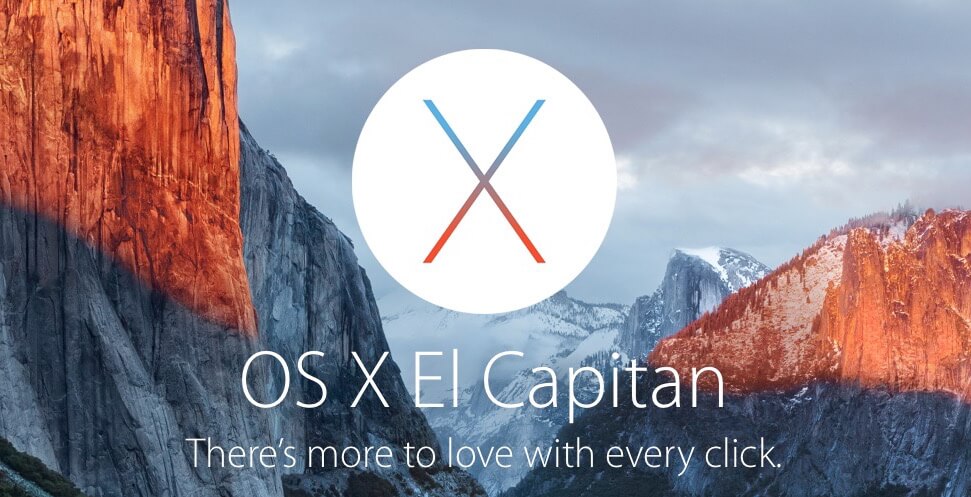 Now, you know how to uninstall Safari on Mac 2021. Take note that it is not possible to remove Safari from newer versions of the Mac OS X. This is to protect your device from malfunctioning. However, in older versions, you can safely remove the Safari browser using iMyMac PowerMyMac with just a few clicks. Or, if you'd like, follow the complicated manual steps.