We use different word processing software for our computers. Some of these include Microsoft Word and Adobe InCopy. But if you think your software is redundant, you may want to uninstall one of these applications. As such, you may want to uninstall Adobe InCopy on Mac. This will allow you to focus on one application alone.
Fortunately, you are in this guide that will teach you how to remove Adobe InCopy from your Mac. The first part will teach you how to remove it through a software program. The second guide will be manual ways to uninstall the application. We will be giving different manual ways to uninstall Adobe InCopy, but the automatic way of doing it is the best choice. See for yourself below.
Contents: Part 1. Quickly Uninstall Adobe InCopy on Mac & Delete LeftoversPart 2. How Do I Manually Uninstall Adobe InCopy on Mac?Part 3. About the Adobe InCopy ProgramPart 4. Conclusion
Part 1. Quickly Uninstall Adobe InCopy on Mac & Delete Leftovers
App removal from your computer is made simple with the iMyMac PowerMyMac program. It provides a variety of useful programs that are used to optimize Macs. One of its programs, the uninstaller, may completely remove any unwanted software from your Mac. It makes sure there aren't any lingering files or harmful applications.
You may organize your computer using PowerMyMac by finding and removing unneeded files that are cluttering up your system. Applications can be uninstalled, duplicate files can be deleted, and extensions may be modified. For example, PowerMyMac can delete Google Drive and related files completely.
These methods may be used with the software to uninstall Adobe InCopy on Mac:
Use the downloaded package to install the program on your computer after downloading the installer.
Launch the program to use its features.
Next, select App Uninstaller from the window's left-side menu.
To search through every piece of installed software and utility on your Mac laptop or desktop, click SCAN
Once that is done, you can select the undesirable app from the list of offered apps.
To ensure that no files are left behind and to completely delete the software from your Mac, click CLEAN.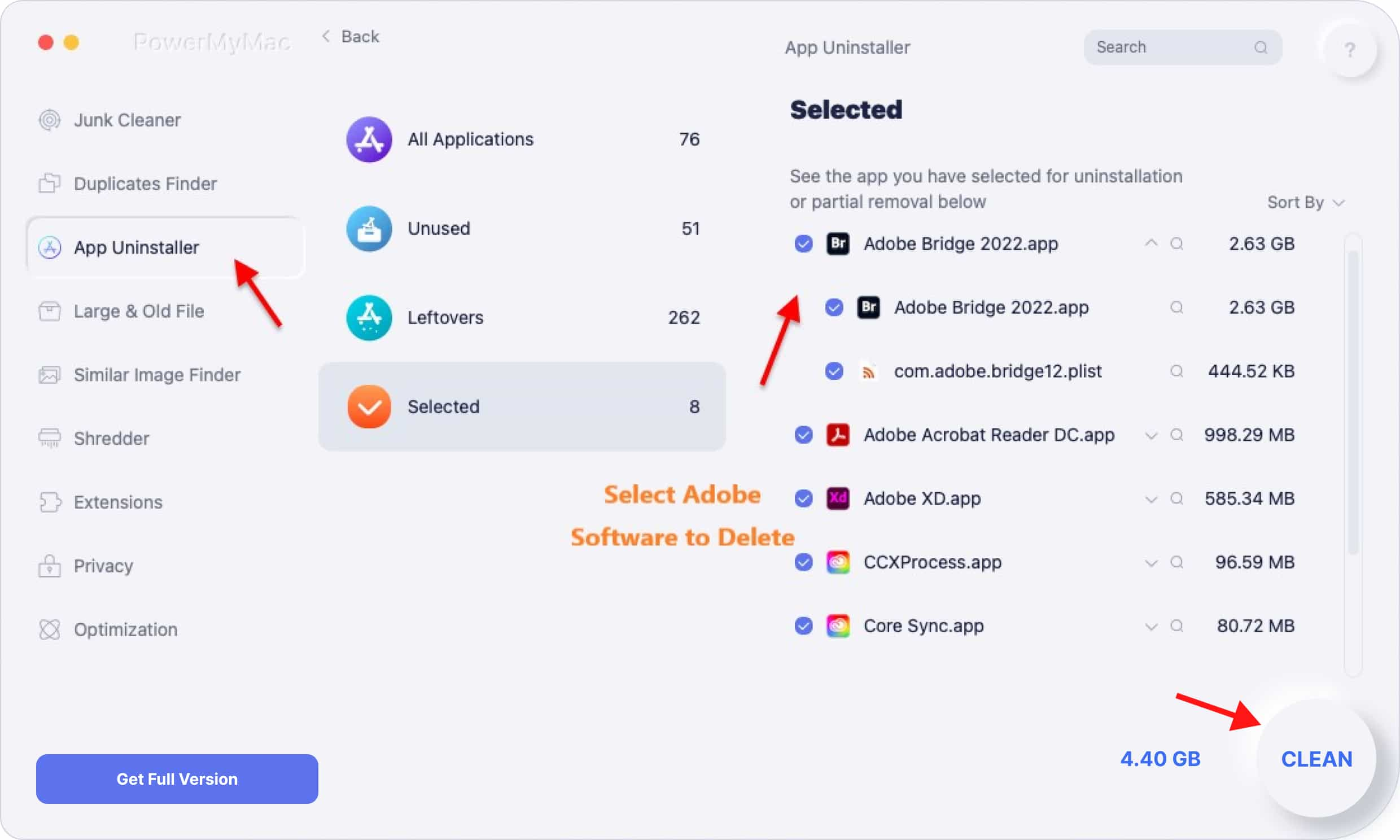 Now you have finished the process to uninstall Adobe InCopy on Mac. You can also optimize and purge your Mac with the aid of PowerMyMac. Your MacBook or iMac will run faster and free up storage on your Mac with just a few straightforward steps. It keeps your Mac as healthy as it can be.
PowerMyMac is a cleaning-focused utility that aims to assist users in getting rid of useless files and apps in order to offer their Mac additional storage. By eliminating useless files, searching for duplicate or similar files, discovering duplicate or similar files, uninstalling unwanted apps and their residues, etc., it is possible to reclaim a good amount of disk space.
Part 2. How Do I Manually Uninstall Adobe InCopy on Mac?
Method 01. Manually Remove Adobe InCopy from Mac
Here are the steps you should follow to manually uninstall Adobe InCopy. The steps to delete the leftover files will be given below as well:
To continue, you must first prevent the program from launching and operating. A notice will appear on the top-right corner of your screen if Adobe IncCopy is live. On its icon, use the right-click menu to choose Quit.
Open your Mac's Activity Monitor by navigating there. Verify that all background tasks or activities associated with the application have been terminated after that. To do that, navigate to the Applications folder and choose the Utility folder within. Next, choose Activity Monitor.
You are now viewing the Activity Monitor on the Mac. You have to choose CPU. After that, choose the Adobe InCopy application. To delete something, click the X in the corner. Select Quit or Quit and Force Quit if necessary after that. All program-related processes will be stopped with the aid of this procedure.
It's time to uninstall Adobe InCopy on Mac completely. Click Finder to access the Applications folder. After that, right-click the software or application icon. The choice is to "Move to Trash." It takes very little time and is quite easy to accomplish.
Additionally, we need to manually remove any other related files. Select "Go to Folder" from the Go menu in Finder. Next, type "Library" into the search bar and press the Go button.
To locate and remove any files connected to your program, navigate to the subfolders specified below.
/Preferences
/Logs
/Cookies
/Containers
/Caches
/Application Support
/Application Scripts
To clear the trash on your Mac, go to the Trash folder on the Dock. Restart your Mac machine to finish.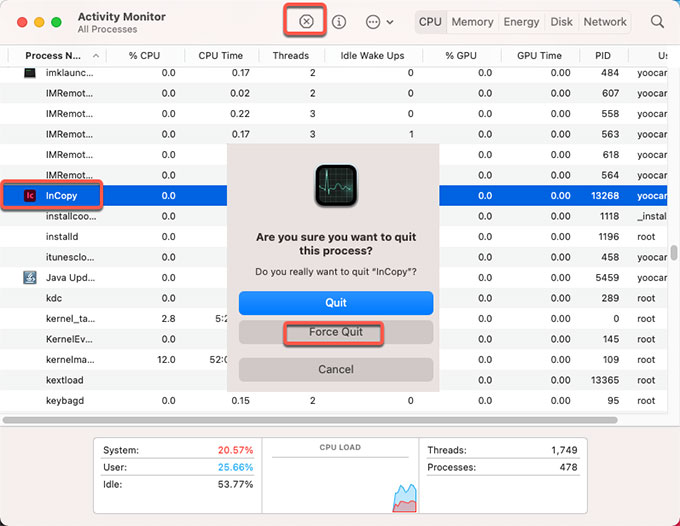 As you can see, it is rather challenging to uninstall Adobe InCopy on Mac manually. The reason for this is that you could destroy key system files that are essential to your system's functionality. We advise using PowerMyMac to remove the software and make sure no lingering files are there. Furthermore, PowerMyMac won't alter your computer's crucial system files.
Method 02. Remove Adobe InCopy from Creative Cloud Desktop
You can also remove the app from your Creative Cloud desktop to ensure it is not on your macOS computer anymore. Use the desktop client of Creative Cloud to uninstall any apps you don't desire anymore, not the Trash or Recycle bin. To do that, you must follow the steps below:
Launch the desktop software for Creative Cloud. Within its menu bar of your Mac, click the "Infinity" symbol.
Choose the "More Actions" button that looks like three dots located next towards the program you wish to delete. This can be found within its "All Apps" screen.
After that, choose Uninstall from the menu to uninstall Adobe InCopy on Mac.
Depending on what you want, you can click on "Remove"or "Keep":
"Remove" will remove the application itself including the preferences, alerts, plugins, and interface settings, among others.
"Keep" will remove the application but leave the preferences, alerts, plugins, and interface settings intact.
Now, the application will start the uninstallation process. Wait until the process is done.

Method 03. Uninstall Adobe InCopy on Mac Using Its Uninstaller
If your Adobe InCopy application has an uninstaller file within its main folder, you can use that in order to remove the app from your computer. To do that, follow the steps below:
Visit the main folder of Adobe InCopy on your computer.
After that, look for the "Uninstaller" program within the list of files and folders within your computer. You can also do a search using Finder within that particular folder to locate the Uninstaller.
Open the Uninstaller in order to start the removal process.
Follow the prompts on the screen in order to remove the app from your computer.
Wait until the uninstallation process is complete. Once that is done, reboot your macOS computer to finish a total uninstallation of Adobe InCopy.
Part 3. About the Adobe InCopy Program
After introducing how to uninstall Adobe InCopy on Mac, we will introduce more information about Adobe InCopy. One professional word processor called Adobe InCopy was created by Adobe Inc. It is integrated with the InDesign app of the company. Adobe InCopy program is actually used for regular word processing. On the other hand, InDesign is utilized to actually publish printed items like newspapers and magazines.
In essence, editors and also copywriters may create, design, and edit papers with the aid of this amazing writing software. Standard functions like track changes, word count, spell checking, and various viewing modes are also included. Editors can utilize these features to visually oversee design components.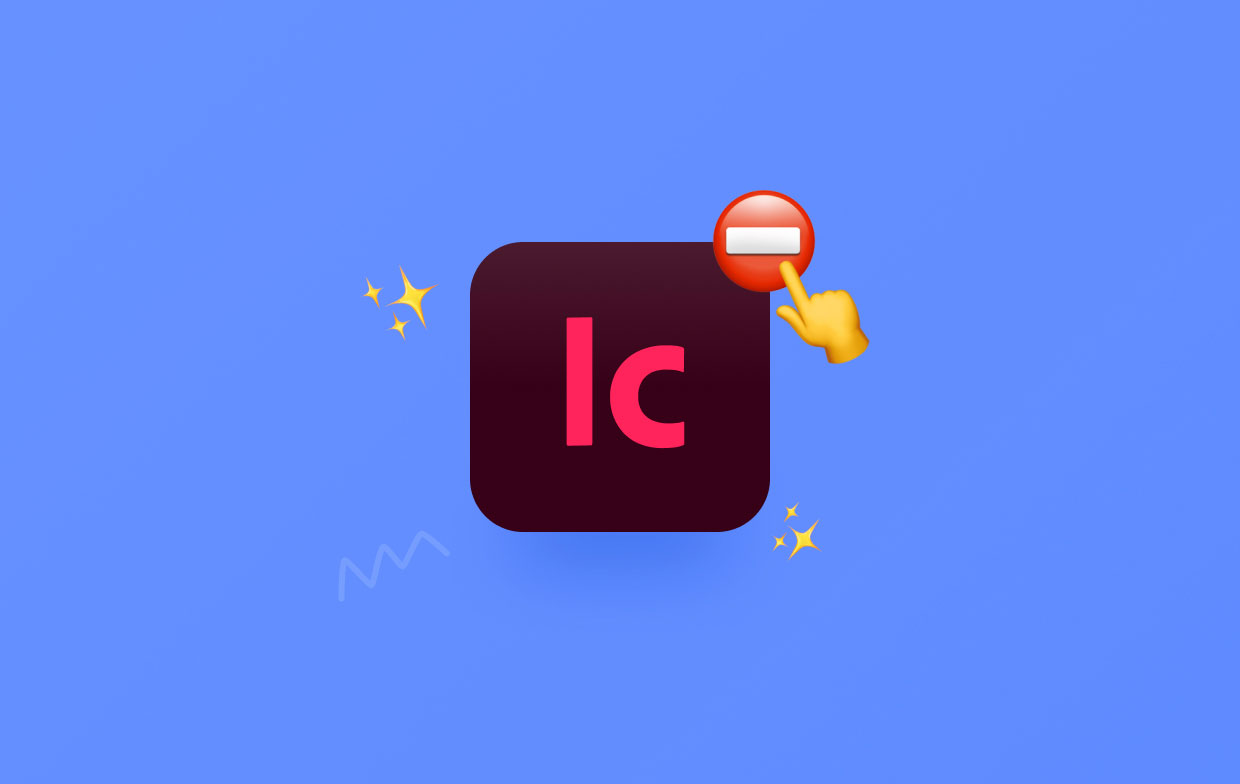 While designers actually work on the same project concurrently within Adobe InDesign, editors and copywriters may style its text, monitor changes, and also make modest layout adjustments towards a particular document using Adobe InCopy. This can happen even without overwriting another person's contributions.
Endnote support, advanced font filtering, paragraph boundaries, footnotes, Open Type upgrades, an amazing UI, the ability to actually work easily with glyphs, the ability to insert photos within tables, and a whole lot of capabilities are among its highlights.
Part 4. Conclusion
This article has covered the best ways to uninstall Adobe InCopy on Mac devices, including uninstalling the app's main folder from your computer.
The best approach to uninstall the aforementioned application from your macOS computer is with PowerMyMac. To make sure you enjoy using your chosen apps and you free up space on the computer, you can completely uninstall programs from your Mac. Therefore, you must buy the utility right away!