Initially, the tech giant Google has two different applications for Google Photos and Google Drive on computers. Everything was okay for users. However, Google decided to make some changes to their platform.
As such, Google removed the Drive app for Mac and Windows computers. It was replaced by Google Backup And Sync (for personal consumers) and Google Drive File Stream (used for businesses). At present, the Backup and Sync application is utilized on both Mac and Windows in order to add files to your Google Drive and Google Photos accounts.
So, how do the Google Backup And Sync app work? Plus, what are the features you can get from the tool? We will give out a comprehensive guide and explore these questions in detail. In this way, you get to know the app better and you can enjoy the benefits of its capabilities.
Article GuidePart 1: Is Google Backup And Sync The Same As Google Drive?Part 2: How Do I Use Google Backup And Sync?Part 3: How To Back Your Photos Up with Google Backup And SyncPart 4: Recommended: Delete Backups to Free up Space with iMyMac Mac CleanerPart 5: Conclusion
Part 1: Is Google Backup And Sync The Same As Google Drive?
To answer your questions, technically, Google Drive and Google Backup And Sync are two different platforms by the search engine giant company. However, they have similar features as we have explained below:
Google Drive is the company's platform allowing users to put their content into storage and sync them across multiple devices. It has a version for the web and an app for mobile devices (on iOS and Android).
On the other hand, Google Backup and Sync is the app created for Mac and Windows computers. It enables you to access files on your Google Drive using your computer. In addition, it also creates backups of your chosen local files to that of Google Drive. This platform also allows you to add images to that of Google Photos.
Tip: If you're not satisfied with Google Drive and think it's a nuisance when backup files, you can completely remove it follow this guide.
Part 2: How Do I Use Google Backup And Sync?
As such, the application has two functions – backing up files and syncing them across devices. The first function involves creating backups of the entire Mac or Windows computer. You can also create backups of selected folders within Google Drive.
Backing up files from SD cards and USB drives is possible as well. Technically, backup is not the right term for the processes involved. This is because folders are synced constantly too. Thus, if you make changes to synced files using Google Drive or your computer, these modifications will be shown on that of the other side as well.
With its syncing capabilities, you are able to sync every folder in Google Drive and you can also sync chosen folders to that of your Mac or Windows computer. Thus, you are able to gain access to GDrive's content using your computer even when you're not connected to the Internet.
You can download Google Backup And Sync from two webpages. This is because it works with both platforms:
How To Start With Backup And Sync Platform On Mac
First, you have to download the app from one of the links above. Then, install the application on your computer. You might be looking for an interface that looks like that of Photos or Drive. But the thing is, Backup and Sync doesn't have its own full-fledged interface.
The app doesn't allow you to view files. It's simply a medium you use to choose the files you wish. Once installed and set up, an icon that looks like a cloud will be found within the menu bar. When you first click on this, you will be asked to launch the "Preferences" on your Mac.
On the Preferences interface, you will be shown three options, your Mac computer (or Windows, if you're using one), your Google Drive, and the app's Settings. If you're not signed in, you can also log into it with your Google account.
Now, the first item you will see on the left is your computer. Once you select it, you can choose which folders and files should be backed up and also synced to Google Drive within the Mac computer's disk.
The process is similar to how your Mac computer store Documents, Desktop, and Photos within iCloud. However, there's still a difference between the two. Google Backup And Sync stores files both offline and online.
Basically, it makes an extension of Google Drive beyond that of GDrive's folder. And, you can use it to sync Pictures, Desktop, Documents, and other folders within the disk. You can do this by pressing "Choose Folder" and then select it.

The folder(s) you have selected to back up can be seen within the web browser. It can be found below "Computers" within the left sidebar. Every computer you use with Google Backup And Sync will have its own item on the list. And, you can use the browser to check all the files and folders synced from that macOS or Windows computer.
The folder within Google drive will also be synced across devices such as computers. However, the extra folders won't be synced. The backup will be put into storage online; however, Google Backup And Sync won't try to create Documents and Desktop folders from two different computers identical. This is because it doesn't make sense to that of a utility that runs on two operating systems (e.g., Windows and macOS).
How To Delete Files Using Backup And Sync On Mac?
Syncing with Google Drive or Google Backup And Sync are done automatically. Thus, if you delete a file using your Mac computer, it will be deleted on the backup platform as well. However, extra folders (e.g., Documents and Desktop) that you have chosen to back up are treated in a special manner.
For instance, there are various options within the settings to do the following:
Ask before removing items everywhere.
Don't remove items everywhere.
Remove items everywhere.
If you chose the "Ask me before" option, and you start to delete a file or folder, a message will be displayed. This message will ask you if you wish to remove or restore the file. Once you mistakenly delete a file, "Restore" will allow it to be placed back – it will be copied from the online storage. If you really do want to delete it, "Remove" will delete the files from the online store as well.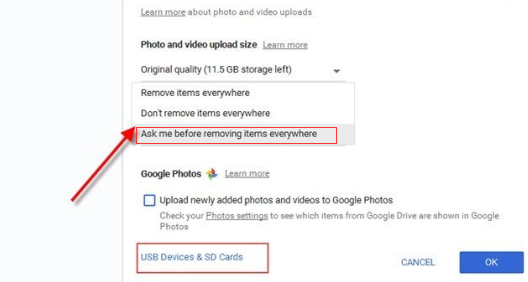 If you chose the option that says to not remove the files everywhere, deleted files are only removed from the location where you eliminated it. Thus, if you delete a file within your Mac computer, it will not be deleted on Google Backup And Sync online. The backup will still remain.
Part 3: How To Back Your Photos Up with Google Backup And Sync
Google Backup And Sync allows you to back your images and videos up. You can also choose to store them at high resolution or full resolution. The great thing about it is that choosing high resolution is unlimited and totally free. Google allows you to store a lot of videos and photos online without having to pay a dime.
High-resolution photos refer to that of up to 16MP. On the other hand, high-resolution videos refer to that of the HD resolution. Bigger photos and videos such as 24MP or 4K will usually be resized. As such, this is not a big drawback. People are used to shooting only HD videos and are used to taking 16MP photos.
Fortunately, Google won't charge you for backing up your images and videos. This is true even if you are using the free plan of the service. Apple, on the other hand, charges a fee. So, this is worth checking out if you want a storage platform for your media files.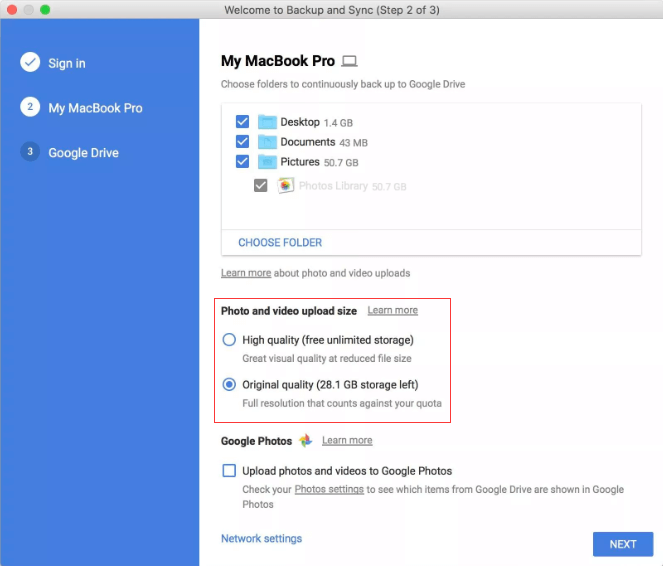 Part 4: Recommended: Delete Backups to Free up Space with iMyMac Mac Cleaner
You may wish to use Google Backup And Sync because you want to save more storage space on your hard disk drive. Thus, we do recommend that you use iMyMac Mac Cleaner in order to free up more space within your HDD or SSD.
iMyMac Mac Cleaner enables you to scan your Mac computer for unnecessary files that may clog up the system. These files can be selected and deleted one by one or in a single batch. Thus, it saves you a lot of time going through your computer and tinkering what might be unnecessary and what might be important.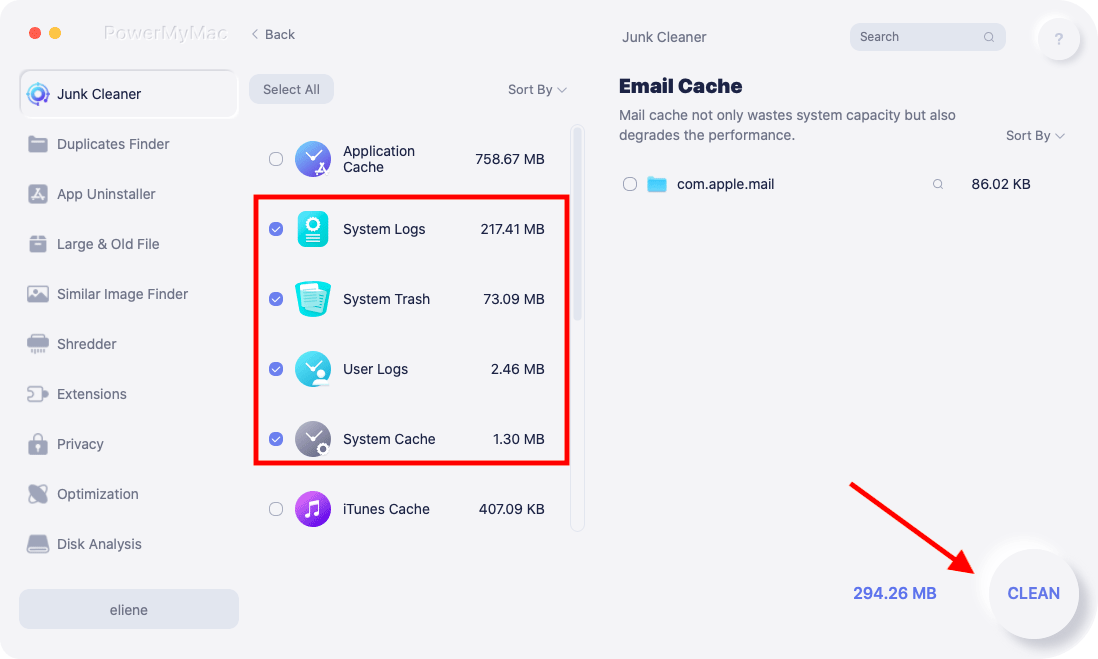 Part 5: Conclusion
As such, the only thing that might hinder you from using the Backup And Sync platform is its free storage space. It provides you with only 15GB of online cloud storage – a generous amount if we might say. If you wish to opt for a bigger space, the bill would cost you $19.99 a year for 100GB and $99.99 a year for 1TB.
Also, if you wish to clean up more space on your Mac computer, you could opt for the iMyMac Mac Cleaner software we always love to talk about. This cleaner is very powerful as it comprehensively scans your system for junk files. Plus, it helps clean browser data as well.
Getting iMyMac Cleaner can be done here. And, you can experience the profound advantages of the platform by using it without necessary technical knowledge!